Abstract
The quality of vegetarian diets to meet nutritional needs and support peak performance among athletes continues to be questioned. Appropriately planned vegetarian diets can provide sufficient energy and an appropriate range of carbohydrate, fat and protein intakes to support performance and health. The acceptable macronutrient distribution ranges for carbohydrate, fat and protein of 45–65%, 20–35% and 10–35%, respectively, are appropriate for vegetarian and non-vegetarian athletes alike, especially those who perform endurance events. Vegetarian athletes can meet their protein needs from predominantly or exclusively plant-based sources when a variety of these foods are consumed daily and energy intake is adequate. Muscle creatine stores are lower in vegetarians than non-vegetarians. Creatine supplementation provides ergogenic responses in both vegetarian and non-vegetarian athletes, with limited data supporting greater ergogenic effects on lean body mass accretion and work performance for vegetarians. The potential adverse effect of a vegetarian diet on iron status is based on the bioavailability of iron from plant foods rather than the amount of total iron present in the diet. Vegetarian and non-vegetarian athletes alike must consume sufficient iron to prevent deficiency, which will adversely affect performance. Other nutrients of concern for vegetarian athletes include zinc, vitamin B12 (cyanocobalamin), vitamin D (cholecalciferol) and calcium. The main sources of these nutrients are animal products; however, they can be found in many food sources suitable for vegetarians, including fortified soy milk and whole grain cereals. Vegetarians have higher antioxidant status for vitamin C (ascorbic acid), vitamin E (tocopherol), and ß-carotene than omnivores, which might help reduce exercise-induced oxidative stress. Research is needed comparing antioxidant defences in vegetarian and non-vegetarian athletes.
Access options
Buy single article
Instant access to the full article PDF.
USD 39.95
Price excludes VAT (USA)
Tax calculation will be finalised during checkout.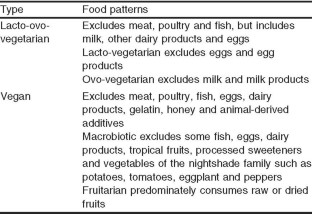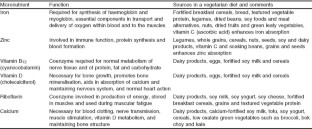 Notes
The use of trade names is for product identification purposes only and does not imply endorsement.
References
Position of the American Dietetic Association and Dietitians of Canada. Vegetarian diets. J Am Diet Assoc 2003; 103 (6): 748–765

Rauma AL, Mykkanen H. Antioxidant status in vegetarians versus omnivores. Nutrition 2000; 16 (2): 111–119

Huang YC, Lin WJ, Cheng CH, et al. Nutrient intakes and iron status of healthy young vegetarians and nonvegetarians. Nutr Res (New York) 1999; 19 (5): 663–674

Gorinstein S, Caspi A, Libman I, et al. Preventative effects of diets supplemented with sweetie fruits in hypercholesterolemic patients suffering from coronary artery disease. Prev Med 2004 Jun; 38 (6): 841–847

Singh PN, Sabate J, Fraser GE. Does low meat consumption increase life expectancy in humans. Am J Clin Nutr 2003; 78 (3): 526S–532S

Pellegrini N, Serafini M, Colombi B, et al. Total antioxidant capacity of plant foods, beverages and oils consumed in Italy assessed by three different in vitro assays. J Nutr 2003; 133 (9): 2812–2819

Liggins J, Bluck LJ, Runswick S, et al. Daidzein and genistein content of fruits and nuts. J Nutr Biochem 2000; 11 (6): 326–331

Zhang X, Shu XO, Gao YT, et al. Soy food consumption is associated with lower risk of coronary heart disease in Chinese women. J Nutr 2003; 133 (9): 2874–2878

Rissanen TH, Voutilainen S, Virtanen JK, et al. Low intake of fruits, berries and vegetables is associated with excess mortality in men: the Kuopio Ischaemic Heart Disease Risk Factor (KIHD) Study. J Nutr 2003; 133 (1): 199–204

Robinson F, Hackett AF, Billington D, et al. Changing from a mixed to self-selected vegetarian diet: influence on blood lipids. J Hum Nutr Diet 2002; 15 (5): 323–329

Richter V, Purschwitz K, Bohusch A, et al. Lipoproteins and other clinical-chemistry parameters under the conditions of lacto-ovo-vegetarian nutrition. Nutr Res 1999; 19 (4): 545–554

Barnard ND, Scialli AR, Bertron P, et al. Effectiveness of a low-fat vegetarian diet in altering serum lipids in healthy premenopausal women. Am J Cardiol 2000; 85 (8): 969–972

McCann SE, Moysich KB, Mettlin C. Intakes of selected nutrients and food groups and risk of ovarian cancer. Nutr Cancer 2001; 39 (1): 19–28

Cox G. Special needs: the vegetarian athlete. In: Burke L, Deakin V, editors. Clinical sports nutrition. Sydney (NSW): McGraw-Hill, 2000: 656–671

Berning J. The vegetarian athlete. In: Maughan RJ, editor. Nutrition in sport. Oxford: Blackwell Science, 2000: 442–456

Fogelholm M. Dairy products, meat and sports performance. Sports Med 2003; 33 (8): 615–631

Williams PT. Interactive effects of exercise, alcohol, and vegetarian diet on coronary artery disease risk factors in 9242 runners: the National Runners' Health Study. Am J Clin Nutr 1997; 66 (5): 1197–1206

Messina M, Messina V. Vegetarian diets for athletes. In: Messina M, Messina V, editors. The dietitian's guide to vegetarian diets: issues and applications. Gaithersburg (MD): Aspen Publishers, 1996: 124–135, 354-67

American College of Sports Medicine, American Dietetic Association, and Dietitians of Canada. Joint position statement: nutrition and athletic performance. Med Sci Sports Exerc 2000; 32 (12): 2130–2145

Nieman DC. Physical fitness and vegetarian diets: is there a relation? Am J Clin Nutr 1999; 70 (3 Suppl.): 570S–573S

Barr SI, Rideout CA. Nutritional considerations for vegetarian athletes. Nutrition 2004; 20 (7–8): 696–703

Trumbo P, Schlicker S, Yates AA, et al. Dietary reference intakes for energy, carbohydrate, fiber, fat, fatty acids, cholesterol, protein and amino acids. J Am Diet Assoc 2002; 102 (11): 1621–1630

Kennedy ET, Bowman SA, Spence JT, et al. Popular diets: correlation to health, nutrition, and obesity. J Am Diet Assoc 2001; 101 (4): 411–420

Nieman DC. Vegetarian dietary practices and endurance performance. Am J Clin Nutr 1988; 48 (3 Suppl.): 754–761

Food and Nutrition Board of the Institute of Medicine. Dietary reference intakes for energy, carbohydrates, fiber, fat, protein, and amino acids (macronutrients). Washington, DC: National Academies Press, 2002

Clark N. The power of protein. Phys Sportsmed 1996; 24 (4): 22–27

Hunt JR. Bioavailability of iron, zinc, and other trace minerals from vegetarian diets. Am J Clin Nutr 2003; 78 (3 Suppl.): 633S–639S

Lemon PW. Is increased dietary protein necessary or beneficial for individuals with a physically active lifestyle. Nutr Rev 1996; 54 (4): S169–S175

Lemon PW. Dietary protein requirements in athletes. J Nutr Biochem 1997; 8: 52–60

Phillips SM. Protein requirements and supplementation in strength sports. Nutrition 2004; 20 (7–8): 689–695

Tarnopolsky M. Protein requirements for endurance athletes. Nutrition 2004; 20 (7–8): 662–668

Lemon PW. Beyond the zone: protein needs of active individuals. J Am Coll Nutr 2000; 19 (5 Suppl.): 513S–521S

Cotes JE, Dabbs J, Hall AM, et al. Possible effect of a vegan diet upon lung function and the cardiorespiratory response to sub-maximal exercise in healthy women. J Physiol 1970; 209 (1): 30P–32P

Hanne N, Dlin R, Rotstein A. Physical fitness, anthropometric and metabolic parameters in vegetarian athletes. J Sports Med Phys Fitness 1986; 26 (2): 180–185

Raben A, Kiens B, Richter EA, et al. Serum sex hormones and endurance performance after a lacto-ovo vegetarian and a mixed diet. Med Sci Sports Exerc 1992; 24 (11): 1290–1297

Campbell WW, Crim MC, Young VR, et al. Increased energy requirements and changes in body composition with resistance training in older adults. Am J Clin Nutr 1994; 60 (2): 167–175

Campbell WW, Crim MC, Young VR, et al. Effects of resistance training and dietary protein intake on protein metabolism in older adults. Am J Physiol 1995; 268 (6 Pt 1): E1143–E1153

Frontera WR, Meredith CN, O'Reilly KP, et al. Strength conditioning in older men: skeletal muscle hypertrophy and improved function. J Appl Physiol 1988; 64 (3): 1038–1044

Campbell WW, Barton ML, Cyr-Campbell D, et al. Effects of an omnivorous diet compared with a lactoovovegetarian diet on resistance-training-induced changes in body composition and skeletal muscle in older men. Am J Clin Nutr 1999; 70 (6): 1032–1039

Haub MD, Wells AM, Tarnopolsky MA, et al. Effect of protein source on resistive-training-induced changes in body composition and muscle size in older men. Am J Clin Nutr 2002; 76 (3): 511–517

Haub MD, Wells AM, Campbell WW. Beef and soy-based food supplements differentially affect serum lipoprotein-lipid profiles because of changes in carbohydrate intake and novel nutrient intake ratios in older men who resistive-train. Metabolism 2005; 54 (6): 769–774

Volek JS, Rawson ES. Scientific basis and practical aspects of creatine supplementation for athletes. Nutrition 2004; 20 (7–8): 609–614

Kreider RB. Effects of creatine supplementation on performance and training adaptations. Mol Cell Biochem 2003; 244 (1–2): 89–94

Branch JD. Effect of creatine supplementation on body composition and performance: a meta-analysis. Int J Sport Nutr Exerc Metab 2003; 13 (2): 198–226

Hultman E, Soderlund K, Timmons JA, et al. Muscle creatine loading in men. J Appl Physiol 1996; 81 (1): 232–237

Harris RC, Soderlund K, Hultman E. Elevation of creatine in resting and exercised muscle of normal subjects by creatine supplementation. Clin Sci (Lond) 1992; 83 (3): 367–374

Harris RC, Lowe JA, Warnes K, et al. The concentration of creatine in meat, offal and commercial dog food. Res Vet Sci 1997; 62 (1): 58–62

Lukaszuk JM, Robertson RJ, Arch JE, et al. Effect of creatine supplementation and a lacto-ovo-vegetarian diet on muscle creatine concentration. Int J Sport Nutr Exerc Metab 2002; 12 (3): 336–337

Heymsfield SB, Arteaga C, McManus C, et al. Measurement of muscle mass in humans: validity of the 24-hour urinary creatinine method. Am J Clin Nutr 1983; 37 (3): 478–494

Burke DG, Chilibeck PD, Parise G, et al. Effect of creatine and weight training on muscle creatine and performance in vegetarians. Med Sci Sports Exerc 2003; 35 (11): 1946–1955

Shomrat A, Weinstein Y, Katz A. Effect of creatine feeding on maximal exercise performance in vegetarians. Eur J Appl Physiol 2000; 82 (4): 321–325

Dubnov G, Constantini NW. Prevalence of iron depletion and anemia in top-level basketball players. Int J Sport Nutr Exerc Metab 2004; 14 (1): 30–37

Malczewska J, Raczynski G, Stupnicki R. Iron status in female endurance athletes and in non-athletes. Int J Sport Nutr Exerc Metab 2000; 10 (3): 260–276

DeRuisseau KC, Cheuvront SN, Haymes EM, et al. Sweat iron and zinc losses during prolonged exercise. Int J Sport Nutr Exerc Metab 2002; 12 (4): 428–437

Ball MJ, Bartlett MA. Dietary intake and iron status of Australian vegetarian women. Am J Clin Nutr 1999; 70 (3): 353–358

Wells AM, Haub MD, Fluckey J, et al. Comparisons of vegetarian and beef-containing diets on hematological indexes and iron stores during a period of resistive training in older men. J Am Diet Assoc 2003; 103 (5): 594–601

Shaw NS, Chin CJ, Pan WH. A vegetarian diet rich in soybean products compromises iron status in young students. J Nutr 1995; 125 (2): 212–219

Snyder AC, Dvorak LL, Roepke JB. Influence of dietary iron source on measures of iron status among female runners. Med Sci Sports Exerc 1989; 21 (1): 7–11

Chiplonkar SA, Tarwadi KV, Kavedia RB, et al. Fortification of vegetarian diets for increasing bioavailable iron density using green leafy vegetables. Food Res Intern 1999; 32: 169–174

Agte VV, Tarwadi K, Mengale S, et al. Potential of traditionally cooked leafy vegetables as natural sources for supplementation of eight micronutrients in vegetarian diets. J Food Compost Anal 2000; 13: 885–891

Davidsson L. Approaches to improve iron bioavailability from complementary foods. J Nutr 2003; 133 (5 Suppl. 1): 1560S–1562S

Campbell WW, Anderson RA. Effects of aerobic exercise and training on the trace minerals chromium, zinc and copper. Sports Med 1987; 4 (1): 9–18

Lukaski HC, Bolonchuk WW, Klevay LM, et al. Changes in plasma zinc content after exercise in men fed a low-zinc diet. Am J Physiol 1984; 247 (1 Pt 1): E88–E93

Clarkson PM, Thompson HS. Antioxidants: what role do they play in physical activity and health? Am J Clin Nutr 2000; 72 (2 Suppl.): 637S–646S

Sen CK. Antioxidants in exercise nutrition. Sports Med 2001; 31 (13): 891–908

Urso ML, Clarkson PM. Oxidative stress, exercise, and antioxidant supplementation. Toxicology 2003; 189 (1–2): 41–54

Hill S, Box W, DiSilvestro RA. Moderate intensity resistance exercise, plus or minus soy intake: effects on serum lipid peroxides in young adult males. Int J Sport Nutr Exerc Metab 2004; 14 (2): 125–132

Burri BJ. Antioxidant status in vegetarians versus omnivores: a mechanism for longer life? Nutrition 2000; 16 (2): 149–150
Acknowledgements
No sources of funding were used to assist in the preparation of this review. The authors have no conflicts of interest that are directly relevant to the content of this review.
About this article
Cite this article
Venderley, A.M., Campbell, W.W. Vegetarian Diets. Sports Med 36, 293–305 (2006). https://doi.org/10.2165/00007256-200636040-00002
Published:

Issue Date:

DOI: https://doi.org/10.2165/00007256-200636040-00002
Keywords