Abstract
Bicycle riding is a popular form of recreation, fitness and transportation in many areas of the world. Traumatic injuries associated with bicycle riding have been documented and intervention strategies have been successful. This has not been the case for non-traumatic injuries. The prevalence of non-traumatic bicycle injuries can be as high as 85%. The most common sites for non-traumatic cycling-related injuries include the knee, neck/shoulder, hands, buttock and perineum. Two categories of injuries that may have the greatest impact on disability include ulnar and median nerve palsy, and erectile dysfunction. Injury prevention strategies have been proposed to reduce non-traumatic injuries but these strategies remain untested.
Access options
Buy single article
Instant access to the full article PDF.
USD 39.95
Price excludes VAT (USA)
Tax calculation will be finalised during checkout.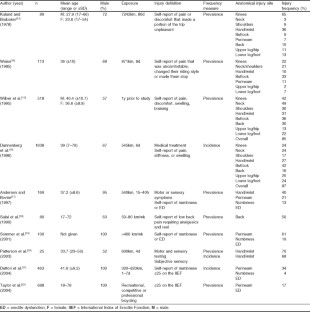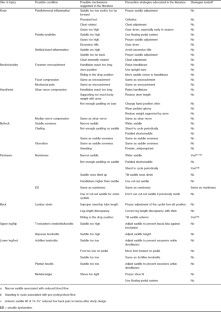 References
Paffenbarger RJ, Hyde R, Wing A, et al. Physical activity, all-cause mortality, and longevity of college alumni. N Engl J Med 1986; 314: 605–613

Paffenbarger RJ, Lee I. Physical activity and fitness for health and longevity. Res Q Exerc Sport 1996; 67 (3 Suppl.): S11–S28

Siscovick D, LaPorte R, Newman J. The disease-specific benefits and risks of physical activity and exercise. Public Health Rep 1985; 100: 180–188

Wenger H, Bell G. The interactions of intensity, frequency and duration of exercise training in altering cardiorespiratory fitness. Sports Med 1986; 3: 346–356

Tucci JJ, Barone JE. A study of urban bicycling accidents. Am J Sports Med 1988; 16: 181–184

Tinsworth DK, Polen C, Cassidy S. Bicycle-related injuries: injury, hazard, and risk patterns. Washington, DC: US Consumer Product Safety Commission, 1994 Jun

Baker S, Li G, Fowler C, et al. Injuries to bicyclists. Baltimore (MD): Johns Hopkins University Injury Prevention Center, 1993

Rivera FP, Thompson DC, Patterson MQ, et al. Prevention of bicycle-related injuries: helmets, education, and legislation. Annu Rev Public Health 1998; 19: 293–318

Thompson DC, Rivara FP, Thompson RS. Effectiveness of bicycle helmets in preventing head injuries: a case-control study. JAMA 1996; 276: 1968–1973

Thompson DC, Nunn ME, Thompson RS. Effectiveness of bicycle safety helmets in preventing serious facial injury. JAMA 1996; 276: 1974–1975

Cohen G. Cycling injuries. Can Fam Physician 1993; 39: 628–632

Hoyt CS. Ulnar neuropathy in bicycle riders. Arch Neurol 1976 May; 33: 372

Kulund DN, Brubaker CE. Injuries in the bikecentennial tour. Phys Sportsmed 1978; 6: 74–78

Weiss BD. Nontraumatic injuries in amateur long distance bicyclists. Am J Sports Med 1985; 13 (3): 187–192

Wilber CA, Holland GJ, Madison RE, et al. An epidemiological analysis of overuse injuries among recreational cyclists. Int J Sports Med 1995; 16 (3): 201–206

Dannenberg AL, Needle S, Mullady D, et al. Predictors of injury among 1638 riders in a recreational long-distance bicycle tour: cycle across Maryland. Am J Sports Med 1996; 24 (6): 747–753

Andersen KV, Bovim G. Impotence and nerve entrapment in long distance amateur cyclists. Acta Neurol Scand 1997; 95: 233–240

Salai M, Brosh T, Blankstein A, et al. Effect of changing the saddle angle on the incidence of low back pain in recreational bicyclists. Br J Sports Med 1999; 33 (6): 398–400

Sommer F, Konig D, Graft C, et al. Impotence and genital numbness in cyclists. Int J Sports Med 2001; 22 (6): 410–413

Patterson JM, Jaggars MM, Boyer MI, et al. Ulnar and median nerve palsy in long-distance cyclists: a prospective study. Am J Sports Med 2003; 31 (4): 585–589

Dettori JR, Koepsell TD, Cummings P, et al. Erectile dysfunction after a long-distance cycling event: associations with bicycle characteristics. J Urol 2004; 172 (2): 637–641

Taylor III JA, Kao TC, Albertsen PC, et al. Bicycle riding and its relationship to the development of erectile dysfunction. J Urol 2004; 172 (3): 1028–1031

Simpson ET. A case of multiple neuritis due to a long bicycle ride. N Y Med J 1895; 672: 757

Capitani D, Beer S. Handlebar palsy: a compression syndrome of the deep terminal (motor) branch of the ulnar nerve in biking. J Neurol 2002; 249 (10): 1441–1445

Maimaris C, Zadeh HG. Ulnar nerve compression in the cyclist's hand: two case reports and review of the literature. Br J Sports Med 1990; 24 (4): 245–246

Noth J, Dietz V, Mauritz KH. Cyclist's palsy: neurological and EMG study in 4 cases with distal ulnar lesions. J Neurol Sci 1980; 47: 111–116

Hankey GJ, Gubbay SS. Compressive mononeuropathy of the deep palmar branch of the ulnar nerve in cyclists. J Neurol Neurosurg Psychiatry 1988; 51: 1588–1590

Eckman PB, Perlstein G, Altrocchi PH. Ulnar neuropathy in bicycle riders. Arch Neurol 1975; 32: 130–131

Brandsma JW. Manual muscle strength testing and dynamometry for bilateral ulnar neuropraxia in a surgeon. J Hand Ther 1995; 8: 191–194

Richmond DR. Handlebar problems in bicycling. Clin Sports Med 1994; 13 (1): 165–173

Weiss BD. Clinical syndromes associated with bicycle seats. Clin Sports Med 1994; 13 (1): 175–186

Goodson JD. Pudendal neuritis from biking [letter]. N Engl J Med 1981; 292: 702

Desai KM, Gingell JC. Hazards of long distance cycling. BMJ 1989; 298: 1072–1073

Solomon S, Cappa KG. Impotence and bicycling: a seldom-reported connection. Postgrad Med 1987; 81: 99–100

Oberpenning F, Roth S, Leusmann DB, et al. The Alcock syndrome: temporary penile insensitivity due to compression of the pudendal nerve within the Alcock canal. J Urol 1994; 151 (2): 423–425

Ricchiuti VS, Haas CA, Seftel AD, et al. Pudendal nerve injury associated with avid bicycling. J Urol 1999; 162 (6): 2099–2100

Bohlmann TJ. Injuries in competitive cycling. Phys Sportsmed 1981; 9 (5): 117–124

Gregor RJ, Wheeler JB. Biomechanical factors associated with shoe/pedal interfaces: implications for injury. Sports Med 1994; 17 (2): 117–131

Holmes JC. Lower extremity overuse in bicycling. Clin Sports Med 1994; 13 (1): 187–203

Farrell KC, Reisinger KD, Tillman MD. Force and repetition in cycling: possible implications for iliotibial band friction syndrome. Knee 2003; 10 (1): 103–109

Mellion MB. Neck and back pain in bicycling. Clin Sports Med 1994; 13 (1): 137–164

Mellion MB. Common cycling injuries: management and prevention. Sports Med 1991; 11 (1): 52–70

Schwarzer U, Sommer F, Klotz T, et al. Cycling and penile oxygen pressure: the type of saddle matters. Eur Urol 2002; 41 (2): 139–143

Jeong SJ, Park K, Moon JD, et al. Bicycle saddle shape affects penile blood flow. Int J Impot Res 2002; 14 (6): 513–517

Dickson TBJ. Preventing overuse cycling injuries. Phys Sportsmed 1985; 13 (10): 116–123

Sommer F, Schwarzer U, Klotz T, et al. Erectile dysfunction in cyclists: is there any difference in penile blood flow during cycling in an upright versus a reclining position? Eur Urol 2001; 39 (6): 720–723

Braithwaite IJ. Bilateral median nerve palsy in a cyclist. Br J Sports Med 1992; 26 (1): 260–261

Weiss BD. Skin creams for alleviating seat pain in amateur long-distance bicyclists. Sports Med Train Rehabil 1993; 4: 27–32

Andersson K, Wagner G. Physiology of penile erection. Physiol Rev 1995; 75: 191–236

Sheets BS. Considerations in cycling for persons with low back pain. In: Hochschuler SH, editor. Spine: state of the art review — spinal injuries in sports. Philadelphia (PA): Hanley and Belfus, 1990: 359–365

Rodgers GB. Part II. Bicycle and bicycle helmet use patterns in the united states: a description and analysis of national survey data. Washington, DC: US Consumer Product Safety Commission, 1992 [online]. Available from URL: http://www.cpsc.gov/CPSCPUB/PUBS/344.pdf [Accessed 2005 Apr 14]
Acknowledgements
No sources of funding were used to assist in the preparation of this manuscript. The authors have no conflicts of interest that are directly relevant to the content of this manuscript.
About this article
Cite this article
Dettori, N.J., Norvell, D.C. Non-Traumatic Bicycle Injuries. Sports Med 36, 7–18 (2006). https://doi.org/10.2165/00007256-200636010-00002
Published:

Issue Date:

DOI: https://doi.org/10.2165/00007256-200636010-00002
Keywords