Abstract
There has recently been a resurgence in interest in hyperbaric oxygen (HBO) treatment in sports therapy, especially in Japan. Oxygen naturally plays a crucial role in recovery from injury and physiological fatigue. By performing HBO treatment, more oxygen is dissolved in the plasma of the pulmonary vein via the alveolar, increasing the oxygen reaching the peripheral tissues. HBO treatment is therefore expected to improve recovery from injury and fatigue.
HBO treatment has been reported to reduce post-injury swelling in animals, and in humans; swelling was also mitigated, but to a lesser extent. Positive results have also been reported regarding tissue remodelling after injury, with injuries involving bones, muscles and ligaments showing improved recovery. Furthermore, HBO treatment has effectively increased recovery from fatigue. This was clearly seen at the Nagano Winter Olympics, where sports players experiencing fatigue were successfully treated, enabling the players to continue performing in the games.
Despite its potential, HBO treatment does have its risks. Increasing oxygen levels in tissues poses a risk to DNA through oxidative damage, which can lead to pathological changes in the CNS and the lungs. Regarding the operating of HBO systems, safer administration should be advised.
Further research into HBO treatment is required if this therapy is to become more widespread. It should become possible to tailor treatment to an individual's condition in order to use HBO treatment efficiently.
Access options
Buy single article
Instant access to the full article PDF.
USD 49.95
Price includes VAT (USA)
Tax calculation will be finalised during checkout.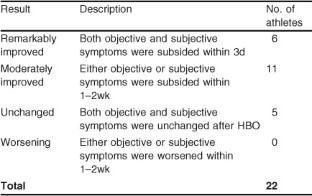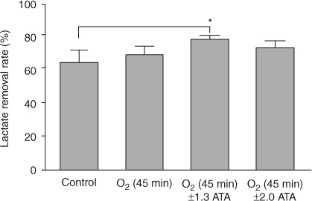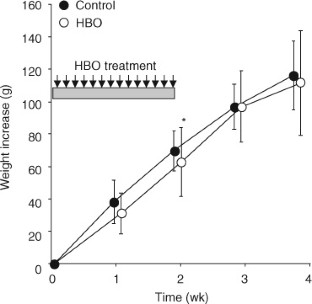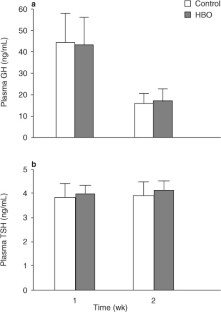 References
1.

Jain K. Textbook of hyperbaric medicine. 3rd ed. Germany: Hogrefe & Huber Publisher, 1999

2.

Boerema I, Meyne NG, Brummelkamp WK, et al. Life without blood. J Cardiovasc Surg (Torino) 1960; 1: 133–46

3.

James PB, Scott B, Allen MW. Hyperbaric oxygen therapy in sports injuries. Physiotherapy 1983; 79: 571–2

4.

Kivisaari J, Niinikoski J. Use of silastic tube and capillary sampling technique in the measurement of tissue PO2 and PCO2. Am J Surg 1973; 125: 623–7

5.

Skyhar MJ, Hargens AR, Strauss MB, et al. Hyperbaric oxygen reduces edema and necrosis of skeletal muscle in compartment syndromes associated with hemorrhagic hypotension. J Bone Joint Surg 1986; 68-A: 1218–24

6.

Staple J, Clement D. Hyperbaric oxygen chambers and the treatment of sports injuries. Sport Med 1996; 22: 219–27

7.

Borromeo CN, Ryan JL, Marchetto PA, et al. Hyperbaric oxygen therapy for acute ankle sprains. Am J Sports Med 1997; 25: 619–25

8.

Mechine A, Rohr S, Toti F, et al. Wound healing and hyperbaric oxygen: experimental study of the angiogenesis phase in the rat [in French]. Ann Cir 1999; 53: 307–17

9.

Kivisaari J, Niinikoski J. Effects of hyperbaric oxygenation and prolonged hypoxia on the healing of open wounds. Acta Chir Scand 1975; 141: 14–9

10.

Uhl E, Sirsjo A, Haapaniemi T, et al. Hyperbaric oxygen improves wound healing in normal and ischemic skin tissue. Plast Reconstr Surg 1994; 93: 835–41

11.

Webster DA, Horn P, Amin HM, et al. Effect of hyperbaric oxygen on ligament healing in a rat model. Undersea Hyperb Med 1996; 23 Suppl.: 13

12.

Mashitori H, Sakai H, Koibuchi N, et al. Effect of hyperbaric oxygen on the ligament healing prodcess in rats. Clin Orthop 2004; 423: 268–74

13.

Best TM, Loitz-Ramage B, Corr DT, et al. Hyperbaric oxygen in the treatment of acute muscle stretch injuries: results in an animal model. Am J Sports Med 1998; 26: 367–72

14.

Ishii Y, Ushida T, Tateishi T, et al. Effects of different exposure of hyperbaric oxygen on ligament healing in rats. J Orthop Res 2002; 20: 70–3

15.

Ishii Y, Miyanaga Y, Shimojo H, et al. The role of hyperbaric oxygen for the early return to sports activities [in Japanese]. J Musculoskeletal Syst 1999; 12: 785–9

16.

Fischer B, Lehrl S, Jain K, et al. Handbook of oxygen therapy. Berlin: Springer Verlag, 1988: 251–26

17.

Haapaniemi T, Sirsjo A, Nylander G, et al. Hyperbaric oxygen treatment attenuates glutathione depletion and improves metabolic restitution in post-ischemic skeletal muscle. Free Radic Res 1995; 23: 91–101

18.

Ishii Y, Miyanaga Y, Shimojo H, et al. The effect of hyperbaric oxygen therapy on lactate concentration after maximal exercise [in Japanese]. Jpn J Hyperbaric Med 1995; 30: 109–14

19.

Ishii Y, Miyanaga Y, Shimojo H, et al. Effects of hyperbaric oxygen on procollagen messenger RNA levels and collagen synthesis in the healing of rat tendon laceration. Tissue Eng 1999; 5: 279–86
Acknowledgements
All authors agree with the contents of the manuscript and affirm that this work has not been submitted or published elsewhere. The authors would like to acknowledge Prof. Tetsuya Tateishi of the National Institute for Materials Sciences and Prof. Takashi Ushida of the University of Tokyo. The authors would also like to thank Dr Tsukasa Kanda and Dr Takeo Imada for their valuable assistance in these research projects. No benefits in any form have been received or will be received from a commercial party related directly or indirectly to the subject of this article.
About this article
Cite this article
Ishii, Y., Deie, M., Adachi, N. et al. Hyperbaric Oxygen as an Adjuvant for Athletes. Sports Med 35, 739–746 (2005). https://doi.org/10.2165/00007256-200535090-00001
Keywords
Thyroid Stimulate Hormone

Hyperbaric Oxygen

Sport Injury

Sharp Pain

Sport Player