Abstract
Exercise increases heat production. During exercise in both warm and cold conditions, the major dilemma is the dissipation of the heat produced from muscular activity. The use of clothing generally represents a layer of insulation and as such imposes a barrier to heat transfer and evaporation from the skin surface. In warm environments, additional clothing increases thermal insulation causing more rapid increases in temperature during exercise and imposes a barrier to sweat evaporation. However, clothing can serve a protective function by reducing radiant heat gain and thermal stress. Recent research suggests that neither the inclusion of modest amounts of clothing nor the clothing fabric alter thermoregulation or thermal comfort during exercise in warm conditions. In the cold, most reports do not support an effect of clothing fabric on thermoregulation; however, there are reports demonstrating an effect. Clothing construction does alter thermoregulation during and following exercise in the cold, where fishnet construction offers greater heat dissipation. Future research should include conditions that more closely mimic outdoor conditions, where high work rates, large airflow and high relative humidity can significantly impact thermoregulation.
Access options
Buy single article
Instant access to the full article PDF.
US$ 49.95
Tax calculation will be finalised during checkout.
Subscribe to journal
Immediate online access to all issues from 2019. Subscription will auto renew annually.
US$ 259
Tax calculation will be finalised during checkout.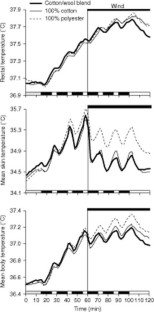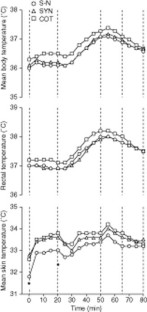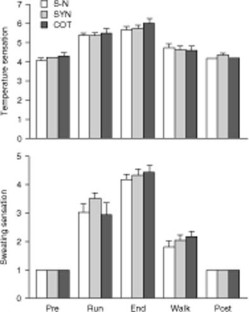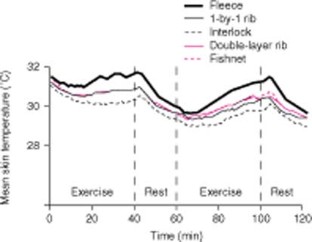 References
1.

Gagge AP, Nishi Y. Heat exchange between human skin surface and thermal environment. In: Lee DHK, editor. Handbook of physiology. Baltimore (MD): Waverly Press, 1969: 69–92

2.

Gonzalez RR. Biophysics of heat transfer and clothing considerations. In: Pandolf KB, Sawka MN, Gonzalez RR, editors. Human performance physiology and environmental medicine at terrestrial extremes. Indianapolis (IN): Benchmark, 1988: 45–95

3.

Pascoe DD, Shanley LA, Smith EW. Clothing and exercise I: biophysics of heat transfer between the individual, clothing and environment. Sports Med 1994; 18: 38–54

4.

Pascoe DD, Bellingar TA, McCluskey BS. Clothing and exercise II: influence of clothing during exercise/work in environmental extremes. Sports Med 1994; 18: 94–108

5.

Aoyagi Y, McLellan TM, Shephard RJ. Interactions of physical training and heat acclimation: the thermophysiology of exercising in a hot climate. Sports Med 1997; 23: 173–210

6.

McLellan TM. The importance of aerobic fitness in determining tolerance to uncompensable heat stress. Comp Biochem Physiol A Mol Integr Physiol 2001; 128: 691–700

7.

Gonzalez RR. Biophysical and physiological integration of proper clothing for exercise. Exerc Sport Sci Rev 1987; 15: 261–95

8.

McArdle WD, Katch FI, Katch VL. Exercise physiology: energy, nutrition, and human performance. Philadelphia (PA): Lippincott Williams & Wilkins, 2001

9.

Gleeson M. Temperature regulation during exercise. Int J Sports Med 1998; 19Suppl. 2: S96–9

10.

Stolwijk JAJ, Hardy JD. Partional calorimetric studies of responses of man to thermal transients. J Appl Physiol 1966; 21: 967–77

11.

Burton AC, Edholm OG. Man in a cold environment. London: EA Arnold Ltd, 1955: 53–55

12.

Watkins SM. Clothing: the portable environment. Ames (IA): Iowa State University Publishers, 1984: 1–24

13.

Berglund LG, Gonzalez RR. Evaporation of sweat from sedentary man in humid environments. J Appl Physiol 1977; 42: 767–72

14.

Givoni B, Belding HS. The cooling efficiency of sweat evaporation. In: Tromp SW, editor. Biometeorology. New York: Macmillian Co., 1962: 304–14

15.

Brown SL, Banister EW. Thermoregulation during prolonged actual and laboratory-simulated bicycling. Eur J Appl Physiol 1985; 54: 125–30

16.

Nielsen R, Olesen BW, Fanger PO. Effect of physical activity and air velocity on the thermal insulation of clothing. Ergonomics 1985; 28: 1617–31

17.

Munson DM, Hayter RB. An overview of clothing as it relates to the physiology of human comfort. Am Society Heat Refrigerat Air Cond Eng Trans 1978; 84: 713–8

18.

Jeong WS, Tokura H. Effects of wearing two different types of clothing on body temperatures during and after exercise. Int J Biometeorol 1989; 33: 77–81

19.

Kenny GP, Reardon FD, Thoden JS, et al. Changes in exercise and post-exercise core temperature under different clothing conditions. Int J Biometeorol 1999; 43: 8–13

20.

Nagata H. Evaporative heat loss and clothing. J Hum Ergol 1978; 7: 169–75

21.

Brownlie L, Mekjavic I, Banister E. Thermoregulation in athletic racing apparel. Ann Physiol Anthropol 1987; 6: 145–55

22.

Nielsen B, Kassow K, Aschengreen FE. Heat balance during exercise in the sun. Eur J Appl Physiol 1988; 58: 189–96

23.

Nielsen B. Solar heat load: heat balance during exercise in clothed subjects. Eur J Appl Physiol 1990; 60: 452–6

24.

Kwon A, Kato M, Kawamura H, et al. Physiological significance hydrophilic and hydrophobic textile materials during intermittent exercise in humans under the influence of warm ambient temperature with and without wind. Eur J Appl Physiol 1998; 78: 487–93

25.

Gavin TP, Babington JP, Harms CA, et al. Clothing fabric does not affect thermoregulation during exercise in moderate heat. Med Sci Sports Exerc 2001; 33: 2124–30

26.

Rissanen S, Hori-Yamagishi M, Tokura H, et al. Thermal responses affected by different underwear materials during light exercise and rest in cold. Ann Physiol Anthropol 1994; 13: 129–36

27.

Bakkevig MK, Nielsen R. Impact of wet underwear on thermoregulatory responses and thermal comfort in the cold. Ergonomics 1994; 37: 1375–89

28.

Holmer I. Heat exchange and thermal insulation compared in woollen and nylon garments during wear trials. Text Res J 1985; 55: 511–8

29.

Bakkevig MK, Nielsen R. The impact of activity level on sweat accumulation and thermal comfort using different underwear. Ergonomics 1995; 38: 926–39

30.

Vokac Z, Køpke V, Keül P. Physiological responses and thermal, humidity, and comfort sensations in wear trials with cotton and polypropylene vests. Text Res J 1976; 46: 30–8

31.

Gavhed DCE, Nielsen R, Holmer I. Thermoregulatory and subjective responses with wool and synthetic. In: Mercer JB, editor. Thermal physiology 1989. Amsterdam: Elsevier Science Publishers, 1989: 507–512

32.

Ha M, Tokura H, Yoden K, et al. A comparison of skin temperatures and clothing microclimate during moderate intermittent exercise in the cold between one and two layers of cotton and polypropylene underwear. Int J Occup Saf Ergon 1998; 4: 347–62

33.

Nielsen R, Endrusick T. Thermoregulatory responses to intermittent exercise are influenced by knit structure of underwear. Eur J Appl Physiol 1990; 60: 15–25

34.

Makinen TT, Gavhed D, Holmer I, et al. Effects of metabolic rate on thermal responses at different air velocities in −10 degrees C. Comp Biochem Physiol A Mol Integr Physiol 2001; 128: 759–68
Acknowledgements
T.P. Gavin was supported by a National Institute on Aging grant AG-021891 and a State of California, Tobacco Related Disease Research Program (TRDRP) grant 8KT-0081 during the preparation of this manuscript. The author has no conflicts of interest that are directly relevant to the content of this manuscript.
About this article
Cite this article
Gavin, T.P. Clothing and Thermoregulation During Exercise. Sports Med 33, 941–947 (2003). https://doi.org/10.2165/00007256-200333130-00001
Keywords
Intermittent Exercise

Synthetic Fibre

Evaporative Heat Loss

Skin Wettedness

Clothing Fabric