Abstract
When prolonged, excessive training stresses are applied concurrent with inadequate recovery, performance decrements and chronic maladaptations occur. Known as the overtraining syndrome (OTS), this complex condition afflicts a large percentage of athletes at least once during their careers. There is no objective biomarker for OTS and the underlying mechanism is unknown. However, it is not widely recognised that OTS and clinical depression [e.g. major depression (MD)] involve remarkably similar signs and symptoms, brain structures, neurotransmitters, endocrine pathways and immune responses. We propose that OTS and MD have similar aetiologies. Our examination of numerous shared characteristics offers insights into the mechanism of OTS and encourages testable experimental hypotheses. Novel recommendations are proposed for the treatment of overtrained athletes with antidepressant medications, and guidelines are provided for psychological counselling.
Access options
Buy single article
Instant access to the full article PDF.
USD 39.95
Price excludes VAT (USA)
Tax calculation will be finalised during checkout.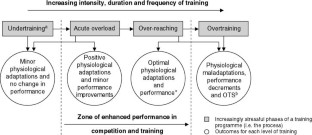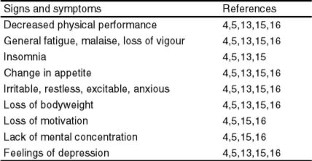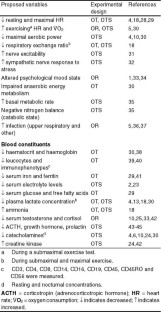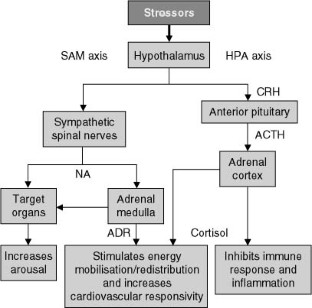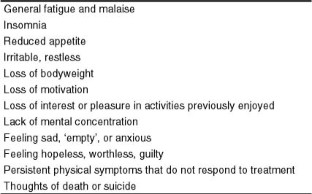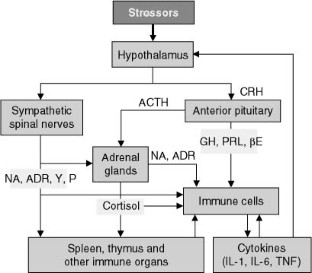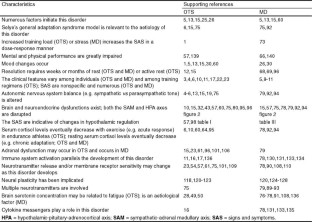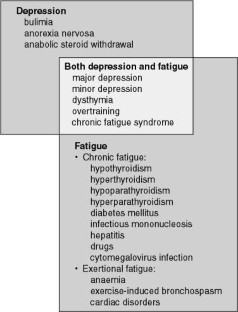 References
Morgan WP, Brown DR, Raglin JS, et al. Psychological monitoring of overtraining and staleness. Br J Sports Med 1987; 21: 107–14

Lehmann M, Schnee W, Scheu R, et al. Decreased nocturnal catecholamine excretion: parameter for an overtraining syndrome in athletes? Int J Sports Med 1992; 13: 236–42

Verma SK, Makindroo SR, Kansal DK. Effect of four weeks of hard physical training on certain physiological and morphological parameters of basketball players. J Sports Med 1978; 18: 379–84

Lehman M, Foster C, Keul J. Overtraining in endurance athletes: a brief review. Med Sci Sports Exerc 1993; 25 (7): 854–62

Kuipers H, Keizer HA. Overtraining in elite athletes: review and directions for the future. Sports Med 1988; 6: 79–92

Fry AC, Kraemer WJ. Resistance exercise overtraining and overreaching. Sports Med 1997; 23: 106–29

Kuipers H. Training and overtraining: an introduction. Med Sci Sports Exerc 1998; 30: 1137–9

O'Connor PJ, Morgan WP, Raglin JS. Psychobiologic effects of 3 d of increased training in female and male swimmers. Med Sci Sports Exerc 1991; 23: 1055–61

Eichner ER. Overtraining: consequences and prevention. J Sports Sci 1995; 13 Spec No: S41-S48

Uusitalo AL, Huttunen P, Hanin Y, et al. Hormonal responses to endurance training and overtraining in female athletes. Clin J Sports Med 1998; 8: 178–86

Morgan WP, Costill DL, Flynn MG, et al. Mood disturbance following increased training in swimmers. Med Sci Sports Exerc 1988; 20: 408–14

Kreider RB, Fry AC, O'Toole ML. Overtraining in sport: terms, definitions, and prevalence. In: Kreider RB, Fry AC, O'Toole ML, editors. Overtraining in sport. Champaign (IL): Human Kinetics, 1998: vii-ix

Froehlich J. Overtraining syndrome. In: Heil J, editor. Psychology of sport injury. Champaign (IL): Human Kinetics, 1995: 59–70

Raglin J, Barzdukas A. Overtraining: the challenge of prevention. A Human Performance Summit. ACSM Health Fitness J 1999; 3 (2): 27–31

Stone MH, Keith RE, Kearney JT, et al. Overtraining: a review of the signs, symptoms and possible causes. J Appl Sport Sci Res 1991; 5: 35–50

Smith LL. Cytokine hypothesis of overtraining: a physiological adaptation to excessive stress? Med Sci Sports Exerc 2000; 32: 317–31

Fry RW, Norton AR, Keast D. Overtraining in athletes: an update. Sports Med 1991; 12: 32–65

Urhausen A, Gabriel HHW, Weiler B, et al. Ergometric and psychological findings during overtraining: a long-term followup study in endurance athletes. Int J Sports Med 1997; 19: 114–20

van Borselen F, Vos NH, Fry AC, et al. The role of anaerobic exercise in overtraining. J Strength Cond Res 1992; 14: 74–9

Lehmann M, Foster C, Netzer N, et al. Physiological responses to short- and long-term overtraining in endurance athletes. In: Kreider RB, Fry AC, O'Toole ML, editors. Overtraining in sport. Champaign (IL): Human Kinetics, 1998: vii-ix

Kraemer WJ, Nindl BC. Factors involved with overtraining for strength and power. In: Kreider RB, Fry AC, O'Toole ML, editors. Overtraining in sport. Champaign (IL): Human Kinetics, 1998: 69–86

Fry AC, Kraemer WJ, van Borselen F. Catecholamine responses to short-term high-intensity resistance exercise overtraining. J Appl Physiol 1994; 77: 941–6

Lehmann M, Baumgartl P, Wiesenack C. Training-overtraining: influence of a defined increase in training volume vs training intensity on performance, catecholamines, and some metabolic parameters in experienced middle- and long-distance runners. Eur J Appl Physiol 1992; 64: 169–77

Lehmann M, Dickhuth HH, Gendrisch G, et al. Training-overtraining: a prospective, experimental study with experienced middle- and long-distance runners. Int J Sports Med 1991; 12: 444–52

Aakvaag A, Opstad PK. Hormonal response to prolonged physical strain, effect of caloric deficiency and sleep deprivation. In: Fotherby K, Pal SB, editors. Exercise endocrinology. Berlin: Gruyter, 1985: 25–64

Sulman FG, Pfeifer Y, Superstine E. The adrenal exhaustion syndrome: an adrenal deficiency. In: Milvy P, editor. Themarathon. New York (NY): New York Academy of Sciences, 1977: 918–930

Kereszty A. Overtraining. In: Larson LA, Herrmann DE, editors. Encyclopedia of sport sciences and medicine. New York (NY): MacMillan, 1971: 218–22

Davis JM. Carbohydrates, branched-chain amino acids, and endurance: the central fatigue hypothesis. Int J Sport Nutr 1995; 5: 529–38

Gastmann U, Petersen KG, Bocker J, et al. Monitoring intensive endurance training at moderate energetic demands using resting laboratory markers failed to recognize an early overtraining stage. J Sports Med Phys Fitness 1998; 38: 188–93

Kindermann W. Expression of a disturbed autonomic regulation. Dtsch Z Sportmed 1986; 37: 238–45

Wolf JG. Staleness. In: Larson LA, Herrmann DE, editors. Encyclopedia of sport sciences and medicine. New York (NY): MacMillan, 1971: 1048–50

Fellman N, Bedu M, Boudet G, et al. Inter-relationships between pituitary hormones and catecholamines during a 6-day Nordic ski race. Eur J Appl Physiol 1992; 64: 258–65

Steinacker JM, Lormes W, Lehmann M, et al. Training of rowers before world championships. Med Sci Sports Exerc 1998; 30: 1158–63

Gutmann MC, Pollock ML, Foster C, et al. Training stress in Olympic speed skaters: a psychological perspective. Physician Sportsmed 1984; 12: 45–57

Wolf JG. Ein beitrag zur frage des uebertrainings. Sportmedizin 1957; 2: 33–8

Fitzgerald L. Overtraining increased the susceptibility to infection. Int J Sports Med 1991; 12 Suppl. 1: 5–8

Jokl E. The immunological status of athletes. J Sports Med 1974; 14: 165–7

Ryan AJ, Brown RL, Frederick EC, et al. Overtraining of athletes: a round table. Physician Sportsmed 1983; 11: 93–110

Gabriel HHW, Urhausen A, Valet G, et al. Overtraining and immune system: a prospective longitudinal study in endurance athletes. Med Sci Sports Exerc 1998; 30: 1151–7

Ferry A, Picard F, Duvallet A, et al. Changes in blood leucocyte populations induced by acute maximal and chronic submaximal exercise. Eur J Appl Physiol 1990; 59: 435–42

Dickson DN, Wilkinson RL, Noakes TD. Effects of ultra-marathon training and racing on hematologic parameters and serum ferritin levels in well-trained athletes. Int J Sports Med 1982; 3: 111–7

Kirwan JP, Costill DL, Flynn MG, et al. Physiological responses to successive days of intense training in competitive swimmers. Med Sci Sports Exerc 1988; 20: 255–9

Barron JL, Noakes TD, Levy W, et al. Hypothalamic dysfunction in overtrained athletes. J Clin Endocrinol Metab 1985; 60: 803–6

Viru A, Viru M. Evaluation of endocrine activities and hormonal metabolic control in training and overtraining. In: Lehman M, Foster C, Gastmann U, et al., editors. Overload, performance incompetence, and regeneration in sport. New York (NY): Kluwer Academic, 1999: 53–70

Post RM, Ballenger JC, editors. Neurobiology of mood disorders. Baltimore (MD): Williams and Wilkins, 1984: 502–571

Kroenke K, Wood DR, Mangelsdorff AD. Chronic fatigue in primary care: prevalence, patient characteristics, and outcome. JAMA 1988; 260: 929–34

Hendrickson CD, Verde TJ. Inadequate recovery from vigorous exercise. Physician Sportsmed 1994; 22: 56–64

Nieman DC. Effects of athletic endurance training on infection rates and immunity. In: Krieder RB, Fry AC, O'Toole ML, editors. Overtraining in sport. Champaign (IL): Human Kinetics, 1998: 193–217

Kreider RB. Central fatigue hypothesis and overtraining. In: Krieder RB, Fry AC, O'Toole ML, editors. Overtraining in sport. Champaign (IL): Human Kinetics, 1998: 309–31

Tanaka H, West KA, Duncan GE, et al. Changes in plasma tryptophan/branched chain amino acid ratio in response to training volume variation. Int J Sports Med 1997; 18: 270–5

Costill DL, Flynn MG, Kirwan JP, et al. Effects of repeated days of intensified training onmuscle glycogen and swimming performance. Med Sci Sports Exerc 1988; 20: 249–54

Snyder AC. Overtraining and glycogen depletion hypothesis. Med Sci Sports Exerc 1998; 30: 1146–50

Bruin G, Kuipers H, Keizer A, et al. Adaptation and overtraining in horses subjected to increasing training loads. J Appl Physiol 1994; 76: 1908–13

Foster C. Monitoring training in athletes with reference to overtraining syndrome. Med Sci Sports Exerc 1998; 30: 1164–8

Selye H. The evolution of the stress concept. Am Sci 1973; 61: 692–9

Berne RM and Levy MN. Principles of physiology. St. Louis (MO): Mosby, 1996

Keizer HA. Neuroendocrine aspects of overtraining. In: Krieder RB, Fry AC, O'Toole ML, editors. Overtraining in sport. Champaign (IL): Human Kinetics, 1998: 145–1670

Mackinnon LT. Effects of overreraching and overtraining on immune function. In: Krieder RB, Fry AC, O'Toole ML, editors. Overtraining in sport. Champaign (IL): Human Kinetics, 1998: 219–41

Armstrong LE. Adapting to extreme environments. In: Performing in extreme environments. Champaign (IL): Human Kinetics, 2000: 1–14

Urhausen A, Gabriel H, Kindermann W. Blood hormones as markers of training stress and overtraining. Sports Med 1995; 20: 251–76

Hooper SL, MacKinnon LT, Howard A, et al. Markers for monitoring overtraining and recovery. Med Sci Sports Exerc 1995; 27: 106–12

McNair D, Lorr MM, Droppleman LF. Profile of mood states manual. San Diego (CA): Educational andTesting Service, 1992

Flynn MG, Pizza FX, Boone JB, et al. Indices of training stress during competitive running and swimming seasons. Med Sci Sports Exerc 1994; 15: 21–6

Verde T, Thomas S, Shephard RJ. Potential markers of heavy training in highly trained distance runners. Br J Sports Med 1992; 26: 167–75

Armstrong LE, Hubbard RW, Jones BH, et al. Preparing Alberto Salazar for the heat of the Olympic marathon. Physician Sportsmed 1986; 14 (3): 73–76, 79–81

Wischnia B. Comeback at Comrades. Runners World 1994; 29 (8): 76–7

American Psychiatric Association. Diagnostic and statistical manual of mental disorders. 4th ed. Washington, DC: American Psychiatric Press, 1994

Epstein Y, Albukrek D, Kalmovitc B, et al. Heat intolerance induced by antidepressants. Ann N Y Acad Sci 1997; 813: 553–8

US Department of Health and Human Services. Depression is a treatable illness. Rockville (MD): Department of Health and Human Services 1993: 1–33. Publication No. AHCPR 93–0553

Kessler RC, Zhao S, Blazer DG, et al. Prevalence, correlates, and course of minor depression and major depression in the national comorbidity survey. J Affect Disord 1997; 45: 19–20

Blazer DG, Kessler RC, McGonagle K, et al. The prevalence and distribution of major depression in a national community sample: the national comorbidity survey. Am J Psychiatry 1994; 151: 979–86

Puffer JC, McShane JM. Depression and chronic fatigue in athletes. Clin Sports Med 1992; 11: 327–38

Hanna EA. Potential sources of anxiety and depression associated with athletic competition. Can J Appl Sport Sci 1979; 4: 199–204

Meeusen R. Overtraining and the central nervous system: the missing link?. In: Lehman M, Foster C, Gastmann U, et al., editors. Overload, performance incompetence, and regeneration in sport. New York (NY): Kluwer Academic, 1999: 187–202

Zautra AJ, Reich JW. Life events and perceptions of life quality: developments in a two-factor approach. J Community Psychol 1983; 1: 121–32

Azmitia EC, Whitaker-Azmitia PM. Awakening the sleeping giant: anatomy and plasticity of the brain serotonergic system. J Clin Psychiatry 1991; 52 (12 Suppl.): 4–16

Meltzer HY. Role of serotonin in depression. Ann N Y Acad Sci 1990: 600; 486–500

Maier SF, Watkins LR. Cytokines for psychologists: implications of bidirectional immune-to-brain communication for understanding behavior, mood and cognition. Psychol Rev 1998; 105: 83–107

Lechin F, van der Dijs B, Orozco B, et al. Plasma neurotransmitters, blood pressure, and heart rate during supine-resting orthostasis, and moderate exercise conditions in major depressed patients. Biol Psychiatry 1995; 38: 166–73

Urhausen A, Gabriel HHW, Kindermann W. Impaired pituitary hormonal response to exhaustive exercise in overtrained endurance athletes. Med Sci Sports Exerc 1998; 30: 407–14

Cowen PJ, Anderson IM, Gartside SE. Endocrinological responses to 5-HT. Ann N Y Acad Sci 1990; 600: 250–8

Wilson WM, Maughan RJ. Evidence for a possible role of 5-hydroxytryptamine in the genesis of fatigue in man: administration of paroxetene, a 5-HT re-uptake inhibitor, reduces the capacity to perform prolonged exercise. Exp Physiol 1992; 77: 921–4

Newsholme E, Blomstrand E, Ekblom B. Physical and mental fatigue: metabolic mechanisms and importance of plasma amino acids. Br Med Bull 1992; 48: 477–95

Bloomstrand E, Hassmen P, Newsholme EA. Administration of branched-chain amino acids during sustained exercise-effects on performance and the plasma concentrations of some amino acids. Eur J Appl Physiol 1991; 63: 83–8

Bloomstrand E, Hassmen P, Newsholme EA. Effects of branched-chain amino acid supplementation on mental performance. Acta Physiol Scand 1991; 143: 225–6

Conlay LA, Zeisel SH. Neurotransmitter precursors and brain function. Neurosurgery 1982; 10: 524–9

Wurtman RW, Lewis MC. Exercise, plasma composition, and neurotransmission. In: Brouns F, editor. Advances in nutrition and top sport. Basel: Karger 1991: 94–101

Azmitia EC. Serotonin neurons, neuroplasticity, and homeostasis of neural tissue. Neuropsychopharmacology 1999; 21: 33S-45S

Asberg M, Wagner A. Biochemical effects of antidepressant treatment: studies of monoaminemetabolites in cerebrospinal fluid and platelet [3H]imipramine binding. In: Porter R, Bock G, Clark S, editors. Antidepressants and receptor function. Chichester: John Wiley and Sons 1986: 57–83

Siever LJ, Coccaro EF, Benjamin E, et al. Adrenergic and serotonergic receptor responsiveness in depression. In: Porter R, Bock G, Clark S, editors. Antidepressants and receptor function. Chichester: John Wiley and Sons 1986: 148–69

Jacobs BL, Azmitia EC. Structure and function of the brain serotonergic system. Physiol Rev 1992; 72: 165–220

Lechin F, Van der Dijs B, Benaim M. Stress versus depression. Prog Neuropsychopharmacol Biol Psychiatry 1996; 20: 899–950

Richelson E. Biological basis of depression and therapeutic relevance. J Clin Psychiatry 1991; 52: 4–10

Maes M, Minner B, Suy E, et al. Coexisting dysregulations of both the sympathoadrenal system and hypothalamic-pituitaryadrenal- axis in melancholia. JNeuralTransm1991; 85: 195–210

Mikulaj L, Kvetnansky R, Murgas K, et al. Catecholamines and corticosteroids in acute and repeated stress. In: Usdin E, Kvetnansky R, Kopin IJ, editors. Catecholamines and stress. Oxford: Pergamon Press 1976: 445–54

Lehmann M, Gastmann U, Baur S, et al. Selected parameters and mechanisms of peripheral and central fatigue and regeneration in overtrained athletes. In: Lehman M, Foster C, Gastmann U, et al., editors. Overload, performance incompetence, and regeneration in sport. New York (NY): Kluwer Academic, 1999: 7–25

Schurmeyer T, Jung K, Nieschlag E. The effect of an 1100 km run on testicular, adrenal and thyroid hormones. Int J Androl 1984; 7: 276–82

Lehmann M, Foster C, Dickhuth HH, et al. Autonomic imbalance hypothesis and overtraining syndrome. Med Sci Sports Exerc 1988; 30: 1140–5

Beyer P, Knuppen S, Zehender R, et al. Changes in spontaneous growth hormone (GH) secretion in athletes during different training periods over one year. Acta Endocrinol 1990; 22 Suppl. 1: 35

Hakkinen K, Pakarinen A, Alen M. Relationships between training volume, physical performance capacity, and serum hormone concentrations during prolonged training in elite weight lifters. Int J Sports Med 1987; 8 Suppl. 8: 61–5

Fry AC. The role of training intensity in resistance exercise overtraining and overreaching. In: Kreider RB, Fry AC, O'Toole ML, editors. Overtraining in sport. Champaign (IL): Human Kinetics, 1998: 107–27

Sulman FG, Danon A, Pfeifer Y, et al. Urinalysis of patients suffering from climatic heat stress (Sharav). Int J Biometeriol 1970; 14: 45–53

Hedelin R, Wiklund U, Bjerle P, et al. Cardiac autonomic imbalance in an overtrained athlete. Med Sci Sports Exerc 2000; 32: 1531–3

Sapolsky RM, Krey LC, McEwen BS. Stress down-regulates corticosterone receptors in a site-specific manner in the brain. Endocrinol Rev 1984; 114: 287–92

Adlercreutz H, Harkonen M, Kuoppasalami K, et al. Effect of training on plasma anabolic and catabolic steroid hormones and their response during physical training. Int J Sports Med 1986; 7: S27–8

Lehmann M, Knizia K, Gastmann U, et al. Influence of 6-week, 6 days per week, training on pituitary function in recreational athletes. Br J Sports Med 1993; 27: 186–92

Guyton AC, Hall JE. Textbook of medical physiology. 9th ed. Philadelphia (PA): WB Saunders Company, 1996: 776–777

Dey S. Physical exercise as a novel antidepressant agent: possible role of serotonin receptor subtypes. Physiol Behav 1994; 55: 323–9

Jakeman PM, Hawthorne JE, Maxwell RJ, et al. Evidence for downregulation of hypothalamic 5-hydroxytryptamine receptor function in endurance-trained athletes. Exp Physiol 1994; 79: 461–4

Schatzberg AF. Noradrenergic versus serotonergic antidepressants: predictors of treatment response. J Clin Psychiatry 1998; 59 Suppl. 14: 15–8

Nordstrom P, Asberg M. Suicide risk and serotonin. Int Clin Psychopharmacol 1992; 6: 12–21

Cottman CW, Gomez-Pinilla F, Kahle JS. Neural plasticity and regeneration. In: Siegel GJ, Agranoff RW, Albers RW, et al. editors. Basic neurochemistry. 5th ed. New York (NY): Raven Press, 1994: 608–9

Nicholls DG. Proteins, transmitters and synapses. Oxford: Blackwell Science Ltd., 1999: 234–247

Petit TL. Synaptic plasticity and the structural basis of learning and memory. In: Petit TL, Ivy GO, editors. Neural plasticity: a lifespan approach. New York (NY): Alan R. Liss Inc., 1988: 201–34

Petit TL, Markus EJ. The cellular basis of learning and memory: the anatomical sequel to neuronal use. In: Petit TL, Ivy GO, editors. Neural plasticity: a lifespan approach. New York (NY): Alan R. Liss Inc., 1988: 87–124

Vaadia E. Learning how the brain learns. Nature 2000; 405: 523–67

Wolpaw JR, Schmidt JT. Activity-driven CNS changes in learning and development. Ann N Y Acad Sci 1991; 627: x-xi

Siegel GJ, Agranoff RW, Albers RW, et al. Basic neurochemistry. 5th ed. New York (NY): Raven Press, 1994

Nakamura S, Kitayama I, Murase S. Electrophysiological evidence for axonal degeneration of locus coeruleus neurons following long-term forced running stress. Brain Res Bull 1991; 26: 759–63

Nakamura S. Axonal sprouting of noradrenergic locus coeruleus neurons following repeated stress and antidepressant treatment. Prog Brain Res 1991; 88: 587–98

Nakamura S, Sakaguchi T, Aoki F. Electrophysiological evidence for terminal sprouting of locus coeruleus neurons following repeated mild stress. Neurosci Lett 1989; 100: 147–52

Deschenes MR, Maresh CM, Crivello JF, et al. The effects of exercise training of different intensities on neuromuscular junction morphology. J. Neurocytol 1993; 22: 603–15

Deschenes MR, Maresh CM, Armstrong LE, et al. Endurance and resistance exercise induce muscle fiber type specific responses in androgen binding capacity. J Steroid Biochem Molec Biol 1994; 50: 175–9

Kitayama I, Nakamura S, Yaga T, et al. Degeneration of locus coeruleus axons in stress-induced depression model. Brain Res Bull 1994; 35: 573–80

Nakamura S. Effects of mianserin and fluoxetine on axonal regeneration of brain catecholamine neurons. Neuroreport 1991; 2: 525–8

Nakamura S. Antidepressants induce regeneration of catecholaminergic axon terminals in the rat cerebral cortex. Neurosci Lett 1990; 26: 64–8

Asakura M, Tsukamoto T, Kubota H, et al. Role of serotonin in the regulation of beta-adrenoceptors by antidepressants. Eur J Pharmacol 1987; 141: 95–100

Travis J. Lithium increases gray matter in the brain. Sci News 2000; 158: 309

Hart BL. Biological basis of the behavior of sick animals. Neurosci Biobehav Rev 1988; 12: 123–37

Meijer A, Zakay-Rones Z, Morag A. Post-influenzal psychiatric disorder in adolescents. Acta Psychiatr Scand 1988; 78: 176–81

Fent SY, Zbinden G. Toxicity of interferon and interleukin. Trends Pharmacol Sci 1987; 8: 100–5

Freund HR, Muggia-Sullam M, LaFrance R, et al. Regional brain amino acid and neurotransmitter derangements during abdominal sepsis and septic encephalopathy in the rat. Arch Surg 1986; 121: 209–16

Maes M, Meltzer HY, Scharpe S, et al. Psychomotor retardation, anorexia, weight loss, sleep disturbances, and loss of energy: psychopathological correlates of hyperhaptoglobinemia during major depression. Psych Res 1993; 47: 229–41

Irwin M, Patterson T, Smith TL, et al. Reduction of immune function in life stress and depression. Biol Psychiatry 1990; 27: 22–30

Smith EM, Blalock JE. A complete regulatory loop between the immune and neuroendocrine systems operates through common signal molecules (hormones) and receptors. In: Plotnikoff NP, Faith RE, editors. Enkephalins and endorphins. New York (NY): Plenum Press, 1986: 119–28

Maes M, Verkerk R, Vandoolaeghe E, et al. Serotonin-immune interactions in major depression: lower serum tryptophan as a marker of an immune-inflammatory response. Eur Arch Psychiatry Clin Neurosci 1997; 247: 154–61

Ostrowski K, Rohde T, Asp S, et al. Pro- and anti-inflammatory cytokine balance in strenuous exercise in humans. J Physiol (Lond) 1999; 515: 287–91

Simpson KJ, Lukas NW, Colletti L, et al. Cytokines and the liver. J Hepatol 1997; 27: 1120–32

Parmenter DC. Some medical aspects of the training of college athletes. Boston Med Surg J 1923; 189: 45–50

Wischnia B. A time to reflect. Runners World 1994; 29 (9): 80–4

Maron MB, Horvath SM, Wilkeson JE. Blood biochemical alterations during recovery from competitive marathon running. Eur J Appl Physiol 1977; 36: 231–8

O'Connor PJ. Overtraining and staleness. In: Morgan WP, editor. Physical activity and mental health. Washington, DC: Taylor and Francis 1997: 145–60

Katz SJ, Kessler RC, Lin E, et al. Medication management of depression in the United States andOntario. J Gen Intern Med 1998; 13: 77–85

Williams JW, Mulrow CD, Chiquette E, et al. A systematic review of newer pharmacotherapies for depression in adults: evidence report summary. Ann Intern Med 2000; 132: 743–56

Simon GE, VonKoroff M, Heiligenstein JH, et al. Initial antidepressant choice in primary care: effectiveness and cost of fluoxetine vs tricyclic antidepressants. JAMA 1996; 275: 1897–902

Mosqueda-Garcia R. Central autonomic regulation. In: Robertson D, Low PA, Polinsky RJ, editors. Primer on the autonomic nervous system. San Diego (CA): Academic Press, 1996: 3–26

Kessler RC. The effects of stressful life events on depression. Ann Rev Psych 1997; 48: 191–214

Fleck S, Kraemer WJ. The overtraining syndrome. J Strength Cond Res 1982; 4 (4): 50–1

Impara JC, Plake BS, editors. Mental measurements yearbook. 13th ed. Lincoln (NE): University of Nebraska Press, 1998

Wertheim LJ. Desperate for a second chance: battling bipolar disorder, former Jazz center Luther Wright dreams of the NBA. Sports Illus 2000; 92 (1): 38–9

Lidstone JE, Amundson ML, Amundson LH. Depression and chronic fatigue in the high school student and athlete. Prim Care 1991; 18: 283–96

Schwenk TL. The stigmatisation and denial of mental illness in athletes. Br J Sports Med 2000; 34: 4–5
About this article
Cite this article
Armstrong, L.E., VanHeest, J.L. The Unknown Mechanism of the Overtraining Syndrome. Sports Med 32, 185–209 (2002). https://doi.org/10.2165/00007256-200232030-00003
Published:

Issue Date:

DOI: https://doi.org/10.2165/00007256-200232030-00003
Keywords