Abstract
Over the course of the past century it has become increasingly difficult to find athletes of the size and shape required to compete successfully at the highest level. Sport is Darwinian in that only the 'fittest' reach the highest level of participation. Not every physical characteristic could be expected to play a role in this selection process, but two that are important and for which substantial data assemblies exist, are height and mass. Measurements of elite athlete sizes were obtained from a variety of sources as far back as records allowed. We charted the shift in these anthropometric characteristics of elite sportspeople over time, against a backdrop of secular changes in the general population. Athletes in many sports have been getting taller and more massive over time; the rates of rise outstripping those of the secular trend. In open-ended sports, more massive players have an advantage. Larger players average longer careers and obtain greater financial rewards. In some sports it is equally difficult to find athletes small enough to compete. In contrast, there are sports that demand a narrow range of morphological characteristics. In these sports the size of the most successful athletes over the century has remained constant, despite the drift in the population characteristics from which they are drawn. A number of social factors both drive and are driven by the search for athletes of increasingly rare morphology. These include globalisation and international recruitment, greater financial and social incentives, and the use of special training methods and artificial growth stimuli. In many sports the demand for a specific range in body size reinforces the need to adopt questionable and illegal behaviours to reach the required size and shape to compete at the top level. Future scenarios also include 'gene-farming' through assortative mating and athlete gamete banks.
This is a preview of subscription content, log in to check access.
Access options
Buy single article
Instant access to the full article PDF.
US$ 49.95
Price includes VAT for USA
Subscribe to journal
Immediate online access to all issues from 2019. Subscription will auto renew annually.
US$ 199
This is the net price. Taxes to be calculated in checkout.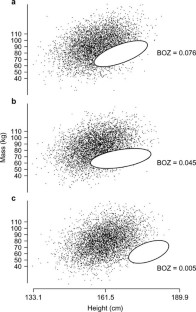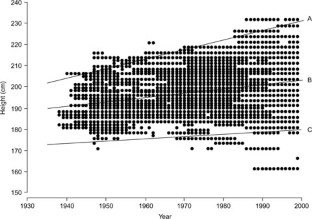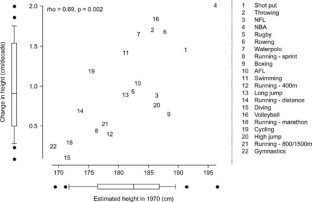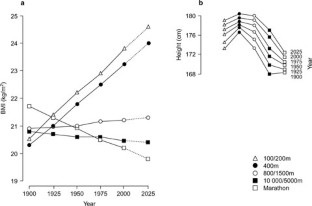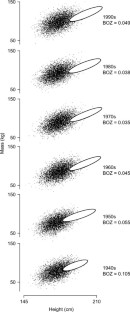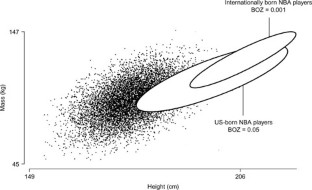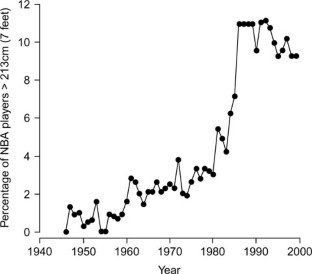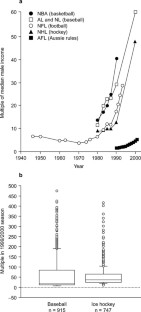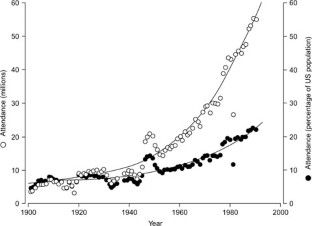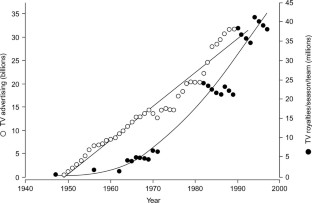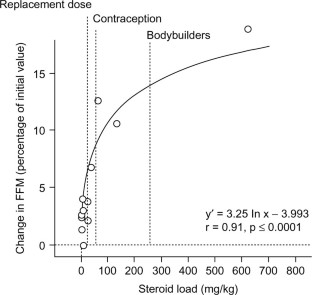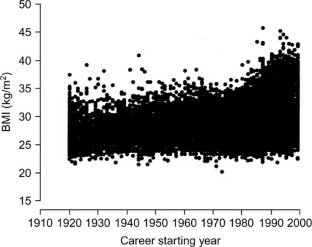 References
1.

McDonough W, editor. 75 seasons: the complete story of the National Football League 1920–1995. Atlanta (GA): Turner Publishing Company, Inc., 1994

2.

National Football League. Official site of the National Football League. NFL.com [online]. Available from: URL: http://www.nfl.com/rosters/ [Accessed 1999 Mar 31]

3.

Bemies CO. Physical characteristics of the runner and jumper. Am Phys Ed Rev 1900; 5 (3): 235–45

4.

Sewart J. The commodification of sport. Int Rev Sociol Sport 1987; 22: 171–92

5.

Norton K, Olds T, Olive S, et al. Anthropometry and sports performance. In: Norton K, Olds T, editors. Anthropometrica. Sydney: University of New South Wales Press, 1996: 287–364

6.

Department of the Arts, Sport, the Environment and Territories (DASET). DASET pilot survey of the fitness of Australians. Canberra: Australian Government Printing Service, 1992

7.

Reilly T. Football. In: Reilly T, Secher N, Snell PS, et al., editors. Physiology of sports. London: E & F.N. Spon, 1990: 371–425

8.

Withers RT, Craig NP, Bourdon PC, et al. Relative body fat and anthropometric prediction of body density of male athletes. Eur J Appl Physiol 1987; 56: 191–200

9.

Foley JP, Bird SR, White JA. Anthropometric comparison of cyclists from different events. Br J Sports Med 1989; 23: 30–3

10.

Tittel K, Wutscherk H. Anatomical and anthropometric fundamentals of endurance. In: Shepherd RJ, Astrand P-O, editors. Endurance sports. London: Blackwell Scientific, 1992: 35–45

11.

Stepnicka J. Somatotype in relation to physical performance, sports and body posture. In: Reilly T, Watkins J, Borms J, editors. Kinanthropometry. III. London: E&F.N. Spon, 1986: 39–52

12.

Defrise-Gussenhoven E. Croissance et débilité: étude biométrique d'écoliers bruxellois. Inst R Sci Nat Belg 1954; 128: 1–54

13.

Norton K, Olds T, Olive S, et al. Ken and Barbie at life size. Sex Roles 1996; 34: 287–94

14.

US Department of Health and Human Services, National Centre for Health Statistics. Department National Health and Nutrition Examination Survey III (NHANES III) 1988–1994 [CD Rom]. Hyattsville (MD): Centers of Disease Control and Prevention. Updated 1997 Oct; CD-Rom series II: No. 1

15.

Models online. Available from: URL: http://www.modelsonline.com [Accessed 1999 Feb 21]

16.

Online talent portfolios. New Faces Talent [online]. Available from: URL: http://newfaces.com/supermodels/modelpage.html [Accessed 1999 Mar 2]

17.

Floud R, Wachter KW, Gregory A. Height, health and history: nutritional status in the United Kingdom. Cambridge: Cambridge University Press, 1990: 1750–980

18.

Olds T, Dollman J, Norton K, et al. A century of growth in Australian children. In: Jurimae T, Hills A, editors. Body composition assessment in children and adolescents [Medicine and Sports Science series, 44]. London: Karger, 2001: 85–103

19.

Hathaway ML, Foard ED. Heights and weights of adults in the United States Home Economics Research Report No. 10. United States Department of Agriculture. Washington, DC: US Government Printing Office, 1960

20.

US Department of Health and Human Services, National Centre for Health Statistics. Department National Health and Nutrition Examination Survey I (NHANES I) 1960. Hyattsville (MD): Centers of Disease Control and Prevention

21.

US Department of Health and Human Services, National Centre for Health Statistics. Department National Health and Nutrition Examination Survey II (NHANES II) 1978. Hyattsville (MD): Centers of Disease Control and Prevention

22.

Sachare A, editor. The official NBA basketball encyclopedia. New York (NY): Villard Books, 1994

23.

Neft D, Cohan R, Korch R. The sports encyclopedia: pro football. 16th ed. The modern era 1973–1997. New York (NY): St. Martin Griffin, 1998

24.

Statistics on players. National Basketball Association [online]. Available from: URL: http://www.nba.com/teams/ [Accessed 1999 Feb 18]

25.

Statistics on players. Women's National Basketball Association [online]. Available from: URL: http://www.wnba.com/teamindex.html [Accessed 1999 Feb 18]

26.

Bale J. Sport geography. New York (NY): E. & F.N. Spon, 1989

27.

US Bureau of Census. Statistical abstracts of the United States, 1992. 112th ed. Washington, DC: US Department of Commerce; 1992

28.

Lovett M. AFL '2001: the official statistical history of the AFL. Melbourne: Australian Football League (AFL), 2001

29.

Access Arizona's 1999–2000 National Hockey League salaries. Access Arizona [online]. Available from: URL: http://www.accessarizona.com/shared/sports/nhl/stats/salaries.html [Accessed 2001 Mar 14]

30.

Baseball: American League player salaries. USA Today and Baseball Weekly [online]. Available from: URL: http://www.usatoday.com/sports/baseball/salary/99alsal.htm

31.

Baseball: National League player salaries. USA Today and Baseball Weekly [online]. Available from: URL: http://www.usatoday.com/sports/baseball/salary/99nlsal.htm.

32.

Income. US Census Bureau [online]. US Census Bureau [online]. Available from: URL: http://www.census.gov/hhes/www/income.html [Accessed 1999 Feb 18]

33.

Bureau of Labor Statistics. Consumer price index: all urban consumers - (CPI-U). Bureau of Labor Statistics, US Department of Labor [online]. Available from: URL: ftp://bis.gov/pub/special.requests/cpi/cpiai.txt [Accessed 1999 Feb 18]

34.

Kurian G. Datapedia of the United States. Lantham (MD): Bernan Press, 1994: 1790–2000

35.

Barnidge T. The NFL on TV. In: B. Carroll, M. Gershman, Neft D, et al., editors. Total football. New York (NY): Harper Collins, 1997; 25: 445–7

36.

Sage GH. Power and ideology in American Sport. Champaign (IL): Human Kinetics, 1990

37.

Norton K, Craig N, Olds T. The evolution of Australian football. J Sci Med Sport 1999; 2: 389–404

38.

Lucas JA. Future of the Olympic games. Champaign (IL): Human Kinetics, 1992

39.

Voy R. Drugs, sport and politics. Champaign (IL): Leisure Press, 1991

40.

Yesalis C. Anabolic steroids in sport and exercise. Champaign (IL): Human Kinetics, 1993

41.

Alen M, Hakkinen K, Komi PV. Changes in neuromuscular performance and muscle fibre characteristics of elite power athletes self-administering androgenic and anabolic steroids. Acta Physiol Scand 1984; 122: 535–44

42.

Casner SW, Early RG, Carlson BB. Anabolic steroid effects on body composition in normal young men. J Sports Med Phys Fitness 1971; 11: 98–103

43.

Fahey TD, Brown CH. The effects of an anabolic steroid on the strength, body composition and endurance of college males when accompanied by a weight training program. Med Sci Sports 1973; 5: 272–6

44.

Forbes GB, Porta CR, Herr BE, et al. Sequence of changes in body composition induced by testosterone and reversal of changes after the drug is stopped. JAMA 1992; 267: 397–9

45.

Freed DLJ, Banks AJ, Longson D, et al. Anabolic steroids in athletics: cross-over double-blind trial on weightlifters. BMJ 1975; 2: 471–3

46.

Friedl KE, Dettori JR, Hannon CJ, et al. Comparison of the effects of high dose testosterone and 19-nortestosterone to a replacement dose of testosterone on strength and body composition in normal men. J Steroid Biochem Mol Biol 1991; 40: 607–12

47.

Griggs RC, Kingston W, Jozefowicz RF, et al. Effect of testosterone on muscle mass and muscle protein synthesis. J Appl Physiol 1989; 66: 498–503

48.

Hervey GR, Hutchinson L, Knibbs AV, et al. 'Anabolic' effects of methandienone inmen undergoing athletic training. Lancet 1976; II: 699–702

49.

Johnson LC, Fisher G, Silverster LJ, et al. Anabolic steroids: effects of strength, body weight, oxygen uptake and spermatogenesis upon mature males. Med Sci Sports 1972; 4: 43–5

50.

Ward P. The effect of an anabolic steroid on strength and lean body mass. Med Sci Sports 1973; 5: 277–82

51.

Wright JE. Anabolic steroids and athletes. Exerc Sports Sci Rev 1980; 8: 149–202

52.

World Health Organisation task force on methods for the regulation of male fertility: contraceptive efficacy of testosterone-induced azoospermia in normal men. Lancet 1990; 336: 955–9

53.

Yesalis C, Cowart V. The steroid game. Champaign (IL): Human Kinetics, 1998

54.

Brownell KD, Nelson-Steen S, Wilmore J. Weight regulation practices in athletes: analysis of metabolic and health effects. Med Sci Sports Exerc 1987; 19: 546–56

55.

Lawson G. World record breakers in track and field athletics. Champaign (IL): Human Kinetics, 1997

56.

Bouchard C, Lortie G. Heredity and endurance performance. Sports Med 1984; 1: 38–64

57.

Harrigan J. Football families. In: Carroll B, Gershman M, Neft D, et al., editors. Total football. New York (NY): Harper Collins, 1997; 11: 305–13

58.

Bouchard C, Malina R, Pérusse L. Genetics, fitness and physical performance. Champaign (IL): Human Kinetics, 1997

59.

Annas GL. Artificial insemination: beyond the best interests of the donor. Hastings Center Report 1979; 9 (4): 14

60.

In brief. Hastings Cent Rep 1980; 10 (2): 29

61.

Sappideen C. The surrogate mother: a growing problem. Univ N S Wales Law J 1983; 6; 79–102

62.

Moghissi K. Reflections on the new guidelines for the use of semen donor insemination. Fertil Steril 1990; 53: 399–400

63.

Etcoff N. Survival of the prettiest: the science of beauty. New York (NY): Doubleday, 1999

64.

Pawlowski B, Dunbar RIM, Lipowicz A. Tall men have more reproductive success. Nature 2000 13 Jan; 403: 156
About this article
Cite this article
Norton, K., Olds, T. Morphological Evolution of Athletes Over the 20th Century. Sports Med 31, 763–783 (2001). https://doi.org/10.2165/00007256-200131110-00001
Keywords
Reference Population

Anabolic Steroid

Secular Trend

Elite Athlete

Anabolic Androgenic Steroid