Abstract
Alcohol and the athlete have been linked together since ancient times. It continues to be the most commonly consumed drug among the athletic population. Alcohol use carries significant potential adverse effects for both the health and welfare of the individual. It is suggested that alcohol related problems may be more prevalent in the athletic population due to their risk taking mentality and the age profile of athletes (18- to 24-year-old males). Alcohol consumption also appears to have a causative effect in sports related injury, with an injury incidence of 54.8% in drinkers compared with 23.5% in nondrinkers (p < 0.005). This may be due in part to the hangover effect of alcohol consumption, which has been shown to reduce athletic performance by 11.4%. Alcohol is a potentially lethal drug and is a banned substance for certain Olympic sports. Education is the cornerstone for appropriate social use of this drug. Athletes and coaches need to be aware of the sports related adverse effects of alcohol consumption and its role in sports injury and poor physiological performance. It is recommended that alcohol should be avoided by the serious athlete.
Access options
Buy single article
Instant access to the full article PDF.
US$ 49.95
Tax calculation will be finalised during checkout.
Subscribe to journal
Immediate online access to all issues from 2019. Subscription will auto renew annually.
US$ 259
Tax calculation will be finalised during checkout.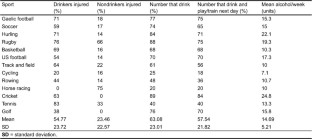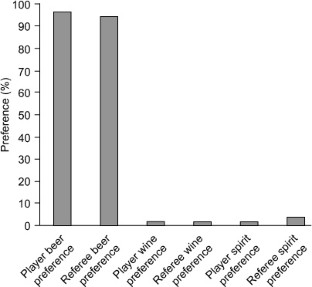 References
1.

Li GH, Baker SP. Alcohol in the fatally injured bicyclist. Accid Anal Prev 1994; 26: 543–8

2.

Gilman AG, Goodman LS, Rawl TW. et al., editors In: Goodman & Gilman's the pharmacolgical basis of therapeutics. 7th ed. New York (NY): McMillan, 1985

3.

Anderson WA, McKeagh DB. Substance use and abuse habits of college student athletes. Mission (KS): National Collegiate Athletes Association, 1989

4.

Lyons FP. Can regular alcohol consumption increase the risk of injury [thesis]? Exeter: University of Exeter, 1998

5.

O'Brien CP. Alcohol and sport: impact of social drinking on recreational and competitive sports performance. Sports Med 1993; 15 (2): 71–7

6.

Royal College of Physicians. The medical consequences of alcohol abuse: a great and growing evil. London: Royal College of Physicians, 1987

7.

Steel DW. Social aspects of alcohol. Med Int 1985; 5: 657–9

8.

Thornley A. Psychiatric aspects of problem drinking. Med Int 1985; 2: 645

9.

Anderson DB, Albreacht RR, Mckeag DB. A national survey of alcohol and drug use by college athletes. Physician Sports Med 1991; 19 (2): 91–104

10.

O'Brien CP. The demon drink. Rugby News 1991 Mar: 22–4

11.

Reilly T. Alcohol, anti-anxiety drugs and exercise. In: Mottram E, Spon FN, editors. Drugs in sport. Champaign (IL): Human Kinetics, 1988: 127–56

12.

Nattiv A, Puffer JC. Lifestyles and health risks of collegiate athletes. J Fam Pract 1991; 33: 585–90

13.

Singleton VA, Turnquist A. Betty Ford Centre series: peer pressure to drink alcohol worries parents of freshman. National Collegiate Athletic Association Sport Sciences Education Newsletter 1995 Fall: 1

14.

Buchsbaum DG, Buchanan RG, Center RM, et al. Screening for alcohol abuse using CAGE scores and likelihood ratios. Ann Intern Med 1991; 115: 774–7

15.

Fox EL. Sports physiology. Philadelphia (PA): CBS College Publishing, 1984

16.

American College of Sports Medicine. American College of Sports Medicine position statement on the use of alcohol in sport. Med Sci Sports Exerc 1982; 14: ix-x

17.

Bond V, Franks BD, Howlet ET. Effects of small and moderate doses of alcohol on submaximal cardiorespiratory function, perceived exertion and endurance performance in abstainers and moderate drinkers. J Sports Med Phys Fitness 1983; 23: 221–8

18.

Lang RM, Borow KM, Neumann A, et al. Adverse cardiac effects of acute alcohol ingestion in young adults. Ann Intern Med 1985; 102: 742–7

19.

Houmard JA, Langenfeld ME, Wiley RL, et al. Effects of the acute ingestion of small amounts of alcohol upon 5-mile run times. J Sports Med Phys Fitness 1987; 27: 253–7

20.

Eichner ER. Ergolytic drugs. Sports Sci Exchange 1989; 2 (15): 1–4

21.

Strauss RH. Sports medicine. Philadelphia (PA): W.B. Saunders Co., 1991

22.

American College of Sports Medicine. ACSM's guidelines for exercise testing and prescription. 4th ed. Philadelphia (PA): Lea & Febiger, 1991

23.

Nichols AW. Exercise-induced anaphylaxis and urticaria. Clin Sports Med 1992; 11: 303–12

24.

Heath GW, Ford ES, Craven TE, et al. Exercise and the incidence of upper respiratory tract infections. Med Sci Sports Exerc 1991; 23: 152–7

25.

Branche CM, Sniezek JE, Sattin RW, et al. Water recreation-related spinal injuries: risk factors in natural bodies of water. Accid Anal Prev 1991; 23: 13–7

26.

Michalodimitrakis E, Patsalis A. Nitrogen narcosis and alcohol consumption: a scuba diving fatality. J Forensic Sci 1987; 32: 1095–7

27.

Patetta MJ, Biddinger PW. Characteristics of drowning deaths in North Carolina. Public Health Rep 1988; 103 (4): 406–11

28.

O'Brien CP. The changing face of rugby injuries in Ireland, alcohol a preventable cause. London: The Royal London Hospital, 1995

29.

Yesavage JA, Leirer VO. Hangover effects on aircraft pilots 14 hours after alcohol ingestion: a preliminary report. Am J Psychiatry 1986; 143: 1546–50

30.

Gibbons HL. Alcohol, aviation, and safety revisited: a historical review and a suggestion. Aviat Space Environ Med 1988; 59: 657–60

31.

Horn DB. Biochemical aspects of alcohol. Med Int 1985; 2: 649–51

32.

Mayes PA. Lipid transport and storage. In: Murray RK, Grammer DK, Mayes PA, et al., editors. Harpers biochemistry. 21st ed. Stamford (CT): Appleton & Lange, 1988: 235–6

33.

Juhlin-Dannfelt A, Ahlborg G, Hagenfeldt L, et al. Influence of ethanol on splanchnic and skeletal muscle substrate turnover during prolonged exercise in man. Am J Physiol 1977; 233: E195–202

34.

Beckett AH, Cowan DA. Misuse of drugs in sport. Br J Sports Med 1979; 12 185–94
About this article
Cite this article
O'Brien, C.P., Lyons, F. Alcohol and the Athlete. Sports Med 29, 295–300 (2000). https://doi.org/10.2165/00007256-200029050-00001
Keywords
Athletic Performance

Alcohol Related Problem

National Collegiate Athletic Association

Rugby Player

Aerobic Performance