Abstract
The purpose of this review is to evaluate the effectiveness of commercially available sports drinks by answering the questions: (i) will consuming a sports drink be beneficial to performance? and (ii) do different sports drinks vary in their effectiveness? To answer these questions we have considered the composition of commercially available sports drinks, examined the rationale for using them, and critically reviewed the vast number of studies that have investigated the effectiveness of sports drinks on performance. The focus is on the drinks that contain low carbohydrate concentrations (<10%) and are marketed for general consumption before and during exercise rather than those with carbohydrate concentrations >10%, which are intended for carbohydrate loading.
Our conclusions are 3-fold. First, because of variations in drink composition and research design, much of the sports drinks research from the past cannot be applied directly to the effectiveness of currently available sports drinks. Secondly, in studies where a practical protocol has been used along with a currently available sports beverage, there is evidence to suggest that consuming a sports drinks will improve performance compared with consuming a placebo beverage. Finally, there is little evidence that any one sports drink is superior to any of the other beverages on the market.
Access options
Buy single article
Instant access to the full article PDF.
USD 49.95
Price excludes VAT (USA)
Tax calculation will be finalised during checkout.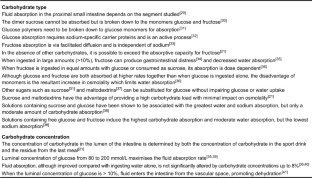 References
Powers SK, Howley ET. Exercise physiology: theory and application to fitness and performance. 3rd ed. Madison (WI): Brown & Benchmark, 1997: 429

Wyndham C. The physiology of exercise under heat stress. Annu Rev Physiol 1973; 35: 193–220

Costill DL, Cote R, Miller E, et al. Water and electrolyte during repeated days of work in the heat. Aviat Space Environ Med 1975; 46 (6): 795–800

Maughan RJ, Noakes TD. Fluid replacement and exercise stress: a brief review of studies on fluid replacement and some guidelines for the athlete. Sports Med 1991; 12: 16–31

Pugh LGCE, Corbett JL, Johnson RH. Rectal temperatures, weight losses and sweat rates in marathon running. J Appl Physiol 1967; 23: 347–52

Montain SJ, Coyle EF. Fluid ingestion during exercise increases skin blood flow independent of increases in blood volume. J Appl Physiol 1992; 73 (3): 903–10

Montain SJ, Coyle EF. Influence of graded dehydration on hyperthermia and cardiovascular drift during exercise. J Appl Physiol 1992; 37 (4): 1340–50

Montain SJ, Coyle EF. Influence of the timing of fluid ingestion on temperature regulation during exercise. J Appl Physiol 1993; 75 (2): 688–95

Coyle EF, Montain SJ. Carbohydrate and fluid ingestion during exercise: are there trade-offs? Med Sci Sports Exerc 1992; 24 (6): 671–8

Barnes G, Morton A, Wilson A. The effect of new glucose-electrolyte fluid on blood electrolyte levels, gastric emptying and work performance. Aus J Sci Med Sport 1984; 16 (1): 25–30

Boulze D, Monstruc P, Cabanao M. Water intake, pleasure and water temperature in humans. Physiol Behav 1983; 30: 97–102

Costill DL. Carbohydrate nutrition before, during, and after exercise. Fed Proc 1985; 44 (2): 363–8

Johnson HL, Nelson RA, Consolazio CF. Effects of electrolyte and nutrient solutions on performance and metabolic balance. Med Sci Sports Exerc 1988; 20 (1): 26–33

Elias E, Gibson GJ, Greenwood LF, et al. The slowing of gastric emptying by monosaccharides and disaccharides in test meals. J Physiol 1968; 194: 317–26

Hunt JN, Smith JL, Jiang CL. Effect of meal volume and energy density on the gastric emptying of carbohydrates. Gastroenterology 1985; 89: 1326–30

McHugh PR, Moran TH. Calories and gastric emptying: a regulatory capacity with implications for feeding. Am J Physiol 1979; 236 (5): R254–60

Mitchell JB, Voss KW. The influence of volume on gastric emptying and fluid balance during prolonged exercise. Med Sci Sports Exerc 1991; 23 (3): 314–9

Vist GE, Maughan RJ. Gastric emptying of ingested solutions in man: effect of beverage glucose concentration. Med Sci Sports Exerc 1994; 26 (10): 1269–73

Vist GE, Maughan RJ. The effect of osmolality and carbohydrate content on the rate of gastric emptying of liquids in man. J Physiol Lond 1995; 486 Pt 2: 523–31

Brener W, Hendrix TR, McHugh PR. Regulation of gastric emptying of glucose. Gastroenterology 1983; 85: 76–82

Schedl HP, Maughan R, Gisolfi CV. Intestinal absorption during rest and exercise: implications for formulating an oral rehydration solution (ORS). Med Sci Sports Exerc 1994; 26: 267–80

Noakes TD, Rehrer NJ, Maughan RJ. The importance of volume in regulating gastric emptying. Med Sci Sports Exerc 1991; 23: 307–13

Brouns F, Senden J, Beckers EJ, et al. Osmolarity does not affect the gastric emptying rate of oral rehydration solutions. J Parenter Enteral Nutr 1995; 19 (5): 403–6

Neufer PD, Costill DL, Fink WJ, et al. Effects of exercise and carbohydrate composition on gastric emptying. Med Sci Sports Exerc 1986; 18 (6): 658–62

Murray R. The effects of consuming carbohydrate-electrolyte beverages on gastric emptying and fluid absorption during and following exercise. Sports Med 1987; 4: 322–51

Coyle EF, Hagberg JM, Hurley BF, et al. Carbohydrate feeding during prolonged strenuous exercise can delay fatigue. J Appl Physiol 1983; 55 (1): 230–5

Coyle EF, Costill DL, Fink WJ, et al. Gastric emptying rates of selected athletic drinks. Res Q 1978; 49: 119–24

Seiple RS, Vivian VM, Fox EL, et al. Gastric-emptying characteristics of two glucose polymer-electrolyte solutions. Med Sci Sports Exerc 1983; 15 (5): 366–9

Lambert GP, Chang RT, Xia T, et al. Absorption from different intestinal segments during exercise. J Appl Physiol 1997; 83 (1): 204–12

Holdsworth CD, Dawson AM. The absorption of monosaccharides in man. Clin Sci 1964; 27: 371–9

Spiller RC. Intestinal absorption function. Gut 1994; 35 (1): S5–9

Spiller RC, Jones BJ, Silk DB. Jejunal water and electrolyte absorption from two proprietary enteral feeds in man: importance of sodium content. Gut 1987; 28 (6): 681–7

Rumessen JJ. Fructose and related food carbohydrates: sources, intake, absorption, and clinical implications. Scand J Gastroenterol 1992; 27 (10): 819–28

Fruth JM, Gisolfi CV. Effects of carbohydrate consumption on endurance performance: fructose versus glucose. In: Fox EL, editor. Nutrient utilisation during exercise. Columbus (OH): Ross Laboratories, 1982: 68–75

Fordtran JS. Stimulation of active and passive sodium absorption by sugars in the human jejunum. J Clin Lab Invest 1975; 55: 728–37

Gisolfi CV, Summers RW, Schedl HP, et al. Intestinal water absorption from select carbohydrate solutions in humans. J Appl Physiol 1992; 73 (5): 2142–50

Jones BJ, Brown BE, Loran JS, et al. Glucose absorption from starch hydrolysates in the human jejunum. Gut 1983; 24 (12): 1152–60

Shi X, Summers RW, Schedl HP, et al. Effects of carbohydrate type and concentration and solution osmolality on water absorption. Med Sci Sports Exerc 1995; 27 (12): 1607–15

Leiper JB, Maughan RJ. Effect of bicarbonate or base precursor on water and solute absorption from a glucose-electrolyte solution in the human jejunum. Digestion 1988; 41 (1): 39–45

Davis JM, Lamb DR, Pate R, et al. Carbohydrate-electrolyte drinks: effects on endurance cycling in the heat. Am J Clin Nutr 1988; 48: 1023–30

Gisolfi CV, Duchman SM. Guidelines for optimal replacement beverages for different athletic events. Med Sci Sports Exerc 1992; 24 (6): 679–87

Gisolfi CV, Summers RD, Schedl HP, et al. Effect of sodium concentration in a carbohydrate-electrolyte solution on intestinal absorption. Med Sci Sports Exerc 1995; 27 (10): 1414–20

Hargreaves M, Costill D, Burke L, et al. Influence of sodium on glucose bioavailability during exercise. Med Sci Sports Exerc 1994 Mar; 26 (3): 365–8

Farthing MJ. History and rationale of oral rehydration and recent developments in formulating an optimal solution. Drugs 1988; 36 (4): 80–90

Wapnir RA, Lifshitz F. Osmolality and solute concentration: their relationship with an oral hydration solution effectiveness. An experimental assessment. Pediatr Res 1985; 19: 894–8

Rauch LH, Bosch AN, Noakes TD, et al. Fuel utilisation during prolonged low-to-moderate intensity exercise when ingesting water or carbohydrate. Pflugers Arch 1995; 430 (6): 971–7

Bosch AN, Dennis SC, Noakes TD. Influence of carbohydrate ingestion on fuel substrate turnover and oxidation during prolonged exercise. J Appl Physiol 1994; 76 (6): 2364–72

Massicotte D, Peronnet F, Brisson G, et al. Oxidation of exogenous carbohydrate during prolonged exercise in fed and fasted conditions. Int J Sports Med 1990; 11 (4): 253–8

Manzon A, Fisher SJ, Morais JA, et al. Glucose infusion partially attenuates glucose production and increases uptake during intense exercise. J Appl Physiol 1998; 85 (2): 511–24

Peronnet F, Rheaume N, Lavoie C, et al. Oral [13C]glucose oxidation during prolonged exercise after high- and low-carbohydrate diets. J Appl Physiol 1998; 85 (2): 723–30

Bosch AN, Weltan SM, Dennis SC, et al. Fuel substrate kinetics of carbohydrate loading differs from that of carbohydrate ingestion during prolonged exercise. Metabolism 1996; 45 (4): 415–23

Maughan RJ, Poole DC. The effects of a glycogen-loading regimen on the capacity to perform anaerobic exercise. Eur J Appl Physiol 1981; 46 (3): 211–9

Hargreaves M, Costill DL, Katz A, et al. Effect of fructose ingestion on muscle glycogen usage during exercise. Med Sci Sports Exerc 1985; 17 (3): 360–3

Costill DL, Coyle E, Dalsky G, et al. Effects of elevated plasma FFA and insulin on muscle glycogen usage during exercise. J Appl Physiol 1977; 43 (4): 695–9

Foster C, Costill DL, Fink WJ. Effects of pre-exercise feedings on endurance performance. Med Sci Sports Exerc 1979; 11 (1): 1–5

Sherman WM. Carbohydrate feedings before and after exercise. In: Lamb DR, Williams MR, editors. Perspectives in exercise science and sports medicine. Vol. 4. Ergogenics: enhancement of performance in exercise and sport. Dubuque (IA): Brown & Benchmark, 1991: 102

Ahlborg G, Felig P. Substrate utilisation during prolonged exercise preceded by ingestion of glucose. Am J Physiol 1977; 233 (3): E188–94

Coyle EF, Coggan AR, Hemmert MK, et al. Muscle glycogen utilisation during prolonged exercise when fed carbohydrate. J Appl Physiol 1986; 61: 165–72

Coggan AR, Coyle EF. Reversal of fatigue during prolonged exercise by carbohydrate infusion or ingestion. J Appl Physiol 1987; 63 (6): 2388–95

Coggan AR, Coyle EF. Effect of carbohydrate feedings during high-intensity exercise. J Appl Physiol 1988; 65 (4): 1703–9

Coggan AR, Coyle EF. Metabolism and performance following carbohydrate ingestion late in exercise. Med Sci Sports Exerc 1989; 21 (1): 59–65

Bonen A, Malcolm SA, Kilgour RD, et al. Glucose ingestion before and during intense exercise. J Appl Physiol 1981; 50 (4): 766–71

el-Sayed MS, Balmer J, Rattu AJ. Carbohydrate ingestion improves endurance performance during a 1 hour simulated cycling time trial. J Sports Sci 1997; 15 (2): 223–30

Koivisto VA, Karonen SL, Nikkila EA. Carbohydrate ingestion before exercise: comparison of glucose, fructose and sweet placebo. J Appl Physiol 1981; 51 (4): 783–7

McMurray RG, Wilson JR, Kitchell BS. The effects of fructose and glucose on high intensity endurance performance. Res Q Exerc Sport 1983; 54 (2): 156–62

Neufer PD, Costill DL, Flynn MG, et al. Improvements in exercise performance: effects of carbohydrate feedings and diet. J Appl Physiol 1987; 62 (3): 983–8

Snyder AC, Moorhead K, Luedtke J, et al. Carbohydrate consumption prior to repeated bouts of high-intensity exercise. Eur J Appl Physiol 1993; 66: 141–5

Ventura JL, Estruch A, Rodas G, et al. Effect of prior ingestion of glucose or fructose on the performance of exercise of intermediate duration. Eur J Appl Physiol 1994; 68: 345–9

Anantaraman R, Carmines AA, Gaesser GA, et al. Effects of carbohydrate supplementation on performance during 1 hour of high-intensity exercise. Int J Sports Med 1995; 16 (7): 461–5

Ball TC, Headley SA, Vanderburgh PM, et al. Periodic carbohydrate replacement during 50 min of high-intensity cycling improves subsequent sprint performance. Int J Sports Nutr 1995; 5: 151–8

Below PR, Mora-Rodriguez R, Gonzalez-Alonso J, et al. Fluid and carbohydrate ingestion independently improve performance during 1 h of intense exercise. Med Sci Sports Exerc 1995; 27 (2): 200–10

Jeukendrup A, Brouns F, Wagenmakers AJ, et al. Carbohydrate-electrolyte feedings improve 1 h time trial cycling performance. Int J Sports Med 1997; 18 (2): 125–9

Powers SK, Lawler J, Dodd, S, et al. Fluid replacement drinks during high intensity exercise: effects on minimising exercise-induced disturbances. Eur J Appl Physiol 1990; 60: 54–60

Meyer F, Bar-Or O, MacDougall D, et al. Drink composition and the electrolyte balance of children exercising in the heat. Med Sci Sports Exerc 1995; 27 (6): 882–7

Millard-Stafford M, Rosskopf LB, Snow TK, et al. Water versus carbohydrate-electrolyte ingestion before and during a 15-km run in the heat. Int J Sport Nutr 1997; 7 (1): 26–38

Mitchell JB, Costill DL, Houmard JA, et al. Effects of carbohydrate ingestion on gastric emptying and exercise performance. Med Sci Sports Exerc 1988; 20 (2): 110–5

Cade R, Spooner G, Schlein E, et al. Effect of fluid, electrolyte, and glucose replacement during exercise on performance, body temperature, rate of sweat loss, and compositional changes of extracellular fluid. J Sports Med 1972; 12: 150–6

Davis JM, Burgess WA, Slentz CA, et al. Effects of ingesting 6% and 12% glucose/electrolyte beverages during prolonged intermittent cycling in the heat. Eur J Appl Physiol 1988; 57 (5): 563–9

Davis JM, Jackson DA, Broadwell MS, et al. Carbohydrate drinks delay fatigue during intermittent, high-intensity cycling in active men and women. Int J Sport Nutr 1997; 7 (4): 261–73

Hargreaves M, Costill DL, Coggan A, et al. Effect of carbohydrate feedings on muscle glycogen utilisation and exercise performance. Med Sci Sports Exerc 1984; 16 (3): 219–22

Mitchell JB, Costill DL, Houmard JA, et al. Influence of carbohydrate dosage on exercise performance and glycogen metabolism. J Appl Physiol 1989; 67 (5): 1843–9

Murray R, Eddy DE, Murray TW, et al. The effect of fluid and carbohydrate feedings during intermittent cycling exercise. Med Sci Sports Exerc 1987; 19 (6): 597–604

Murray R, Seifert JG, Eddy DE, et al. Carbohydrate feeding and exercise: effect of beverage carbohydrate content. Eur J Appl Physiol 1989; 59: 152–8

Murray R, Paul GL, Seifert JG, et al. The effects of glucose, fructose, and sucrose ingestion during exercise. Med Sci Sports Exerc 1989; 21 (3): 275–82

Murray R, Paul GL, Seifert JG, et al. Responses to varying rates of carbohydrate ingestion during exercise. Med Sci Sports Exerc 1991; 23 (6): 713–8

Sasaki H, Takaoka I, Ishiko T. Effects of sucrose or caffeine ingestion on running performance and biochemical responses to endurance running. Int J Sports Med 1987; 8 (3): 203–7

Bjorkman O, Sahlin K, Hagenfeldt L, et al. Influence of glucose and fructose ingestion on the capacity for long-term exercise in well-trained men. Clin Physiol 1984; 4: 483–94

American Dietetic Association. Position of the American Dietetic Association: nutrition for physical fitness and athletic performance for adults. J Am Diet Assoc 1987; 87 (7): 933–9

Costill DL, Saltin B. Factors limiting gastric emptying during rest and exercise. J Appl Physiol 1974; 37 (5): 679–83

Foster C, Costill DL, Fink WJ. Gastric emptying characteristics of glucose and glucose polymer solutions. Res Q Exerc Sport 1980; 51 (2): 299–305

Chryssanthopoulos C, Hennessy LC, Williams C. The influence of pre-exercise glucose ingestion on endurance running capacity. Br J Sports Med 1994; 28 (2): 105–9

Flynn MG, Michaud TJ, Rodriguez-Zayas J, et al. Effects of 4- and 8-h preexercise feedings on substrate use and performance. J Appl Physiol 1989; 67 (5): 2066–71

Gleeson M, Maughan RJ, Greenhaff PL. Comparison of the effects of pre-exercise feeding of glucose, glycerol and placebo on endurance and fuel homeostasis in man. Eur J Appl Physiol 1986; 55: 645–53

Hargreaves M, Costill DL, Fink WJ, et al. Effect of pre-exercise carbohydrate feedings on endurance cycling performance. Med Sci Sports Exerc 1987; 19 (1): 33–6

Okano G, Takeda H, Morita I, et al. Effect of pre-exercise fructose ingestion on endurance performance in fed men. Med Sci Sports Exerc 1988; 20 (2): 105–9

Sherman WM, Peden MC, Wright DA. Carbohydrate feedings 1 h before exercise improves cycling performance. Am J Clin Nutr 1991; 54: 866–70

Tarnopolsky MA, Dyson K, Atkinson SA, et al. Mixed carbohydrate supplementation increases carbohydrate oxidation and endurance exercise performance and attenuates potassium accumulation. Int J Sport Nutr; 1996 (4): 323–36

Wright DA, Sherman WM, Dernbach AR. Carbohydrate feedings before, during, or in combination improve cycling endurance performance. J Appl Physiol 1991; 71 (3): 1082–8

Brooke JD, Davies GJ, Green LF. The effects of normal and glucose syrup work diets on the performance of racing cyclists. J Sports Med 1975; 15: 257–65

Burgess WA, Davis JM, Bartoli WP, et al. Failure of low dose carbohydrate feeding to attenuate glucoregulatory hormone responses and improve endurance performance. Int J Sport Nutr 1991; 1: 338–52

Cole KJ, Grandjean PW, Sobszak RJ, et al. Effect of carbohydrate composition on fluid balance, gastric emptying, and exercise performance. J Sport Nutr 1993; 3: 408–17

Edwards TL, Santeusanio D, Wheeler KB. Endurance of cyclists given carbohydrate solutions during moderate-intensity rides. Texas Med 1986; 82: 29–32

Febbraio MA, Murton P, Selig SE, et al. Effect of CHO ingestion on exercise metabolism and performance in different ambient temperatures. Med Sci Sports Exerc 1996; 28 (11): 1380–7

Felig P, Cherif A, Minigawa A, et al. Hypoglycaemia during prolonged exercise in normal men. N Engl J Med 1982; 306: 895–900

Flynn MG, Costill DL, Hawley JA, et al. Influence of selected carbohydrate drinks on cycling performance and glycogen use. Med Sci Sports Exerc 1987; 19 (1): 37–40

Green LF, Bagley R. Ingestion of a glucose syrup drink during long distance canoeing. Br J Sports Sci 1972; 7: 125–8

Ivy J, Costill DL, Fink WJ, et al. Influence of caffeine and carbohydrate feedings on endurance performance. Med Sci Sports 1979; 11: 6–11

Ivy JL, Miller W, Dover V, et al. Endurance improved by ingestion of a glucose polymer supplement. Med Sci Sports Exerc 1983; 15 (6): 466–71

Kang J, Robertson RJ, Denys BG, et al. Effect of carbohydrate ingestion subsequent to carbohydrate supercompensation on endurance performance. Int J Sport Nutr 1995; 5 (4): 329–43

Kingwell B, McKenna MJ, Sandstrom ER, et al. Effect of glucose polymer ingestion on energy and fluid balance during exercise. J Sports Sci 1989; 7: 3–8

Maughan RJ, Fenn CE, Leiper JB. Effects of fluid, electrolyte and substrate ingestion on endurance capacity. Eur J Appl Physiol 1989; 58: 481–6

McConell G, Kloot K, Hargreaves M. Effect of timing carbohydrate ingestion on endurance exercise performance. Med Sci Sports Exerc 1996; 28 (10): 1300–4

Millard-Stafford M, Sparling PB, Rosskopf LB, et al. Carbohydrate-electrolyte replacement during a simulated triathlon in the heat. Med Sci Sports Exerc 1990; 22 (5): 621–8

Millard-Stafford M, Sparling PB, Rosskopf LB, et al. Carbohydrate-electrolyte replacement improves distance running performance in the heat. Med Sci Sports Exerc 1992; 24 (8): 934–40

Murray R, Bartoli WP, Eddy DE, et al. Physiological and performance responses to nicotinic-acid ingestion during exercise. Med Sci Sports Exerc 1995: 27 (7): 1057–62

Nishibata I, Sadamoto T, Mutoh Y, et al. Glucose ingestion before and during exercise does not enhance performance of daily repeated endurance exercise. Eur J Appl Physiol 1993; 66: 65–9

Riley ML, Israel RG, Holbert D, et al. Effect of carbohydrate ingestion on exercise endurance and metabolism after a 1-day fast. Int J Sports Med 1988; 9 (5): 320–4

Sasaki H, Maeda J, Usui S, et al. Effect of sucrose and caffeine ingestion on performance of prolonged strenuous running. Int J Sports Med 1987; 8 (4): 261–5

Tsintzas K, Liu R, Williams C, et al. The effect of carbohydrate ingestion on performance during a 30-km race. Int J Sport Nutr 1993; 3 (2): 127–39

Tsintzas OK, Williams C, Wilson W, et al. Influence of carbohydrate supplementation early in exercise on endurance running capacity. Med Sci Sports Exerc 1996; 28 (11): 1371–9

Widrick JJ, Costill DL, Fink WJ, et al. Carbohydrate feedings and exercise performance: effect of initial muscle glycogen concentration. J Appl Physiol 1993; 74 (6): 2998–3005

Wilber RL, Moffatt RJ. Influence of carbohydrate ingestion on blood glucose and performance in runners. Int J Sport Nutr 1992; 2 (4): 317–27

Williams C, Nute MG, Broadbank L, et al. Influence of fluid intake on endurance running performance: a comparison between water, glucose and fructose. Eur J Appl Physiol 1990; 60: 112–9

Zachwieja JJ, Costill DL, Beard GC, et al. The effects of a carbonated carbohydrate drink on gastric emptying, gastrointestinal distress, and exercise performance. Int J Sport Nutr 1992; 2: 239–50

Brouns F, Saris WH, Beckers E, et al. Metabolic changes induced by sustained exhaustive cycling and diet manipulation. Int J Sports Med 1989; 10 (1): S49–62

Langenfeld ME, Seifert JG, Rudge SR, et al. Effect of carbohydrate ingestion on performance of non-fasted cyclists during a simulated 80-mile time trial. J Sports Med Phys Fitness 1994; 34 (3): 263–70

Levine L, Rose MS, Francesconi RP, et al. Fluid replacement during sustained activity in the heat: nutrient solution vs. water. Aviat Space Environ Med 1991; 62: 559–64

Hiller WD. Dehydration and hyponatremia during triathlons. Med Sci Sports Exerc 1989; 21 (5 Suppl.): S219–21

Nutritional concerns of the ultraendurance triathlete. Med Sci Sports Exerc 1989; 21 (5): S205–8

Criswell D, Powers S, Lawler J, et al. Influence of a carbohydrate-electrolyte beverage on performance and blood homeostasis during recovery from football. Int J Sport Nutr 1991; 1: 178–91

Kreider RB, Hill D, Horton G, et al. Effects of carbohydrate supplementation during intense training on dietary patterns, psychological status, and performance. Int J Sport Nutr 1995; 5 (2): 125–35
About this article
Cite this article
Coombes, J.S., Hamilton, K.L. The Effectiveness of Commercially Available Sports Drinks. Sports Med 29, 181–209 (2000). https://doi.org/10.2165/00007256-200029030-00004
Published:

Issue Date:

DOI: https://doi.org/10.2165/00007256-200029030-00004
Keywords
Gastric Emptying

Muscle Glycogen

High Intensity Exercise

Intermittent Exercise

Sport Drink