Abstract
This article reviews several retrospective case series and reported adverse events regarding common ocular adverse effects related to systemic therapy. It is not intended as a comprehensive summary of these well described adverse drug reactions, nor is it intended to cover the complete spectrum of all ocular adverse effects of systemic therapy. Many systemic drugs may produce ocular toxicity, including bisphosphonates, topiramate, vigabatrin, isotretinoin and other retinoids, amiodarone, ethambutol, chloroquine and hydroxychloroquine, tamoxifen, quetiapine, cyclo-oxygenase (COX)-2 inhibitors, erectile dysfunction agents and some herbal medications. For this review, the certainty of the adverse effect profile of each medication was evaluated according to the WHO Causality Assessment Guide.
A certain relationship has been established for pamidronate and alendronate as causes of scleritis, uveitis, conjunctivitis and blurred vision. Topiramate has been established as adversely causing symptoms consistent with acute angle-closure glaucoma, typically bilateral. Vigabatrin has been shown to cause bilateral irreversible visual field defects attributed to underlying medication-induced retinal pathology. Isotretinoin should be considered in the differential diagnosis of any patient with pseudotumour cerebri. Patients taking amiodarone and hydroxychloroquine should be monitored and screened regularly for development of optic neuropathy and maculopathy, respectively. Sildenafil has been reported to cause several changes in visual perception and is a possible, not yet certain, cause of anterior ischaemic optic neuropathy. Patients taking tamoxifen should also be monitored for development of dose-dependent maculopathy and decreased colour vision. COX-2 inhibitors should be included in the differential diagnosis of reversible conjunctivitis. Several herbal medications including canthaxanthine, chamomile, datura, Echinacea purpurea, Ginkgo biloba and liquorice have also been associated with several ocular adverse effects.
It is the role of all healthcare professionals to detect, treat and educate the public about adverse reactions to medications as they are an important health problem.
This is a preview of subscription content, log in to check access.
Access options
Buy single article
Instant access to the full article PDF.
US$ 49.95
Price includes VAT for USA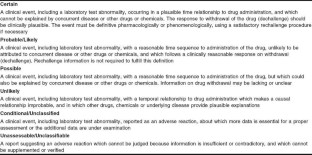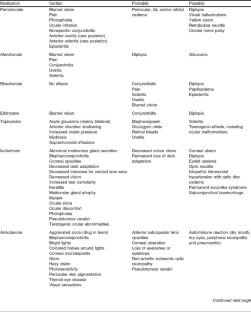 References
1.

Bettman JW. Seven hundred medicolegal cases in ophthalmology. Ophthalmology 1990; 97: 1379–84

2.

Brick DC. Medication errors result in costly claims for ophthalmologists. Surv Ophthalmol 1995; 40: 232–6

3.

Fraunfelder FT, Fraunfelder FW. Drug-induced ocular side effects. 5th rev. ed. Boston (MA): Butterworth-Heinemann, 2001

4.

Chiou GCY. Ocular toxicology. 2nd ed. Philadelphia (PA): Taylor & Francis, 1999: 43–86, 225–354

5.

Kersey JP, Broadway DC. Corticosteroid-induced glaucoma: a review of hte literature. Eye 2006 Apr; 20 (4): 407–16

6.

Edwards R, Biriell C. Harmonisation in pharmacovigilance. Drug Saf 1994; 10: 93–102

7.

Fleish H. Bisphosphonates. Pharmacology and use in the treatment of tumour-induced hypercalcaemic and metastatic bone disease. Drugs 1991; 42: 919–44

8.

Fraunfelder FW, Rosenbaum JT. Drug-induced uveitis. Incidence, prevention and treatment. Drug Saf 1997; 17: 197–207

9.

Macarol V, Fraunfelder FT. Pamidronate disodium and possible ocular adverse drug reactions. Am J Ophthalmol 1994; 118: 220–4

10.

Fraunfelder FW, Fraunfelder FT. Scleritis and other ocular side effects associated with pamidronate disodium. Am J Ophthalmol 2003; 135: 219–22

11.

Fraunfelder FW, Fraunfelder FT. Bisphosphonates and ocular side effects. N Engl J Med 2003; 348: 1187–8

12.

Foster CS, Forstet SL, Wilson LA. Mortality rate and rheumatoid arthritis patients developing necrotizing scleritis or peripheral ulcerative keratitis: effects of systemic immunosuppression. Ophthalmology 1984; 91: 1253–63

13.

Stewart GO, Stuckey BG, Ward LC. Iritis following intravenous pamidronate. Aust N Z J Med 1996; 26: 414–5

14.

Ghose K, Waterworth R, Trolove P. Uveitis associated with pamidronate. Aust N Z J Ophthalmol 1994; 24: 320

15.

Des Grottes JM, Schrooyen M, Dumon JC. Retrobulbar optic neuritis after pamidronate administration in a patient with a history of cutaneous porphyria. Clin Rheumatol 1997; 16: 93–5

16.

Medical Economics Company. Physicians' Desk Reference. 56th ed. Montvale (NJ): Medical Economics Company, 2002

17.

Diel IJ, Solomayer EF, Costa SD, et al. Reduction in new metastases in breast cancer with adjuvant clodronate treatment. N Engl J Med 1998; 339: 357–63

18.

Fietta P, Manganelli P, Lodigiani L. Clodronate induced uveitis. Ann Rheum Dis 2003; 62: 378

19.

Thiebaud D, Sauty A, Burckhardt P, et al. An in vitro and in vivo study of cytokines in the acute-phase response associated with bisphosphonates. Calcif Tissue Int 1997; 61: 386–92

20.

Mbekeani JN, Slamovits TL, Schwartz BH, et al. Ocular inflammation associated with alendronate therapy. Arch Ophthalmol 1999; 117: 837–8

21.

Malik AR, Campbell SH, Toma NM. Bilateral acute anterior uveitis after alendronate. Br J Ophthalmol 2002; 86: 1443

22.

Siris ES. Bisphosphonates and iritis. Lancet 1993; 341: 436–7

23.

Vinas G, Olive A, Holgado S, et al. Episcleritis secondary to risedronate. Med Clin 2002 Apr 27; 118: 598–9

24.

Watson PG. The nature and the treatment of scierai inflammation. Trans Ophthalmol Soc UK 1982; 102: 257–81

25.

Fraunfelder FW, Fraunfelder FT, Keates EU. Topiramate-associated acute, bilateral, secondary angle-closure glaucoma. Ophthalmology 2004 Jan; 111 (1): 109–11

26.

Thambi L, Kapcala LP, Chambers W, et al. Topiramate-associated secondary angle-closure glaucoma: a case series. Arch Ophthalmol 2002 Aug; 120 (8): 1108

27.

Banta JT, Hoffman K, Budenz DL, et al. Presumed topiramate-induced bilateral acute angle-closure glaucoma. Am J Ophthalmol 2001 Jul; 132: 112–4

28.

Bovino JA, Marcus FF. The mechanism of transient myopia induced by sulfonamide therapy. Am J Ophthalmol 1982 Jul; 94: 99–101

29.

Chirls IA, Norris JW. Transient myopia associated with vaginal sulfanilamide suppositories. Am J Ophthalmol 1984 Jul 15; 98: 120

30.

Hook SR, Holladay JT, Prager TC, et al. Transient myopia induced by sulfonamides. Am J Ophthalmol 1986 Apr 15; 101: 495–6

31.

Kimura R, Kasai M, Shoji K, et al. Swollen ciliary processes as an initial symptom in Vogt-Koyanagi-Harada syndrome. Am J Ophthalmol 1983 Mar; 95: 402

32.

Ben-Menachem E. Vigabatrin. Epilepsia 1995; 36 Suppl. 2: S95–104

33.

Marson AG, Kadir ZA, Hutton JL, et al. The new antiepileptic drugs: a systemic review of their efficacy and tolerability. Epilepsia 1997 Aug; 38: 859–80

34.

Chiron C, Dulac O, Luna D, et al. Vigabatrin in infantile spasms. Lancet 1990 Feb 10; 335: 363–4

35.

Hancock E, Osborne JP. Vigabatrin in the treatment of infantile spasms in tuberous sclerosis: literature review. J Child Neurol 1999 Feb; 14: 71–4

36.

Meldrum BS. GABAergic mechanisms in the pathogenesis and treatment of epilepsy. Br J Clin Pharmacol 1989; 27: 3–11S

37.

Tanganelli P, Regesta G. Vigabatrin vs. carbamazepine monotherapy in newly diagnosed focal epilepsy: a randomized response conditional crossover study. Epilepsy Res 1996; 25: 257–62

38.

Elke T, Talbot JF, Lawden MC. Severe persistent visual field constriction associated with vigabatrin. BMJ 1997; 314: 180–1

39.

Wild JM, Martinez C, Reinshagen G, et al. Characteristics of a unique visual field defect attributed to vigabatrin. Epilepsia 1999; 40: 1784–94

40.

Kalviainen R, Nousiainen I, Mantyjarvi M, et al. Vigabatrin, a GABAergic antiepileptic drug, causes concentric visual field defects. Neurology 1999; 53: 922–66

41.

Miller NR, Johnson MA, Paul SR, et al. Visual dysfunction in patients receiving vigabatrin. Neurology 1999; 53: 2082–7

42.

Daneshvar H, Racette L, Coupland SG, et al. Symptomatic and asymptomatic visual loss in patients taking vigabatrin. Ophthalmology 1999; 106: 1792–8

43.

Harding GFA, Wild JM, Robertson KA, et al. Separating the retinal electrophysiologic effects of vigabatrin: treatment versus field loss. Neurology 2000; 55: 347–52

44.

Gross-Tsur V, Banin E, Shahar E, et al. Visual impairment in children with epilepsy treated with vigabatrin. Ann Neurol 2000; 48: 60–4

45.

Mustafa BA. Diversity of GABA receptors in the vertebrate outer retina. Trends Neurosci 1995; 85: 118–20

46.

Pow DV, Baldridge W, Crook DK. Activity-dependent transport of GABA analogues into specific cell types demonstrated at high resolution using a novel immunocytochemical strategy. Neuroscience 1996; 73: 1129–43

47.

Butler WH. The neuropathology of vigabatrin. Epilepsia 1989; 30 Suppl. 3: S15–17

48.

Neal MJ, Cunningham JR, Shah MA, et al. Immunocytochemical evidence that vigabatrin in rats causes GABA accumulation in glial cells of the retina. Neurosci Lett 1989; 89: 29–32

49.

Daneshvar H, Racette L, Coupland SG, et al. Symptomatic and asymptomatic visual loss in patients taking vigabatrin. Ophthalmology 1999; 106: 1792–8

50.

Kaufman KR, Lepore FE, Keyser BJ. Visual fields and tiagabine: a quandary. Seizure 2001; 10: 525–9

51.

Krauss G, Johnson M, Sheth S, et al. A controlled study comparing visual function in patients treated with vigabatrin and tiagabine. J Neurol Neurosurg Psychiatr 2003; 74: 339–43

52.

Nousiainen I, Mäntyjärvi M, Kälviäinen R. Visual function in patients treated with the GABAergic anticonvulsant drug tiagabine. Clin Drug Invest 2000; 20: 393–400

53.

Sorri I, Kalviainen R, Mantyjarvi M. Color vision and contrast sensitivity in epilepsy patients treated with initial tiagabine monotherapy. Epilepsy Res 2005 Dec; 67 (3): 101–7

54.

Fraunfelder FW, Fraunfelder FT, Corbett JJ. Isotretinoin-associated intracranial hypertension. Ophthalmology 2004 Jun; 111 (6): 1248–50

55.

Fraunfelder FT, Fraunfelder FW. Ocular side effects possibly associated with isotretinoin usage. Am J Ophthalmol 2001; 132 (3): 299–305

56.

Cchroeter T, Lanvers C, Herding H, et al. Pseudotumor cerebri induced by all-trans-retinoic acid in a child treated for acute promyelocytic leukemia. Med Pediatr Oncol 2000; 34: 284–6

57.

Sano F, Tsuji K, Kunika N, et al. Pseudotumor cerebri in a patient with acute promyelocytic leukemia during treatment with all-trans-retinoic acid. Intern Med 1998; 37 (6): 546–9

58.

Tiamkao S, Sirijirachai C. Pseudotumor cerebri caused by all-trans-retinoic acid: a case report. J Med Assoc Thai 2000; 83 (11): 1420–3

59.

Fraunfelder FW, Fraunfelder FT. Evidence for a probable causal relationship between tretinoin, acitretin, and etretinate and intracranial hypertension. J Neuroophthalmol 2004 Sep; 24 (3): 214–6

60.

Guirgis MF, Lueder GT. Intracranial hypertension secondary to all-trans retinoic acid treatment for leukemia: diagnosis and management. J AAPOS 2003; 7 (6): 432–4

61.

Morrice G, Havener WH, Kapetansky F. Vitamin A intoxication as a cause of pseudotumor cerebri. JAMA 1960; 173: 1802–5

62.

Jacobson DM, Berg R, Wall M, et al. Serum vitamin A concentration is elevated in idiopathic intracranial hypertension. Neurology 1999; 53 (5): 1114–8

63.

Visani G, Manfroi S, Tosi P, et al. All-trans-retinoic acid and pseudotumor cerebri. Leuk Lymphoma 1996; 23: 437–42

64.

Roytman M, Frumkin A, Bohn TG. Pseudotumor cerebri caused by isotretinoin. Cutis 1988; 42: 399–400

65.

Lee AG. Pseudotumor cerebri after treatment with tetracycline and isotretinoin for acne. Cutis 1995; 55 (3): 165–8

66.

Donahue SP. Recurrence of idiopathic intracranial hypertension after weight loss: the carrot craver. Am J Ophthalmol 2000; 130 (6): 850–1

67.

Hoffner SE, Kallenius G, Beezer AE, et al. Studies on the mechanisms of the synergistic effects of ethambutol and other antibacterial drugs on Mycobacterium avium complex. Acta Leprol 1989; 7 Suppl. 1: 195–9

68.

Sadun AA. Metabolic optic neuropathies. Semin Ophthalmol 2002; 17 (1): 29–32

69.

Kaimbo WK, Bifuko ZA, Longo MB, et al. Color vision in 42 Congolese patients with tuberculosis receiving ethambutol treatment. Bull Soc Belge Ophtalmol 2002; 284: 57–61

70.

Karmon G. Bilateral optic neuropathy due to combined ethambutol and isoniazid treatment. Ann Ophthalmol 1979; 11: 1013

71.

Kass I, Mandel W. Isoniazid as a cause of optic neuritis and atrophy. JAMA 1957; 164: 1740–3

72.

Kozak SF, Inderlied CB, Hsu HY, et al. The role of copper on ethambutol's antimicrobial action and implications for ethambutol-induced optic neuropathy. Diagn Microbiol Infect Dis 1998; 30: 83–7

73.

Sadun AA. Metabolic optic neuropathies. Semin Ophthalmol 2002 17 (1): 29–32

74.

Feiner LA, Younge BR, Kazmier FJ, et al. Optic neuropathy and amiodarone therapy. Mayo Clin Proc 1987; 62: 702–17

75.

Macaluso DC, Shults WT, Fraunfelder FT. Features of amiodarone-induced optic neuropathy. Am J Ophthalmol 1999; 127 (5): 610–2

76.

Mantyjarvi M, Tuppurainen K, Ikaheimo K. Ocular side effects of amiodarone. Surv Ophthalmol 1998; 42: 360–6

77.

Marmor MF, Carr RE, Easterbrook E, et al. Recommendations on screening for chloroquine and hydroxychloroquine retinopathy: a report by the American Academy of Ophthalmology. Ophthalmology 2002; 109: 1377–82

78.

Shroyer NF, Lewis RA, Lupski JR. Analysis of the ABCR (ABCA4) gene in 4 aminoquinoline retinopathy: is retinal toxicity by chloriquinine and hydroxychlorquine related to Stargardt disease? Am J Ophthalmol 2001 Jun; 131 (6): 761–6

79.

Fraunfelder FW. Visual side effects associated with erectile dysfunction agents. Am J Ophthalmol 2005 Oct; 140 (4): 723–4

80.

Reivich M, Holling HE, Roberts B, et al. Reversal of blood flow through the vertebral artery and its effect on cerebral circulation. N Engl J Med 1961 Nov 2; 265: 878–85

81.

Laties AM, Fraunfelder FT. Ocular safety of Viagra (sildenafil citrate). Trans Am Ophthalmol Soc 1999; 97: 115–28

82.

Gorin MB, Day R, Costantino JP, et al. Long-term tamoxifen citrate use and potential ocular toxicity. Am J Ophthalmol 1998; 125: 493–501

83.

Gorin MB, Costantino JP, Kulacoglu DN, et al. Is tamoxifen a risk factor for retinal vaso-occlusive disease? Retina 2005; 25: 523–6

84.

Fraunfelder FW, Solomon J, Mehelas TJ. Ocular side effects associated with cyclooxygenase-2 inhibitors. Arch Ophthalmol 2006; 124: 277–279

85.

Coulter DM, Clark DWJ, Savage RL. Celecoxib, rofecoxib, and acute temporary visual impairment. BMJ 2003; 327: 1214–5

86.

Haefliger IO, Meyer P, Flammer J, et al. The vascular endothelium as a regulator of the ocular circulation: a new concept in ophthalmology. Surv Ophthalmol 1994; 39: 123–32

87.

Tullio CJ. Ibuprofen-induced visual disturbance. Am J Hosp Pharm 1981; 38: 1362

88.

Nicastro NJ. Visual disturbances associated with over-the-counter ibuprofen in three patients. Ann Ophthalmol 1989; 21: 447–50

89.

Bovino JA, Marcus FF. The mechanism of transient myopia induced by sulfonamide therapy. Am J Ophthalmol 1982; 94: 99–101

90.

Lutz EG. Allergic conjunctivitis due to diazepam. Am J Psych 1975; 132 (5): 548

91.

Fraunfelder FW, Fraunfelder FT, Illingworth DR. Adverse ocular effects associated with niacin therapy. Br J Ophthalmol 1995; 79: 54–6

92.

Gass JDM. Nicotinic acid maculopathy. Am J Ophthalmol 1973; 76: 500–10

93.

Jampol LM. Niacin maculopathy. Ophthalmology 1988; 95: 1704–5

94.

Fraunfelder FW. Ocular side effects associated with dietary supplements and herbal medicines. Drugs Today 2005; 41 (8): 537–45

95.

Physicians' Desk Reference for herbal medicines. 2nd rev. ed. Montvale (NJ): Thomson Healthcare, 2004

96.

Eisenberg DM, Davis RB, Ettner SL, et al. Trends in alternative medicine use in the United States, 1990–1997: results of a follow-up national survey. JAMA 1998 Nov 11; 289 (18): 1569–75

97.

Fraunfelder FW. Ocular side effects from herbal medicines and nutritional supplements. Am J Ophthalmol 2004 Oct; 138 (4): 639–47

98.

Espaillat A. Canthaxanthine retinopathy. Arch Ophthalmol 1999; 113: 412–3

99.

Subiza J. Allergic conjunctivitis to chamomile tea. Ann Allergy Asthma Immunol 1990; 65: 127–32

100.

Blumenthal M, editor. The complete German Commission E monographs therapeutic guide to herbal medicines. Austin (TX): American Botanical Council, 1998

101.

Grimm W, Muller H. A randomized controlled trial of the effect of fluid extract of echinacea purpurea on the incidence and severity of colds and respiratory infections. Am J Med 1999 Feb; 106: 138–43

102.

Dobbins KR, Saul RF. Transient visual loss after licorice ingestion. J Neurophthalmol 2000 Mar; 20: 38–41
Acknowledgements
This study was supported in part by an unrestricted grant to Casey Eye Institute from Research to Prevent Blindness, New York, NY and by the National Registry of Drug-Induced Ocular Side Effects (www.eyedrugregistry.com). This report did not require approval by the OHSU Institutional Review Board. We would like to thank Genevieve Long for her assistance in the editing and modifications of this paper. The authors have no conflicts of interest that are directly relevant to the content of this review.
About this article
Cite this article
Santaella, R.M., Fraunfelder, F.W. Ocular Adverse Effects Associated with Systemic Medications. Drugs 67, 75–93 (2007). https://doi.org/10.2165/00003495-200767010-00006
Keywords
Uveitis

Pamidronate

Intracranial Hypertension

Isotretinoin

Optic Neuropathy