Abstract
▴ Etoricoxib is a cyclo-oxygenase (COX)-2-selective NSAID with a higher COX-1 to COX-2 selectivity ratio than the other COX-2-selective NSAIDs rofecoxib, valdecoxib or celecoxib.

▴ In patients with rheumatoid arthritis, improvements in tender and swollen joint counts and patient and investigator global assessment of disease activity were significantly greater in etoricoxib than in placebo recipients in two studies. Etoricoxib was also significantly more effective than naproxen in one of these studies.

▴ In patients with osteoarthritis of the hip or knee, etoricoxib was significantly more effective than placebo and had similar efficacy to naproxen with regards to improvements in pain and physical function scores and patient global assessment of disease status scores in two studies. Etoricoxib had similar efficacy to diclofenac in patients with osteoarthritis of the knee.

▴ Single-dose etoricoxib relieved pain in patients with postoperative dental pain in two studies. Similar scores assessing total pain relief over 8 hours (TOPAR8) were reported in etoricoxib and naproxen sodium or ibuprofen recipients, and higher TOPAR8 scores were reported with etoricoxib than with paracetamol (acetaminophen)/codeine.

▴ Pain relief was significantly better with etoricoxib than placebo in two studies in patients with chronic low back pain.

▴ Etoricoxib had similar efficacy to indomethacin in a study in patients with acute gout, and single-dose etoricoxib had similar efficacy to naproxen sodium in a study in women with primary dysmenorrhoea.

▴ Compared with non-COX-selective NSAIDs, etoricoxib was associated with significantly fewer upper gastrointestinal (GI) perforations, ulcers or bleeds, and was significantly less likely to result in treatment discontinuation because of NSAID-type GI symptoms or any GI symptoms.
This is a preview of subscription content, log in to check access.
Access options
Buy single article
Instant access to the full article PDF.
US$ 49.95
Price includes VAT for USA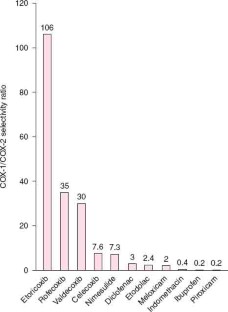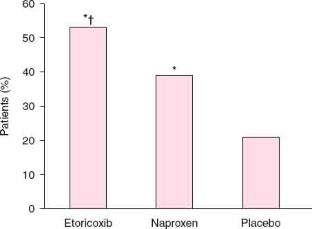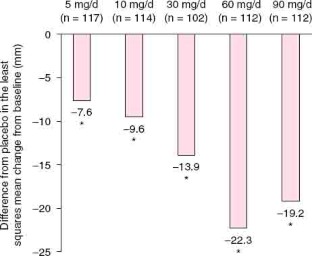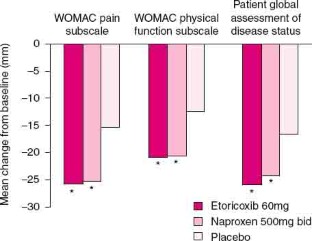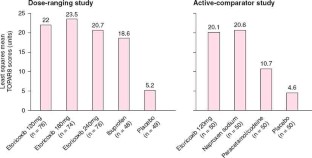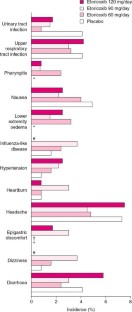 References
1.

Gabriel SE, Jaakkimainen L, Bombadier C. Risk for serious gastrointestinal complications related to use of nonsteroidal anti-inflammatory drugs: a meta-analysis. Ann Intern Med 1991; 115(10): 787–96

2.

Brooks P, Emery P, Evans JF, et al. Interpreting the clinical significance of the differential inhibition of cyclooxygenase-1 and cyclooxygenase-2. Rheumatology (Oxford) 1999 Aug; 38: 779–88

3.

Lipsky PE, Brooks P, Crofford LJ, et al. Unresolved issues in the role of cyclooxygenase-2 in normal physiologic processes and disease. Arch Intern Med 2000; 160(7): 913–20

4.

Bombardier C, Laine L, Reicin A, et al. Comparison of upper gastrointestinal toxicity of rofecoxib and naproxen in patients with rheumatoid arthritis. N Engl J Med 2000 Nov 23; 343(21): 1520–8

5.

Silverstein FE, Faich G, Goldstein JL, et al. Gastrointestinal toxicity with celecoxib vs nonsteroidal anti-inflammatory drugs for osteoarthritis and rheumatoid arthritis: the CLASS Study: a randomized controlled trial. JAMA 2000; 284(10): 1247–55

6.

Riendeau D, Percival MD, Brideau C, et al. Etoricoxib (MK-0663): preclinical profile and comparison with other agents that selectively inhibit cyclooxygenase-2. J Pharmacol Exp Ther 2001 Feb; 296(2): 558–66

7.

Patrignani P, Tacconelli S, Capone ML, et al. The selectivity of novel COX-2 inhibitors in human whole blood assays of COX-isozyme activity [abstract]. EULAR 2002 Annual European Congress of Rheumatology; 2002 12–15 Jun; Stockholm

8.

Ouellet M, Riendeau D, Percival MD. A high level of cyclooxygenase-2 inhibitor selectivity is associated with a reduced interference of platelet cyclooxygenase-1 inactivation by aspirin. Proc Natl Acad Sci U S A 2001 Dec 4; 98(25): 14583–8

9.

Dallob A, Depre M, De Lepeleire I, et al. MK-0663: a highly selective inhibitor of COX-2 in humans [abstract no. 279]. Ann Rheum Dis 2000 Jul; 59 (Suppl. 1): 131

10.

Wagner JA, Kraft W, Burke J, et al. The COX-2 inhibitor etoricoxib did not alter the anti-platelet effects of low-dose aspirin in healthy volunteers [abstract no. 498]. Arthritis Rheum 2001 Sep; 44 (Suppl.) (9): S135

11.

Hunt RH, Bowen B, James C, et al. COX-2 specific inhibition with MK-0663 120 mg q.d. over 4 weeks did not increase fecal blood loss: a controlled study with placebo and ibuprofen 800 mg t.i.d [abstract no. 3031]. Gastroenterology 2001 Apr; 120 (Suppl. 1) (5): 597

12.

Merck Sharp & Dohme Limited. Arcoxia (etoricoxib) tablets: summary of product characteristics. 2002

13.

Agrawal NG, Porras AG, Matthews CZ, et al. Dose proportionality of oral etoricoxib, a highly selective cyclooxygenase-2 inhibitor, in healthy volunteers. J Clin Pharmacol 2001 Oct; 41(10): 1106–10

14.

De Lepeleire I, Dallob A, Gerrits M, et al. Biochemical activity, safety and pharmacokinetics after multiple doses of MK-0663, a COX-2 specific inhibitor, in healthy volunteers [abstract no. 456]. 7th World Conference on Clinical Pharmacology and Therapeutics and the 4th Congress of the European Association for Clinical Pharmacology and Therapeutics; 2000 15–20 Jul; Florence, 118

15.

Kassahun K, McIntosh IS, Shou M, et al. Role of human liver cytochrome P4503A in the metabolism of etoricoxib, a novel cyclooxygenase-2 selective inhibitor. Drug Metab Dispos 2001 Jun; 29(6): 813–20

16.

Chauret N, Yergey JA, Brideau C, et al. In vitro metabolism considerations, including activity testing of metabolites, in the discovery and selection of the COX-2 inhibitor etoricoxib (MK-0663). Bioorg Med Chem Lett 2001 Apr 23; 11(8): 1059–62

17.

Wagner JA, Agrawal NGB, Guillaume M, et al. Lack of effect of antacids on single-dose pharmacokinetics of MK-0663 [abstract no. 110]. Clin Pharmacol Ther 2001 Feb; 69 (Suppl.) (2): 60

18.

De Lepeleire I, Gottesdiener K, Shahane A, et al. MK-0663 (a COX-2 inhibitor) did not affect prednisolone/prednisone plasma levels in healthy vounteers [abstract no. 455]. 7th World Conference on Clinical Pharmacology and Therapeutics and the 4th Congress of the European Association for Clinical Pharmacology and Therapeutics; 2000 15–20 Jul; Florence, 118

19.

Curtis SP, Maldonado-Cocco J, Lozada B, et al. Characterization of the clinically effective dose range of MK-0663, a COX-2 selective inhibitor, in the treatment of rheumatoid arthritis [abstract no. 955]. Arthritis Rheum 2000 Sep; 43 (Suppl.): 226

20.

Matsumoto AK, Melian A, Mandel DR, et al. A randomized, controlled, clinical trial of etoricoxib in the treatment of rheumatoid arthritis. J Rheumatol 2002 Aug; 29(8): 1623–30

21.

Collantes E, Curtis SP, Lee KW, et al. A multinational randomized, controlled, clinical trial of Etoricoxib in the treatment of rheumatoid arthritis. BMC Fam Pract 2002 May 22; 3(1): 10

22.

Fisher CA, Curtis SP, Resnick H, et al. Treatment with etoricoxib, a COX-2 selective inhibitor, resulted in clinical improvement in knee and hip osteoarthritis (OA) over 52 weeks [abstract no. 495]. Arthritis Rheum 2001 Sep; 44 (Suppl.) (9): S135

23.

Gottesdiener K, Schnitzer T, Fisher C, et al. Results of a randomized, dose-ranging trial of etoricoxib in patients with osteoarthritis (in ENG]. Rheumatology (Oxford) 2002 Sep; 41(9): 1052–61

24.

Leung AT, Malmstrom K, Gallacher AE, et al. Efficacy and tolerability profile of etoricoxib: a randomized, double-blind, placebo and active-comparator controlled 12-week efficacy trial. Curr Med Res Opin 2002; 18(2): 49–58

25.

Malmstrom K, Shahane A, Fricke JR, et al. MK-0663, an investigational COX-2 inhibitor: the effect in acute pain using the dental-impaction model [abstract no. 1393]. Arthritis Rheum 2000 Sep; 43 (Suppl.) (9): 299

26.

Malmstrom K, Kotey P, Coughlin H, et al. Efficacy of etoricoxib, naproxen sodium, and acetaminophen/codeine in acute dental pain. Clin Pharmacol Ther 2001 Feb; 69 (Suppl.) (2): 2

27.

Geba GP, Seger W, Adler JL, et al. Treatment of chronic low back pain with etoricoxib, a new cyclo-oxygenase-2 selective inhibitor: a 3 month placebo-controlled trial [abstract]. EULAR 2002 Annual European Congress of Rheumatology; 2002 12–15 Jun; Stockholm

28.

Geba G, Puopolo A, Birbara C, et al. Treatment of chronic low back pain (LBP) with etoricoxib, a new cyclo-oxygenase-2 selective inhibitor: a three-month placebo-controlled trial [abstract no. 647]. J Pain 2002 Apr; 3 (Suppl. 1): 12

29.

Schumacher HR Jr, Boice JA, Daikh DI, et al. Randomised double blind trial of etoricoxib and indometacin in treatment of acute gouty arthritis. BMJ 2002 Jun 22; 324(7352): 1488–92

30.

Malmstrom K, Kotey P, Cichanowitz N, et al. The effect of etoricoxib, a highly selective COX-2 inhibitor, in primary dysmennorrhea: a randomized, double-blind, crossover study [abstract no. 783]. J Pain 2002 Apr; 3 (Suppl.): 46

31.

Tsoukas C, Eyster E, Mukhopadhyay S, et al. Efficacy of etoricoxib in the treatment of hemophilic arthropathy [abstract no. 429]. Arthritis Rheum 2001 Sep; 44 (Suppl.) (9): S124

32.

Melian A, Hunsche E, Zhao P, et al. Improved quality-of-life (QOL) with etoricoxib compared to placebo in patients with rheumatoid arthritis (RA) [abstract and poster]. EULAR 2002 Annual European Congress of Rheumatology; 2002 12–15 Jun; Stockholm

33.

Melian A, Krupa D, Zhao PL, et al. Analysis of the treatment effects of etoricoxib and naproxen with the health assessment questionnaire (HAQ) in rheumatoid arthritis patients [abstract and poster]. EULAR 2002 Annual European Congress of Rheumatology; 2002 12–15 Jun; Stockholm

34.

Curtis SP, De Tora LM, Leung AT, et al. Etoricoxib showed clinically meaningful efficacy in patients with concomitant hand osteoarthritis (OA) in the phase III clinical development program [abstract and poster]. EULAR 2002 Annual European Congress of Rheumtology; 2002 12–15 Jun; Stockholm

35.

Curtis SP, De Tora LM, Leung AT, et al. Etoricoxib showed rapid onset of efficacy and sustained duration of therapy over the 24-hour dosing interval in patients with osteoarthritis (OA) of the knee or hip [abstract and poster]. EULAR 2002 Annual European Congress of Rheumatology; 2002 12–15 Jun; Stockholm

36.

Hunsche E, Geling O, Kong S, et al. Improvement of physical functioning in patients with osteoarthritis treated with etoricoxib, naproxen and placebo: results from two double-blind randomized clinical trials [abstract]. EULAR 2002 Annual European Congress of Rheumatology; 2002 12–15 Jun; Stockholm

37.

Hunsche E, Geling O, Watson DJ, et al. Improvement of daily activities in patients with osteoarthritis treatment etoricoxib, naproxen and placebo [abstract]. EULAR 2002 Annual European Congress of Rheumatology; 2002 12–15 Jun; Stockholm

38.

Hunsche E, Geling O, Kong SK, et al. Improvement of social functioning, role-emotional and vitality in patients with osteoarthritis treated with etoricoxib, naproxen and placebo [abstract]. EULAR 2002 Annual European Congress of Rheumatology; 2002 12–15 Jun; Stockholm

39.

Geba G, Bohidar N, Straus W, et al. Evaluation of chronic low back pain therapy with etoricoxib using the Roland-Morris Disability Questionnaire [abstract]. EULAR 2002 Annual European Congress of Rheumatology; 2002 12–15 Jun; Stockholm

40.

Geba G, Bohidar N, Straus W, et al. Evaluation of treatment outcomes with etoricoxib in patients with chronic low back pain using the SF-12 Short Form Health Survey [abstract]. EULAR 2002 Annual European Congress of Rheumatology; 2002 12–15 Jun; Stockholm

41.

Curtis SP, Braunstein N, Sperling R, et al. Renovascular safety profile of etoricoxib [abstract and poster]. EULAR 2002 Annual European Congress of Rheumatology; 2002 12–15 Jun; Stockholm

42.

Curtis SP, Lee M, Ng J, et al. Fewer upper-GI perforations, ulcers and bleeds (PUBS) with etoricoxib than with nonselective cyclooxygenase inhibitors (NSAIDS) [abstract]. EULAR 2002 Annual European Congress of Rheumatology; 2002 12–15 Jun

43.

Curtis SP, Bolognese J, Lee M, et al. GI-related treatment discontinuations with etoricoxib compared with nonselective cyclooxygenase inhibitors (NSAIDS) and placebo [abstract]. EULAR 2002 Annual European Congress of Rheumatology; 2002 12–15 Jun; Stockholm

44.

Harper S, Bolognese J, Lee M, et al. Fewer GI-related treatment discontinuations with etoricoxib compared with nonselective cyclooxygenase inhibitors (NSAIDs) [poster]. EULAR 2002 Annual European Congress of Rheumatology; 2002 12–15 Jun; Stockholm

45.

Curtis SP, Bolognese J, Lee M, et al. Usage of concomitant gastroprotective agents with etoricoxib, nonselective cyclooxygenase inhibitors (NSAIDS) and placebo [abstract and poster]. EULAR 2002 Annual European Congress of Rheumatology; 2002 12–15 Jun; Stockholm
About this article
Cite this article
Cochrane, D.J., Jarvis, B. & Keating, G.M. Etoricoxib. Drugs 62, 2637–2651 (2002). https://doi.org/10.2165/00003495-200262180-00006
Keywords
Naproxen

Placebo Recipient

Naproxen Sodium

Etoricoxib

Valdecoxib