Abstract
The high prevalence of liver diseases such as chronic hepatitis and cirrhosis underscores the need for efficient and cost-effective treatments. The potential benefit of silymarin (extracted from the seeds of Silybum marianum or milk thistle) in the treatment of liver diseases remains a controversial issue. Therefore, the objective of this review is to assess the clinical efficacy and safety of silymarin by application of systematic approach. 525 references were found in the databases, of which 84 papers were retained for closer examination and 36 were deemed suitable for detailed analysis.
Silymarin has metabolic and cell-regulating effects at concentrations found in clinical conditions, namely carrier-mediated regulation of cell membrane permeability, inhibition of the 5-lipoxygenase pathway, scavenging of reactive oxygen species (ROS) of the R-OH type and action on DNA-expression, for example, via suppression of nuclear factor (NF)-κB.
Pooled data from case record studies involving 452 patients with Amanita phalloides poisoning show a highly significant difference in mortality in favour of silibinin [the main isomer contained in silymarin] (mortality 9.8% vs 18.3% with standard treatment; p < 0.01). The available trials in patients with toxic (e.g. solvents) or iatrogenic (e.g. antispychotic or tacrine) liver diseases, which are mostly outdated and underpowered, do not enable any valid conclusions to be drawn on the value of silymarin. The exception is an improved clinical tolerance of tacrine. In spite of some positive results in patients with acute viral hepatitis, no formally valid conclusion can be drawn regarding the value of silymarin in the treatment of these infections.
Although there were no clinical end-points in the four trials considered in patients with alcoholic liver disease, histological findings were reported as improved in two out of two trials, improvement of prothrombin time was significant (two trials pooled) and liver transaminase levels were consistently lower in the silymarin-treated groups. Therefore, silymarin may be of use as an adjuvant in the therapy of alcoholic liver disease. Analysis was performed on five trials with a total of 602 patients with liver cirrhosis. The evidence shows that, compared with placebo, silymarin produces a nonsignificant reduction of total mortality by −4.2% [odds ratio (OR) 0.75 (0.5–1.1)]; but that, on the other hand, the use of silymarin leads to a significant reduction in liver-related mortality of −7% [OR: 0.54 (0.3–0.9); p < 0.01]. An individual trial reported a reduction in the numberof patients with encephalopathy of −8.7% (p = 0.06). In one study of patients with cirrhosis-related diabetes mellitus, the insulin requirement was reduced by −25% (p < 0.01). We conclude that available evidence suggests that silymarin may play a role in the therapy of (alcoholic) liver cirrhosis.
Silymarin is has a good safety record and only rare case reports of gastrointestinal disturbances and allergic skin rashes have been published. This review does not aim to replace future prospective trials aiming to provide the 'final' evidence of the efficacy of silymarin.
We're sorry, something doesn't seem to be working properly.
Please try refreshing the page. If that doesn't work, please contact support so we can address the problem.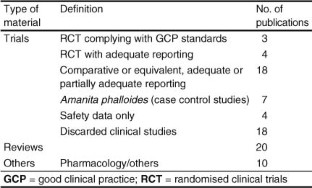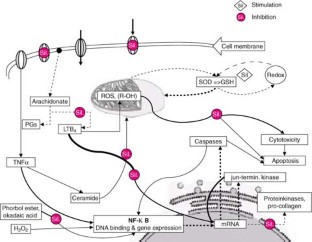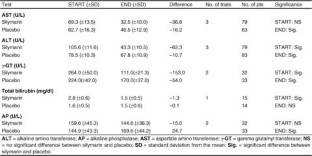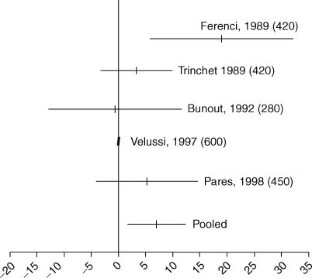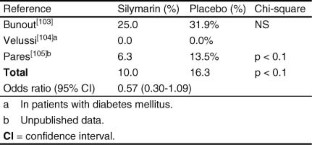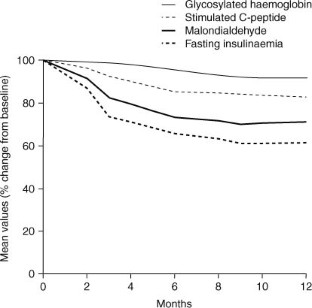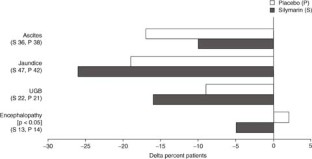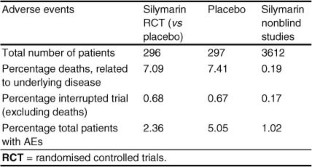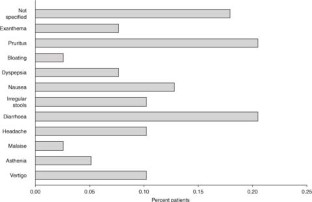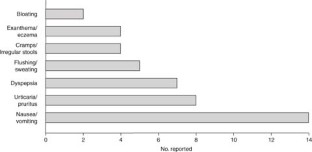 References
1.

Frömming KH, Saller R, Wächter W. Silymarinhaltige Phytopharmaka. Biopharmazie als wesentliches therapeutisches Qualitätskriterium. Z Arztl Fortbild Qualitätssich 1999; 93: 6–11

2.

Luper S. A review of plants used in the treatment of liver disease: part 1. Altern Med Rev 1998; 3: 410–21

3.

Michel H, Larrey D, Blanc P. Le traitement de l'hepatite alcoolique aigue. Ann Gastroenterol Hepatol Paris 1993; 29(1): 29–39

4.

Luyckx F, Scheen AJ. Pharma-clinics. Le medicament du mois. Le Legalon (silymarine). Rev Med Liege 1997; 52: 792–6

5.

Flora K, Hahn M, Rosen H, et al. Milk thistle (Silybum marianum) for the therapy of liver disease. Am J Gastroenterol 1998; 93: 139–43

6.

Patrick L. Hepatitis C: epidemiology and review of complementary/alternative medicine treatments. Altern Med Rev 1999; 4: 220–38

7.

World Health Organization: World Health Statistics Annual. Annex Table 3: Deaths by cause, sex and mortality stratum in WHO Regionsa, estimates for 1999. Table 4: Burden of disease in disability-adjusted life years (DALYs) by cause, sex and mortality stratum in WHO Regions, estimates for 1999 [online]. Available from URL: http://www.who.ch

8.

Matthews GV, Nelson MR. The management of chronic hepatitis B infection. Int J STD AIDS 2001; 12: 353–7

9.

Foster GR, Caronia S. Pegylated interferons for hepatitis C CME in gastroenterology treatment updates. Medical Education Collaborative, Inc. and Medscape [online]. Available from URL: http://www.cochrane.co.uk [Accessed 2000]

10.

Diehl AM. An update on nonalcoholic steatohepatitis Annual AGA Spring Postgraduate course, Session II: Liver. Program and abstracts of Digestive Disease Week; May 20–24, 2000; San Diego (CA)

11.

Hoofnagle JH, Di Bisceglie AM. The treatment of chronic viral hepatitis. N Engl J Med 1997; 336: 347

12.

World Health Organization. Global surveillance and control of hepatitis C. J Viral Hep 1999; 6: 35–47

13.

Keeffe EB. Chapter VII Chronic hepatitis. In: Dale, DC, editor. Scientific American Medicine SAM-CD Connected. Copyright © 1999, Healtheon/WebMD, March 1999

14.

Mulrow CD, Oxman AD, editors. Cochrane collaboration handbook [updated 9 December 1996]. The Cochrane Collaboration; Issue 1. Oxford: Update Software; 1997. Updated quarterly. Release date Jan 1997

15.

Dobrilla G, Capurso L. Chapter 2. Meta-analisi: generalità. In: Dobrilla G Capurso L. Meta-Analisi in Gastroenterologia. Roma: II Pensiero Scientifico Editore, C 2000: 7–27

16.

Software RevMan and RevMan manual. Version 3.0 Monica Fischer, NCC; Release date Oct 1996.

17.

Valenzuela A, Garrido A. Biochemical bases of the pharmacological action of the flavonoid silymarin and of its structural isomer silibinin. Biol Res 1994; 27: 105–12

18.

Invernizzi R, Bernuzzi S, Ciani D, et al. Silymarine during maintenance therapy of acute promyelocytic leukemia. Haematologica 1993; 78: 340–1

19.

Lang I, Deak G, Nekam K, et al. Hepatoprotective and immunomodulatory effects of antioxidant therapy. Acta Med Hung 1988; 45: 287–95

20.

Munter K, Mayer D. Faulstich H. Characterization of a transporting system in rat hepatocytes: studies with competitive and non-competitive inhibitors of phalloidin transport. Biochem Biophys Acta 1986; 860: 91–8

21.

Faulstich H, Jahn W, Wieland T. Silybin inhibition of amatoxin uptake in the perfused rat liver. Arzneimittelforschung 1980; 30: 452–4

22.

Hugentobler G, Kroncke KD, Fricker G, et al. Carrier mediated uptake of alpha amanitin in rat liver 18th Annual Meeting of the Union of Swiss Societies of Experimental Biology; Basel, Switzerland, 1986 Mar 20–21: Experientia Basel 1986; 42: 645

23.

Dehmlow C, Erhard J, de Groot H. Inhibition of Kupffer cell functions as an explanation for the hepatoprotective properties of silibinin. Hepatology 1996; 23: 749–54

24.

Lin AY, Rui YC. Inhibitory effect of silybin on the activity of 5-lipoxygenase of the porcine cerebral basilar artery. Chung Kuo Yao Li Hsueh Pao 1989; 10: 414–8

25.

Dehmlow C, Murawski N, de Groot H. Scavenging of reactive oxygen species and inhibition of arachidonic acid metabolism by silibinin in human cells. Life Sci 1996; 58: 1591–600

26.

Mira L, Silva M, Manso CF. Scavenging of reactive oxygen species by silibinin dihemisuccinate. Biochem Pharmacol 1994; 48: 753–9

27.

El-Bahay C, Gerber E, Horbach M, et al. Influence of tumor necrosis factor-alpha and silibin on the cytotoxic action of alpha-amanitin in rat hepatocyte culture. Toxicol Appl Pharmacol 1999; 158: 253–60

28.

Miguez MP, Anundi I, Sainz-Pardo LA, et al. Hepatoprotective mechanism of silymarin: no evidence for involvement of cytochrome P450 2E1. Chem Biol Interact 1994; 91: 51–63

29.

Feher J, Lang I, Nekam K, et al. Effect of free radical scavengers on Superoxide dismutase (SOD) enzyme in patients with alcoholic cirrhosis. Acta Med Hung 1988; 45: 265–76

30.

Saliou C, Rihn B, Cillard J, et al. Selective inhibition of NF-kappaB activation by the flavonoid hepatoprotector silymarin in HepG2. Evidence for different activating pathways. FEBS Lett 1998; 440: 8–12

31.

Saliou C, Kitazawa M, McLaughlin L, et al. Antioxidants modulate acute solar ultraviolet radiation-induced NF-kappa-B activation in a human keratinocyte cell line. Free Radic Biol Med 1999; 26: 174–83

32.

Harakeh S, Jariwalla RJ. NF-kappa B-independent suppression of HIV expression by ascorbic acid. AIDS Res Hum Retro-viruses 1997; 13: 235–9

33.

Manna SK, Mukhopadhyay A, Van NT, et al. Silymarin suppresses TNF-induced activation of NF-kappa B, c-Jun N-terminal kinase, and apoptosis. J Immunol 1999; 163: 6800–9

34.

Favari L, Perez-Alvarez V. Comparative effects of colchicine and silymarin on CC14-chronic liver damage in rats. Arch Med Res 1997; 28: 11–7

35.

Mourelle M, Muriel P, Favari L, et al. Prevention of CCL4-induced liver cirrhosis by silymarin. Fundam Clin Pharmacol 1989; 3: 183–91

36.

Boigk G, Stroedter L, Herbst H, et al. Silymarin retards collagen accumulation in early and advanced biliary fibrosis secondary to complete bile duct obliteration in rats. Hepatology 1997; 26: 643–9

37.

Deak G, Muzes G, Lang I, et al. Effects of two bioflavonoids on certain cellular immune reactions in vitro. Acta Physiol Hung 1990; 76: 113–21

38.

Wenzel S, Stolte H, Soose M. Effects of silibinin and antioxidants on high glucose-induced alterations of fibronectin turnover in human mesangial cell cultures. J Pharmacol Exp Ther 1996; 279: 1520–6

39.

Neuman MG, Cameron RG, Haber JA, et al. Inducers of cytochrome P450 2E1 enhance methotrexate-induced hepatocytoxicity. Clin Biochem 1999; 32: 519–36

40.

von Schonfeld J, Weisbrod B, Muller MK. Silibinin, a plant extract with antioxidant and membrane stabilizing properties, protects exocrine pancreas from cyclosporin A toxicity. Cell Mol Life Sci 1997; 53: 917–20

41.

Gorio A, Donadoni ML, Finco C, et al. Endogenous mono-ADP-ribosylation in retina and peripheral nervous system. Effects of diabetes. Adv Exp Med Biol 1997; 419: 289–95

42.

Soto CP, Perez BL, Favari LP, et al. Prevention of alloxan-induced diabetes mellitus in the rat by silymarin. Comp Biochem Physiol C Pharmacol Toxicol Endocrinol 1998; 119: 125–9

43.

Leng-Peschlow E, Strenge-Hesse A. Die Mariendistel (Silybum marianum) und Silymarin als Lebertherapeutikum. Zeitschr für Phytother 1991; 12: 162–74

44.

Chasseaud LF. (Huntingdon Research Centre, unpublished data; cf. Mennicke W.II (1975)): Zur biologischen Verfügbarkeit und Verstoffwechselung von Silybin. Dtsch Apoth Ztg 115: 1205–6

45.

Koch H, Zinsberger G. Löslichkeitsparameter von Silybin, Silydianin und Silychristin. Arch Pharm 1980; 313: 526–33

46.

Eder M, Mehnert W. Bedeutung pflanzlicher Begleitstoffe in Extrakten. Pharmazie 1998; 53: 285–93

47.

Morazzoni P, Magistretti MJ, Giachetti C, et al. Comparative bioavailability of Silipide, a new flavanolignan complex, in rats. Eur J Drug Metab Pharmacokinet 1992; 1: 39–44

48.

Barzaghi N, Crema F, Gatti G, et al. Pharmacokinetic studies on IdB 1016, a sylibin-phosphatidylcholine complex, in healthy human subjects. Eur J Drug Metab Pharmacokinet 1990; 15: 333–8

49.

Savio D, Harrasser PC, Basso G. Softgel capsule technology as an enhancer device for the absorption of natural principles in humans. Arzneim Forsch Drug Res 1998; 48(II): 1104–6

50.

Arcari M, Brambilla A, Brandt A, et al. Nuovo complesso di inclusione tra silibina e la β-cyclodestrina: velocita di dissoluzione in vitro in confronto a formulazioni tradizionali. Boll Chim Farm 1992; 131: 205–9

51.

Schulz H-U, Schürer M, Krumbiegel G, et al. Untersuchungen zum Freisetzungsverhalten und zur Bioäquivalenz von Silymarin-Präparaten. Arzneim Forsch Drug Res 1995; 45(I): 61–4

52.

Gatti G, Perucca E. Plasma concentrations of free and conjugated silybin after oral intake of a silybin-phosphatidyl complex (silipide) in healthy volunteers. Int J Clin Pharmacol Ther 1994; Nov 32: 614–7

53.

Weyhenmeyer R, Mascher H, Birkmayer J. Study on dose-linearity of the pharmacokinetics of silibinin diastereomers using a new stereospecific assay. Intl J Clin Pharmacol Ther 1992; 30: 134–8

54.

Lorenz D, Lücker PW, Mennicke WH, et al. Pharmacokinetic Studies with silymarin in human serum and bile meth and find. Exptl Clin Pharmacol 1984; 6: 655–61

55.

Flory PJ, Krag G, Lorenz D, et al. Untersuchungen zur Elimination von Silymarin bei cholezystektomierten Patienten. 1. Mitteilung: Biliäre und renale Elimination nach einmaliger oraler Gabe. Planta Med 1980; 38: 227

56.

Lorenz D, Mennicke WH, Behrendt W. Untersuchungen zur Elimination von Silymarin bei cholezystektomieren Patienten. 2. Mitteilung: Biliäre Elimination nach mehrfacher oraler Gabe. Planta Med 1982; 45: 216–23

57.

Schandalik R, Gatti G, Perucca E. Pharmacokinetics of silybin in bile following administration of silipide and silymarin in cholecystectomy patients. Arzneimittelforschung 1992; 42: 964–8

58.

Varga M, Buris L, Fodor M. Ethanol elimination in man under influence of hepatoprotective silibinin. Blutalkohol 1991; 28: 405–8

59.

Orlando R, Fragasso A, Lampertico M, et al. Silybin kinetics in patients with liver cirrhosis: comparative study between silybin-phosphatidylcholine complex and silymarin. Med Sci Res 1990; 18: 861–3

60.

Orlando R, Fragasso A, Lampertico M, et al. Pharmacokinetic study of silybin-phosphatidylcholin complex in liver cirrhosis after multiple doses. Med Sci Res 1990; 19: 827–8

61.

Olson KR, Patel MM. Chapter II Food poisoning in Scientific American Medicine. SAM-CD Connected, January 1994

62.

Floersheim GL. Treatment of mushroom poisoning [letter]. JAMA 1985; 253: 3252

63.

Parish RC, Doering PL. Treatment of Amanita mushroom poisoning: a review. Vet Hum Toxicol 1986; 28: 318–22

64.

Hruby K, Csomos G, Fuhrmann M, et al. Chemotherapy of Amanita phalloides poisoning with intravenous silibinin. Hum Toxicol 1983; 2: 183–95

65.

Tuchweber B, Sieck R, Trost W. Prevention of silybin of phalloidin-induced acute hepatoxicity. Toxicol Appl Pharmacol 1979; 51: 265–75

66.

Piqueras Carrasco J. Intoxicacion por setas tipo Amanita phalloides. Med Clin (Barc) 1985; 85: 330–40

67.

Richter M, Simmen R, Severe Vomiting, diarrhea (Clinical Conference) Schweiz Rundsch Med Prax 1990, 79: 1031–3

68.

Vesconi. Quoted in: Parish RC, Doering PL. Treatment of Amanita mushroom poisoning: areview. Vet Hum Toxicol 1986; 28: 318–22

69.

Strenge-Hesse A. Unpublished report on spontaneously reported cases in Germany, by Madaus AG, Cologne, Germany, 1996. Data on file

70.

Allain H, Schuck S, Lebreton S, et al. Aminotransferase levels and silymarin in de novo tacrine-treated patients with Alzheimer's disease. Dement Geriatr Cogn Disord 1999; 10: 181–5

71.

Fintelmann V. Postoperatives Verhalten der Serumcholine-sterase und anderer Leberenzyme. Med Klin 1973; 68: 809–15

72.

Lahtinen J, Hendolin H, Tuppurainen T. Die Wirkung von Silymarin auf Leberfunktionstests nach Cholezystektomie unter Allgemeinanästhesie. De Ritis F, Csomos G, Braatz R. Der toxisch-metabolische Leberschaden. Lübeck: Hansisches Verlagskontor 1981; 79–82

73.

Saba P, Galeone F, Salvadorini F, et al. Therapeutic action of Silymarin on chronic hepatopathies caused by psychopharmaceuticals. Gazz Med Ital 1976; 135: 236–51

74.

Boari C, Montanari FM, Galletti GP, et al. Epatopatie tossiche professionali. Effetti terapeutici della silimarina. Minerva Med 1981; 72: 2679–88

75.

Szilard S, Szentgyorgyi D, Demeter I. Protective effect of Legalon in workers exposed to organic solvents. In: Acta Med Hung 1988; 45: 249–56

76.

Palasciano G, Portincasa P, Palmieri V, et al. The effect of silymarin on plasma levels of malon-dialdehyde in patients receinving longterm treatment with psychotropic Drugs. Curr Ther Res 1994: 5: 537–45

77.

Keeffe EB. Chapter VII Acute hepatitis. In: Dale DC, editor. Scientific American Medicine SAM-CD Connected. Copyright © 1999, Healtheon/WebMD, March 1999

78.

Niederau C, Heintges T, Lange S, et al. Long-term follow-up of HBeAg-positive patients treated with interferon alfa for chronic hepatitis B. N Engl J Med 1996; 334: 1422–7

79.

Bonis PA, Friedman L, Kaplan MM. Is liver fibrosis reversible? N Engl J Med 2001; 344(6): 452–4

80.

Rosen HR, Gretch DR. Hepatitis C virus: current understanding and prospects for future therapies. Mol Med Today 1999; 5: 393–9

81.

Kiesewetter E, Leodolter I, Thaler H. Ergebnisse zweier Doppelblindstudien zur Wirksamkeit von Silymarin bei chronischer Hepatitis. Leber Magen Darm 1977; 7: 318–23

82.

Bode JC, Schmidt U, Durr HK. Zur Behandlung der akuten Virushepatitis mit Silymarin. Ergebnisse einer kontrollierten Studie. Med Klin 1977; 72: 513–8

83.

Magliulo E, Gagliardi B, Fiori GP. Zur Wirkung von Silymarin bei der Behandlung der akuten Virushepatitis. Ergebnis einer an zwei medizinischen Zentren durchgefuhrten Doppelblindstudie. Med Klin 1978; 73: 1060–5

84.

Musso A, Giacchino M, Vietti M, et al. Considerazioni sull'uso della Silimarina e della SAMe nel trattamento dell'epatite infettiva acuta dell'infanzia. Minerva Pediatr 1980; 32: 1057–67

85.

Lirussi F, Okolicsanyi L. Cytoprotection in the nineties: experience with ursodeoxycholic acid and silymarin in chronic liver disease. Acta Physiol Hung 1992; 80: 363–7

86.

Buzzelli G, Moscarella S, Giusti A, et al. A pilot study on the liver protective effect of silybin-phosphatidylcholine complex (IdB1016) in chronic active hepatitis. Int J Clin Pharmacol Ther Toxicol 1993; 31: 456–60

87.

Mantle D, Preedy VR. Free radicals as mediators of alcohol toxicity. Adverse Drug React Toxicol Rev 1999; 18: 235–52

88.

Apte MV, Phillips PA, Fahmy RG, et al. Does alcohol directly stimulate pancreatic fibrogenesis? Studies with rat pancreatic stellate cells. Gastroenterology 2000; 118: 780–94

89.

Muzes G, Deak G, Lang I, et al. Silymarin (Legalon) kezeles hatasa idult alkoholos majbetegek antioxidans vedorends-zerere es a lipid peroxidaciora (kettos vak protokoll). Orv Hetil 1990; 131: 863–6

90.

Fintelmann V, Albert A. Nachweis der therapeutischen Wirksamkeit von Legalon bei toxischen Lebererkrankungen im Doppelblindversuch. Therapiewoche 1980; 30: 5589–94

91.

Di Mario F, Farini R, Okolicsanyi L, et al. Die Wirkung von Legalon auf die Leberfunktionsproben bei Patienten mit alkoholbedingter Lebererkrankung, Doppelblindstudie. In: De Ritis F, Csomos G, Braatz R. Der toxisch-metabolische Leberschaden. Lübeck: Hansisches Verlagskontor, 1981; 54–8

92.

Salmi HA, Sarna S. Effect of silymarin on chemical, functional, and morphological alterations of the liver. A double-blind controlled study. Scand J Gastroenterol 1982; 17: 517–21

93.

Feher J, Deak G, Muzes G, et al. Silymarin kezeles majvedo hatasa idult alkoholos majbetegsegben. Orv Hetil 1989; 130: 2723–7

94.

Giannini E, Caglieris S, Ceppa P, et al. Serum pro-collagen III peptide levels are related to lobular necrosis in untreated patients with chronic hepatitis C. Eur J Gastroenterol Hepatol 2001 Feb; 13: 137–41

95.

Albrecht M, Frerick H, Kuhn U, et al. Die Therapie toxischer Leberschäden mit Legalon. Z Klein Med 1992; 47: 87–92

96.

Grüngreiff K, Albrecht M, Stregen-Hesse A. Nutzen der medikamentösen Lebertherapie in der hausärztlichen Praxis. Medwelt 1995; 46: 222–7

97.

Lok A. Current treatment options in chronic hepatitis B Annual AGA Spring Postgraduate Course, Session II: Liver. Program and abstracts of Digestive Disease Week 2000 May 20–24; San Diego (CA)

98.

Linhart HG. Non-alcoholic steato-hepatitis. Schweiz Rundsch Med Prax 2000 May 31; 89: 963–6

99.

Oellerich M, Burdelski M, Lautz H, et al. Prediction of one-year pretransplant survival in patients with cirrhosis. Hepatology 1991; 14: 1029

100.

Runyon B. Care of patients with ascites. N Engl J Med 1994; 330: 337

101.

Ferenci P, Dragosics B, Dittrich H, et al. Randomized controlled trial of silymarin treatment in patients with cirrhosis of the liver. J Hepatol 1989; 9: 105–13

102.

Trinchet JC, Coste T, Levy VG, et al. Traitement de l'hepatite alcoolique par la silymarine. Une etude comparative en double insu chez 116 malades. Gastroenterol Clin Biol 1989; 13: 120–4

103.

Bunout D, Hirsch S, Petermann M, et al. Estudio controlado sobre el efecto de la silimarina en la enfermedad hepatica alcoholica. Rev Med Chil 1992; 120: 1370–5

104.

Velussi M, Cernigoi AM, De Monte A, et al. Long-term (12 months) treatment with an anti-oxidant drug (silymarin) is effective on hyperinsulinemia, exogenous insulin need and malondialdehyde levels in cirrhotic diabetic patients. J Hepatol 1997; 26(4): 871–9

105.

Pares A, Planas R, Torres M, et al. Effects of silymarin in alcoholic patients with cirrhosis of the liver: results of a controlled, double-blind, randomized and multicenter trial [see comments]. J Hepatol 1998; 28: 615–21

106.

Khan MH, Farrell GC, Byth K, et al. Which patients with hepatitis C develop liver complications? Hepatology 2000; 31: 513–20

107.

Lebrec D, De Fleury P, Rueff B, et al. Portal hypertension, size of esophageal varices, and risk of gastrointestinal bleeding in alcoholic cirrhosis. Gastroenterology 1980; 79: 1139

108.

Petrides AS, Vogt C, Schulze-Berge D, et al. Pathogenesis of glucose intolerance and diabetes mellitus in cirrhosis. Hepatology 1994; 19: 616–27

109.

Caronia S, Taylor K, Pagliaro L, et al. Further evidence for an association between non-insulin-dependent diabetes mellitus and chronic hepatitis C virus infection. Hepatology 1999; 30: 1059–63

110.

An adverse reaction to the herbal medication milk thistle (Silybum marianum). Adverse Drug Reactions Advisory Committee. Med J Aust 1999; 170: 218–9

111.

CIOMS Report 1980–1996. Madaus GmbH. Cologne, Germany. Data on file.

112.

Spontaneously reported adverse events (AEs) in the screened literature and recorded by the originator of silymarin for the period 1980 to 1996. Madaus. Data on file.

113.

Walti M, Neftel KA, Jost R, et al. IgE-und IgG-Antikorper gegen Flavonoide nach Therapie mit flavonoidhaltigen Medikamenten. Schweiz Med Wochenschr 1986; 116(4): 98–103

114.

Beckmann-Knopp S, Rietbrock S, Weyhenmeyer R, et al. Inhibitory effects of silibinin on cytochrome P-450 enzymes in human liver microsomes. Pharmacol Toxicol 2000; 86: 250–6

115.

Madaus AG. Legalon (silymarin) user information. Koln, Germany, 2001

116.

Pepping J. Milk thistle: Silybum marianum. Am J Health Syst Pharm 1999; 56: 1195–7

117.

Dobrilla G, Capurso L. Chapter 14. Epatite croniche. In: Dobrilla G, Capurso L. Meta-Analisi in Gastroenterologia. Roma: II Pensiero Scientifico Editore, 2000: 171

118.

Perrier A. Evidence-based medicine and critical care. Schweiz Med Wochenschr 1999; 129: 1572–82
Acknowledgements
This work has been supported by a grants from Madaus GmbH, Cologne, Germany and from BIOMED AG, Zürich, Switzerland.
About this article
Cite this article
Saller, R., Meier, R. & Brignoli, R. The Use of Silymarin in the Treatment of Liver Diseases. Drugs 61, 2035–2063 (2001). https://doi.org/10.2165/00003495-200161140-00003
Keywords
Tacrine

Alcoholic Liver Disease

Silymarin

Alcoholic Hepatitis

Silibinin