Abstract
▴ Linezolid is an oxazolidinone antibacterial agent that acts by inhibiting the initiation of bacterial protein synthesis. Cross-resistance between linezolid and other inhibitors of protein synthesis has not been demonstrated.

▴ Linezolid has a wide spectrum of activity against Gram-positive organisms including methicillin-resistant staphylococci, penicillin-resistant pneumococci and vancomycin-resistant Enterococcus faecalis and E. faecium. Anerobes such as Clostridium spp., Peptostreptococcus spp. and Prevotella spp. are also susceptible to linezolid.

▴ Linezolid is bacteriostatic against most susceptible organisms but displays bactericidal activity against some strains of pneumococci, Bacteroides fragilis and C. perfringens.

▴ In clinical trials involving hospitalised patients with skin/soft tissue infections (predominantly S. aureus), intravenous/oral linezolid (up to 1250mg mg/day) produced clinical success in >83% of individuals. In patients with community-acquired pneumonia, success rates were >94%.

▴ Preliminary clinical data also indicate that twice daily intravenous/oral linezolid 600mg is as effective as intravenous vancomycin 1g in the treatment of patients with hospital-acquired pneumonia and in those with infections caused by methicillin-resistant staphylococci. Moreover, linezolid 600mg twice daily produced >85% clinical/microbiological cure in vancomycin-resistant enterococcal infections.

▴ Linezolid is generally well tolerated and gastrointestinal disturbances are the most commonly occurring adverse events. No clinical evidence of adverse reactions as a result of monoamine oxidase inhibition has been reported.
Access options
Buy single article
Instant access to the full article PDF.
US$ 49.95
Tax calculation will be finalised during checkout.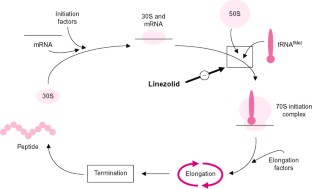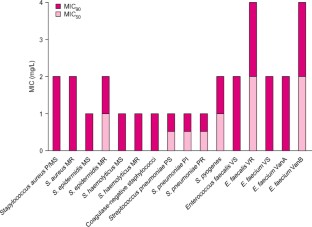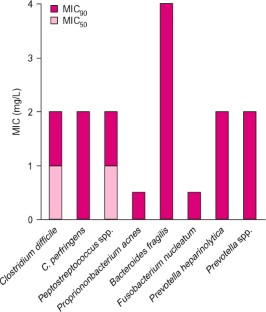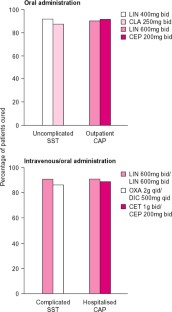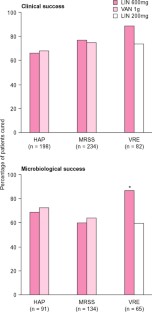 Notes
1.

Both low and high dosage regimens were switched from three times daily to twice daily, maintaining the same total daily dosage, after interim pharmacokinetic data became available.
References
1.

Shinabarger D. Mechanism of action of the oxazolidinone antibacterial agents. Expert Opin Invest Drugs 1999; 8: 1195–202

2.

Swaney SM, Aoki H, Ganoza MC, et al. The oxazolidinone linezolid inhibits initiation of protein synthesis in bacteria. Antimicrob Agents Chemother 1998; 42: 3251–5

3.

Lin AH, Murray RW, Vidmar TJ, et al. The oxazolidinone eperezolid binds to the 50S ribosomal subunit and competes with binding of chloramphenicol and lincomycin. Antimicrob Agents Chemother 1997; 41: 2127–31

4.

Shinabarger DL, Marotti KR, Murray RW, et al. Mechanism of action of oxazolidinones: effects of linezolid and eperezolid on translation reactions. Antimicrob Agents Chemother 1997; 41: 2132–6

5.

Gemell CG, Ford CW. Expression of virulence factors by gram-positive cocci exposed to sub-MIC levels of linezolid. Proceedings of the 39th Interscience Conference on Antimicrobial Agents and Chemotherapy; 1999 Sep 26–29; San Francisco, CA, B118

6.

Stalker DJ, Wajszczuk CP, Batts DH. Linezolid safety, tolerance, and pharmacokinetics following oral dosing twice daily for 14.5 days [abstract]. 37th Interscience Conference on Antimicrobial Agents and Chemotherapy; 1997 Sep 28; Toronto (ON), 23

7.

Stalker DJ, Wajszczuk CP, Batts DH. Linezolid safety, tolerance, and pharmacokinetics after intravenous dosing twice daily for 7.5 days [abstract]. 37th Interscience Conference on Antimicrobial Agents and Chemotherapy; 1997 Sep 28; Toronto (ON), 23–4

8.

Biedenbach DJ, Jones RN. Disk diffusion test interpretive criteria and quality control recommendations for testing linezolid (U-100766) and eperezolid (U-100592) with commercially prepared reagents. J Clin Microbiol 1997; 35: 3198–202

9.

Von Eiff C, Peters G. Comparative in-vitro activities of moxifloxacin, trovafloxacin, quinpristin/dalfopristin and linezolid against staphylococci. J Antimicrob Chemother 1999; 43: 569–73

10.

Jones ME, Visser MR, Klootwijk M, et al. Comparative activities of clinafloxacin, grepafloxacin, levofloxacin, moxifloxacin, ofloxacin, sparfloxacin, and trovafloxacin and nonquinolones linozelid, quinupristin-dalfopristin, gentamicin, and vancomycin against clinical isolates of ciprofloxacin-resistant and -susceptible Staphylococcus aureus strains. Antimicrob Agents Chemother 1999; 43: 421–3

11.

Spangler SK, Jacobs MR, Appelbaum PC. Activities of RPR 106972 (a new oral streptogramin), cefditoren (a new oral cephalosporin), two new oxazolidinones (U-100592 and U-100766), and other oral and parenteral agents against 203 penicillin-susceptible and -resistant pneumococci. Antimicrob Agents Chemother 1996; 40: 481–4

12.

Zurenko GE, Yagi BH, Schaadt RD, et al. In vitro activities of U-100592 and U-100766, novel oxazolidinone antibacterial agents. Antimicrob Agents Chemother 1996; 40: 839–45

13.

Eliopoulos GM, Wennersten CB, Gold HS. In vitro activities of new oxazolidinone antimicrobial agents against enterococci. Antimicrob Agents Chemother 1996; 40: 1745–7

14.

Mason Jr EO, Lamberth LB, Kaplan SL. In vitro activities of oxazolidinones U-100592 and U-100766 against penicillin-resistant and cephalosporin-resistant strains of Streptococcus pneumoniae. Antimicrob Agents Chemother 1996; 40: 1039–40

15.

deAzavedo JCS, Trpeski L, Pong-Porter S, et al. Activity of linezolid on antibiotic-resistant and -susceptible strains of Streptococcus pneumoniae collected from across Canada. Proceedings of the 39th Interscience Conference on Antimicrobial Agents and Chemotherapy; 1999 27 Sep; San Francisco, E72

16.

Noskin GA, Siddiqui F, Stosor V, et al. Successful treatment of persistent vancomycin-resistant Enterococcus faecium bacteremia with linezolid and gentamicin. Clin Infect Dis 1999; 28: 689–90

17.

Brown BA, Ward SC, Mann L, et al. In vitro activity of linezolid against multiple species of Nocardia: a new drug of choice for a difficult disease? [abstract]. Proceedings of the 5th International Conference on the Macrolides, Azalides, Streptogramins, Ketolides and Oxazolidinones, 2000 Jan 26–28; Seville, 08.15

18.

Salmon SA, Portis EL, Case CA. Minimum inhibitory concentration determinations for oxazolidinone antimicrobial agents and comparator agents against strains of Rhodococcus equi [abstract]. 38th Interscience Conference on Antimicrobial Agents and Chemotherapy 1998 Sep 24; San Diego (CA), 206

19.

Schülin T, Wennersten CB, Ferraro MJ, et al. Susceptibilities of Legionella spp. to newer antimicrobials in vitro. Antimicrob Agents Chemother 1998; 42: 1520–3

20.

Jones RN, Johnson DM, Erwin ME. In vitro antimicrobial activities and spectra of U-100592 and U-100766, two novel fluorinated oxazolidinones. Antimicrob Agents Chemother 1996; 40: 720–6

21.

Hoppe JE. In vitro susceptibilities of Bordetella pertussis and Bordetella parapertussis to the novel oxazolidinones eperezolid (PNU-100592) and linezolid (PNU-100766). J Chemother 1999; 11: 220–1

22.

Di Pentima MC, Mason Jr EO, Kaplan SL. In vitro antibiotic synergy against Flavobacterium meningosepticum: implications for therapeutic options. Clin Infect Dis 1998; 26: 1169–76

23.

Goldstein EJC, Citron DM, Merriam CV. Linezolid activity compared to those of selected macrolides and other agents against aerobic and anaerobic pathogens isolated from soft tissue bite infections in humans. Antimicrob Agents Chemother 1999; 43: 1469–74

24.

Edlund C, Oh H, Nord CE. In vitro activity of linezolid and eperezolid against anaerobic bacteria. Clin Microbiol Infect 1999; 5: 51–3

25.

Jorgensen JH, McElmeel ML, Trippy CW. In vitro activities of the oxazolidinone antibiotics U-100592 and U-100766 against Staphylococcus aureus and coagulase negative Staphylococcus species. Antimicrob Agents Chemother 1997; 41: 465–7

26.

Bostic GD, Perri MB, Thai LA, et al. Comparative in vitro and bactericidal activity of oxazolidinone antibiotics against multidrug-resistant enterococci. Diagn Microbiol Infect Dis 1998; 30: 109–12

27.

Kaatz GW, Seo SM. In vitro activity of oxazolidinone compounds U100592 and U100766 versus Staphylococcus aureus and Staphylococcus epidermidis [abstract]. 35th Interscience Conference on Antimicrobial Agents and Chemotherapy 1995: 150

28.

Schaadt RD, Batts DH, Daley-Yates PT, et al. Serum inhibitory titers and serum bactericidal titers for human subjects receiving multiple doses of the antibacterial oxazolidinones eperezolid and linezolid. Diagn Microbiol Infect Dis 1997; 28: 201–4

29.

Tenover FC, Lancaster MV, Hill BC, et al. Characterization of staphylococci with reduced susceptibilities to vancomycin and other glycopeptides. J Clin Microbiol 1998; 36: 1020–7

30.

Andes D, Van Ogtrop ML, Craig WA. Pharmacodynamic activity of a new oxazolidinone, Linezolid, in an animal infection model [abstract]. 38th Interscience Conference on Antimicrobial Agents and Chemotherapy 1998 Sep 24; San Diego, CA, 3

31.

Ford CW, Hamel JC, Wilson DM, et al. In vivo activities of U-100592 and U-100766, novel oxazolidinone antimicrobial agents, against experimental bacterial infections. Antimicrob Agents Chemother 1996; 40: 1508–13

32.

Piper KE, Rouse MS, Wilson WR, et al. Treatment of methicillin-sensitive Staphylococcus aureus experimental osteomyelitis with linezolid of cefazolin. Proceedings of the 39th Interscience Conference on Antimicrobial Agents and Chemotherapy; 1999 Sep 28; San Francisco (CA), A131

33.

Gehman MJ, Pitsakis PG, Mallela SV, et al. Linezolid (L) vs methicillin-resistant Staphylococcus aureus in experimental rat endocarditis [poster]. Proceedings of the 37th Annual Meeting of the Infectious Diseases Society of America; 1999 Nov 18–21; Philadelphia, PA, 169

34.

Buchanan L, Dileto-Fang C, Dailey C, et al. Antimicrobial effects of linezolid and vancomycin in experimental endocarditis [abstract]. Proceedings of the 37th Annual Meeting of the Infectious Diseases Society of America; 1999 Nov 18–21; Philadelphia (PA), 52

35.

Gerber CM, Acosta F, Cottagnoud M, et al. Evaluation of linezolid against penicillin-sensitive and resistant pneumococci in the experimental meningitis model. Proceedings of the 39th Interscience Conference on Antimicrobial Agents and Chemotherapy; 1999 Sep 28; San Fancisco (CA), B109

36.

Pelton SI, Figueira M, Albut R, et al. Efficacy of linezolid in experimental otitis media. Antimicrob Agents Chemother 2000; 44: 654–7

37.

Bryant AE, Stevens DL. Efficacy of U100766 or HMR3647 in experimental streptococcal myonecrosis [abstract]. Proceedings of the XIV Lancefield Society International Symposium on Streptococci and Streptococcal Diseases; 1999 Oct 11–15; Auckland

38.

Cynamon MH, Klemens SP, Sharpe CA et al. Activities of several novel oxazolidinones against Mycobacterium tuberculosis in a murine model. Antimicrob Agents Chemother 1999; 43: 1189–91

39.

Kaatz GW, Seo SM. In vitro activities of oxazolidinone compounds U100592 and U100766 against Staphylococcus aureus and Staphylococcus epidermidis. Antimicrob Agents Chemother 1996; 40: 799–801

40.

Fines M, Leclercq R. Influence of mechanisms of resistance to antiobiotics that bind to the 50S ribosomal subunit on the activity of linezolid against gram-positive organisms. Proceedings of the 39th Interscience Conference on Antimicrobial Agents and Chemotherapy; 1999 Sep 26–29; San Francisco (CA), C183

41.

Welshman IR, Stalker DJ, Wajszczuk CP. Assessment of absolute bioavailability and evaluation of the effect of food on oral bioavailability of linezolid [abstract]. Antiinfect Drugs Chemother 1998; 16 Suppl. 1: 54

42.

Pawsey SD, Daley-Yates PT, Wajszczuk CP. U-100766 safety, toleration and pharmacokinetics after oral and intravenous administration [abstract]. 1st European Congress on Chemotherapy 1996 May 14; Glasgow, F151

43.

Wienkers LC, Wynalda MA, Feenstra KL, et al. In vitro metabolism of linezolid (PNU-100766): lack of induction or inhibition of cytochrome P450 enzymes and studies on the mechanism of formation of the major human metabolite, PNU-142586. Proceedings of the 39th Interscience Conference on Antimicrobial Agents and Chemotherapy; 1999 Sep 26–29; San Francisco (CA), A68

44.

Feenstra KL, Slatter JG, Stalker DJ, et al. Metabolism and excretion of the oxazolidinone antibiotic linezolid (PNU 100766) following oral administration of [14C]PNU 100766 to healthy human volunteers [abstract]. 38th Interscience Conference on Antimicrobial Agents and Chemotherapy; 1998 Sep 24; San Diego (CA), 17

45.

Lasher Sisson T, Jungbluth GL, Stalker DJ, et al. Effect of age and gender on the single-dose pharmacokinetics of linezolid. Proceedings of the 39th Interscience Conference on Antimicrobial Agents and Chemotherapy; 1999 Sep 27; San Francisco (CA), 1194

46.

Stalker DJ, Kearns GL, James L, et al. Pharmacokinetics of linezolid in paediatric patients [abstract]. Clin Infect Dis 1998 Oct; 27: 1061

47.

Brier ME, Stalker DJ, Aronoff GR, et al. Pharmacokinetics of linezolid in subjects with varying degrees of renal function and on dialysis [abstract]. J Invest Med 1998; 46: 276A

48.

Hendershot PE, Jungbluth GL, Cammarata SK, et al. Pharmacokinetics of linezolid in patients with liver disease [abstract]. J Antimicrob Chemother 1999; 44 Suppl. A: 55

49.

Lasher Sisson T, Jungbluth GL, Hopkins NK. A pharmacokinetic evaluation of concomitant administration of linezolid and aztreonam. J Clin Pharmacol 1999; 39: 1277–82

50.

Cammarata SK, Hafkin B, Demke DM, et al. Efficacy of linezolid in skin and soft tissue infections [abstract]. Clin Microbiol Infect 1999; 5 Suppl. 3: 133

51.

Cammarata SK, Hafkin B, Todd WM, et al. Efficacy of linezolid in community-acquired S. pneumoniae pneumonia. Am J Respir Crit Care Med 1999; 159 Suppl. Pt 2 (3): A844

52.

Anon. First resistance to linezolid reported. Scrip Mag 1999 Oct 6; 2478: 23

53.

Pharmacia & Upjohn, 1999. Data on file

54.

Birmingham MC, Zimmer GS, Hafkin B, et al. Outcomes with linezolid from an ongoing compassionate use (CU) trial of patients (pts) with significant, resistant Gram-positive infections [abstract]. 39th Interscience Conference on Antimicrobial Agents and Chemotherapy; 1999 Nov 18–24; Buffalo (NY), 724

55.

Birmingham MC, Zimmer GS, Flavin SM, et al. Results of treating bacteraemic patients with linezolid in a compassionate use trial for resistant, gram-positive infections [abstract]. Proceedings of the 37th Annual Meeting of the Infectious Diseases Society of America; 1999 Nov 18–21; Philadelphia (PA), 129

56.

Smith PF, Birmingham MC, Zimmer GS, et al. Clinical outcomes (CO), safety and tolerance of linezolid (LZD) for resistant Gram-positive infections in patients with neutropenia (NPS) [abstract]. Clin Infect Dis 1999; 29: 960

57.

Zurenko GE, Todd WM, Hafkin B, et al. Development of linezolid-resistant Enterococcus faecium in two compassionate use program patients treated with Linezolid [abstract]. 39th Interscience Conference on Antimicrobial Agents and Chemotherapy; 1999 Sep 24–2; San Francisco (CA), 118

58.

Wilks NE, McConnell-Martin MA, Oliphant TH. Safety and tolerance of linezolid in phase II trials [abstract]. 39th Interscience Conference on Antimicrobial Agents and Chemotherapy; 1999 Sep 24–27; San Francisco (CA), 40

59.

Martin JP, Herberg JT, Slatter JG, et al. Although a novel microtiter-plate assay demonstrates that linezolid (PNU-100766) is a weak, competitive (reversible) inhibitor of human monoamine oxidase(MAO A), no clinical evidence of MAO A inhibition in clinical trials has been observed [abstract]. 38th Interscience Conference on Antimicrobial Agents and Chemotherapy; 1998 Sep 24; San Diego (CA), 27
About this article
Cite this article
Clemett, D., Markham, A. Linezolid. Drugs 59, 815–827 (2000). https://doi.org/10.2165/00003495-200059040-00007
Keywords
Minimum Inhibitory Concentration

Vancomycin

Linezolid

Moraxella Catarrhalis

Microbiological Cure