Abstract
Significant differences that exist between the sexes affect the prevalence, incidence and severity of a broad range of diseases and conditions. Men and women also differ in their response to drug treatment. It is therefore essential to understand these reactions in order to appropriately conduct risk assessment and to design safe and effective treatments. Even from that modest perspective, how and when we use drugs can result in unwanted and unexpected outcomes. This review summarizes the sex-based differences that impact on pharmacokinetics, and includes a general comparison of clinical pharmacology as it applies to men, women and pregnant women. Sex-related or pregnancy-induced changes in drug absorption, distribution, metabolism and elimination, when significant, may guide changes in dosage regimen or therapeutic monitoring to increase its effectiveness or reduce potential toxicity. Given those parameters, and our knowledge of sex differences, we can derive essentially all factors necessary for therapeutic optimization.
Since this is a rapidly evolving area, it is essential for the practitioner to review drug prescribing information and recent literature in order to fully understand the impact of these differences on clinical therapeutics.
This is a preview of subscription content, log in to check access.
Access options
Buy single article
Instant access to the full article PDF.
US$ 49.95
Price includes VAT for USA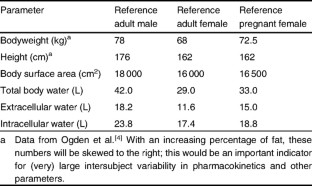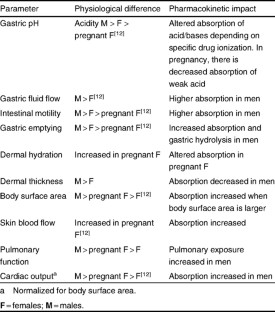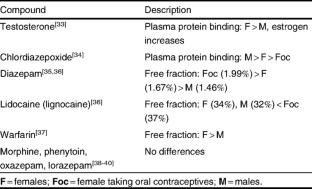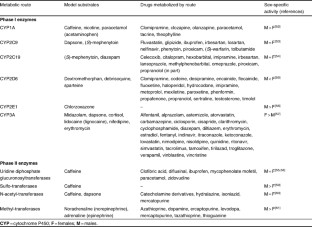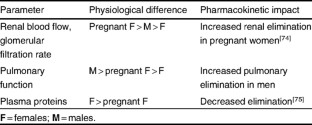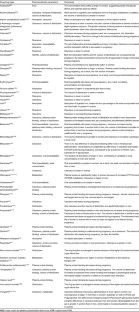 References
1.

Hardman JG, Limbird LE, Gilman AG. Goodman & Gilman's the pharmacological basis of therapeutics. New York: McGraw-Hill, 2001

2.

Messing K, Mager Stellman J. Sex, gender and women's occupational health: the importance of considering mechanism. Environ Res 2006 Jun; 101(2): 149–62

3.

Zahm SH, Blair A, Weisenburger DD. Sex differences in the risk of multiple myeloma associated with agriculture. Br J Ind Med 1992 Nov; 49(11): 815–6

4.

Ogden CL, Fryar CD, Carroll MD, et al. Mean body weight, height, and body mass index, United States 1960–2002: advance data from vital and health statistics; no. 347. Hyattsville (MD): National Center for Health Statistics, 2004 Oct 27 [online]. Available from URL: http://www.cdc.gov/nchs/data/ad/ad347.pdf [Accessed 2008 Dec 4]

5.

Wizemann TM, Pardue ML, editors. Exploring the biological contributions to human health: does sex matter? Washington, DC: National Academies Press, 2001 [online]. Available from URL: http://www.nap.edu/catalog.php?record_id=10028#toc [Accessed 2009 Feb 12]

6.

Marrocco A, Stewart DE. We've come a long way, maybe: recruitment of women and analysis of results by sex in clinical research. J Womens Health Gend Based Med 2001 Mar; 10(2): 175–9

7.

Office of Research on Women's Health and NIH Support for Research on Women's Health Issues. Report of the Advisory Committee on Research on Women's Health; fiscal years 2005 & 2006 [online]. Available from URL: http://orwh.od.nih.gov/pubs/complete_ICD_report05_06.pdf [Accessed 2008 Dec 4]

8.

US General Accounting Office (GAO). Drug safety: most drugs withdrawn in recent years had greater health risks for women. Washington, DC: GAO, 2001 Jan 19 [online]. Available from URL: www.gao.gov/new.items/d01286r.pdf [Accessed 2008 Dec 4]

9.

Byrne J. Infertility and premature menopause in childhood cancer survivors. Med Pediatr Oncol 1999 Jul; 33(1): 24–8

10.

Gorski JC, Vannaprasaht S, Hamman MA, et al. The effect of age, sex, and rifampin administration on intestinal and hepatic cytochrome P450 3A activity. Clin Pharmacol Ther 2003 Sep; 74(3): 275–87

11.

Vukovich RA, Brannick LJ, Sugerman AA, et al. Sex differences in the intramuscular absorption and bioavailability of cephradine. Clin Pharmacol Ther 1975 Aug; 18(2): 215–20

12.

Gandhi M, Aweeka F, Greenblatt RM, et al. Sex differences in pharmacokinetics and pharmacodynamics. Annu Rev Pharmacol Toxicol 2004; 44: 499–523

13.

Lindahl K, Stahle L, Bruchfeld A, et al. High-dose ribavirin in combination with standard dose peginterferon for treatment of patients with chronic hepatitis C. Hepatology 2005 Feb; 41(2): 275–9

14.

Parlesak A, Billinger MH, Bode C, et al. Gastric alcohol dehydrogenase activity in man: influence of gender, age, alcohol consumption and smoking in a Caucasian population. Alcohol Alcohol 2002 Jul–Aug; 37(4): 388–93

15.

Baraona E, Abittan CS, Dohmen K, et al. Gender differences in pharmacokinetics of alcohol. Alcohol Clin Exp Res 2001 Apr; 25(4): 502–7

16.

Muller C. Liver, alcohol and gender. Wien Med Wochenschr 2006 Oct; 156(19–20): 523–6

17.

Nanji AA, Jokelainen K, Fotouhinia M, et al. Increased severity of alcoholic liver injury in female rats: role of oxidative stress, endotoxin, and chemokines. Am J Physiol Gastrointest Liver Physiol 2001 Dec; 281(6): G1348–56

18.

Sumida KD, Hill JM, Matveyenko AV. Sex differences in hepatic gluconeogenic capacity after chronic alcohol consumption. Clin Med Res 2007 Oct; 5(3): 193–202

19.

Thurman RG. Sex-related liver injury due to alcohol involves activation of Kupffer cells by endotoxin. Can J Gastroenterol 2000 Nov; 14 Suppl. D: 129D–35D

20.

Ikejima K, Enomoto N, Iimuro Y, et al. Estrogen increases sensitivity of hepatic Kupffer cells to endotoxin. Am J Physiol 1998 Apr; 274(4 Pt 1): G669–76

21.

Englund G, Rorsman F, Ronnblom A, et al. Regional levels of drug transporters along the human intestinal tract: co-expression of ABC and SLC transporters and comparison with Caco-2 cells. Eur J Pharm Sci 2006 Nov; 29(3–4): 269–77

22.

Tamai I, Saheki A, Saitoh R, et al. Nonlinear intestinal absorption of 5-hydroxytryptamine receptor antagonist caused by absorptive and secretory transporters. J Pharmacol Exp Ther 1997 Oct; 283(1): 108–15

23.

Jovanovic H, Lundberg J, Karlsson P, et al. Sex differences in the serotonin 1A receptor and serotonin transporter binding in the human brain measured by PET. Neuroimage 2008 Feb 1; 39(3): 1408–19

24.

Salena BJ, Hunt RH. The stomach and duodenum. In: Thompson AB, Shaffer EA, editors. First principles of gastroenterology: the basis of disease and an approach to management. 2nd ed. Mississauga: Canadian Association of Gastroenterology/Astra Pharma, 1994: 135–81

25.

Stephen AM, Wiggins HS, Englyst HN, et al. The effect of age, sex and level of intake of dietary fibre from wheat on large-bowel function in thirty healthy subjects. Br J Nutr 1986 Sep; 56(2): 349–61

26.

Butera L, Feinfeld DA, Bhargava M. Sex differences in the subunits of glutathione-S-transferase isoenzyme from rat and human kidney. Enzyme 1990; 43(4): 175–82

27.

Jacobs A. Sex differences in iron absorption. Proc Nutr Soc 1976; 35(2): 159–62

28.

Arthur MJ, Lee A, Wright R. Sex differences in the metabolism of ethanol and acetaldehyde in normal subjects. Clin Sci (Lond) 1984; 67(4): 397–401

29.

Sowinski KM, Abel SR, Clark WR, et al. Effect of gender on the pharmacokinetics of ofloxacin. Pharmacotherapy 1999 Apr; 19(4): 442–6

30.

Williams LR, Leggett RW. Reference values for resting blood flow to organs of man. Clin Phys Physiol Meas 1989 Aug; 10(3): 187–217

31.

Succari M, Foglietti MJ, Percheron F. Microheterogeneity of alpha 1-acid glycoprotein: variation during the menstrual cycle in healthy women, and profile in women receiving estrogen-progestogen treatment. Clin Chim Acta 1990 Mar 15; 187(3): 235–41

32.

Wiegratz I, Kutschera E, Lee JH, et al. Effect of four different oral contraceptives on various sex hormones and serum-binding globulins. Contraception 2003 Jan; 67(1): 25–32

33.

Vigersky RA, Kono S, Sauer M, et al. Relative binding of testosterone and estradiol to testosterone-estradiol-binding globulin. J Clin Endocrinol Metab 1979; 49: 899–904

34.

Roberts RK, Desmond PV, Wilkinson GR, et al. Disposition of chlordiazepoxide: sex differences and effects of oral contraceptives. Clin Pharmacol Ther 1979 Jun; 25(6): 826–31

35.

Lee JN, Chen SS, Richens A, et al. Serum protein binding of diazepam in maternal and foetal serum during pregnancy. Br J Clin Pharmacol 1982 Oct; 14(4): 551–4

36.

Routledge PA, Stargel WW, Kitchell BB, et al. Sex-related differences in the plasma protein binding of lignocaine and diazepam. Br J Clin Pharmacol 1981 Mar; 11(3): 245–50

37.

Yacobi A, Stoll RG, DiSanto AR, et al. Intersubject variation of warfarin binding to protein in serum of normal subjects. Res Commun Chem Pathol Pharmacol 1976 Aug; 14(4): 743–6

38.

Yacobi A, Lampman T, Levy G. Frequency distribution of free warfarin and free phenytoin fraction values in serum of healthy human adults. Clin Pharmacol Ther 1977 Mar; 21(3): 283–6

39.

Hvidberg EF, Dam M. Clinical pharmacokinetics of anticonvulsants. Clin Pharmacokinet 1976; 1(3): 161–88

40.

Richens A. Clinical pharmacokinetics of phenytoin. Clin Pharmacokinet 1979 May–Jun; 4(3): 153–69

41.

Young CM, Tensuan RS. Estimating the lean body mass of young women: use of skeletal measurements. J Am Diet Assoc 1963 Jan; 42: 46–51

42.

Hytten FE. Weight gain in pregnancy: 30 year of research. S Afr Med J 1981 Jul 4; 60(1): 15–9

43.

Houghton IT, Aun CS, Oh TE. Vecuronium: an anthropometric comparison. Anaesthesia 1992 Sep; 47(9): 741–6

44.

Xue FS, Tong SY, Liao X, et al. Dose-response and time course of effect of rocuronium in male and female anesthetized patients. Anesth Analg 1997 Sep; 85(3): 667–71

45.

Ochs HR, Greenblatt DJ, Divoll M, et al. Diazepam kinetics in relation to age and sex. Pharmacology 1981; 23(1): 24–30

46.

International Life Sciences Institute (ILSI). ILSI Risk Science Institute Working Group on Physiological Parameters Report. Washington, DC: ILSI, 1994

47.

Cooper SF, Drolet D, Dugal R. Comparative bioavailability of two oral formulations of flurazepam in human subjects. Biopharm Drug Dispos 1984 Apr–Jun; 5(2): 127–39

48.

Greenblatt DJ, Shader RI, Franke K, et al. Kinetics of intravenous chlordiazepoxide: sex differences in drug distribution. Clin Pharmacol Ther 1977 Dec; 22(6): 893–903

49.

Aarons L, Hopkins K, Rowland M, et al. Route of administration and sex differences in the pharmacokinetics of aspirin, administered as its lysine salt. Pharm Res 1989 Aug; 6(8): 660–6

50.

Campbell NR, Hull RD, Brant R, et al. Different effects of heparin in males and females. Clin Invest Med 1998 Apr; 21(2): 71–8

51.

Trnavska Z, Trnavsky K. Sex differences in the pharmacokinetics of salicylates. Eur J Clin Pharmacol 1983; 25(5): 679–82

52.

Lane HY, Chang YC, Chang WH, et al. Effects of gender and age on plasma levels of clozapine and its metabolites: analyzed by critical statistics. J Clin Psychiatry 1999 Jan; 60(1): 36–40

53.

Jokubaitis LA. Development and pharmacology of fluvastatin. Br J Clin Pract Suppl. 1996 Jan; 77A: 11–5

54.

Hooper WD, Qing MS. The influence of age and gender on the stereoselective metabolism and pharmacokinetics of mephobarbital in humans. Clin Pharmacol Ther 1990 Dec; 48(6): 633–40

55.

Bock KW, Schrenk D, Forster A, et al. The influence of environmental and genetic factors on CYP2D6, CYP1A2 and UDP-glucuronosyltransferases in man using sparteine, caffeine, and paracetamol as probes. Pharmacogenetics 1994 Aug; 4(4): 209–18

56.

Lucas D, Menez C, Girre C, et al. Cytochrome P450 2E1 genotype and chlorzoxazone metabolism in healthy and alcoholic Caucasian subjects. Pharmacogenetics 1995 Oct; 5(5): 298–304

57.

Hunt CM, Westerkam WR, Stave GM. Effect of age and gender on the activity of human hepatic CYP3A. Biochem Pharmacol 1992 Jul 22; 44(2): 275–83

58.

Miners JO, Robson RA, Birkett DJ. Gender and oral contraceptive steroids as determinants of drug glucuronidation: effects on clofibric acid elimination. Br J Clin Pharmacol 1984 Aug; 18(2): 240–3

59.

Aksoy IA, Sochorova V, Weinshilboum RM. Human liver dehydroepian-drosterone sulfotransferase: nature and extent of individual variation. Clin Pharmacol Ther 1993 Nov; 54(5): 498–506

60.

Relling MV, Lin JS, Ayers GD, et al. Racial and gender differences in N-acetyltransferase, xanthine oxidase, and CYP1A2 activities. Clin Pharmacol Ther 1992 Dec; 52(6): 643–58

61.

Boudikova B, Szumlanski C, Maidak B, et al. Human liver catechol-O-methyltransferase pharmacogenetics. Clin Pharmacol Ther 1990 Oct; 48(4): 381–9

62.

Custodio JM, Wu CY, Benet LZ. Predicting drug disposition, absorption/elimination/transporter interplay and the role of food on drug absorption. Adv Drug Deliv Rev 2008 Mar 17; 60(6): 717–33

63.

Anderson GD. Sex differences in drug metabolism: cytochrome P-450 and uridine diphosphate glucuronosyltransferase. J Gend Specif Med 2002 Jan–Feb; 5(1): 25–33

64.

Aichhorn W, Whitworth AB, Weiss EM, et al. Differences between men and women in side effects of second-generation antipsychotics [in German]. Nervenarzt 2007 Jan; 78(1): 45–52

65.

Choi S, DiSilvio B, Unangst J, et al. Effect of chronic infusion of olanzapine and clozapine on food intake and body weight gain in male and female rats. Life Sci 2007 Sep 1; 81(12): 1024–30

66.

Furukawa T, Kurokawa J. Regulation of cardiac ion channels via non-genomic action of sex steroid hormones: implication for the gender difference in cardiac arrhythmias. Pharmacol Ther 2007 Jul; 115(1): 106–15

67.

Ljunggren H. Studies on body composition; with special reference to the composition of obesity tissue and non-obesity tissue. Acta Endocrinol Suppl (Copenh) 1957; 25 Suppl. 33: 1–58

68.

Cunningham JJ. Body composition and resting metabolic rate: the myth of feminine metabolism. Am J Clin Nutr 1982 Oct; 36(4): 721–6

69.

Mattison DR, Thomford PJ. The mechanisms of action of reproductive toxicants. Toxicol Pathol 1989; 17(2): 364–76

70.

Gaudry SE, Sitar DS, Smyth DD, et al. Gender and age as factors in the inhibition of renal clearance of amantadine by quinine and quinidine. Clin Pharmacol Ther 1993 Jul; 54(1): 23–7

71.

Berg UB. Differences in decline in GFR with age between males and females: reference data on clearances of inulin and PAH in potential kidney donors. Nephrol Dial Transplant 2006 Sep; 21(9): 2577–82

72.

Hytten FE, Chemberlain G. Clinical physiology in obstetrics. Oxford: Blackwell Scientific Publications, 1980

73.

Silvaggio T, Mattison DR. Setting occupational health standards: toxicokinetic differences among and between men and women. J Occup Med 1994 Aug; 36(8): 849–54

74.

Davison JM, Dunlop W. Renal hemodynamics and tubular function normal human pregnancy. Kidney Int 1980 Aug; 18(2): 152–61

75.

Dean M, Stock B, Patterson RJ, et al. Serum protein binding of drugs during and after pregnancy in humans. Clin Pharmacol Ther 1980 Aug; 28(2): 253–61

76.

DeCherney AH, Nathan L, Goodwin TM, et al., editors. Current diagnosis & treatment: obstetrics & gynecology. 10th ed. New York: McGraw-Hill, 2006

77.

Leblhuber F, Neubauer C, Peichl M, et al. Age and sex differences of dehydroepiandrosterone sulfate (DHEAS) and cortisol (CRT) plasma levels in normal controls and Alzheimer's disease (AD). Psychopharmacology (Berl) 1993; 111(1): 23–6

78.

Tanaka K, Shimizu N, Imura H, et al. Human corticotropin-releasing hormone (hCRH) test: sex and age differences in plasma ACTH and cortisol responses and their reproducibility in healthy adults. Endocr J 1993 Oct; 40(5): 571–9

79.

Vierhapper H, Nowotny P, Waldhausl W. Sex-specific differences in cortisol production rates in humans. Metabolism 1998 Aug; 47(8): 974–6

80.

Rathore SS, Wang Y, Krumholz HM. Sex-based differences in the effect of digoxin for the treatment of heart failure. N Engl J Med 2002 Oct 31; 347(18): 1403–11

81.

Ostrom NK. Women with asthma: a review of potential variables and preferred medical management. Ann Allergy Asthma Immunol 2006 May; 96(5): 655–65

82.

Miller AA, De Silva TM, Jackman KA, et al. Effect of gender and sex hormones on vascular oxidative stress. Clin Exp Pharmacol Physiol 2007 Oct; 34(10): 1037–43

83.

Kharasch ED, Mautz D, Senn T, et al. Menstrual cycle variability in midazolam pharmacokinetics. J Clin Pharmacol 1999 Mar; 39(3): 275–80

84.

Shah AK, Laboy-Goral L, Scott N, et al. Pharmacokinetics and safety of oral eletriptan during different phases of the menstrual cycle in healthy volunteers. J Clin Pharmacol 2001 Dec; 41(12): 1339–44

85.

Loebstein R, Lalkin A, Koren G. Pharmacokinetic changes during pregnancy and their clinical relevance. Clin Pharmacokinet 1997 Nov; 33(5): 328–43

86.

Mattison DR, Blann E, Malek A. Physiological alterations during pregnancy: impact on toxicokinetics. Fundam Appl Toxicol 1991 Feb; 16(2): 215–8

87.

Harris RZ, Tsunoda SM, Mroczkowski P, et al. The effects of menopause and hormone replacement therapies on prednisolone and erythromycin pharmacokinetics. Clin Pharmacol Ther 1996 Apr; 59(4): 429–35

88.

Umeh OC, Currier JS. Sex differences in pharmacokinetics and toxicity of antiretroviral therapy. Expert Opin Drug Metab Toxicol 2006 Apr; 2(2): 273–83

89.

Dubois D, Petitcolas J, Temperville B, et al. Treatment of hypertension in pregnancy with beta-adrenoceptor antagonists. Br J Clin Pharmacol 1982; 13(Suppl. 2): 375S–8S

90.

Badger TM, Hidestrand M, Shankar K, et al. The effects of pregnancy on ethanol clearance. Life Sci 2005 Sep 9; 77(17): 2111–26

91.

Ho PC, Triggs EJ, Bourne DW, et al. The effects of age and sex on the disposition of acetylsalicylic acid and its metabolites. Br J Clin Pharmacol 1985 May; 19(5): 675–84

92.

Hebert MF, Carr DB, Anderson GD, et al. Pharmacokinetics and pharmacodynamics of atenolol during pregnancy and postpartum. J Clin Pharmacol 2005 Jan; 45(1): 25–33

93.

Cho N, Ito T, Saito T. Clinical studies on cefazolin in the field of obstetrics and gynecology. Chemotherapy (Tokyo) 1970; 18: 377–82

94.

Mattison D, Zajicek A. Gaps in knowledge in treating pregnant women. Gend Med 2006 Sep; 3(3): 169–82

95.

Philipson A, Stiernstedt G, Ehrnebo M. Comparison of the pharmacokinetics of cephradine and cefazolin in pregnant and non-pregnant women. Clin Pharmacokinet 1987 Feb; 12(2): 136–44

96.

Overholser BR, Kays MB, Forrest A, et al. Sex-related differences in the pharmacokinetics of oral ciprofloxacin. J Clin Pharmacol 2004 Sep; 44(9): 1012–22

97.

Tang YL, Mao P, Li FM, et al. Gender, age, smoking behaviour and plasma clozapine concentrations in 193 Chinese inpatients with schizophrenia. Br J Clin Pharmacol 2007 Jul; 64(1): 49–56

98.

Luxford AM, Kellaway GS. Pharmacokinetics of digoxin in pregnancy. Eur J Clin Pharmacol 1983; 25(1): 117–21

99.

Philipson A, Sabath LD, Charles D. Erythromycin and clindamycin absorption and elimination in pregnant women. Clin Pharmacol Ther 1976 Jan; 19(1): 68–77

100.

Woodhead JC, Drulis JM, Nelson SE, et al. Gender-related differences in iron absorption by preadolescent children. Ped Res 1991; 29: 435–9

101.

Reigner BG, Welker HA. Factors influencing elimination and distribution of fleroxacin: metaanalysis of individual data from 10 pharmacokinetic studies. Antimicrob Agents Chemother 1996 Mar; 40(3): 575–80

102.

Schou M, Amdisen A. Lithium in pregnancy. Lancet 1970 Jun 27; 1(7661): 1391

103.

Nosten F, Karbwang J, White NJ, et al. Mefloquine antimalarial prophylaxis in pregnancy: dose finding and pharmacokinetic study. Br J Clin Pharmacol 1990 Jul; 30(1): 79–85

104.

Lew KH, Ludwig EA, Milad MA, et al. Gender-based effects on methyl-prednisolone pharmacokinetics and pharmacodynamics. Clin Pharmacol Ther 1993 Oct; 54(4): 402–14

105.

Hogstedt S, Lindberg B, Rane A. Increased oral clearance of metoprolol in pregnancy. Eur J Clin Pharmacol 1983; 24(2): 217–20

106.

Carcas AJ, Guerra P, Frias J, et al. Gender differences in the disposition of metronidazole. Int J Clin Pharmacol Ther 2001 May; 39(5): 213–8

107.

Kanto J, Sjovall S, Erkkola R, et al. Placental transfer and maternal midazolam kinetics. Clin Pharmacol Ther 1983 Jun; 33(6): 786–91

108.

Mesnil F, Mentre F, Dubruc C, et al. Population pharmacokinetic analysis of mizolastine and validation from sparse data on patients using the non-parametric maximum likelihood method. J Pharmacokinet Biopharm 1998 Apr; 26(2): 133–161

109.

Molinaro M, Villani P, Regazzi MB, et al. Pharmacokinetics of ofloxacin in elderly patients and in healthy young subjects. Eur J Clin Pharmacol 1992; 43(1): 105–7

110.

Callaghan JT, Bergstrom RF, Ptak LR, et al. Olanzapine: pharmacokinetic and pharmacodynamic profile. Clin Pharmacokinet 1999 Sep; 37(3): 177–93

111.

Konieczna L, Chmielewska A, Lamparczyk H. Influence of sex on the pharmacokinetics of ciprofloxacin and ofloxacin. Chemotherapy 2006; 52(3): 111–21

112.

Meyer MC, Straughn AB, Mhatre RM, et al. Variability in the bioavailability of phenytoin capsules in males and females. Pharm Res 2001 Mar; 18(3): 394–7

113.

Meffin PJ, Brooks PM, Sallustio BC. Alterations in prednisolone disposition as a result of time of administration, gender and dose. Br J Clin Pharmacol 1984 Apr; 17(4): 395–404

114.

Smith MT, Livingstone I, Eadie MJ, et al. Chronic propranolol administration during pregnancy: maternal pharmacokinetics. Eur J Clin Pharmacol 1983; 25(4): 481–90

115.

El-Eraky H, Thomas SH. Effects of sex on the pharmacokinetic and pharmacodynamic properties of quinidine. Br J Clin Pharmacol 2003 Aug; 56(2): 198–204

116.

Adamus M, Gabrhelik T, Marek O. Influence of gender on the course of neuromuscular block following a single bolus dose of cisatracurium or rocuronium. Eur J Anaesthesiol 2008 Jul; 25(7): 589–95

117.

Pleym H, Spigset O, Kharasch ED, et al. Gender differences in drug effects: implications for anesthesiologists. Acta Anaesthesiol Scand 2003 Mar; 47(3): 241–59

118.

Hartter S, Wetzel H, Hammes E, et al. Nonlinear pharmacokinetics of fluvoxamine and gender differences. Ther Drug Monit 1998 Aug; 20(4): 446–9

119.

Kaplan SA, Weinfeld RE, Abruzzo CW, et al. Pharmacokinetic profile of sulfisoxazole following intravenous, intramuscular, and oral administration to man. J Pharm Sci 1972; 61(5): 773–8

120.

Loi CM, Parker BM, Cusack BJ, et al. Aging and drug interactions: III. Individual and combined effects of cimetidine and cimetidine and ciprofloxacin on theophylline metabolism in healthy male and female non-smokers. J Pharmacol Exp Ther 1997 Feb; 280(2): 627–37

121.

Perucca E, Ruprah M, Richens A. Altered drug binding to serum proteins in pregnant women: therapeutic relevance. J R Soc Med 1981 Jun; 74(6): 422–6

122.

Nomura T. Pharmacokinetics and pharmacodynamics of vecuronium bromide. J Anesth 1992 Jan; 6(1): 28–37

123.

Krecic-Shepard ME, Barnas CR, Slimko J, et al. Gender-specific effects on verapamil pharmacokinetics and pharmacodynamics in humans. J Clin Pharmacol 2000 Mar; 40(3): 219–30

124.

Krecic-Shepard ME, Barnas CR, Slimko J, et al. Faster clearance of sustained release verapamil in men versus women: continuing observations on sex-specific differences after oral administration of verapamil. Clin Pharmacol Ther 2000 Sep; 68(3): 286–92
Acknowledgements
The authors have no conflicts of interest that are directly relevant to the content of this review. Dr Soldin is partially supported by a Clinical Investigator Award from the Flight Attendant Medical Research Institute (FAMRI; Miami, FL, USA) and grant no. 5U10HD047890-S from the National Institutes of Health/National Institute of Child Health and Human Development Obstetrics-Fetal Pharmacology Research Unit (OPRU) Network (Rockville, MD, USA) and the Office of Research on Women's Health (Bethesda, MD, USA).
The authors wish to thank Drs Anne Zajicek and Alexander Vinks for reading the manuscript critically, and Mr Daniel O'Mara for helping with manuscript preparation.
About this article
Cite this article
Soldin, O.P., Mattison, D.R. Sex Differences in Pharmacokinetics and Pharmacodynamics. Clin Pharmacokinet 48, 143–157 (2009). https://doi.org/10.2165/00003088-200948030-00001
Keywords
Renal Blood Flow

Basal Metabolic Rate

Total Body Water

Eletriptan

Rocuronium Bromide