Abstract
Leflunomide is the first disease-modifying antirheumatic drug to be approved for rheumatoid arthritis in the past 10 years. Orally administered leflunomide is almost completely converted into its active metabolite A77 1726 (hereafter referred to as M1). M1 displays linear pharmacokinetics at the dosages of leflunomide used in clinical practice. It has a long elimination half-life (approximately 2 weeks), reaching a steady state after approximately 20 weeks. M1 is highly bound to plasma proteins. The pharmacokinetics of M1 are not affected by food intake, and dosage requirements are not influenced by age or gender. Approximately 90% of a single dose of leflunomide is eliminated, 43% in urine, primarily as leflunomide glucuronides and an oxalinic acid derivative of M1, and 48% in faeces, primarily as M1. Elimination can be dramatically increased by using charcoal or cholestyramine.
In vitro studies have shown no major influence of leflunomide on the metabolism of analgesics, nonsteroidal anti-inflammatory drugs and methotrexate, drugs usually used in the treatment of rheumatoid arthritis. In clinical studies with a limited number of patients using these drugs concomitantly, no safety problems appeared. Nonspecific inducers of cytochrome P450 (CYP) and some drugs metabolised by CYP2C9 affect the metabolism of M1, and caution should be used in patients cotreated with them.
Additional in vitro and in vivo pharmacokinetic studies are needed to better understand the nonenzymatic and enzymatic metabolism of leflunomide. Additional clinical trials should be performed in order to find new indications for leflunomide in other autoimmune diseases, and new combination therapeutic strategies in rheumatoid arthritis. This review is a summary of current knowledge of the pharmacokinetics of leflunomide, focusing primarily on humans and in particular on patients with rheumatoid arthritis.
Access options
Buy single article
Instant access to the full article PDF.
US$ 49.95
Tax calculation will be finalised during checkout.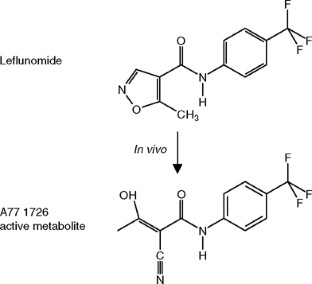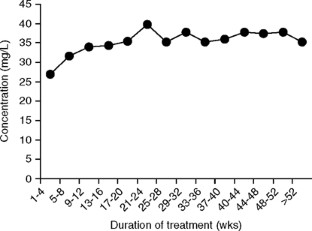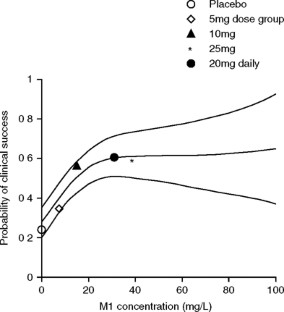 References
1.

Bartlett RR, Campion G, Musikic P, et al. Leflunomide: a novel immunomodulating drug. In: Lewis AJ, Furst DE, editors. Nonsteroidal and anti-inflammatory drugs: mechanisms and clinical uses. 2nd ed. New York: Marcel Dekker, 1994: 349–66

2.

Mladenovic V, Domljan Z, Rozman B, et al. Safety and effectiveness of leflunomide in the treatment of patients with active rheumatoid arthritis. Arthritis Rheum 1995; 38: 1595–603

3.

Smolen JS, Kalden JR, Scott DL, et al. Efficacy and safety of leflunomide compared with placebo and sulphasalazine in active rheumatoid arthritis: a double-blind, randomised, multicentre trial. Lancet 1999; 353: 259–66

4.

Strand V, Cohen S, Schiff M, et al. Treatment of active rheumatoid arthritis with leflunomide compared to placebo and methotrexate. Arch Intern Med 1999; 159: 2542–50

5.

Emery P, Breedveld FC, Lemmel EM, et al. A comparison of the efficacy and safety of leflunomide and methotrexate for the treatment of rheumatoid arthritis. Rheumatology 2000; 39: 655–65

6.

Prakash A, Jarvis B. Leflunomide: a review of its use in active rheumatoid arthritis. Drugs 1999; 58: 1137–64

7.

Population pharmacokinetic report, Leflunomide. Hoechstmarion Roussel, 1997 Dec: 1-36

8.

Arava™ (leflunomide): product monograph. Bridgewater (NY): Aventis, 2000: 11-3

9.

Leflunomide (HWA486): investigator's brochure. Wiesbaden, Germany: Hoechstmarion Roussel, 1996 Oct: 40-8

10.

Leflunomide (HWA486): investigator's brochure. Wiesbaden, Germany: Hoechstmarion Roussel, 1998 Oct: 4-2-4-6

11.

Arava™ (leflunomide): prescribing information 2000A. Kansas City, MO: Aventis Pharmaceuticals Inc., April 2000

12.

Herrmann ML, Schleyerbach R, Kirschbaum BJ. Leflunomide: an immunomodulatory drug for the treatment of rheumatoid arthritis and other autoimmune diseases. Immunopharmacology 2000; 47: 273–89

13.

Scott D, Strand V. Leflunomide: a new immunosuppressive drug. In: Strand V, Scott LD, Simon LS, editors. Novel therapeutic agents for the treatment of autoimmune diseases. New York: Marcel Dekker, 1997: 287–93

14.

Weinblatt ME, Kremer JM, Coblyn JS, et al. Pharmacokinetics, safety, and efficacy of combination treatment with methotrexate and leflunomide in patients with active rheumatoid arthritis. Arthritis Rheum 1999; 42: 1322–8

15.

Silva HT, Morris RE. Leflunomide and malononitriloamides. Expert Opin Investig Drugs 1997; 6: 51–64

16.

Rozman B. Clinical experience with leflunomide in rheumatoid arthritis. J Rheumatol 1998; 25 Suppl. 53: 27–32

17.

Kuo EA, Hambleton PT, Kay DP, et al. Synthesis, structureactivity relationships, and pharmacokinetic properties of dihydroorotate dehydrogenase inhibitors: 2-cyano-3-cyclopropyl-3-hydroxy-N-[3′-methyl-4′-(trifluoromethyl)phenyl] propenamide and related compounds. J Med Chem 1996; 39: 4608–21
Acknowledgements
The author would like to thank Professor F. Kozjek, Pharm. D., PhD for reading and correcting parts of the text. There were no sources of funding used to assist in the preparation of this manuscript. There are no potential conflicts of interest relevant to the contents of this manuscript.
About this article
Cite this article
Rozman, B. Clinical Pharmacokinetics of Leflunomide. Clin Pharmacokinet 41, 421–430 (2002). https://doi.org/10.2165/00003088-200241060-00003
Keywords
Rheumatoid Arthritis

Juvenile Idiopathic Arthritis

Leflunomide

Tolbutamide

Final Population Pharmacokinetic Model