Abstract
The administration of osmotic agents is one of the principal strategies to lower elevated intracranial pressure (ICP) and to increase cerebral perfusion pressure. Of the 3 osmotic agents frequently used (mannitol, glycerol and sorbitol), each has characteristic advantages and disadvantages.
In addition to renal filtration, sorbitol [elimination half-life (t½β) approximately 1h] and glycerol (t½β 0.2 to 1h) are metabolised, mainly by the liver. The risk of these compounds accumulating in patients with renal insufficiency is low. However, both compounds frequently affect glucose metabolism, leading to an increase in the serum glucose concentration. Mannitol is almost exclusively renally filtered and possesses the slowest elimination from serum (t½β 2 to 4h). The t½β of mannitol is markedly increased in patients with renal insufficiency, but it does not interfere with glucose metabolism. Entry into the cerebrospinal fluid (CSF) is highest with glycerol [CSF: serum ratio of the areas under the concentration-time curves (AUCCSF: AUCS) ≈ 0.25], intermediate with mannitol (AUCCSF: AUCS ≈ 0.15) and lowest with sorbitol (AUCCSF: AUCS ≈ 0.10). The elimination of all osmotic agents from the CSF compartment is substantially slower than from serum. During the elimination phase, the CSF-to-serum osmotic gradient is temporarily reversed. This is one cause of the paradoxical rise of ICP above the pretreatment level sometimes observed with osmotherapeutics.
The ability of mannitol, glycerol and sorbitol to lower elevated ICP has been extensively documented. However, whether the use of osmotic agents, particularly with repeated application, improves outcome remains unproven. Therefore, these agents should only be used to treat manifest elevations of ICP, not for prophylaxis of brain oedema.
Access options
Buy single article
Instant access to the full article PDF.
US$ 49.95
Tax calculation will be finalised during checkout.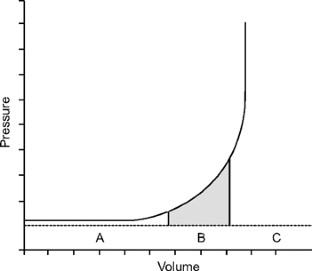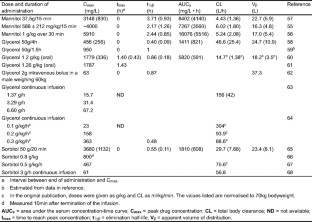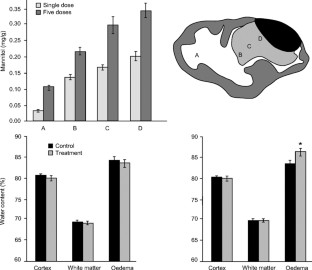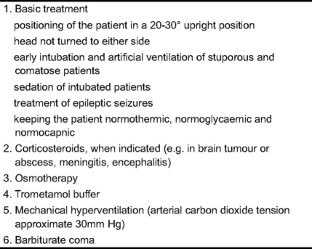 References
1.

Grände PO, Asgeirsson B, Nordström CH. Physiologic principles for volume regulation of a tissue enclosed in a rigid shell with application to the injured brain. J Trauma 1997; 42, S23–31.

2.

Rosner MJ, Daughton S. Cerebral perfusion pressure management in head injury. J Trauma 1990; 30: 933–40.

3.

Pfenninger E, Lindner KH, Ahnefeld FW. Die infusion von THAM (Trishydroxymethylaminomethan) als therapie zur Senkung des erhöhten intrakraniellen druckes beim akuten Schädel-Hirn-Trauma. Anaesthesist 1989; 38: 189–92.

4.

Wolf AL, Levi L, Marmarou A, et al. Effect of THAM upon outcome in severe head injury: a randomized prospective clinical trial. J Neurosurg 1993; 78: 54–9.

5.

Nau R, Desel H, Lassek C, et al. Entry of tromethamine into the cerebrospinal fluid of humans after cerebrovascular events. Clin Pharmacol Ther 1999; 66: 25–32.

6.

Allen CH, Ward JD. An evidence-based approach to management of increased intracranial pressure. Crit Care Clin 1998; 14: 485–95.

7.

Hartmann A, Stingele R, Schnitzer MS. General treatment strategies for elevated intracerebral pressure. In: Hacke W, editor. Neurocritical care. Berlin: Springer, 1994: 101–15.

8.

Muizelaar JP, Lutz HA, Becker DP. Effect of mannitol on ICP and CBF and correlation with pressure autoregulation in severely head-injured patients. J Neurosurg 1984; 61: 700–6.

9.

Wise BL, Chater N. The value of hypertonic mannitol solution in decreasing brain mass and lowering cerebrospinal fluid pressure. J Neurosurg 1962; 19: 1038–43.

10.

Weed LH, McKibben PS. Pressure changes in the cerebrospinal fluid following intravenous injection of solutions of various concentrations. Am J Physiol 1919; 48: 512–30.

11.

Haden RL. Therapeutic application of the alteration of brain volume. JAMA 1919; 73: 983–4.

12.

Bullock R, Chesnut RM, Clifton G, et al. Guidelines for the management of severe head injury. J Neurotrauma 1996; 13: 643–734.

13.

Frank Jl. Large hemispheric infarction, deterioration, and intracranial pressure. Neurology 1995; 45: 1286–90.

14.

Freemont-Smith F, Forbes MS. Intraocular and intracranial pressure: an experimental study. AMA Arch Neurol Psychiatr 1927; 18: 550–64.

15.

Hughes J, Mudd S, Strecker EA. Reduction of elevated intracranial pressure by concentrated solutions of human lyophile serum. Arch Neurol Psychiatr 1938; 12: 1277–87.

16.

Smythe L, Smythe G, Settlage P. The effect of intravenous urea on cerebrospinal fluid pressure in monkeys. J Neuropathol Exp Neurol 1950; 9: 438–42.

17.

Javid ML, Settlage P. Effect of urea on cerebrospinal fluid pressure in human subjects: preliminary report. J Am Med Assoc 1956; 160: 943–9.

18.

Langfitt TW. Possible mechanisms of action of hypertonic urea in reducing intracranial pressure. Neurology 1961; 11: 196–209.

19.

Mason MS, Raaf J. Physiological alterations and clinical effects of urea-induced diuresis. J Neurosurg 1961; 18: 645–53.

20.

Bering EA, Avman N. The use of hypertonic urea solutions in hypothermia. An experimental study. J Neurosurg 1960; 17: 1073–81.

21.

Shenkin HA, Goluboff B, Haft H. The use of mannitol for reduction of intracranial pressure in intracranial surgery. J Neurosurg 1962; 19: 897–901.

22.

Bovet D, Cantore GP, Guidetti B, et al. Il glicerolo in neurochirurgia: nuova terapia dell ipertensione endocrania. Gazz Int Med Chir 1961; 66: 3021–34.

23.

Cantore GP, Guidetti B, Virno M. Oral glycerol for the reduction of intracranial pressure. J Neurosurg 1964; 21: 278–83.

24.

Hemmer R. Vergleichende Untersuchungen über die medikamentöse Hirndrucksenkung. Med Klin 1961; 56: 105–8.

25.

Schmidt K. Zur Wirkung einiger Osmotherapeutika. Anaesthesist 1963; 12: 216–22.

26.

Marmarou A, Maset AL, Ward JD, et al. Contribution of cerebrospinal fluid and vascular factors to elevation of intracranial pressure in severely head-injured patients. J Neurosurg 1987; 66: 883–90.

27.

Fenstermacher JD. Volume regulation of the central nervous system. In: Staub NC, Taylor AE, editors. Edema. New York: Raven Press, 1984: 383–404.

28.

Bell BA, Kean DM, MacDonald HL, et al. Brain water measured by magnetic resonance imaging: correlation with direct estimation and changes after mannitol and dexamethasone. Lancet 1987; I: 66–9.

29.

Unterberg AW, Kiening KL, Härtl R, et al. Multimodal monitoring in patients with head injury: evaluation of the effects of treatment on cerebral oxygenation. J Trauma 1997; 42 Suppl. 5: S32–7.

30.

Härtl R, Bardt TF, Kiening KL, et al. Mannitol decreases ICP but does not improve brain-tissue pO2 in severely head-injured patients with intracranial hypertension. Acta Neurochir 1997; Suppl. 70: 40–42.

31.

Durward QJ, del Maestro RF, Amacher et al. The influence of systemic arterial pressure and intracranial pressure on the development of cerebral vasogenic edema. J Neurosurg 1983; 59: 803–9.

32.

Shenkin HA, Bezier HS, Bouzarth WF. Restricted fluid intake: rational management of the neurosurgical patient. J Neurosurg 1976; 45: 432–6.

33.

Paczynski RP. Osmotherapy: basic concepts and controversies. Crit Care Clin 1997; 13: 105–29.

34.

Rottenberg DA, Hurwitz BJ, Posner JB. The effect of oral glycerol on intraventricular pressure in man. Neurology 1977; 27: 600–8.

35.

Haaβ A, Kloβ R, Brenner M, et al. ICP-gesteuerte hirnödembe-handlung mit glyzerin und sorbit bei intrazerebralen blutungen. Nervenarzt 1987; 58: 22–9.

36.

Nath F, Galbraith S. The effect of mannitol on cerebral white matter water content. J Neurosurg 1986; 65: 41–3.

37.

Di Mattio J, Hochwald GM, Maltran C. Effects of changes in serum osmolality on bulk flow of fluid into cerebral ventricles and on brain water content. Pflugers Arch 1975; 359: 253–64.

38.

Guisado R, Arieff AI, Massry SG. Effects of glycerol infusions on brain water and electrolytes. Am J Physiol 1974; 227: 865–72.

39.

Yatsushiro K, Niiro M, Asakura T, et al. Magnetic resonance study of brain oedema induced by cold injury-changes in relaxation times before and after the administration of glycerol. Acta Neurochir 1990; 51 (Suppl): 113–5.

40.

Reichenthal E, Kaspi T, Cohen ML, et al. The ambivalent effects of early and late administration of mannitol in cold-induced brain oedema. Acta Neurochir 1990; Suppl. 51: 110–2.

41.

Hartmann A, Dettmers C, Schott H, et al. Cerebral blood flow and rheologic alterations by hyperosmolar therapy in patients with brain oedema. Acta Neurochir 1990; Suppl. 51: 168–9.

42.

Burke AM, Quest DO, Chien S, et al. The effects of mannitol on blood viscosity. J Neurosurg 1981; 55: 550–3.

43.

Andrews RJ, Bringas JR, Muto RP. Effects of mannitol on cerebral blood flow, blood pressure, blood viscosity, hematocrit, sodium and potassium. Surg Neurol 1993; 39: 218–22.

44.

Willerson JT, Curry GC, Atkins JM. Influence of hypertonic mannitol on ventricular performance and coronary blood flow in patients. Circulation 1975; 51: 1095–100.

45.

Javid M, Anderson J. The effect of urea on cerebrospinal fluid pressure in monkeys before and after bilateral nephrectomy. J Lab Clin Med 1959; 53: 484–9.

46.

Kodrigo F, Shideman Y, McHugh R, et al. Osmolality changes during hemodialysis: natural history, clinical correlations and influence of dialysate, glucose, and intravenous mannitol. Ann Intern Med 1977; 86: 554–8.

47.

Donato T, Shapira Y, Artru A, et al. Effect of mannitol on cerebrospinal fluid dynamics and brain tissue edema. Anesth Analg 1994; 78: 58–66.

48.

Muizelaar JP, Wie EP, Kontos HA, et al. Mannitol causes compensatory cerebral vasoconstriction and vasodilation in response to blood viscosity changes. J Neurosurg 1983; 59: 822–8.

49.

Ravussin P, Archer DP, Tyler JL, et al. Effects of rapid mannitol infusions on cerebral blood volume. J Neurosurg 1986; 64: 104–13.

50.

Kirkpatrick PJ, Smielewski P, Piechnik S, et al. Early effects of mannitol in patients with head injuries assessed using bedside multimodality monitoring. Neurosurgery 1996; 39: 714–20.

51.

Schaeckler M, Foth H, Schlueter J, et al. Oxidation of TRIS to one-carbon compounds in a radical-producing model system, in microsomes, in hepatocytes and in rats. Free Radic Res Commun 1991; 11: 339–47.

52.

Sloviter HA, Shimkin P, Suhara K. Glycerol as a substrate for brain metabolism. Nature 1966; 210: 1334–6.

53.

O'Brien MM, Schofield PJ, Edwards MR. Polyol-pathway enzymes of human brain: partial purification and properties of sorbitol dehydrogenase. Biochem J 1983; 211: 81–90.

54.

Meyer JS, Charney JZ, Rivera VM, et al. Treatment with glycerol of cerebral oedema due to acute cerebral infarction. Lancet 1971; II: 993–7.

55.

Anderson P, Boreus L, Gordon E, et al. Use of mannitol during neurosurgery: interpatient variability in the plasma and CSF levels. Eur J Clin Pharmacol 1988; 35: 643–9.

56.

Rudehill A, Gordon E, Öhman G, et al. Pharmacokinetics and effect of mannitol on hemodynamics, blood and cerebrospinal fluid electrolytes, and osmolality during intracranial surgery. J Neurosurg Anesthesiol 1993; 5: 4–12.

57.

Nau R, Desel H, Lassek C, et al. Slow elimination of mannitol from human cerebrospinal fluid. Eur J Clin Pharmacol 1997; 53: 271–4.

58.

Nau R, Prins FJ, Kolenda H, et al. Temporary reversal of serum to cerebrospinal fluid glycerol concentration gradient after intravenous infusion of glycerol. Eur J Clin Pharmacol 1992; 42: 181–5.

59.

Gaab M, Pflughaupt KW. Experimentelle und klinische Untersuchungen zur intravenösen Glyzerintherapie beim Hirnödem. Acta Neurochir 1977; 37: 17–31.

60.

Sommer S, Nau R, Wieland E, et al. Pharmacokinetics of glycerol administered orally in healthy volunteers. Arzneimittel Forschung 1993; 43: 744–7.

61.

McCurdy DK, Schneider B, Scheie HG. Oral glycerol: the mechanism of intraocular hypotension. Am J Ophthalmol 1966; 61: 1244–9.

62.

Shafrir E, Gorin E. Release of glycerol in conditions of fat metabolization and deposition. Metabolism 1963; 12: 580–7.

63.

Carpentier YA, Jeevanandam M, Robin AP, et al. Measurement of glycerol turnover by infusion of nonisotopic glycerol in normal and injured subjects. Am JPhysiol 1984; 247: E405–11.

64.

Olbermann M, Grünert A, Bässler KH. Biokinetische Charakterisierung der Glyzerinverwertung beim Menschen. Infusionstherapie 1977; 4: 68–70.

65.

Nau R, Dreyhaupt T, Kolenda H, et al. Low blood to cerebrospinal fluid passage of sorbitol after intravenous infusion. Stroke 1992; 23: 1276–9.

66.

Heine W, Froh R. Die Blut-Liquor-Relation von Sorbitol und Glukose unter der Dehydratisierenden Therapie mit 40%iger Sorbitollösung. Dtsch Gesundheitsw 1969; 24: 635–8.

67.

Bickel H, Matzkies F, Fekl W, et al. Verwertung und Stoffwechselverhalten von Sorbit während parenteraler Langzeitinfusion. Dtsch Med Wochenschr 1973; 44: 2079–83.

68.

Zeeh J, Lange H, Bosch J, et al. Steady-state extrarenal sorbitol clearance as a measure of hepatic plasma flow. Gastroenterology 1988; 95: 749–59.

69.

Allgen L-G, Norlen H, Kolmert T, et al. Absorption and elimination of mannitol solution when used as an isotonic irrigating agent in connection with transurethral resection of the prostate. Scand J Urol Nephrol 1987; 21: 177–84.

70.

Norlen H, Allgen L-G, Wicksell B. Mannitol concentrations in blood plasma in connection with transurethral resection of the prostate using mannitol solution as an irrigating fluid. Scand J Urol Nephrol 1986; 20: 119–26.

71.

Hägnevik K, Gordon E, Lans LE, et al. Glycerol-induced haemolysis with haemoglobinuria and acute renal failure. Lancet 1974; I: 75–7.

72.

Frei A, Cottier C, Wunderlich P, et al. Glycerol and dextran combined in the therapy of acute stroke: a placebo-controlled, double-blind trial with a planned interim analysis. Stroke 1987; 18: 373–9.

73.

Kumana CR, Chan GT, Yu YL, et al. Investigation of intravascular haemolysis during treatment of acute stroke with intravenous glycerol. Br J Clin Pharmacol 1990; 29: 347–53.

74.

Wald SL, McLaurin RL. Oral glycerol for the treatment of traumatic intracranial hypertension. J Neurosurg 1982; 56: 323–31.

75.

Nau R, Sommer S, Wieland E, et al. Oral administration of glycerol may not cause hemolysis. Stroke 1992; 23: 1533–4.

76.

Tibbling G. Glycerol turnover in hyperthyroidism. Clin Chim Acta 1969; 24: 121–30.

77.

Wass CT, Lamer WL. Glucose modulation of ischemic brain injury: review and clinical recommendations. Mayo Clin Proc 1996; 71: 801–12.

78.

Pometta D, Suenram A, von der Weid N, et al. Liver glycerokinase deficiency in man with hyperglycerolaemia and hypertriglyceridaemia. Eur J Clin Invest 1984; 14: 103–6.

79.

Freshman SP, Battistella FD, Matteucci M, et al. Hypertonic saline (7.5%) versus mannitol: a comparison for treatment of acute head injuries. J Trauma 1993; 35: 344–8.

80.

Suarez JI, Qureshi AI, Bhardwaj A, et al. Treatment of refractory intracranial hypertension with 23.4% saline. Crit Care Med 1998; 26: 1118–22.

81.

Davson H. A comparative study of the aqueous humour and cerebrospinal fluid in the rabbit. JPhysiol 1955; 129: 111–33.

82.

Olsen NS, Rudolph GG. Transfer of sodium and bromide ions between blood, cerebrospinal fluid and brain tissue. Am J Physiol 1955; 183: 427–32.

83.

Hertz MM, Bolwig TG. Blood-brain barrier studies in the rat: an indicator dilution technique with tracer sodium as an internal standard for estimates of extracerebral contamination. Brain Res 1976; 107: 333–43.

84.

Berger S, Schurer L, Härtl R, et al. Reduction of post-traumatic intracranial hypertension by hypertonic/hyperoncotic saline/dextran and hypertonic mannitol. Neurosurgery 1995; 37: 98–107.

85.

Härtl R, Ghajar J, Hochleuthner H, et al. Hypertonic/ hyperoncotic saline reliably reduces ICP in severely head-injured patients with intracranial hypertension. Acta Neurochir 1997; Suppl. 70: 126–9.

86.

Schwarz S, Schwab S, Bertram M, et al. Effects of hypertonic saline hydroxyethyl starch solution and mannitol in patients with increased intracranial pressure after stroke. Stroke 1998; 29: 1550–5.

87.

Tomita H, Ito U, Tone O, et al. High colloid oncotic therapy for contusional brain edema. Acta Neurochir 1994; Suppl. 60: 547–9.

88.

Oppido PA, Delfini R, Innocenzi G, et al. Brain oedema and intracranial hypertension treatment by GLIAS. Acta Neurochir 1992; Suppl. 55: 40–2.

89.

Ohno K, Pettigrew KD, Rapoport SI. Lower limits of cerebrovascular permeability to nonelectrolytes in the conscious rat. Am J Physiol 1978; 4: H299–307.

90.

Nau R, Zysk G, Thiel A, et al. Pharmacokinetic quantification of the exchange of drugs between blood and cerebrospinal fluid in man. Eur J Clin Pharmacol 1993; 45: 469–75.

91.

Wise BL, Perkins RK, Stevenson E, et al. Penetration of C14-labelled mannitol from serum into cerebrospinal fluid and brain. Exp Neurol 1964; 10: 264–70.

92.

Kaufmann GE, Cardoso ER. Aggravation of vasogenic cerebral edema by multiple-dose mannitol. J Neurosurg 1992; 77: 584–9.

93.

Waterhouse JM, Coxon RV. The entry of glycerol into brain tissue. J Neurol Sci 1970; 10: 305–11.

94.

Schmidt H, Stuertz K, Chen V, et al. Glycerol does not reduce neuronal damage in experimental Streptococcus pneumoniae meningitis. Inflammopharmacology 1998; 6: 19–26.

95.

Fishman RA, Ransohoff J, Osserman EF. Factors influencing the concentration gradient of protein in cerebrospinal fluid. J Clin Invest 1958; 37: 1419–28.

96.

Blaney SM, Daniel MJ, Harker AJ, et al. Pharmacokinetics of lamivudine and BCH-189 in plasma and cerebrospinal fluid of nonhuman primates. Antimicrob Agents Chemother 1995; 39: 2779–82.

97.

Nau R, Prange HW. Estimation of steady state antibiotic concentration in cerebrospinal fluid from single-dose kinetics. Eur J Clin Pharmacol 1996; 49: 407–9.

98.

Paczynski RP, He YY, Diringer MN, et al. Multiple-dose mannitol reduces brain water content in a rat model of cortical infarction. Stroke 1997; 28: 1437–43.

99.

Chan PH, Fishman RA. Elevation of rat brain amino acids, ammonia, and idiogenic osmoles induced by hyperosmolality. Brain Res 1978; 161: 293–301.

100.

Shulman K, Marmarou A. Pressure-volume considerations in infantile hydrocephalus. Develop Med Child Neurol 1971; 13 Suppl. 25: 90–5.

101.

Guisado R, Tourtellotte WW, Arieff AI, et al. Rebound phenomenon complicating cerebral dehydration with glycerol. J Neurosurg 1975; 42: 226–8.

102.

James HE. Methodology for the control of intracranial pressure with hypertonic mannitol. Acta Neurochir 1980; 51: 161–72.

103.

Shalmon E, Reichenthal E, Kaspi T. Transient effect of mannitol on cerebral blood flow following brain injury. Acta Neurochir 1990; Suppl. 51: 116–7.

104.

Garcia-Sola R, Pulido P, Capilla P. The immediate and long-term effects of mannitol and glycerol: a comparative experimental study. Acta Neurochir 1991; 109: 114–21.

105.

Mathew NT, Meyer JS, Rivera VM, et al. Double-blind evaluation of glycerol therapy in acute cerebral infarction. Lancet 1972; II: 1327–9.

106.

Fawer R, Justafre JC, Berger JP, et al. Intravenous glycerol in cerebral infarction: a controlled 4 month trial. Stroke 1978; 9: 484–6.

107.

Friedli W, Imbach P, Ghisleni-Steinegger S, et al. Infusionsbehandlung des akuten ischämischen Hirninfarkts mit Glycerin 10%. Schweiz Med Wschr 1979; 109: 737–42.

108.

Bayer AJ, Pathy MSJ, Newcombe R. Double-blind randomized trial of intravenous glycerol in acute stroke. Lancet 1987; I: 405–8.

109.

Yu YL, Kumana CR, Lauder IJ, et al. Treatment of acute cortical infarct with intravenous glycerol: a double-blind, placebo-controlled randomized trial. Stroke 1993; 24: 1119–24.

110.

Winter R, Nau R, Hacke W. Behandlung des ischämischen Hirninfarkts mit Glyzerin. Nervenarzt 1995; 66: 596–602.

111.

Kilpi T, Peltola H, Jauhiainen T, et al. Oral glycerol and intravenous dexamethasone in preventing neurologic and audiologic sequelae of childhood bacterial meningitis. Pediatr Infect Dis J 1995; 14: 270–8.

112.

Schwartz ML, Tator CH, Rowed DW, et al. A prospective randomized comparison of pentobarbiatal and mannitol. Can J Neurol Sci 1984; 11: 434–40.
Acknowledgements
This work is dedicated to Professor Dr W. Creutzfeldt, Professor Emeritus of Internal Medicine, University of Göttingen, on the occasion of his 75th birthday. I thank an anonymous reviewer for greatly improving the pathophysiology section of this manuscript.
About this article
Cite this article
Nau, R. Osmotherapy for Elevated Intracranial Pressure. Clin Pharmacokinet 38, 23–40 (2000). https://doi.org/10.2165/00003088-200038010-00002
Keywords
Mannitol

Sorbitol

Brain Oedema

Cerebral Perfusion Pressure

Hypertonic Saline