Abstract
Adherence to medication is one of the most intriguing and complex behaviours demonstrated by patients. Non-adherence to a therapeutic regimen may result in negative outcomes for patients and may be compounded in populations with multiple morbidities which require multiple drug therapy. Such a population is exemplified by the elderly. However, non-adherence may not be more prevalent in older patients and there is no consensus in the literature that age is a predictor of poor adherence. Indeed, older patients may deliberately choose not to adhere to medication (intentional non-adherence) to avoid adverse effects. Furthermore, many of the studies on adherence lack commonality in terms of how adherence is measured, the definition of an 'older' patient and the range of disease states which have been examined. Adherence may also be affected by access to medications which may be restricted by the use of formularies or insurance programmes. However, non-adherence may represent a greater risk in older people resulting in poor disease control which may be compounded with multiple morbidity and polypharmacy.
A range of strategies have been implemented to try and improve adherence in this patient population. The use of forgiving drugs (those which have a prescribed dosage interval that is 50% or less the duration of drug action) may facilitate occasional lapses in drug-taking. Drug holidays (deliberate, supervised non-adherence for a fixed period of time) have been used in Parkinson's disease to reduce adverse effects. Once-daily scheduling of drug administration may offer a pragmatic approach to optimising drug therapy in some patients; this may be supplemented through the use of compliance aids. What is increasingly apparent, however, is that the role of the patient (irrespective of age) is critical in decision-making about medication, together with communication between patients and healthcare professionals. This has been articulated through the concept of concordance which has been described as a therapeutic alliance between the patient and healthcare professional. In addition, interventions employed to improve adherence must be multifaceted, and together with practical approaches (reducing unnecessary drugs and simplifying dosage regimens), the patient perspective must be considered. Good adherence should be seen as a means of achieving a satisfactory therapeutic result and not as an end in itself.
Access options
Buy single article
Instant access to the full article PDF.
USD 49.95
Price excludes VAT (USA)
Tax calculation will be finalised during checkout.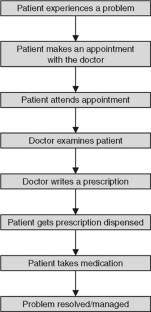 References
Haynes RB. Determinants of compliance: the disease and the mechanics in treatment. In: Haynes RB, Taylor DW, Sackett DL, editors. Compliance in health care. Baltimore (MD): Johns Hopkins University Press, 1979: 3–18

Schaffer SD, Yoon S-JL. Evidence-based methods to enhance medication adherence. Nurse Pract 2001; 26: 50–4

Haynes RB, Matteson ME, Garrity TF, et al. Management of patient compliance in the treatment of hypertension. Hypertension 1982; 4: 415–23

Morisky DE, Green LW, Levine DM. Concurrent and predictive validity of a self-reported measure of medication adherence. Med Care 1986; 24: 67–74

World Health Organisation (WHO). Adherence to long-term therapies: evidence for action. Geneva: WHO, 2003

From compliance to concordance: achieving shared goals in medicine taking. London: Royal Pharmaceutical Society of Great Britain and Merck Sharp & Dohme, 1997

Jones G. Prescribing and taking medicines. BMJ 2003; 327: 819–20

Noncompliance with medications: an economic tragedy with important implications for health care reform. Baltimore (MD): The Task Force for Compliance, 1993

Bond WS, Hussar DA. Detection methods and strategies for improving medication compliance. Am J Hosp Pharm 1991; 48: 1978–88

Wright EC. Non-compliance or how many aunts has Matilda? Lancet 1993; 342: 909–13

Morris LS, Schulz RM. Patient compliance: an overview. J Clin Pharm Ther 1992; 17: 283–95

Salzman C. Medication compliance in the elderly. J Clin Psychiatry 1995; 56Suppl. 1: 18–23

Donovan JL. Patient decision making: the missing ingredient in compliance research. Int J Technol Assess Health Care 1995; 11: 443–55

Morris LS, Schulz RM. Medication compliance: the patient's perspective. Clin Ther 1993; 15: 593–606

Nichol MB, Venturini F, Sung JCY. A critical evaluation of the methodology of the literature on medication compliance. Ann Pharmacother 1999; 33: 531–40

Grymonpre RE, Didur CD, Montgomery PR, et al. Pill count, self-report and pharmacy claims data to measure medication adherence in the elderly. Ann Pharmacother 1998; 32: 749–54

Sturgess IK, Hughes CM, McElnay JC, et al. Identifying non-compliance of elderly patients: a comparison of three methods. Pharm J 1998; 261: R14

Burnier M, Schneider MP, Chiolero A, et al. Electronic compliance monitoring in resistant hypertension: the basis for rational therapeutic decisions. J Hypertens 2001; 19: 335–41

Rand CS. Measuring adherence with therapy for chronic diseases: implications for the treatment of heterozygous familial hypercholesterolemia. Am J Cardiol 1993; 72: 68–74D

Raynor DK. Patient compliance: the pharmacist's role. Int J Pharm Pract 1992; 1: 126–35

Conner M, Norman P. The role of social cognition in health behaviours. In: Conner M, Norman P, editors. Predicting health behaviour. Buckingham: Open University Press, 1996

Rosenstock I. Why people use health services. Milbank Mem Fund Q 1966; 44: 94–124

Becker MH. The health belief model and sick role behaviour. Health Educ Monogr 1974; 2: 409–19

Wallston KA. Hocus-pocus, the focus isn't strictly on locus: Rotter's social learning theory modified for health. Cognit Ther Res 1992; 16: 183–99

Bandura A. Self-efficacy: towards a unifying theory of behavioural change. Psychol Rev 1977; 84: 191–215

Fishbein M, Ajzen I. Belief, attitude, intention and behaviour: an introduction to theory and research. New York: Wiley, 1975

Azjen I. Attitudes, personality and behaviour. Milton Keynes: Open University Press, 1988

Conrad P. The meaning of medications: another look at compliance. Soc Sci Med 1985; 20: 28–37

Costa Jr PT, McCrae RR. The NEO personality inventory-R: professional manual. Odessa (FL): Psychological Assessment Resources, 1992

Christensen AJ, Smith TW. Personality and patient adherence: correlated of the Five-Factor model in renal dialysis. J Behav Med 1995; 18: 305–13

Stewart RB, Caranasos GJ. Medication compliance in the elderly. Med Clin North Am 1989; 73: 1551–63

Balkrishnan R. Predictors of medication adherence in the elderly. Clin Ther 1998; 20: 764–71

Weintraub M. Intelligent non-compliance with special emphasis on the elderly. Contemp Pharm Pract 1980; 4: 8–11

Melnikow J, Kiefe C. Patient compliance and medical research: issues in methodology. J Gen Intern Med 1994; 9: 96–105

Mallion JM, Baguet JP, Siche JP. Compliance, electronic monitoring and antihypertensive drugs. J Hypertens 1997; 16Suppl. 1: S75–80

Park DC, Morrell RW, Frieske D, et al. Medication adherence behaviours in older adults: effects of external cognitive supports. Psychol Aging 1992; 7: 252–6

Shalansky SJ, Levy AR. Effect of number of medications on cardiovascular therapy adherence. Ann Pharmacother 2002; 36: 1532–9

Gao X, Nau DP, Rosenbluth SA, et al. The relationship of disease severity, health beliefs and medication adherence among HIV subjects. AIDS Care 2000; 12: 387–98

Billups SJ, Malone DC, Carter BL. The relationship between drug therapy non-compliance and patient characteristics, health-related quality of life and healthcare costs. Pharmacotherapy 2000; 20: 941–9

Farmer KC, Jacobs EW, Phillips CR. Long-term patient compliance with prescribed regimens of calcium channel blockers. Clin Ther 1994; 16: 316–26

Spiers MV, Kutzik DM. Self-reported memory of medication use by the elderly. Am J Health Syst Pharm 1995; 52: 985–90

Cline CMJ, Bjorck-Linne AK, Israelsson BYA, et al. Noncompliance and knowledge of prescribed medication in elderly patients with heart failure. Eur J Heart Fail 1999; 1: 145–9

Monane M, Bohn RL, Gurwitz JH, et al. Noncompliance with congestive heart failure therapy in the elderly. Arch Intern Med 1994; 154: 433–7

Jones JK, Gorkin L, Lian JF. Discontinuation of and changes in treatment after start of new courses of antihypertensive drugs: a study of a United Kingdom population. BMJ 1995; 311: 293–5

Morrell RW, Park DC, Kidder DP, et al. Adherence to antihypertensive medications across the life span. Gerontologist 1997; 37: 609–19

Richardson MA, Simons-Morton B, Annegers JF. Effect of perceived barriers on compliance with antihypertensive medication. Health Educ Q 1993; 20: 489–503

Lau HS, Beuning KS, Postma-Lim E, et al. Non-compliance in elderly people: evaluation of risk factors by longitudinal data analysis. Pharm World Sci 1996; 18: 63–8

Owen SG, Friesen WT, Roberts MS, et al. Determinants of compliance in rheumatoid arthritic patients assessed in their home environment. Br J Rheumatol 1985; 24: 313–20

Park DC, Hertzog C, Leventhal H, et al. Medication adherence in rheumatoid arthritis patients: older is wiser. J Am Geriatr Soc 1999; 47: 172–83

Viller F, Guillemin F, Briancon S, et al. Compliance to drug treatment of patients rheumatoid arthritis: a 3 year longitudinal study. J Rheumatol 1999; 26: 2114–22

Curtin RB, Svarstad BL, Andress D, et al. Differences in older versus younger hemodialysis patients' non-compliance with oral medications. Geriatr Nephrol Urol 1997; 7: 35–44

Brewer NT, Chapman GB, Brownlee S, et al. Cholesterol control, medication adherence and illness cognition. Br J Health Psychol 2002; 7: 433–47

Benner JS, Glynn RJ, Mogun H, et al. Long-term persistence in use of statin therapy in elderly patients. JAMA 2002; 288: 455–61

Jackevicius CA, Mamdani M, Tu JV. Adherence with statin therapy in elderly patients with and without acute coronary syndromes. JAMA 2002; 288: 462–7

Hulka BS, Cassel JC, Kupper LL, et al. Communication, compliance and concordance between physicians and patients with prescribed medications. Am J Public Health 1976; 66: 846–53

Dolce JJ, Crisp C, Manzella B, et al. Medication adherence patterns in chronic obstructive pulmonary disease. Chest 1991; 99: 837–41

Carney RM, Freedland KE, Eisen SA, et al. Major depression and medication adherence in elderly patients with coronary artery disease. Health Psychol 1995; 14: 88–90

DiMatteo MR, Lepper HS, Croghan TW. Depression is a risk factor for non-compliance with medical treatment: meta-analysis of the effects of anxiety and depression on patient adherence. Arch Intern Med 2000; 160: 2101–7

Gray SL, Mahoney JE, Blough DK. Medication adherence in elderly patients receiving home health services following hospital discharge. Ann Pharmacother 1987; 35: 539–45

Soumerai SB, Avorn J, Ross-Degnan D, et al. Payment restrictions for prescription drugs under Medicaid: effects on therapy, costs and equity. N Engl J Med 1987; 317: 550–6

Soumerai SB, Ross-Degnan D, Avorn J, et al. Effects of Medicaid drug payment limits on admission to hospitals and nursing homes. N Engl J Med 1991; 325: 1072–7

Soumerai SB, McLaughlin TJ, Ross-Degnan D, et al. Effects of limiting Medicaid drug reimbursement benefits on the use of psychotropic agents and acute mental health services by patients with schizophrenia. N Engl J Med 1997; 331: 650–5

Bazargan M, Barbre AR, Hamm V. Failure to have prescriptions filled among black elderly. J Aging Health 1993; 5: 264–82

Malhotra S, Karan RS, Pandhi P, et al. Drug related medical emergencies in the elderly: role of adverse drug reactions and non-compliance. Postgrad Med J 2001; 77: 703–7

Col N, Fanale JE, Kronholm P. The role of medication noncompliance and adverse drug reactions in hospitalizations of the elderly. Arch Intern Med 1990; 150: 841–5

McDermott MM, Schmitt B, Wallner E. Impact of medication nonadherence on coronary heart disease outcomes. Arch Intern Med 1997; 157: 1921–9

Horwitz RI, Viscoli CM, Berkman L, et al. Treatment adherence and risk of death after a myocardial infarction. Lancet 1990; 336: 542–5

Cramer JA. Optimizing long-term patient compliance. Neurology 1995; 45Suppl. 1: S25–8

Roter DL, Hall JA, Merisca R, et al. Effectiveness of interventions to improve patient compliance: a meta analysis. Med Care 1998; 36: 1138–61

Urquhart J. Partial compliance in cardiovascular disease: risk implications. Br J Clin Practice Suppl 1994; 73: 2–12

Stephenson BJ, Rowe BH, Haynes RB, et al. Is this patient taking the treatment as prescribed? JAMA 1993; 269: 2779–81

Urquhart J. Patient compliance with crucial drug regimens: implications for prostate cancer. Eur Urology 1996; 29Suppl. 2: 124–31

Haynes RB, Gibson ES, Taylor DW, et al. Process versus outcome in hypertension: a positive result. Circulation 1982; 65: 28–33

Markowitz M. Eradication of rheumatic fever: an unfulfilled hope. Circulation 1970; 41: 1077–84

Mallion JM, Dutrey-Dupagne C, Vaur L, et al. Benefits of electronic pillboxes in evaluating treatment compliance of patient with mild to moderate hypertension. J Hypertens 1996; 14: 137–44

Rudd P, Ahmed S, Zachary V, et al. Issues in patient compliance: the search for therapeutic sufficiency. Cardiology 1992; 80Suppl. 1: 2–10

Feldman RG, Kaye JA, Lannon MC. Parkinson's disease: follow-up after 'drug holiday'. J Clin Pharmacol 1985; 26: 662–7

Bermejo F, Calandre L. Molina JA, et al. Long-lasting drug holiday in Parkinson's disease. Adv Neurol 1986; 45: 503–6

Mayeux R, Stern Y, Mulvey K, et al. Reappraisal of temporary levodopa withdrawal ('drug holiday') in Parkinson's disease. N Engl J Med 1985; 313: 124–38

Corona T, Rivera C, Otero E, et al. A longitudinal study of the effects of an l-dopa drug holiday in the course of Parkinson's disease. Clin Neuropharmacol 1995; 18: 325–32

Steinberg SK. Considerations in the implementation of drug holiday programs in long-term care facilities. Can Pharm J 1984; 117: 214–6

Cramer JA. Enhancing patient compliance in the elderly: role of packaging aids and monitoring. Drugs Aging 1998; 12: 7–15

Hyland ME. Rationale for once-daily therapy in asthma: compliance issues. Drugs 1999; 58Suppl. 4: 1–6

Wald NJ, Law MR. A strategy to reduce cardiovascular disease by more than 80%. BMJ 2003; 326: 1419–24

Horne R, Clatworthy J, Polmear A, et al. Do hypertensive patients' beliefs about their illness and treatment influence medication adherence and quality of life. J Hum Hypertens 2001; 15Suppl. 1: S65–8

Wong BSM, Norman DC. Evaluation of a novel medication aid, the calendar blister-pak, and its effect on drug compliance in a geriatric outpatient clinic. J Am Geriatr Soc 1987; 35: 21–6

Murray MD, Birt JA, Manatunga AK, et al. Medication compliance in elderly outpatients using twice-daily dosing and unit-of-use packaging. Ann Pharmacother 1993; 27: 616–21

Medication and compliance: major issues in elderly patients with mobility problems. Drugs Ther Perspect 2000; 15(6): 5–7

Konkle-Parker DJ. A motivational intervention to improve adherence to treatment of chronic disease. J Am Acad Nurse Pract 2001; 13: 61–8

Willey C. Behavior-changing methods for improving adherence to medication. Curr Hypertens Rep 1999; 1: 477–81

Van Eijken M, Tsang S, Wensing M, et al. Interventions to improve medication compliance in older patients living in the community. Drugs Aging 2003; 20: 229–40

Peterson AM, Takiya L, Finley R. Meta-analysis of trails of interventions to improve medication adherence. Am J Health Syst Pharm 2003; 60: 657–65

Windsor RA, Bailey WC, Richards JM, et al. Evaluation of the efficacy and cost-effectiveness of health education methods to increase medication adherence among adults with asthma. Am J Public Health 1990; 80: 1519–21

Hussey RN. Overcoming the clinical barriers of low literacy and medication non-compliance among the elderly. J Gerontol Nurs 1991; 17: 27–9

Botelho RJ, Dudrak R. Home assessment of adherence to long-term medication in the elderly. J Fam Pract 1992; 35: 61–5

Edworthy SM, Devins GM, and the Patient Education Study Group. Improving medication adherence between appropriate and inappropriate utilization. J Rheumatol 1999; 26: 1793–801

Powell KM, Edgren B. Failure of educational videotapes to improve medication compliance in a health maintenance organization. Am J Health Syst Pharm 1995; 52: 2196–9

Leirer VO, Morrow DG, Tanke ED, et al. Elders' nonadherence: its assessment and medication reminding by voice mail. Gerontologist 1991; 31: 514–20

Patton K, Meyers J, Lewis BE. Enhancement of compliance among patients with hypertension. Am J Managed Care 1997; 3: 1693–8

Stamler R, Stamler J, Civinelli J, et al. Adherence and blood pressure response to hypertension treatment. Lancet 1975; II: 1227–30

Russell ML, Isull W, Probstfield JL. Examination of medical professions for counseling on medication adherence. Am J Med 1985; 78: 277–82

DiMatteo RM, Sherbourne CD, Hays RD, et al. Physicians' characteristics influence patients' adherence to medical treatment: results from the Medical Outcomes Study. Health Psychol 1993; 12: 93–102

Gurwitz JH, Yeomans SM, Glynn RJ, et al. Patient noncompliance in the managed care setting: the care of medical therapy for glaucoma. Med Care 1998; 36: 357–69

Say RE, Thomson R. The importance of patient preferences in treatment decisions-challenges for doctors. BMJ 2003; 357: 542–5

Jaarsma T, Abu-Saad HH, Dracup K, et al. Self-care behavior of patients with heart failure. Scand J Caring Sci 2000; 14: 112–9

Dowell J, Jones A, Snadden D. Exploring medication use to seek concordance with 'non-adherent' patients: a qualitative study. Br J Gen Pract 2002; 52: 24–32

Morse EV, Simon PM, Balson PM. Using experiential training to enhance health professionals' awareness of patient compliance issues. Acad Med 1993; 68: 693–7

Garay-Savilla ME, Malacara JM, Gonzalez-Parada F, et al. The belief in conventional medicine and adherence to treatment in non-insulin-dependent diabetes mellitus patients. J Diabetes Complications 1998; 12: 239–45

DiMatteo MR. Patient adherence to pharmacotherapy: the importance of effective communication. Formulary 1995; 30: 596–605

Williams GC, Rodin GC, Ryan RM, et al. Autonomous regulation and long-term medication adherence in adult outpatients. Health Psychol 1998; 17: 269–76

De Young M. Research on the effects of pharmacist-patient communication in institutions and ambulatory care sites, 1969–1994. Am J Health Syst Pharm 1996; 53: 1277–91

Bultman DC, Svarstad BL. Effects of pharmacist monitoring on patient satisfaction with antidepressant medication therapy. J Am Pharm Assoc 2002; 42: 36–43

Kozma CM. Noncompliance with medication therapy: when does it make a difference in outcomes. Manag Care Interface 2002; 15: 30–1

Frank E. Enhancing patient outcomes: treatment adherence. J Clin Psychiatry 1997; 58Suppl. 1: 11–4
Acknowledgements
Carmel Hughes is currently supported by a National Primary Care Career Scientist Award from the Research and Development Office, Northern Ireland. The author has no conflict of interest directly related to the preparation of this review.
About this article
Cite this article
Hughes, C.M. Medication Non-Adherence in the Elderly. Drugs Aging 21, 793–811 (2004). https://doi.org/10.2165/00002512-200421120-00004
Published:

Issue Date:

DOI: https://doi.org/10.2165/00002512-200421120-00004
Keywords
Chronic Obstructive Pulmonary Disease

Medication Adherence

Poor Adherence

Adherence Behaviour

Drug Holiday