Abstract
Objective: To determine the tolerability of lamotrigine in elderly patients with epilepsy.
Design: Pooled data from 13 lamotrigine clinical trials.
Setting: Multicentre clinical trials conducted in primary care and neurology practices.
Participants: 208 elderly patients (aged ≥65 years) were identified: 146 lamotrigine-treated patients, 53 carbamazepine-treated patients and 9 phenytointreated patients.
Interventions: Extent of exposure, incidence of drug-related adverse events, serious adverse events and study withdrawals were examined.
Results: The median duration of exposure for lamotrigine monotherapy and addon therapy was 24.1 and 47.4 weeks, respectively. The median daily dosage of lamotrigine was 100mg for monotherapy (range 75 to 500mg) and 300mg for add-on therapy (range 25 to 700mg). Overall, the incidence of drug-related adverse events was lower for lamotrigine than comparator drugs: 49% (72/146) for lamotrigine compared with 72% (38/53) for carbamazepine (p = 0.006), and 89% (8/9) for phenytoin (p = 0.035) although patient numbers in each treatment group were not comparable. Patients receiving lamotrigine reported incidences of somnolence (p = 0.012), rash (p = 0.034), and headache (nonsignificant) that were one-half the incidence reported with carbamazepine monotherapy. Rash was the most common reason for study withdrawal: 4% (6/146) lamotrigine, 17% (9/53) carbamazepine and 0% phenytoin. Seven (5%, 7/146) lamotrigine-treated patients, 4 (8%, 4/53) carbamazepine-treated patients and 1 (11%, 1/9) phenytointreated patient experienced drug-related serious adverse events.
Conclusion: Lamotrigine, used in the currently prescribed adult dosage regimen, was well tolerated in elderly patients with epilepsy.
Access options
Buy single article
Instant access to the full article PDF.
US$ 49.95
Tax calculation will be finalised during checkout.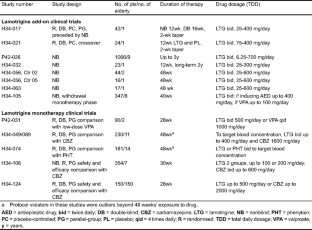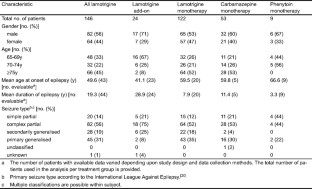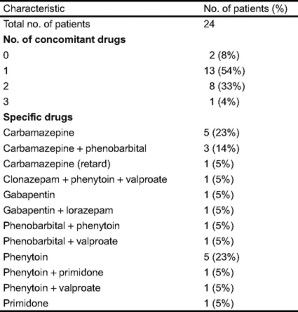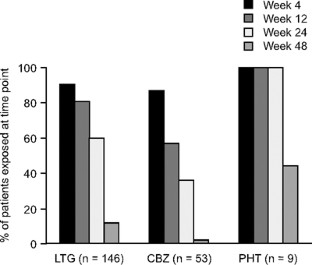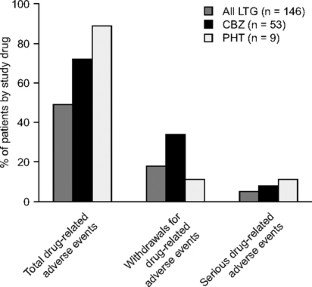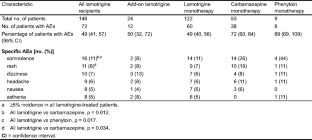 References
1.

Hauser W. Seizure disorders: the changes with age. Epilepsia 1992; 33: S6–14

2.

Hauser W, Annegers J, Kurland L. Incidence of epilepsy and unprovoked seizures in Rochester, Minnesota: 1935–1984. Epilepsia 1993; 34: 453–68

3.

Luhdorf K, Jensen L, Plesner A. Etiology of seizures in the elderly. Epilepsia 1986; 27: 458–63

4.

Ng S, Hauser W, Brust J, et al. Risk factors for adult-onset first seizures. Ann Neurol 1985; 18: 153

5.

Willmore L. Antiepileptic drug therapy in the elderly. Pharmacol Ther 1998; 78: 9–16

6.

Kompoliti K, Goetz C. Neuropharmacology in the elderly. Neurol Clin North Am 1998; 16: 599–609

7.

Greenblatt D, Sellers E, Shader R. Drug disposition in old age. N Engl J Med 1982; 306: 1081–8

8.

Willmore L. Management of epilepsy in the elderly. Epilepsia 1996; 37: S23–33

9.

Troupin A. Dose-related adverse effects of anticonvulsants. Drug Saf 1996; 14: 299–328

10.

Schachter S, Cramer G, Thompson G, et al. An evaluation of antiepileptic drug therapy in nursing facilities. J Am Geriatr Soc 1998; 46: 1137–41

11.

Curry W, Kulling D. Newer antiepileptic drugs: gabapentin, lamotrigine, felbamate, topiramate and fosphenytoin. Am Fam Physician 1998; 57: 513–20

12.

Goa K, Ross S, Chrisp P. Lamotrigine: a review of its pharmacological properties and clinical efficacy in epilepsy. Drugs 1993; 46: 152–76

13.

Leach M, Lees G, Riddall D. Lamotrigine: mechanisms of action. In: Levy RH, editor. Antiepileptic drugs. New York (NY): Raven Press, 1995: 861–9

14.

Schapel G, Beran R, Vajada F. Double-blind, placebo-controlled crossover study of lamotrigine in treatment-resistant partial seizures. J Neurol Neurosurg Psychiatry 1993; 56: 448–53

15.

Steiner T, Silveira C, Yuen A, North Thames Lamictal Study Group, et al. Comparison of lamotrigine (Lamictal) and phenytoin monotherapy in newly-diagnosed epilepsy [abstract]. Epilepsia 1994; 35Suppl. 7: S61

16.

Binnie C, Debets R, Engleman M. Double-blind cross-over trial of lamotrigine (Lamictal) as add-on therapy in intractable epilepsy. Epilepsy Res 1989; 4: 222–9

17.

Brodie M, Richens A, Yuen A. Double-blind comparison of lamotrigine and carbamazepine in newly diagnosed epilepsy. Lancet 1995; 345: 476–9

18.

Messenheimer J, Mullens E, Giorgi L, et al. Safety review of adult clinical trial experience with lamotrigine. Drug Saf 1998; 18: 281–96

19.

Brodie MJ, Overstall P, Giorgi L. Multicentre, double-blind, randomised comparison between lamotrigine and carbamazepine in elderly patients with newly diagnosed epilepsy. Epilepsy Res 1999; 37: 81–7

20.

Proposal for revised classification of epilepsies and epileptic syndromes. Commission on Classification and Terminology of the International League Against Epilepsy. Epilepsia 1989; 30: 389–99

21.

Kalviainen R, Aikia M, Riekkvien P. Cognitive adverse events of antiepileptic drugs: incidence, mechanisms and therapeutic implications. CNS Drugs 1996; 5: 358–68

22.

Vermeulen J, Aldencamp A. Cognitive side-effects of chronic antiepileptic drug treatment. Epilepsy Res 1995; 22: 65–9

23.

Gilliam F, Vazquez B, Sackellares J, et al. An active-control trial of lamotrigine monotherapy for partial seizures. Neurology 1998; 51: 1018–25

24.

Posner J, Holdich T, Crome P. Comparison of lamotrigine pharmacokinetics in young and elderly volunteers. J Pharm Med 1991; 1: 121–8
Acknowledgements
The authors acknowledge Barbara Wilson, MEd, RRT for her writing and editorial assistance during preparation of this manuscript. The studies summarised in this manuscript were supported by grants from Glaxo Wellcome Inc., Research Triangle Park, North Carolina and Glaxo Wellcome plc, Greenford, Middlesex, United Kingdom.
About this article
Cite this article
Giorgi, L., Gomez, G., O'Neill, F. et al. The Tolerability of Lamotrigine in Elderly Patients With Epilepsy. Drugs & Aging 18, 621–630 (2001). https://doi.org/10.2165/00002512-200118080-00006
Keywords
Carbamazepine

Lamotrigine

Total Daily Dosage

Lamotrigine Monotherapy

Lamotrigine Treatment