Abstract
Early and correct diagnosis and treatment of Parkinson's disease (PD) are crucial for the patient's well being. At the first visit, it is important to deal with the patient's misconceptions of the disease and its course, to offer sources of information and to suggest exercises. To make a correct initial diagnosis of PD we need to assess the course of the initial levodopa responsiveness. The most frequent challenges in diagnosing PD are the conditions of essential tremor and multiple system atrophy. PD has 3 stages of development: (i) early — from the onset of symptoms to the appearance of motor fluctuations; (ii) middle — from motor fluctuations to the appearance of moderate-to-severe disability; and (iii) advanced — when moderate-to-severe disability is present.
The medical treatment of early PD should be started when functional disability appears, which is a different threshold for each patient. For patients below 65 years old, or above 65 years old but with preserved mental function and with no severe comorbidity, initial monotherapy with a dopamine agonist is advisable. This approach appears to delay the appearance and reduce the amount of late motor complications with subsequent levodopa treatment. All dopamine agonists have similar efficacy, which is less than that of levodopa. It is important to consider the adverse effect profile when a choice for initial or adjunctive therapy is made. When levodopa therapy is started as an adjunct in younger patients or as initial monotherapy in older patients, sustained-release levodopa preparations are preferred. They have a longer half-life and possibly stimulate the dopamine receptors more continuously.
Anticholinergic drugs are appropriate for younger patients with tremor-dominant PD. Amantadme is mainly used for dyskinesia control. Catechol-O-methyl-transferase inhibitors and neurosurgery are not treatments of choice for early PD but can be very effective for more advanced disease. The presence of presymptomatic markers of PD, such as changes in odour detection, handwriting, speech, movement time of self-initiated motor acts, personality traits, presence of antibodies against dopaminergic neurons, pattern of positron emission tomography results, appearance of mitochondrial DNA mutation profiles, etc., appear to be very important in the light of the emerging neuroprotective therapies. Neuroprotection is aimed at slowing the rate of disease progression. Selegiline has been shown to cause a mild delay in the need for levodopa, possibly suggesting some protection. However, this initial benefit was not sustained in long term studies. Currently, there is no neuroprotective drug for PD.
Access options
Buy single article
Instant access to the full article PDF.
USD 49.95
Price excludes VAT (USA)
Tax calculation will be finalised during checkout.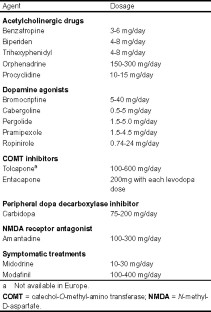 References
Koller WC, Hristova AH. Efficacy and safety of stereotaxic surgical treatment of tremor disorders. Eur J Neurol 1996; 3: 507–14

Koller WC, Wilkinson S, Pahwa R, et al. Surgical treatment options in Parkinson's disease. Neurol Clin North Am 1998; 9(2): 295–306

Obeso JA, Rodriguez MC, Gorospe A, et al. Surgical treatment of Parkinson's disease. Baillieres Clin Neurol 1994; 6(1): 125–45

Kumar R, Lozano AM, Kim YJ, et al. Double-blind evaluation of subthalamic nucleus deep brain stimulation in advanced Parkinson's disease. Neurology 1998 Sep; 51: 850–5

Krack P, Pollak P, Limousin P, et al. Subthalamic nucleus or internal pallidal stimulation in young onset Parkinson's disease. Brain 1998; 121: 451–7

Paulson HL, Stem MB. Clinical manifestations of Parkinson's disease. In: Watts RL, Koller WC, editors. Movement disorders: neurologic principles and practice. New York (NY): McGraw Hill, 1997: 183–99

Quinn NP. Parkinson's disease: clinical features. Baillieres Clin Neurol 1997 Apr; 6(1): 1–13

Koller WC, Montgomery EB. Issues in the early diagnosis of Parkinson's disease. Neurology 1997 Jul; 49 (1 Suppl.): 10–25S

Doty RL, Deens DA, Stellar S. Olfactory dysfunction in parkinsonism: a general deficit unrelated to neurologic signs, disease, stage or disease duration. Neurology 1998 Aug; 38: 1237–44

Doty RL, Riklan M, Deems DA, et al. The olfactory and cognitive deficits of Parkinson's disease: evidence for independence. Ann Neurol 1989 Feb; 25: 166–71

Forno LS, Alford Jr EC. The pathology of parkinsonism: some observations and new correlations. Contemp Neurol 1971; 8: 120–30

Hoehn MM. The natural history of Parkinson's disease in the pre-levodopa and post-levodopa eras. Neurol Clin 1992 May; 10: 331–9

Kostic V, Przedborski S, Flaster E, et al. Early development of levodopa-induced dyskinesias and response fluctuations in young-onset Parkinson's disease. Neurology 1991 Feb; 41: 202–5

Gibb WRG, Lees AJ. A comparison of clinical and pathologic features of young- and old-onset Parkinson's disease. Neurology 1988; 38: 1402–8

Tanner CM, Ottman R, Goldman SM, et al. Parkinson's disease in twins: an etiologic study. JAMA 1999; 281: 341–6

Parkinson's Disease Research Group in the United Kingdom. Comparisons of therapeutic effects of levodopa and selegiline, and bromocriptine in patients with early, mild Parkinson's disease: three years interim report. BMJ 1993 Aug 21; 307: 469–72

Watts RL. The role of dopamine agonists in early Parkinson's disease. Neurology 1997 Jul; 49 (1 Suppl.): 34–48S

Rinne UK. Lisuride, a dopamine agonist in the treatment of early Parkinson's disease. Neurology 1989 Mar; 39: 336–9

Rinne UK, Bracco F, Chouza C, et al. Cabergoline in the treatment of early Parkinson's disease: results of the first year of treatment in a double-blind comparison of cabergoline and levodopa. Neurology 1997 Feb; 48: 363–8

Rascol O, Brooks DJ, Brunt ER, et al. Ropinirole in the treatment of early Parkinson's disease: a 6-month interim report of a 5-year levodopa-controlled study. 056 Study Group. Mov Disord 1998 Jan; 13(1): 39–45

Pezzoli G, Martignoni E, Pacchetti C, et al. A crossover controlled study comparing pergolide with bromocriptine as an adjunct to levodopa for treatment of Parkinson's disease. Neurology 1995 Mar; 45 (3 Suppl.): 22–7S

Hughes AJ, Lee AJ, Serm GM. Challenge test to predict the dopaminergic response in untreated Parkinson's disease. Neurology 1991; 4: 1723–5

Montgomery Jr EB. Pharmacokinetics and pharmacodynamics of levodopa. Neurology 1992 Jan; 42 (1 Suppl.): 17–22S

Fabbrini G, Mouradian MM, Juncos JL, et al. Motor fluctuations in Parkinson's disease; central pathophysiological mechanisms: part I. Ann Neurol 1988 Sep; 24: 366–71

Mouradian MM, Juncos JL, Fabbrini G, et al. Motor fluctuations in Parkinson's disease; central pathophysiological mechanisms: part II. Ann Neurol 1988; 24: 372–8

Lotti VJ. Experimental pharmacology of carbidopa (MK-486) and L-dopa: animal studies. Adv Neurol 1973; 2: 91–100

Edwards N, Quigley EM, Harned RK, et al. Characterization of swallowing and defecation in Parkinson's disease. Am J Gastroenterol 1994 Jan; 89(1): 15–25

Edwards L, Quigley EM, Hofman R, et al. Gastrointestinal symptoms in Parkinson's disease: 18-month follow-up study. Mov Disord 1993; 8(1): 83–6

Stocchi F, Carbone A, Inghilleri M, et al. Urodynamic and neurophysiological evaluation in Parkinson's disease and multiple system atrophy. J Neurol Neurosurg Psychiatry 1997 May; 62(5): 507–11

Olanow CW. Attempts to obtain neuroprotection in Parkinson's disease. Neurology 1997 Jul; 49 (1 Suppl.): 26–33S

Mytilineou C, Han SK, Cohen G. Toxic and protective effects of L-Dopa on mesencephalic cells cultures. J Neurochem 1993 Oct; 61: 1470–8

Spencer PE, Jenner A, Butler J, et al. Evaluation of the pro-oxidant and antioxidant actions of L-Dopa and dopamine in vitro: implications for Parkinson's disease. Free Radic Res 1996 Feb; 24: 95–105

Fahn S. Levodopa-induced neurotoxicity: does it present a problem for the treatment of Parkinson's disease? CNS Drugs 1997; 8: 376–93

LeWitt PA. Clinical studies with and pharmacokinetic considerations of sustained-release levodopa. Neurology 1992 Jan; 42 (1 Suppl.): 29–32

Chase TN. Levodopa therapy: consequences of the nonphysiologic replacement of dopamine. Neurology 1998 May; 50 (5 Suppl.): 17–25S

Contin M, Riva R, Albani F, et al. Pharmacokinetic optimization in the treatment of Parkinson's disease. Clin Pharmacokinet 1996 Jun; 30: 463–81

Quinn N, Marsden CD, Parkes JD. Complicated response fluctuations in Parkinson's disease: response to intravenous infusion of levodopa. Lancet 1982 Aug 21; II: 412–5

Mouradian MM, Heuser IJ, Baronti F, et al. Modification of central dopaminergic mechanism by continuous levodopa therapy for advanced Parkinson's disease. Ann Neurol 1990 Jan; 27: 18–23

Kurlan P, Rubin AJ, Miller C, et al. Duodenal delivery of levodopa for on-off fluctuations in parkinsonism: preliminary observations. Ann Neurol 1986 Aug; 20: 262–5

Nutt JG, Woodward WR, Hammerstad JP, et al. The 'on-off' phenomenon in Parkinson's disease. N Engl J Med 1984 Feb; 310: 483–8

Hutton JT, Morris JL. Long-acting carbidopa-levodopa in the management of moderate and advanced Parkinson's disease. Neurology 1992 Jan; 42 (1 Suppl.): 51–6S

LeWitt PA, Nelson MV, Berchou RC, et al. Controlled released carbidopa/levodopa (Sinemet 501200 CR 4): clinical and pharmacokinetic studies. Neurology 1989 Nov; 39 (2 Suppl.): 45–53S

Block G, Liss Q, Reines S, The CR First Study Group, et al. Comparison of immediate-release and controlled-release carbidopa/levodopa in Parkinson's disease: a multicenter 5-year study. Eur Neurol 1997; 37: 23–7

Olanow C. Dopamine agonists in early Parkinson's disease. In: Stern MB, Hurtig H, editors. The comprehensive management of Parkinson's disease. New York (NY): PAIA Publishing Co., 1988: 89–100

Schachter M, Bedard P, Debono AG, et al. The role of D1 and D2 receptors. Nature 1980 Jul 10; 286: 157–9

Rubin A, Leneberg I, Dhahir P. Physiologic disposition of pergolide. Clin Pharmacol Ther 1981 Aug; 30: 258–65

Duvoisin RC, Hekkila RE, Manzino L. Pergolide-induced circling in rats with 6-hydroxydopamine lesions of the nigrostriatal pathway. Neurology 1982 Dec; 32(12): 1387–91

SmithKline Beecham. Full prescribing information for ropinirole hydrochloride. Philadelphia (PA): SmithKline Beecham Pharmaceuticals, 1997

Pharmacia UpJohn Company. Full prescribing information for Mirapex (Pramipexole dihydrochloride). Kalamazo (MI): Pharmacia & UpJohn Company, 1997 Oct

Athena Neurosciences, Inc. Full prescribing information for pergolide mesylate. South San Francisco (CA): Athena Neurosciences, Inc.

Olanow CW, Fahr S, Muenter M, et al. A multicenter doubleblind placebo controlled trial of pergolide as an adjunct to Sinemet in Parkinson's disease. Mov Disord 1994 Jan; 9(1): 40–7

Adler CH, Sethi KD, Hauser RA, et al. Ropinirole for treatment of early Parkinson's disease: the ropinirole study group. Neurology 1997 Aug; 49: 393–9

Shannon KM, Bennett Jr JP, Friedman JH. Efficacy of pramipexole, a novel dopamine agonist, as monotherapy in mid to moderate Parkinson's disease. The pramipexole study group. Neurology 1997 Sep; 49: 724–8

Brooks DJ, Abbott RJ, Lees AJ, et al. A placebo-controlled evaluation of ropinirole, a novel D2 agonist as sole dopaminergic therapy in Parkinson's disease. Clin Neuropharmacol 1998 Mar–Apr; 21(2): 101–7

Hubble JP, Koller WC, Cutler NR, et al. Pramipexole in patients with early Parkinson's disease. Clin Neuropharmacol 1995 Aug; 18(4): 338–47

Caraceni T, Gemimiani G, Gentrini S, et al. D2 dopamine agonists in the treatment of Parkinson's disease. In: Agid Y, editor. Current trends in the treatment of Parkinson's disease. London: John Libbey & Company, 1992: 85–92

Marsden CD. Parkinson's disease. J Neurol Neurosurg Psychiatry 1994 Jun: 57: 672–81

Ogawa N. Early introduction to dopamine agonists in the long-term treatment of Parkinson's disease. Neurology 1998 Aug; 51 (2 Suppl.): 13–20S

Olanow CW, Koller WC. An algorithm (decision tree) for the management of Parkinson's disease: treatment guidelines. Management of Parkinson's disease. Neurology 1998 Mar; (3 Suppl.): 2–50S

Schwartz JC, Giros N, Matres MD, et al. The dopamine receptor family: molecular biology and pharmacology. Semin Neurosci 1992; 4: 99–108

Sibley DR, Monsma Jr FJ, Shen Y Molecular biology of dopamine receptors. Int Rev Neurobiol 1993; 35: 391–415

Sokoloff P, Martres MP, Giros B, et al. The third dopamine receptor (D3) as a novel target for antypsychotics. Biochem Pharmacol 1992 Feb 18; 43: 659–66

Jenner P. The rationale for the use of dopamine agonists in Parkinson's disease. Neurology 1995 Mar; 45 (3 Suppl.): 6–12S

Crossman AR. A hypothesis on the pathophysiological mechanisms that underlie levodopa — or dopamine — agonist-induced dyskinesia in Parkinson's disease: implications for future strategies in treatment. Mov Disord 1990; 5: 100–8

Crossman AR. Primate models of dyskinesias: the experimental approach to the study of the basal ganglia-related involuntary movement disorders. Neuroscience 1987 Apr; 21: 1–40

Tulloch IF. Pharmacologic profile of ropinirole: a nonergolide dopamine agonist. Neurology 1997 Jul; 49 (1 Suppl.): 58–62S

Pharmacia UpJohn Co. Dostinex (Carbergoline) full prescribing information. Kalamazoo (MI): Pharmacia UpJohn Co., 1996

Korczyn AD, Brooks DJ, Brunt ER, et al. Ropinirole versus bromocriptine in the treatment of early Parkinson's disease: a 6-month interim report of a 3-year study. Mov Disord 1998 Jan: 13(1): 46–51

Duvoisin RC. Cholinergic-anticholinergic antagonism in parkinsonism. Arch Neurol 1967 Aug; 17: 124–36

Quinn NP. Anti-parkinsonian drugs today. Drugs 1984 Sep; 28: 236–62

Physicians desk reference (PDR). 53rd ed. Montvale (NJ): Medical Economics Company, 1999

Kurth MC, Charles HA. COMT inhibition: a new treatment strategy for Parkinson's disease. Neurology 1998 May; 50 (5 Suppl.): 3–14S

Adler CR, Singer C, O'Brien C, et al. Randomized, placebo-controlled study of tolcapone in patients with fluctuating Parkinson's disease treated with levodopa-carbidopa. Tolcapone Fluctuator Study Group III. Arch Neurol 1998 Aug; 55(8): 1089–95

Jorga KM, Fotteler B, Zurcher G. Pharmacokinetics and pharmacodynamics after oral and intravenous administration of tolcapone, a novel adjunct to Parkinson's disease therapy. Eur J Clin Pharmacol 1998 Jul; 54(5): 443–7

Ruottinen HM, Rinne UK. A double-blind pharmacokinetic and clinical dose-response study of entacapone as an adjuvant to levodopa therapy in advanced Parkinson's disease. Clin Neuropharmacol 1996 Aug; 19(4): 283–96

Keranen T, Gordin A, Karlsson M, et al. Inhibition of soluble catechol-O-methyltransferase and single-dose pharmacokinetics after oral and intravenous administration of entacapone. Eur J Clin Pharmacol 1994; 46(2): 151–7

Hauser RA, Molho E, Shale H, et al. A pilot evaluation of the tolerability, safety, and efficacy of tolcapone alone and in combination with oral selegiline in untreated Parkinson's disease patients. Tolcapone De Novo Study Group. Mov Disord 1998 Jul; 13(4): 643–7

Ruottinen HM, Rinne UK. COMT inhibition in the treatment of Parkinson's disease. J Neurol 1998 Nov; 245 (11 Suppl. 3): 25–34S

Jorga KM, Koodsma JM, Fotteler B, et al. Effect of liver impairment on the pharmacokinetics of tolcapone and its metabolites. Clin Pharmacol Ther 1998 Jun; 63(6): 646–54

Jorga K, Fotteler B, Sedek G, et al. The effect of tolcapone on levodopa pharmacokinetics is independent of levodopa/carbidopa formulation. J Neurol 1998 Apr; 245(4): 223–30

Rajput AH, Martin W, Saint-Hilaire MH, et al. Tolcapone improves motor fluctuation in parkinsonian patients with the 'wearing-off' phenomenon: a double-blind, placebo-controlled, multicenter trial. Neurology 1998 May; 50 (5 Suppl. 5): 54–9S

Waters CH, Kurth M, Bailey P, et al. Tolcapone in stable Parkinson's disease: efficacy and safety of long-term treatment. Tolcapone Stable Study Group. Neurology 1998 May; 50 (5 Suppl. 5): 39–45S

Rinne UK, Larsen JP, Siden A, et al. Entacapone enhances the response to levodopa in parkinsonian patients with motor fluctuations. Nomecomt Study Group. Neurology 1988 Nov; 51(5): 1309–14

Parkinson Study Group. Entacapone improves motor fluctuations in levodopa-treated Parkinson's disease patients. Ann Neurol 1997 Nov; 42(5): 747–55

Albin RL, Young AB, Penney JP. The functional anatomy of basal ganglia disorders. Trends Neurosci 1989 Oct; 12: 366–75

Parkes JD. Clinical pharmacology of amantadme and derivatives. In: Przuntek H, Riedere P, editors. Early diagnosis and preventive therapy in Parkinson's disease. Vienna: Springer-Verlag, 1989: 335–41

Lang AE. Treatment of Parkinson's disease with agents other than levodopa and dopamine agonists: controversies and new approaches. Can J Neurol Sci 1984 Feb; 11 (1 Suppl.): 210–20

Bailey EV, Stone TW. The mechanism of action of amantadme in parkinsonism: a review. Arch Int Pharmacodyn Ther 1975 Aug; 216: 246–62

Schwab RS, Poskanzen DC, England Jr AC, et al. Amantadme in Parkinson's disease. JAMA 1972; 222: 792–5

Walker JE, Albers JW, Tourtellotte WW, et al. A qualitative and quantitative evaluation of amantadme in the treatment of Parkinson's disease. J Chronic Dis 1972; 25: 149–82

Butzer JF, Silver DE, Sahs AL. Amantadme in Parkinson's disease: a double-blind, placebo-controlled, crossover study with long-term follow-up. Neurology 1975 Jul; 25: 603–6

Schwab RS, Engaland Jr AC, Roskansen DC, et al. Amantadme in the treatment of Parkinson's disease. JAMA 1969 May 19; 208: 1168–70

Chase TN, Oh JD, Blanchet PJ. Neostriatal mechanisms in Parkinson's disease. Neurology 1998 Aug; 51 (2 Suppl.): 30–5S

Blanchet PJ, Metman LV, Mouradian M, et al. Acute pharmacological blockade of dyskinesias in Parkinson's disease. Mov Disord 1996 Sep; 11: 580–1

Engber TM, Marin C, Susel Z, et al. Differential effects of chronic dopamine D1 and D2 agonists on rotational behavior and dopamine receptor binding. Eur J Pharmacol 1993 Jun 4; 236: 385–93

Huang CC, Gean PW. Cyclic adenosine-3′,5′-monophosphate potentiates the synaptic potential mediated by NMD A receptors in the amygdala. J Neurosci Res 1995 Apr 15; 40:747–54

Symmetrel (Amantadme). Physicians desk reference (PDR). 53rd ed. Montvale (NJ): Medical Economics Company, 1999: 986

Koller WC. Initiating treatment of Parkinson's disease. Neurology 1992; 42 (1 Suppl.): 33–8

Poewe W, Granata R. Pharmacological treatment of Parkinson's disease. In: Watts RL, Koller WC, editors. Movement disorders: neurologic principles and practice. New York (NY): McGraw-Hill, 1997: 201–19

Janssen Pharmaceutica Inc. Provigil (Modafinil) full prescribing information. Titusville (NJ): Janssen Pharmaceutica Inc., 1998

US Modafinil in Narcolepsy Multicenter Study Group. Randomized trial of modafinil for the treatment of pathological somnolence in narcolepsy. Ann Neurol 1998; 43(1): 88–97

DuPont Pharma/Merck & Co., Inc. Lodosyn (Carbidopa) full prescribing information. West Point (PA): Merck & Co. Inc./Wilmington (DE): DuPont Pharma, 1997

Roche Laboratories Inc. Tasmar (Tolcapone) full prescribing information. Nutley (NJ): Roche Laboratories Inc., 1998

Brooks DJ. Detection of preclinical Parkinson's disease with PET. Neurology 1991 Aug; 41 (2 Suppl.): 24–7

Angelade P, Vyas S, Agid JF, et al. Apoptosis and autophagy in nigral neurons in patients with Parkinson's disease. Histol Histopathol 1997; 12: 25–31

Tatton NA, Maclean-Fraser A, Tatton WG, et al. A fluorescent double-labeling method to detect and confirm apoptosis nuclei in Parkinson's disease. Ann Neurol 1998 Sep; 44 (1 Suppl.): 142–8S

McGeer PL, McGeer EG, Suzuki JS. Aging and extrapyramidal function. Arch Neurol 1977 Jan; 34(1): 33–5

Konigsmark BW, Murphy EA. Neuronal populations in the human brain. Nature 1970 Dec 26; 228: 1335–6

Philbert MA, Beiswanger CM, Waters DK, et al. Cellular and regional distribution of reduced glutathione in the neurons of the rat: histochemical localization by mercury orange and ophthaldialdehyde-induced histo-fluorescence. Toxicol Appl Pharmacol 1991 Feb; 107: 215–27

Olanow CW, Tatton WG. Etiology and pathogenesis of Parkinson's disease. Ann Rev Neurosci 1999; 2: 123–44

Desagher S, Glownski J, Premont J. Astrocytes protect neurons from hydrogen peroxide. J Neurosci 1996 Apr 15; 16(8): 2553–62

Schapira AHV, Mann VM, Cooper JM, et al. Mitochondrial function in Parkinson's disease: the Royal Kings and Queens Parkinson's disease Research Group. Ann Neurol 1992; 32: 116–24S

Shapira AHV, Cooper JM, Dexter D, et al. Mitochondrial complex I deficiency in Parkinson's disease. J Neurochem 1990 Mar; 54: 823–7

Misano Y, Ohta S, Tanaka M, et al. Deficiencies in complex I subunits of the respiratory chain in Parkinson's disease. Biochem Biophys Res Comm 1989; 163: 1450–5

Shapira AH, Mann VM, Cooper JM, et al. Anatomic and disease specificity of NADH CoQ reductase (Complex I) deficiency in Parkinson's disease. J Neurochem 1990 Dec; 55; 2142–5

Drayer BP. Imaging of the aging brain. Part II: pathological conditions. Radiology 1988 Mar; 166: 797–806

Shapira AH, Holt IJ, Sweeney M, et al. Mitochondrial DNA analysis in Parkinson's disease. Mov Disord 1990; 5: 294–7

Wallace DC, Singh G, Lott MT, et al. Mitochondrial DNA mutation associated with Leber's hereditary optic neuropathy. Science 1988 Dec 9; 242: 1427–30

Goto T, Nonaka I, Horai S. A mutation in the tRNALeuUURgene associated with MELAS subgroup of mitochondrial encephalomyopathies. Nature 1990 Dec 13; 348: 651–3

Olanow CW. An introduction to the free radical hypothesis in Parkinson's disease. Ann Neurol 1992; 32 Suppl.: S2–9

Hoppel CL, Greenblatt D, Kwok R, et al. Inhibition of mitochondrial respiration by analogs of 4-phenylpyridine and 1-methyl-phenyalpyridinium cation (MPP+), the neurotoxic metabolite of MPTP. Biochem Biophys Res Comm 1987 Oct 29; 148: 684–93

Vyas I, Heikkila RE, Nicklas WJ. Studies on the neurotoxicity of 1-methyl-4-phenyl-1,2,5,6-tetrahydropyridine; inhibition of NAD-linked substrate oxidation by its metabolite, 1-methyl-4pyridinium. J Neurochem 1986 May 5; 46: 1501–7

Sian J, Dexter DT, Lees AJ, et al. Alterations in glutathione levels in Parkinson's disease and other neurodegenerative disorders affecting basal ganglia. Ann Neurol 1994 Sep; 36: 348–55

Martensson J, James EKS, Meisner A. High affinity transport of glutathione is a part of a multicompartment system essential for mitochondrial function. Proc Natl Acad Sci U S A 1990; 87: 7187–9

Meister A, Anderson MF. Glutathione. Ann Rev Biochem 1983; 52:711–60

Dexter DT, Sian J, Rose S, et al. Indices of oxidative stress in individuals with incidental Lewy bodies disease. Ann Neurol 1994 Jan; 35: 38–44

Saggu H, Cookey J, Dexter D, et al. A selective increase in particulate Superoxide dismutase activity in parkinsonian substantia nigra. J Neurochem 1989; 53: 692–8

McCord JM, Fridovich I. Superoxide dismutase: an enzymatic function for erythrocuprein (hemocuprein). J Biol Chem 1969 Nov 25; 244: 6049–55

Dexter DT, Wells FR, Agid F, et al. Increased iron nigral content in post mortem parkinsonian brain. Lancet 1987 Nov 21; II: 1219–20

Reiderer P, Safic EM, Rausch WD, et al. Transition metals, ferritin, glutathione and ascorbic acid in parkinsonian brains. J Neurochem 1989; 52: 515–20

Connor JR, Menzies SL, St Martin SM, et al. Cellular distribution of transferin, ferritin and iron in normal and aged human brains. J Neurosci Res 1990 Dec; 27: 595–611

Mann VM, Cooper JM, Daniel SE, et al. Complex I, iron and ferritin in Parkinson's disease substantia nigra. Ann Neurol 1994 Dec: 876–81

Yamada T, McGeer PL, Baimbridge KG, et al. Relative sparing in Parkinson's disease of substantia nigra containing calbindin D28K. Brain Res 1990 Sep 3; 526: 303–7

Nutt JG, Fellman J. Pharmacokineties of levodopa. Clin Neuropharmacol 1984; 7: 35–49

DeLong MR. Primate models of movement disorders of basal ganglia origin. Trends Neurosci 1990 Jul; 13: 281–9

Rodriguez MC, Obeso JA, Olanow CW. Subthalamic nucleus-mediated excitotoxicity in Parkinson's disease: a possible target for neuroprotection. Ann Neurol 1998 Sep; 44 (1 Suppl.): 175–88S

Dawson VL, Dawson TM, London ED, et al. Nitric oxide mediates glutamate neurotoxicity in primary cortical cultures. Proc Natl Acad Sci U S A 1988; 14: 6368–71

Stevenson GB, Humfrey C, Sturman S, et al. Monoamine oxidase substrates in Parkinson's disease. Biochem Pharmacol 1990; 11: 2562–4

Williams A, Steventon G, Struman S, et al. Xenobiotic enzyme profiles and Parkinson's disease. Neurology 1991 May; 41 (2 Suppl.): 29–32S

Myllyla W, Sotaniemi KA, Vuorinen JA, et al. Selegiline as initial treatment in de novo parkinsonian patients. Neurology 1992 Feb; 42: 339–43

Csanda E, Tarczy M. Clinical evaluation of deprenyl (selegiline) in the treatment of Parkinson's disease. Acta Neurol Scand 1983; 95 Suppl.: 117–22

Chiba K, Trevor A, Castagnofi Jr N. Metabolism of the neurotoxic tertiary amine, MPTP, by brain monoamine oxidase. Biochem Biophys Res Commun 1984 Apr 30; 120: 574–8

Cohen G, Pasik P, Yahk MD. Pargyline and deprenyl prevent the neurotoxicity of l-methyl-4phenyl-l,2,3,6-tetrahydro-pyridine (MPTP) in monkeys. Eur Pharmacol 1984 Oct 30: 106: 209–10

Parkinson Study Group. DATATOP: a multicenter clinical trial in early Parkinson's disease. Arch Neurol 1989 Oct; 46: 1052–60

Cohen G, Spina MB. Deprenyl suppresses the oxidant stress associated with increased dopamine turnover. Ann Neurol 1989 Nov; 26: 689–90

Myllyla VV, Sotaniemi KA, Hakulinen P, et al. Selegiline as the primary treatment of Parkinson's disease: a long-term double blind study. Acta Neurol Scand 1997 Apr; 95: 211–8

Larsen JP, Boas J, Norwegian-Danish Study Group. The effect of early selegiline therapy on long-term levodopa treatment and parkinsonian disability: an interim analysis of a Norwegian-Danish 5 year study. Mov Disord 1997 Mar; 12(2): 175–82

Parkinson Study Group. Impact of deprenyl and tocopherol treatment on Parkinson's disease in DATATOP subjects not requiring levodopa. Ann Neurol 1996 Jan; 39: 29–36

Parkinson Study Group. Impact of deprenyl and tocopherol treatment on Parkinson's disease in DATATOP subjects requiring levodopa. Ann Neurol 1996 Jan; 39: 37–45

Parkinson's Study Group. Effect of tocopherol and deprenyl on the progression of disability in early Parkinson's disease. N Engl J Med 1993 Jan 21; 328: 176–83

Getchell TV, Doty RL, Bartochik LM, editors. Smell and tastes in health and disease. New York (NY): Raven Press, 1991

Doty RL, Perl DP, Steele JC, at al. Odor identification deficit of the parkinsonism-dementia complex of Guam: equivalence to that of Alzheimer's disease and idiopathic Parkinson's disease. Neurology 1991 May; 41 (2 Suppl.): 77–80S

Tetrad JW. Preclinical Parkinson's disease: detection of motor and nonmotor manifestations. Neurology 1991 May; 41 (2 Suppl.): 69–71S

Hecker MHL. Comparative evaluation of Sinemet CR and standard Sinemet based on speech analysis. Report on a pilot study: identification of speech changes related to Parkinson's disease. Menlo Park (CA): SRU International, 1988

Critchley EMR. Speech disorders of parkinsonism: a review. J Neurol Neurosurg Psychiatry 1981 Sep; 44: 751–8

Sands I. The type of personality susceptible to Parkinson's disease. Mt Sinai J Med 1943; 9: 192–4

Poewe W, Gerstenbrand F, Ransmayr G, et al. Premorbid personality of Parkinson patients. J Neural Transm 1983; 19 Suppl.: 215–24

Paulson GW, Dadmehr N. Is there a premorbid personality typical for Parkinson's disease? Neurology 1991 May; 41 (5 Suppl. 2): 73–6

Ogawa T. Personality characteristics of Parkinson's disease. Precept Mot Skills 1981 Apr; 52: 375–8

Watts RL, Mandir AS, Alm KJ, et al. Electrophysiologic analysis of early Parkinson's disease. Neurology 1991 May; 41 (2 Suppl.): 44–8

Stern Y, Mayeaux R, Cote L. Reaction time and vigilance in Parkinson's disease: possible altered norepinephrine metabolism. Arch Neurol 1984 Oct; 41: 1086–9

Wisser H, Ratge D. Catecholamines in urine, blood and cerebrospinal fluid. In: Przuntek H, Riederer P, editors. Early diagnosis and preventive therapy in Parkinson's disease. Vienna: Springer-Verlag 1989: 197–204

Steventon G, Heafield MT, Waring RH, et al. Xenobiotic metabolism in Parkinson's disease. Neurology 1989 Jul; 39: 883–7

Stevenson GB, Heafield WE, Sturman S, et al. Xenobiotic metabolism in Alzheimer's disease. Neurology 1990; 40: 1095–8

Heafield WE, Eern S, Stevenson GB, et al. Plasma cysteine and sulfate levels with motor neuron, Parkinson's disease and Alzheimer's disease. Neurosci Lett 1990; 110: 216–20

Carvey PM, McRae A, Lint TF, et al. The potential use of a dopamine neuron antibody and a striatal-derived neurotrophic factor as diagnostic markers in Parkinson's disease. Neurology 1991 May; 41 (2 Suppl.): 53–8

McRae-Degueurce A, Rosengren L, Haglik K, et al. Immunochemical investigations on the presence of neuron-specific antibodies in the CSF of Parkinson's disease cases. Neurochem Res 1988; 13:679–84

Carvey PM, McRae A, Ptak LR, et al. Disappearance of the DA-neuron antibody following adrenal medulla transplantation: relationship to a striatal derived DA neuron trophic factor. Prog Brain Res 1990; 82: 693–7

Eidelberg D, Moeller JR, Ishikawa T, et al. Early differential diagnosis of Parkinson's disease with 18F-fluorodeoxyglucose and positron emission tomography. Neurology 1995 Nov; 45: 1995–2004

Eidelberg D. Functional brain networks in movement disorders. Curr Opin Neurol 1998 Aug; 11: 319–26

Antonini A, Moeller JR, Nakarnura T, et al. The metabolic anatomy of tremor in Parkinson's disease. Neurology 1998 Sep; 51:803–10

Larish R, Klimke A. Clinical impact of cerebral dopamine-D2 receptor scintigraphy. Nuklearmedizin 1998; 37(7): 245–50

Schwartz J, Tatsch K, Gasse T, et al. [123] IZBM binding predicts dopaminergic responsiveness in patients with parkinsonism and previous dopaminomimetic therapy. Mov Disord 1997 Nov; 12(6): 898–902

Muller T, Farahati J, Kuhn W, et al. [1231] beta-CIT SPECT visualizes dopamine transporter loss in de novo, parkinsonian patients. Eur Neurol 1998; 39(1): 44–8

Wenning GK, Donnemiller E, Granata R, et al. 1231-beta-CIT and 1231-IBZM-SPACT scanning in levodopa-naive Parkinson's disease. Mov Disord 1998 May; 13(3): 438–45

Ikebe S, Tonaka M, Ohno K, et al. Increase of deleted mitochondrial DNA in the striatum of Parkinson's disease and senescence. Biochem Biophys Res Commun 1990; 170: 1044–8

Cann RI, Stoneking M, Wilson AC. Mitochondrial DNA and human evolution. Nature 1987 Jan 1–7; 325: 31–6

Donato A, Di Monte. Mitochondrial DNA and Parkinson's disease. Neurology 1991; 41 (2 Suppl.): 38–42

Clayton DA. Replication of animal mitochondrial DNA. Cell 1982; 28: 693–705

Chomyn A, Mariottini P, Cleeter MW, et al. Six identified reading frames of human mitochondrial DNA encode components of the respiratory chain NADH dehydrogenase. Nature 1984 Apr 18–24; 314: 592–7

Fan DS, Ogawa M, Fujimoto KI, et al. Behavioral recovery in 6-hydroxydopamine-lesioned rats by cotransduction of striatum with tyrosine hydroxylase and aromatic 1, amino acid decarboxylase genes using two separate adeno-associated virus vectors. Hum Gene Ther 1998 Nov 20; 9(17): 2527–35
About this article
Cite this article
Hristova, A.H., Koller, W.C. Early Parkinson's Disease. Drugs & Aging 17, 165–181 (2000). https://doi.org/10.2165/00002512-200017030-00002
Published:

Issue Date:

DOI: https://doi.org/10.2165/00002512-200017030-00002
Keywords
Levodopa

MPTP

Progressive Supranuclear Palsy

Essential Tremor

Modafinil