Abstract
Background: Drug-drug interactions (DDIs) are of great concern, as they are known to be related to adverse drug reactions and hospitalisations. In addition, many DDIs are regarded as predictable and avoidable; therefore, they may be considered as targets for education and interventions.
Objective: To analyse the relationship between number of dispensed drugs and the probability of potential DDIs among the elderly by using the new Swedish Prescribed Drug Register.
Methods: We analysed data on age, sex and dispensed drugs for people aged ≥75 years who were registered in the Swedish Prescribed Drug Register from October to December 2005, and constructed a list of current prescriptions for every individual on the arbitrarily chosen date of 31 December 2005. Thereafter, we included those who had at least two dispensed drugs to capture the elderly population at risk of being exposed to DDIs (n = 630 743). The main outcome measures were potentially clinically relevant DDIs (type C), which may require dose adjustment, and potentially serious DDIs (type D), which should be avoided.
Results: The prevalence of type C potential DDIs was 26% and of type D potential DDIs 5% in the study population. There was a strong association between number of dispensed drugs and the probability of type C potential DDIs and an even stronger association for type D potential DDIs, after adjustment for age and sex. In addition, the probability of type D potential DDIs decreased with increasing age, and women had a lower probability of type D potential DDIs than men.
Conclusion: There seems to be a strong relationship between number of dispensed drugs and potential DDIs, especially for potentially serious DDIs, which has implications for the importance of trying to minimise the number of drugs prescribed in the elderly. Our findings that the probability of potentially serious DDIs decreases with increasing age among the elderly and that elderly women have a lower probability of potentially serious DDIs than elderly men need to be verified and investigated by further research.
Access options
Buy single article
Instant access to the full article PDF.
US$ 49.95
Tax calculation will be finalised during checkout.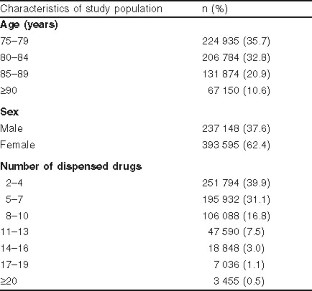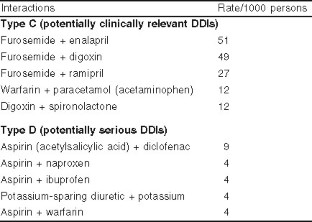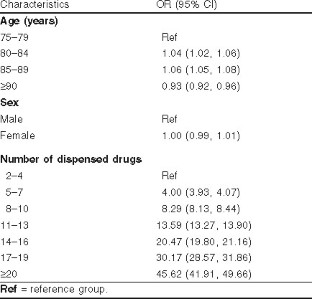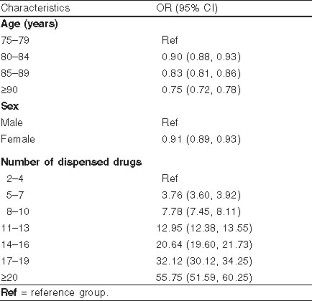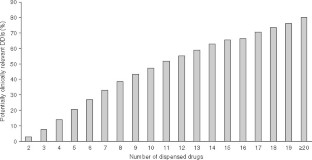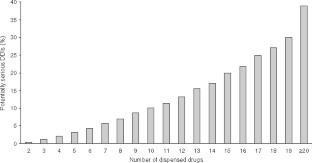 References
1.

Delafuente JC. Understanding and preventing drug interactions in elderly patients. Crit Rev Oncol Hematol 2003 Nov; 48(2): 133–43

2.

von Euler M, Eliasson E, Ohlen G, et al. Adverse drug reactions causing hospitalization can be monitored from computerized medical records and thereby indicate the quality of drug utilization. Pharmacoepidemiol Drug Saf 2006 Mar; 15(3): 179–84

3.

Hamilton RA, Briceland LL, Andritz MH. Frequency of hospitalization after exposure to known drug-drug interactions in a Medicaid population. Pharmacotherapy 1998 Sep–Oct; 18(5): 1112–20

4.

Haase G, Pietzsch M, Fahnrich A, et al. Results of a systematic adverse drug reaction (ADR)-screening concerning brady-cardia caused by drug interactions in departments of internal medicine in Rostock. Int J Clin Pharmacol Ther 2002 Mar; 40(3): 116–9

5.

McDonnell PJ, Jacobs MR. Hospital admissions resulting from preventable adverse drug reactions. Ann Pharmacother 2002 Sep; 36(9): 1331–6

6.

Doucet J, Chassagne P, Trivalle C, et al. Drug-drug interactions related to hospital admissions in older adults: a prospective study of 1000 patients. J Am Geriatr Soc 1996 Aug; 44(8): 944–8

7.

Hohl CM, Dankoff J, Colacone A, et al. Polypharmacy, adverse drug-related events, and potential adverse drug interactions in elderly patients presenting to an emergency department. Ann Emerg Med 2001 Dec; 38(6): 666–71

8.

Juurlink DN, Mamdani M, Kopp A, et al. Drug-drug interactions among elderly patients hospitalized for drug toxicity. JAMA 2003 Apr 2; 289(13): 1652–8

9.

Stanton LA, Peterson GM, Rumble RH, et al. Drug-related admissions to an Australian hospital. J Clin Pharm Ther 1994 Dec; 19(6): 341–7

10.

Klarin I, Wimo A, Fastbom J. The association of inappropriate drug use with hospitalisation and mortality: a population-based study of the very old. Drugs Aging 2005; 22(1): 69–82

11.

Seymour RM, Routledge PA. Important drug-drug interactions in the elderly. Drugs Aging 1998 Jun; 12(6): 485–94

12.

Goldberg RM, Mabee J, Chan L, et al. Drug-drug and drug-disease interactions in the ED: analysis of a high-risk population. Am J Emerg Med 1996 Sep; 14(5): 447–50

13.

Bergendal L, Friberg A, Schaffrath A. Potential drug-drug interactions in 5,125 mostly elderly out-patients in Gothenburg, Sweden. Pharm World Sci 1995 Sep 22; 17(5): 152–7

14.

Bjerrum L, Andersen M, Petersen G, et al. Exposure to potential drug interactions in primary health care. Scand J Prim Health Care 2003 Sep; 21(3): 153–8

15.

Bjorkman IK, Fastbom J, Schmidt IK, et al. Drug-drug interactions in the elderly. Ann Pharmacother 2002 Nov; 36(11): 1675–81

16.

Cannon KT, Choi MM, Zuniga MA. Potentially inappropriate medication use in elderly patients receiving home health care: a retrospective data analysis. Am J Geriatr Pharmacother 2006 Jun; 4(2): 134–43

17.

Barat I, Andreasen F, Damsgaard EM. The consumption of drugs by 75-year-old individuals living in their own homes. Eur J Clin Pharmacol 2000 Sep; 56(6–7): 501–9

18.

Fux R, Greiner D, Geldmacher M, et al. Multiple drug prescribing by general practitioners in a German region: Implications for drug interactions and patient safety. Int J Clin Pharmacol Ther 2006 Nov; 44(11): 539–47

19.

Janchawee B, Wongpoowarak W, Owatranporn T, et al. Pharmacoepidemiologic study of potential drug interactions in outpatients of a university hospital in Thailand. J Clin Pharm Ther 2005 Feb; 30(1): 13–20

20.

Merlo J, Liedholm H, Lindblad U, et al. Prescriptions with potential drug interactions dispensed at Swedish pharmacies in January 1999: cross sectional study. BMJ 2001 Aug 25; 323(7310): 427–8

21.

Solberg LI, Hurley JS, Roberts MH, et al. Measuring patient safety in ambulatory care: potential for identifying medical group drug-drug interaction rates using claims data. Am J Manag Care 2004 Nov; 10 (11 Pt 1): 753–9

22.

Gronroos PE, Irjala KM, Huupponen RK, et al. A medication database: a tool for detecting drug interactions in hospital. Eur J Clin Pharmacol 1997; 53(1): 13–7

23.

World Health Organization. Drugs for the elderly. European Series, No. 17. Copenhagen: WHO Regional Publications, 1997

24.

Hanlon JT, Pieper CF, Hajjar ER, et al. Incidence and predictors of all and preventable adverse drug reactions in frail elderly persons after hospital stay. J Gerontol A Biol Sci Med Sci 2006 May; 61(5): 511–5

25.

Astrand B, Astrand E, Antonov K, et al. Detection of potential drug interactions: a model for a national pharmacy register. Eur J Clin Pharmacol 2006 Sep; 62(9): 749–56

26.

Kohler GI, Bode-Boger SM, Busse R, et al. Drug-drug interactions in medical patients: effects of in-hospital treatment and relation to multiple drug use. Int J Clin Pharmacol Ther 2000 Nov; 38(11): 504–13

27.

Cruciol-Souza JM, Thomson JC. Prevalence of potential drug-drug interactions and its associated factors in a Brazilian teaching hospital. J Pharm Pharm Sci 2006; 9(3): 427–33 918

28.

Karas Jr S. The potential for drug interactions. Ann Emerg Med 1981 Dec; 10(12): 627–30

29.

Cadieux RJ. Drug interactions in the elderly: how multiple drug use increases risk exponentially. Postgrad Med 1989 Dec; 86(8): 179–86

30.

Sloan RW. Drug interactions. Am Fam Physician 1983 Feb; 27(2): 229–38

31.

Wettermark Hammar N, Michaelfored C, et al. The new Swedish prescribed drug register-opportunities for pharmaco-epidemiological research and experience from the first six months. Pharmacoepidemiol Drug Saf 2007 Jul; 16(7): 726–35

32.

Lau HS, de Boer A, Beuning KS, et al. Validation of pharmacy records in drug exposure assessment. J Clin Epidemiol 1997 May; 50(5): 619–25

33.

About the ATC/DDD system. Oslo, Norway: WHO Collaborating Centre for Drug Statistics Methodology [online]. Available from URL: http://www.whocc.no/atcddd/ [Accessed 2007 Apr 19]

34.

Sjöqvist F. Drug Interactions (in Swedish) [online]. Available from URL: http://www.fass.se [Accessed 2007 Apr 19]

35.

Giron MS, Wang HX, Bernsten C, et al. The appropriateness of drug use in an older nondemented and demented population. J Am Geriatr Soc 2001 Mar; 49(3): 277–83

36.

Glintborg B, Andersen SE, Dalhoff K. Drug-drug interactions among recently hospitalised patients: frequent but mostly clinically insignificant. Eur J Clin Pharmacol 2005 Oct; 61(9): 675–81

37.

Statistics Sweden. The population in Sweden according to sex and age 31/12/2005 (in Swedish) [online]. Available from URL: http://www.scb.se/templates/tableOrChart ____78315.asp [Accessed 2007 Apr 19]
Acknowledgements
The authors have no conflicts of interest that are relevant to the content of this paper. This study was supported financially by the Swedish Council for Working Life and Social Research. We thank Johan Fastbom for help with the initialprocessing of the data material. We are also grateful to the National Board of Health and Welfare for providing us with the data.
About this article
Cite this article
Johnell, K., Klarin, I. The Relationship between Number of Drugs and Potential Drug-Drug Interactions in the Elderly. Drug-Safety 30, 911–918 (2007). https://doi.org/10.2165/00002018-200730100-00009
Keywords
Herbal Drug

Anatomical Therapeutic Chemical Classification

Potential DDIs

Require Dose Adjustment

Frail Elderly Patient