Abstract
Background: The WHO Foundation Collaborating Centre for International Drug Monitoring (Uppsala Monitoring Centre [UMC]) has received many individual case safety reports (ICSRs) associating HMG-CoA reductase inhibitor drug (statin) use with the occurrence of muscle damage, including rhabdomyolysis, and also peripheral neuropathy. A new signal has now appeared of disproportionally high reporting of upper motor neurone lesions.
Aim and Scope: The aim of this paper is to present the upper motor neurone lesion cases, with other evidence, as a signal of a relationship between statins and an amyotrophic lateral sclerosis (ALS)-like syndrome. The paper also presents some arguments for considering that a spectrum of severe neuromuscular damage may be associated with statin use, albeit rarely. The paper does not do more than raise the signal for further work and analysis of what must be regarded as a potentially very serious and perhaps avoidable or reversible adverse reaction, though it also suggests action to be taken if an ALS-like syndrome should occur in a patient using statins.
Methods: The 43 reports accounting for the disproportional reports in Vigibase (the database of the WHO Programme for International Drug Monitoring) are summarised and analysed for the diagnosis of an ALS-like syndrome. The issues of data quality and potential reporting bias are considered.
Results: 'Upper motor neurone lesion' is a rare adverse event reported in relationship to drugs in Vigibase (a database containing nearly 4 million ICSRs). Of the total of 172 ICSRs on this reported term, 43 were related to statins, of which 40 were considered further: all but one case was reported as ALS. In 34/40 reports a statin was the sole reported suspected drug. The diagnostic criteria were variable, and seven of the statin cases also had features of peripheral neuropathy. Of a total of 5534 ICSRs of peripheral neuropathy related to any drug in Vigibase, 547 were on statins. The disproportional reporting of statins and upper motor neurone lesion persisted after age stratification, and such disproportionality was not seen for statins and Parkinson's disease, Alzheimer's disease, extrapyramidal disorders, or multiple sclerosis-like syndromes.
Discussion: Because the cases were sometimes atypical we propose the use of the term 'ALS-like syndrome' and speculate whether this is part of a spectrum of rare neuromuscular damage. The diagnosis of ALS is often problematic, and the insidiousness and chronicity of the disease make causality with a drug difficult to assess. The disproportionally high reporting makes this an important signal nevertheless, since ALS is serious clinically and statins are so widely used. Wide use of the statins also makes a chance finding more probable, but is unlikely to cause disproportional reporting when there are no obvious biases identified.
Conclusion: We emphasise the rarity of this possible association, and also the need for further study to establish whether a causal relationship exists. We do advocate that trial discontinuation of a statin should be considered in patients with serious neuromuscular disease such as the ALS-like syndrome, given the poor prognosis and a possibility that progression of the disease may be halted or even reversed.
Access options
Buy single article
Instant access to the full article PDF.
USD 49.95
Price excludes VAT (USA)
Tax calculation will be finalised during checkout.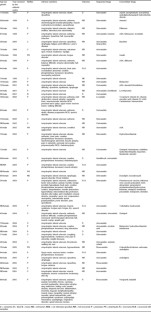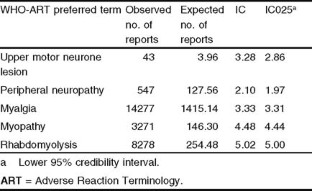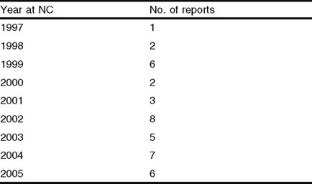 References
Backes JM, Howard PA. Association of HMG-CoA reductase inhibitors with neuropathy. Ann Pharmacother 2003 Feb; 37(2): 274–8

Chong PH, Boskovich A, Stevkovic N, et al. Statin-associated peripheral neuropathy: review of the literature. Pharmacotherapy 2004 Sep; 24(9): 1194–203

McKenney JM, Davidson MH, Jacobson TA, et al. Final conclusions and recommendations of the National Lipid Association Statin Safety Assessment Task Force. Am J Cardiol 2006 Apr 17; 97(8A): 89C–94C

Kashani A, Phillips CO, Foody JM, et al. Risks associated with statin therapy: a systematic overview of randomized clinical trials. Circulation 2006 Dec 19; 114(25): 2788–97

Weffald LA, Flach LA. Myopathy associated with atorvastatinezetimibe combination therapy. Pharmacotherapy 2007 Feb; 27(2): 309–11

Schick BA, Laaksonen R, Fröhlich JJ, et al. Decreased skeletal muscle mitochondrial DNA in patients treated with high-dose simvastatin. Clin Pharmacol Ther. Epub 2007 Feb 28

Needham M, Fabian V, Knezevic W, et al. Progressive myopathy with up-regulation of MHC-I associated with statin therapy. Neuromuscul Disord 2007 Feb; 17(2): 194–200

Wrong diagnosis? Symptom: muscle weakness [online]. Available from URL: http://www.wrongdiagnosis.com/sym/muscle_weakness.htm [Accessed 2007 Apr 30]

Tsivgoulis G, Spengos K, Karandreas N, et al. Presymptomatic neuromuscular disorders disclosed following statin treatment. Arch Intern Med 2006 Jul 24; 166(14): 1519–24

Bertram L, Tanzi RE. The genetic epidemiology of neurodegenerative disease. J Clin Invest 2005; 115(6): 1449–57

Johnson-Anuna LN, Eckert GP, Keller JH, et al. Chronic administration of statins alters multiple gene expression patterns in mouse cerebral cortex. J Pharmacol Exp Ther 2005; 312: 786–93

Bösel J, Gandor F, Harms C, et al. Neuroprotective effects of atorvastatin against glutamate-induced excitotoxicity in primary cortical neurons. J Neurochem 2005; 92: 1386–98

Tanaka T, Tatsuno I, Uchida D, et al. Geranylgeranyl-pyrophosphate, an isoprenoid of mevalonate cascade, is a critical compound for rat primary cultured cortical neurons to protect the cell death induced by 3-hydroxy-3-methylglutaryl-CoA reductase inhibition. J Neurosci 2000; 20: 2852–9

Schulz JG, Bösel J, Stoeckel M, et al. HMG-CoA reductase inhibition causes neurite loss by interfering with geranylgeranylpyrophosphate synthesis. J Neurochem 2004; 89: 24–32

ALS Therapy Development foundation. ALSTDF forum [online]. Available from URL: http://www.als.net/forum/topic.asp?.TOPIC_ID=946 [Accessed 2007 Apr 30]

ClinicaHealth. The ALS Advocacy community [online]. Available from URL: http://als.clinicahealth.com/comments.pl?.sid=06/10/18/1453241 [Accessed 2007 Apr 30]

Duane Graveline. ALS and statins: an epidemic? [online]. Available from URL: http://www.spacedoc.net/ALS_statins.html [Accessed 2007 Apr 30]

Bate A, Lindquist M, Edwards IR, et al. Bayesian neural network method for adverse drug reaction signal generation. Eur J Clin Pharmacol 1998; 54: 315–21

Maggini M, Raschetti R, Traversa G, et al. The cerivastatin withdrawal crisis: a "post-mortem" analysis. Health Policy 2004 Aug; 69(2): 151–7

Medawar C, Herxheimer A. A comparison of adverse drug reaction reports from professionals and users, relating to risk of dependence and suicidal behaviour with paroxetine. Int J Risk Safety Med 2003/ 2004; 16: 5–19

Hood DA, Edwards IR. Meningococcal vaccine: do some children experience side effects. N Z Med J 1989 Feb 22; 102(862): 65–7
Acknowledgements
The authors are indebted to the national centres mentioned in this study, who contributed data. However, the opinions and conclusions are not necessarily those of the various centres, nor of the WHO. No sources of funding were used to assist in the preparation of this study. Ralph Edwards and Anne Kiuru have no conflicts of interest that are directly relevant to the content of this study. Kristina Star was employed by AstraZeneca 5 years ago and has stocks in the company.
About this article
Cite this article
Edwards, I.R., Star, K. & Kiuru, A. Statins, Neuromuscular Degenerative Disease and an Amyotrophic Lateral Sclerosis-Like Syndrome. Drug-Safety 30, 515–525 (2007). https://doi.org/10.2165/00002018-200730060-00005
Published:

Issue Date:

DOI: https://doi.org/10.2165/00002018-200730060-00005
Keywords
Amyotrophic Lateral Sclerosis

Statin

Atorvastatin

Peripheral Neuropathy

Sensory Peripheral Neuropathy