Abstract
Background: HMG-CoA reductase inhibitors ('statins') have been associated with a decrease in ubidecarenone (ubiquinone) levels, a lipophilic enzyme also known as coenzyme Q10 (CoQ10), due to inhibition of mevalonate synthesis. There is speculation that a decrease in CoQ10 levels may be associated with statin-induced myopathy. The cholesterol absorption inhibitor ezetimibe increases endogenous cholesterol synthesis. The purpose of this study was to examine (i) the effects of ezetimibe and simvastatin on plasma CoQ10 levels and (ii) whether ezetimibe coadministered with simvastatin abrogates the suggested statin-induced decrease in the CoQ10 plasma levels.
Methods: Seventy-two healthy male subjects were enrolled in a single-centre, randomised, parallel-group study with three arms. Subjects received ezetimibe 10 mg/day, simvastatin 40 mg/day or the combination of ezetimibe 10 mg/day plus simvastatin 40 mg/day for 14 days.
Results: Baseline CoQ10 (0.99 ± 0.30 mg/L) levels for the combined groups remained unchanged in the ezetimibe group (0.95 ± 0.24 mg/L), and significantly decreased in the simvastatin and combination groups (0.82 ± 0.18 mg/L, p = 0.0002 and 0.7 ± 0.22 mg/L, p < 0.0001, respectively). There was a correlation between the percentage change in the levels of low-density lipoprotein-cholesterol (LDL-C) and the percentage change in CoQ10 levels in all treatment groups (correlation coefficient [R] = 0.67, p < 0.0001). The ratios of CoQ10 levels to LDL-C levels were significantly increased in all treatment groups (p < 0.0001). CoQ10 level was independent of cholesterol synthesis or absorption markers.
Conclusions: Simvastatin and the combination of simvastatin and ezetimibe significantly decrease plasma CoQ10 levels whereas ezetimibe monotherapy does not. There is a significant correlation between the CoQ10 level decrease and the decrease in total and LDL-C levels in all three treatment groups, suggesting that the CoQ10 decrease may reflect the decrease in the levels of its lipoprotein carriers and might not be statin-specific. The statin-associated CoQ10 reduction is not abrogated through ezetimibe coadministration. Changes of CoQ10 levels are independent of cholesterol synthesis and absorption.
Access options
Buy single article
Instant access to the full article PDF.
USD 39.95
Price excludes VAT (USA)
Tax calculation will be finalised during checkout.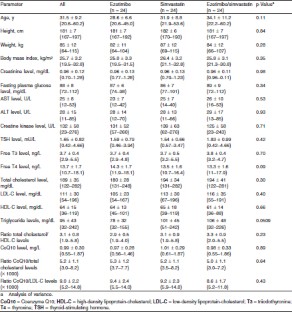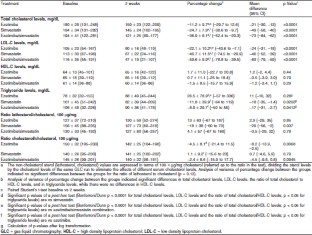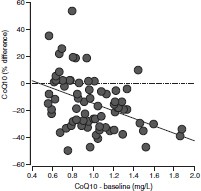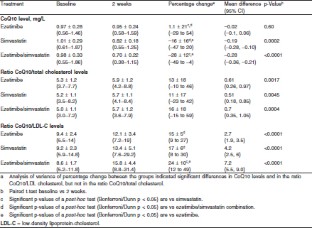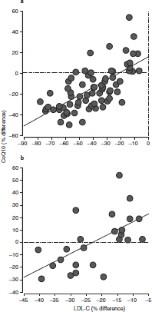 Similar content being viewed by others
References
Nohl H, Staniek K, Kozlov AV, et al. The biomolecule ubiquinone exerts a variety of biological functions. Biofactors 2003; 18(1-4): 23–31

Folkers K, Langsjoen P, Willis R, et al. Lovastatin decreases coenzyme Q levels in humans. Proc Natl Acad Sci U S A 1990; 87(22): 8931–4

Laaksonen R, Ojala JP, Tikkanen MJ, et al. Serum ubiquinone concentrations after short- and long-term treatment with HMG-CoA reductase inhibitors. Eur J Clin Pharmacol 1994; 46(4): 313–7

Laaksonen R, Jokelainen K, Sahi T, et al. Decreases in serum ubiquinone concentrations do not result in reduced levels in muscle tissue during short-term simvastatin treatment in humans. Clin Pharmacol Ther 1995; 57(1): 62–6

Mortensen SA, Leth A, Agner E, et al. Dose-related decrease of serum coenzyme Q10 during treatment with HMG-CoA reductase inhibitors. Mol Aspects Med 1997; 18Suppl.: S137–44

Hargreaves IP, Duncan AJ, Heales SJ, et al. The effect of HMG-CoA reductase inhibitors on coenzyme Q10: possible biochemical/clinical implications. Drug Saf 2005; 28(8): 659–76

Sudhop T, von Bergmann K. Cholesterol absorption inhibitors for the treatment of hypercholesterolaemia. Drugs 2002; 62(16): 2333–47

Sudhop T, Lutjohann D, Kodal A, et al. Inhibition of intestinal cholesterol absorption by ezetimibe in humans. Circulation 2002; 106(15): 1943–8

Havranek JM, Wolfsen AR, Warnke GA, et al. Monotherapy with ezetimibe causing myopathy. Am J Med 2006; 119(3): 285–6

Simard C, Poirier P. Ezetimibe-associated myopathy in monotherapy and in combination with a 3-hydroxy-3-methyl-glutaryl coenzyme A reductase inhibitor. Can J Cardiol 2006; 22(2): 141–4

Fux R, Morike K, Gundel UF, et al. Ezetimibe and statin-associated myopathy. Ann Intern Med 2004; 140(8): 671–2

Miettinen TA, Tilvis RS, Kesaniemi Y. Serum plant sterols and cholesterol precursors reflect cholesterol absorption and synthesis in volunteers of a randomly selected male population. Am J Epidemiol 1990; 131(1): 20–31

Gylling H, Miettinen TA. Inheritance of cholesterol metabolism of probands with high or low cholesterol absorption. J Lipid Res 2002; 43(9): 1472–6

Naini A, Lewis VJ, Hirano M, et al. Primary coenzyme Q10 deficiency and the brain. Biofactors 2003; 18(1-4): 145–52

Rundek T, Naini A, Sacco R, et al. Atorvastatin decreases the coenzyme Q10 level in the blood of patients at risk for cardiovascular disease and stroke. Arch Neurol 2004; 61(6): 889–92

Koumis T, Nathan JP, Rosenberg JM, et al. Strategies for the prevention and treatment of statin-induced myopathy: is there a role for ubiquinone supplementation? Am J Health Syst Pharm 2004; 61(5): 515–9

Thompson PD, Clarkson P, Karas RH. Statin-associated myopathy. JAMA 2003; 289: 1681–90

Davidson MH, McGarry T, Bettis R, et al. Ezetimibe coadministered with simvastatin in patients with primary hypercholesterolemia. J Am Coll Cardiol 2002; 40(12): 2125–34

Human JA, Ubbink JB, Jerling JJ, et al. The effect of simvastatin on the plasma antioxidant concentrations in patients with hypercholesterolaemia. Clin Chim Acta 1997; 263(1): 67–77

Watts GF, Castelluccio C, Rice-Evans C, et al. Plasma coenzyme Q (ubiquinone) concentrations in patients treated with simvastatin. J Clin Pathol 1993; 46(11): 1055–7

Di Giovanni S, Mirabella M, Spinazzola A, et al. Coenzyme Q10 reverses pathological phenotype and reduces apoptosis in familial CoQ10 deficiency. Neurology 2001; 57(3): 515–8

DePinieux G, Chariot P, Ammi-Said M, et al. Lipid-lowering drugs and mitochondrial function: effects of HMG-CoA reductase inhibitors on serum ubiquinone and blood lactate/pyruvate ratio. Br J Clin Pharmacol 1996; 42(3): 333–7

Mabuchi H, Haba T, Tatami R, et al. Effect of an inhibitor of 3-hydroxy-3-methyglutaryl coenzyme A reductase on serum lipoproteins and ubiquinone-10-levels in patients with familial hypercholesterolemia. N Engl J Med 1981; 305(9): 478–82

Silver MA, Langsjoen PH, Szabo S, et al. Effect of atorvastatin on left ventricular diastolic function and ability of coenzyme Q10 to reverse that dysfunction. Am J Cardiol 2005; 94: 1306–10

Kalen A, Appelkvist EL, Dallner G. The effects of inducers of the endoplasmic reticulum peroxisomes and mitochondria on the amounts and synthesis of ubiquinone in rat liver subcellular membranes. Chem Biol Interact 1990; 73: 221–34

Brown MS, Goldstein JL. Multivalent feedback regulation of HMG-CoA reductase: a control mechanism coordinating isoprenoid synthesis and cell growth. J Lipid Res 1980; 21: 505–17

Elmberger PG, Kalen A, Lund E, et al. Effects of pravastatin and cholestyramine on products of the mevalonate pathway in familial hypercholesterolemia. J Lipid Res 1991; 32(6): 935–40

Aberg F, Appelkvist EL, Broijersen A, et al. Gemfibrozil-induced decrease in serum ubiquinone and alpha- and gammatocopherol levels in men with combined hyperlipidaemia. Eur J Clin Invest 1998; 28(3): 235–42

De Lorgeril M, Salen P, Bontemps L, et al. Effects of lipid-lowering drugs on left ventricular function and exercise tolerance in dyslipidemic coronary patients. J Cardiovasc Pharmacol 1999; 33: 473–8

Aberg F, Zhang Y, Appelkvist EL, et al. Effects of clofibrate, phthalates and probucol on ubiquinone levels. Chem Biol Interact 1994; 91: 1–14

Laaksonen R, Riihimaki A, Laitila J, et al. Serum and muscle tissue ubiquinone levels in healthy subjects. J Lab Clin Med 1995; 125: 517–21
Acknowledgements
This study was supported in part by an investigator-initiated grant from Merck, Sharp & Dohme (Munich, Germany) and the Wilhelm-Doerenkamp Foundation (Cologne, Germany). The sponsor had neither any influence on design and conduct of the study, collection and interpretation of the data, nor on the preparation of the manuscript. The authors would like to thank Nadine Spenrath and Doris Vollmar for their excellent technical assistance and Dr Jan Bremer for his assistance in the performance of the trial. Dr Krone serves on advisory boards of Merck, Sharp & Dohme/Essex and has received consultation honoraria from Pfizer, Bayer and Astra-Zeneca. None of the other authors have any conflicts of interest to declare.
About this article
Cite this article
Berthold, H.K., Naini, A., Di Mauro, S. et al. Effect of Ezetimibe and/or Simvastatin on Coenzyme Q10 Levels in Plasma. Drug-Safety 29, 703–712 (2006). https://doi.org/10.2165/00002018-200629080-00007
Published:

Issue Date:

DOI: https://doi.org/10.2165/00002018-200629080-00007
Keywords