Abstract
Echinacea spp. are native to North America and were traditionally used by the Indian tribes for a variety of ailments, including mouth sores, colds and snakebites. The three most commonly used Echinacea spp. are E. angustifolia, E. pallida and E. purpurea. Systematic literature searches were conducted in six electronic databases and the reference lists of all of the papers located were checked for further relevant publications. Information was also sought from the spontaneous reporting programmes of the WHO and national drug safety bodies. Twenty-three manufacturers of echinacea were contacted and asked for data held on file. Finally our own departmental files were searched. No language restrictions were imposed. Combination products and homeopathic preparations were excluded.
Data from clinical studies and spontaneous reporting programmes suggest that adverse events with echinacea are not commonly reported. Gastrointestinal upsets and rashes occur most frequently. However, in rare cases, echinacea can be associated with allergic reactions that may be severe. Although there is a large amount of data that investigates the efficacy of echinacea, safety issues and the monitoring of adverse events have not been focused on.
Short-term use of echinacea is associated with a relatively good safety profile, with a slight risk of transient, reversible, adverse events. The association of echinacea with allergic reactions is supported by the present evaluation. While these reactions are likely to be rare, patients with allergy or asthma should carefully consider their use of echinacea. The use of echinacea products during pregnancy and lactation would appear to be ill-advised in light of the paucity of data in this area.
Access options
Buy single article
Instant access to the full article PDF.
USD 49.95
Price excludes VAT (USA)
Tax calculation will be finalised during checkout.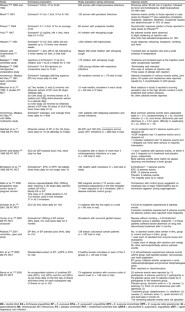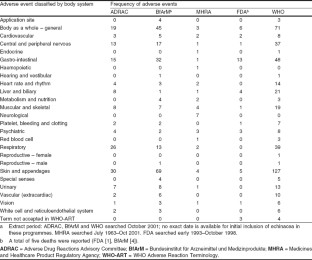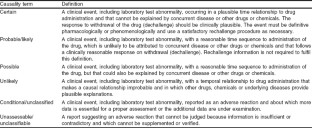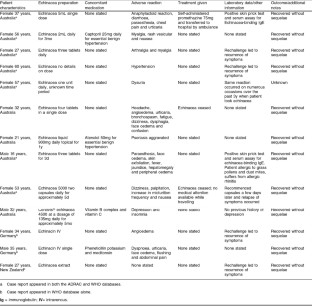 Notes
The use of trade names is for product identification purposes only and does not imply endorsement.
References
Snow JM. Echinacea monograph. J Botan Med 1998; 2(2): 18–24

Boon H, Smith M. The botanical pharmacy: the pharmacology of 47 common herbs. 1st ed. Ontario, Canada: Quarry Press Inc, 1999

Melchart D, Linde K, Fischer P, et al. Echinacea for the prevention and treatment of the common cold. Cochrane Database Syst Rev 2000; 2: CD000530

Barrett B. Medicinal properties of Echinacea: a critical review. Phytomedicine 2003; 10: 66–86

Blumenthal M. Herb sales down in mainstream market, up in natural food stores. HerbalGram 2002; 55: 60

Blumenthal M. Herb sales down 15 percent in mainstream market. HerbalGram 2001; 51: 69

Brevoot P. The booming US botanical market: a new overview. HerbalGram 1998; 44: 33–46

Röseler W. Erfahrungen mit Echincin bei fieberhaften gynakologischer Erkrankungen. Der Krankenhausarzt 1950; 23: 38–40

Röseler W. Erfahrungen mit der Echinacin-Therapie fieberhafter gynakologischer Erkrankungen. Medizinische 1952; 3: 93–5

Moell OH. Primäre Ergebnisse der Echinacinbehandlung bei entzündlichen Unterleibserkrankungen. Der Krankenhausarzt 1951; 24: 299–302

Priese HG. Die Frühbehandlung der Mastitis puerperalis mit Echinacin. Zentralbl Gynakol 1954; 76: 756–68

Volz G. Zur Keuchustenbehandlung mit Myo-Echinacin. Ther Ggw 1957; 96: 312–3

Baetgen D. Pertussisherapie mit Myo-Echinacin in der Kinder-praxis. Med Monatsschr 1964; 18: 129–31

Heesen W. Unspezifische Behandlungsmöglichkeiten bei tuberkulösen Erkrankungen. Erfahrungsheilkunde 1964; 13: 210–7

Zimmerman O. Die therapie des Keuchhustens mit Myo-Echinacin®. Hippokrates 1969; 6: 233–5

Heeson W, Orzechowski G. Die Fieberbehandlung mit Echinacin® bei Infektionkrankheiten. Erfahrungheilkunde 1973; 22: 163–71

Baetgen D. Erfolge in der Keuchhusten Behandlung mit Echinacin. Therapiewoche 1984; 34: 5115–9

Coeugniet E, Kuhnast R. Rezidivierende Candidiasis: Adjuvante Immunotherapie mit verschiedenen Echinacin® Darreichungsformen. Therapiewoche 1986; 36: 3352–8

Baetgen D. Behandlung der akuten Bronchitis im Kindesalter. Therapiewoche Padiatrie 1988; 1: 66–70

Braunig B, Dorn M, Limburg E, et al. Echinaceae purpureae radix: zur Stärkung der körpereigenen Abwehr bei grippalen Infekten. Z Phytother 1992; 13: 7–13

Braunig B, Knick E. Therapeutische erfahrungen mit Echinaceae pallidae bei grippalen infekten. Naturheilpraxis mit Naturmedizin 1993; 1: 72–5

Parnham MJ. Benefit-risk assessment of the squeezed sap of the purple coneflower (Echinacea pupurea) for long-term oral immunostimulation. Phytomedicine 1996; 3(1): 95–102

Melchart D, Linde K, Worku F, et al. Results of five randomised studies on the immunomodulatory activity of preparations of Echinacea. J Altern Complement Med 1995; 1(2): 145–60

Dorn M, Knick E, Lewith G. Placebo-controlled, double-blind study of Echinaceaepallidae radix in upper respiratory tract infections. Complement Ther Med 1997; 5: 40–2

Hoheisel O, Sandberg M, Bertram S, et al. Echinagard treatment shortens the course of the common cold: a double-blind, placebo-controlled trial. Eur J Clin Res 1997; 9: 261–8

Berg A, Northoff H, Konig C, et al. Echinacea counteracts immunosuppressant effects of exercise in triathletes. J Clin Res 1998; 1: 367–80

Melchart D, Walther E, Linde K, et al. Echinacea root extracts for the prevention of upper respiratory tract infections. Arch Fam Med 1998 Nov/Dec; 7(6): 541–5

Grimm W, Muller HH. A randomized controlled trial of the effect of a fluid extract of Echinacea purpurea on the incidence and severity of colds and respiratory infections. Am J Med 1999; 106: 138–43

Brinkeborn RM, Shah DV, Degenring FH. Echinaforce and other echinacea fresh plant preparations in the treatment of the common cold: a randomized, placebo-controlled, double-blind clinical trial. Phytomedicine 1999; 6(1): 1–5

Turner RB, Riker DK, Gangemi JD. Ineffectiveness of Echinacea for prevention of experimental rhinovirus colds. Antimicrob Agents Chemother 2000; 44(6): 1708–9

Szolomicki S, Samochowiec L, Wojcicki J, et al. The influence of active components of eleutherococcus senticosus on cellular defence and physical fitness in man. Phytother Res 2000; 14: 30–5

Gallo M, Sarkar M, Au W, et al. Pregnancy outcome following gestational exposure to echinacea: a prospective controlled study. Arch Intern Med 2000; 160(Nov 13): 3141–3

Lindenmuth GF, Lindenmuth EB. The efficacy of echinacea compound herbal tea preparation on the severity and duration of upper respiratory and flu symptoms: a randomized double-blind placebo-controlled study. J Altern Complement Med 2000; 6(4): 327–34

Potii V. The application of immunomodulators in the complex of treatment of purulent wounds of soft tissues. Klin Khir 2000; 10: 15–6

Schulten B, Bulitta M, Ballering-Bruhl B, et al. Efficacy of Echinacea purpurea in patients with a common cold. Arzneimittel Forschung 2001; 51(II): 563–8

Vonau B, Chard S, Mandalia S, et al. Does the extract of the plant Echinacea purpurea influence the clinical course of recurrent genital herpes? Int J STD AIDS 2001; 12: 154–8

Rostock M. Untersuchungen uber immunologische effekte eines oral applizierten Echinace-purpurea-Presssaftes bei Patientinnen miit kurativ behandelterm Mamma-Karzinom [PhD thesis]. Germany: Albert-Ludwigs-Universitat, Frieburg, 1998

Kim LS, Waters RF, Burkholder PM. Larch and Echinacea. Altern Med Rev 2002; 7(2): 138–49

Schwarz E, Metzler J, Diedrich JP, et al. Oral administration of freshly expressed juice of Echinacea pupurea fail to stimulate the non-specific immune response in healthy young men: results of a double-blind, placebo-controlled crossover study. J Immunother 2002; 25(5): 413–20

Barrett BP, Brown RL, Locken K, et al. Treatment of the common cold with unrefined echinacea: a randomized, double-blind, placebo-controlled trial. Ann Intern Med 2002; 137: 939–46

Anonymous. Madaus AG, Germany, 1991 (data on file)

Anonymous. Madaus AG, Germany, mid-1990s (data on file)

Anonymous. Madaus AG, Germany, early 1990s (data on file)

Mullins RJ. Echinacea-associated anaphylaxis. Med J Aust 1998 Feb 16; 168(4): 170–1

Mullins RJ, Heddle R. Adverse reactions associated with echinacea: the Australian experience. Ann Allergy Asthma Immunol 2002; 88(1): 42–51

Sonn SL, Crawford RI. Recurrent erythema nodosum associated with echinacea herbal therapy. J Am Acad Dermatol 2001; 44: 298–9

Immunallergische reaktionen nach Echinacea-Extrakten (Echinacin, Esberitox N U. A). Arznei-telegramm 1991; 4: 39

Barnes J, Mills SY, Abbot NC, et al. Different standards for reporting ADRs to herbal remedies and conventional OTC medicines: face to face interviews with 515 users of herbal remedies. Br J Clin Pharmacol 1998; 45: 496–500

European Scientific Co-operative on Phytotherapy. ESCOP monographs: the scientific foundation for herbal medicinal products. 2nd Ed. Exeter: ESCOP in association with Stuttgart and New York (NY): Thieme, 2003
Acknowledgements
Alison Huntley was sponsored by Boots the Chemists. The authors have no conflicts of interest that are directly relevant to the content of this review.
About this article
Cite this article
Huntley, A.L., Coon, J.T. & Ernst, E. The Safety of Herbal Medicinal Products Derived from Echinacea Species. Drug-Safety 28, 387–400 (2005). https://doi.org/10.2165/00002018-200528050-00003
Published:

Issue Date:

DOI: https://doi.org/10.2165/00002018-200528050-00003
Keywords
Allergic Rhinitis

Loratadine

Healthcare Product Regulatory Agency

Adverse Drug Reaction Advisory Committee

Homeopathic Preparation