Abstract
Vitex agnus castus L. (VAC) [Verbenaceae] is a deciduous shrub that is native to Mediterranean Europe and Central Asia. Traditionally, VAC fruit extract has been used in the treatment of many female conditions, including menstrual disorders (amenorrhoea, dysmenorrhoea), premenstrual syndrome (PMS), corpus luteum insufficiency, hyperprolactinaemia, infertility, acne, menopause and disrupted lactation. The German Commission E has approved the use of VAC for irregularities of the menstrual cycle, premenstrual disturbances and mastodynia. Clinical reviews are available for the efficacy of VAC in PMS, cycle disorders, hyperprolactinaemia and mastalgia, but so far no systematic review has been published on adverse events or drug interactions associated with VAC. Therefore, this review was conducted to evaluate all the available human safety data of VAC monopreparations.
Literature searches were conducted in six electronic databases, in references lists of all identified papers and in departmental files. Data from spontaneous reporting schemes of the WHO and national drug safety bodies were also included. Twelve manufacturers of VAC-containing preparations and five herbalist organisations were contacted for additional information. No language restrictions were imposed. Combination preparations including VAC or homeopathic preparations of VAC were excluded. Data extraction of key data from all articles reporting adverse events or interactions was performed independently by at least two reviewers, regardless of study design.
Data from clinical trials, postmarketing surveillance studies, surveys, spontaneous reporting schemes, manufacturers and herbalist organisations indicate that the adverse events following VAC treatment are mild and reversible. The most frequent adverse events are nausea, headache, gastrointestinal disturbances, menstrual disorders, acne, pruritus and erythematous rash. No drug interactions were reported. Use of VAC should be avoided during pregnancy or lactation. Theoretically, VAC might also interfere with dopaminergic antagonists.
Although further rigorous studies are needed to assess the safety of VAC, the data available seem to indicate that VAC is a safe herbal medicine.
This is a preview of subscription content, log in to check access.
Access options
Buy single article
Instant access to the full article PDF.
US$ 49.95
Price includes VAT for USA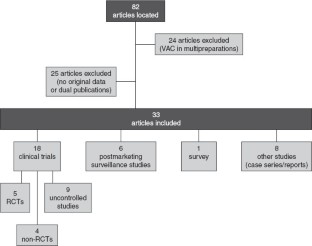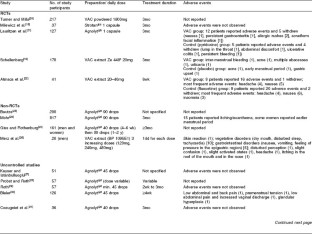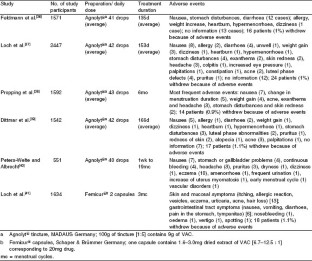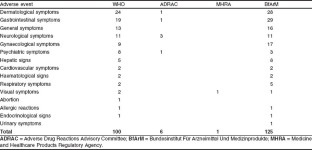 Notes
1.

The use of trade names is for product identification purposes only and does not imply endorsement.
References
1.

Schulz V, Hänsel R. Rationale Phytotherapie. Berlin: Springer, 1999

2.

Christie S, Walker AF. Vitex agnus-castus L: (1) A review of its traditional and modern therapeutic use; (2) Current use from a survey of practitioners. Eur J Herbal Med 1997; 3: 29–45

3.

Du Mee C. Vitex agnus castus. Aust J Med Herbalism 1993; 5: 63–5

4.

Blumenthal M, Busse WR, Goldberg A, et al. The complete German commission E monographs. Austin (TX): American Botanical Council, 1998

5.

Kuruuzum-Uz A, Stroch K, Demirezer LO, et al. Glucosides from Vitex agnus castus. Phytochemistry 2003; 63: 959–64

6.

Newall A, Anderson LA, Phillipson JD. Herbal Medicines: a guide for health-care professionals. London: The Pharmaceutical Press, 1996

7.

Boon H, Smith M. The botanical pharmacy: the pharmacology of 47 common herbs. Ontario: Quarry Press, 1999

8.

Sliutz G, Speiser P, Schultz AM, et al. Agnus castus extracts inhibit prolactin secretion of rat pituitary cells. Horm Metab Res 1993; 25: 253–5

9.

Jarry H, Leonhardt S, Gorkow C, et al. In vitro prolactin but not LH and FSH release is inhibited by compounds in extracts of Agnus castus: direct evidence for a dopaminergic principle by the dopamine receptor assay. Exp Clin Endocrinol 1994; 102: 448–54

10.

Wuttke W, Gorkow CH, Jarry H. Dopaminergic compound in Vitex agnus castus 1995: In: Loew D, Rietbrock N, editors. Phytopharmaka in forschung und klinischer anwendung. 1st ed. Darmstadt: Steinkopff Verlag, 1995: 81–91

11.

Serri O, Chik CL, Ur E, et al. Diagnosis and management of hyperprolactinemia. CMAJ 2003; 169: 575–81

12.

Gorkow C, Wuttke W, März RW. Efficacy of Vitex agnus castus-preparations [in German]. Wien Med Wochenschr 2002; 15: 364–72

13.

Brown DJ. Vitex agnus castus Clinical Monograph. Q Rev Nat Med 1994 Summer: 111–21

14.

Hardy ML. Women's health series: herbs of special interest to women. J Am Pharm Assoc 2000; 40: 234–42

15.

Tesch BJ. Herbs commonly used by women: an evidence-based review. Am J Obstet Gynecol 2003; 188(5 Suppl.): 44–55

16.

Reynolds JEJ, editor. Vitex agnus castus. Martindale the extra pharmacopoeia. London: The Royal Pharmaceutical Society, 1996: 1710

17.

Rote Listeà Service GmbH, Frankfurt. Rote Liste 1999. Aulendorf, Germany: Editio Cantor Verlag, 1999

18.

Schellenberg R. Treatment for the premenstrual syndrome with agnus castus fruit extract: prospective, randomised, placebo controlled study. BMJ 2001; 322: 134–7

19.

Milewicz A, Gejdel E, Sworen H. Vitex agnus castus extract in the treatment of luteal phase defects due to latent hyperprolactinemia: results of a randomized placebo-controlled doubleblind study [in German]. Arzneimittel Forschung 1993; 43: 752–6

20.

Turner S, Mills S. A double-blind clinical trial on a herbal remedy for premenstrual syndrome: a case study. Complement Ther Med 1993; 1: 73–7

21.

Lauritzen CH, Reuter HD, Repges R, et al. Treatment of premenstrual tension syndrome with Vitex agnus castus: controlled, double-blind study versus pyridoxine. Phytomedicine 1997; 4: 183–9

22.

Atmaca M, Kumru S, Tezcan E. Fluoxetine versus Vitex agnus castus extract in the treatment of premenstrual dysphoric disorder. Hum Psychopharmacol Clin Exp 2003; 18: 191–5

23.

Bautze HJ. Untersuchungen uber die Beeinflussung der Stilleistung durch Agnus castus. Med Welt 1953; 7: 189–90

24.

Mohr H. Klinische Untersuchungen zur Steigerung der Laktation. Dtsch Med Wochenschr 1954; 79: 1513–6

25.

Giss G, Rothenburg W. Phytotherapeutische Behandlung der Akne. Z Haut Geschlechtskr 1968; 43: 645–7

26.

Merz PG, Gorkow C, Schrödter A, et al. The effects of a special Agnus castus-extract (BP1095E1) on prolactin secretion in healthy male subjects. Exp Clin Endocrinol Diabetes 1996; 104: 447–53

27.

Kayser HW, Istanbulluoglu S. Eine Behandlung von Menstruationsstorungen ohne Hormone. Hippokrates 1954; 25: 717–8

28.

Probst V, Roth OA. Über einen Pflanzenextrakt mit hormonartiger Wirkung. Dtsch Med Wochenschr 1954; 79: 1271–4

29.

Roth A. Zur Therapie der GelbkÖrperinsuffizienz in der Praxis. Med Klin 1956; 51: 1263–5

30.

Bleier W. Therapie von Zyklus- und Blutungsstörungen und weiteren endokrin bedingten Erkrankungen der Frau mit pflanzlichen Wirkstoffen. Zentralbl Gynakol 1959; 81: 701–9

31.

Coeugniet E, Elek E, Kühnast R. Das prämenstruelle Syndrom (PMS) und seine Behandlung. Ärztezeitschr f Naturheilverf 1986; 27: 619–22

32.

Propping D, Katzorke T. Behandlung der Gelbkorperschwache. Z Allg Med 1987; 63: 932–3

33.

Propping D, Katzorke Th, Belkien L. Diagnostik und Therapie der Gelbkörperschwäche in der Praxis. Therapiewoche 1988; 38: 2992–3001

34.

Neumann-Kuhnelt B, Stief G, Schmiady H, et al. Investigation of possible effects of the phytotherapeutic agent Agnus Castus on the follicular and corpus luteum phase [abstract]. Hum Reprod 1993; 8Suppl. 1: 110

35.

Berger D, Schaffner W, Schrader E, et al. Efficacy of Vitex agnus castus L. extract Ze 440 in patients with pre-menstrual syndrome (PMS). Arch Gynecol Obstet 2000; 264: 150–3

36.

Feldmann HU, Albrecht M, Lamertz M, et al. Therapie bei Gelbkörperschwäche bzw. pramenstruellem Syndrom mit Vitex-agnus-castus-Tinktur. Gyne 1990; 12: 421–5

37.

Loch EG, Böhnert KJ, Peeters M, et al. Die Behandlung von Blutungsstörungen mit Vitex-agnus-castus-Tinktur. Der Frauenarzt 1991; 32: 867–70

38.

Propping D, Böhnert KJ, Peeters M, et al. Vitex agnus castus. Behandlung gynäkologischer Krankheitsbilder. Therapeutikon 1991; 5: 581–5

39.

Dittmar FW, Böhnert KJ, Peeters M, et al. Prämenstruelles Syndrom, Behandlung mit einem Phytopharmakon. TW Gynakologie 1992; 5: 60–8

40.

Peters-Welte C, Albrecht M. Regeltempostörungen und PMS: vitex agnus-castus in einer Anwendungsbeobachtung. TW Gynäkologie 1994; 7: 49–52

41.

Loch EG, Selle H, Boblitz N. Treatment of premenstrual syndrome with a phytopharmaceutical formulation containing Vitex agnus castus. J Womens Health Gend Based Med 2000; 9: 315–20

42.

Blank A. Vitex Agnus Castus- vom Keuschlamm zur zyklusund fertilitatsregulierenden Heilpflanze in der alltaglichen gynakologischen Praxis. Rationale Phytotherapie demonstriert an klinischen Fallbeispielen EHK 1999; 9: 543–9

43.

Amann W. Amenorrhoe. Gunstige Wirkung von Agnus castus (Agnolyt®) auf Amenorrhoe. Z Allgemeinmed 1982; 58: 228–31

44.

Probst V. Behandlung von gynäkologischen Blutungsstörungen. Therapiewoche 1955; 5: 530–1

45.

Loch EG, Kaiser E. Diagnostik und Therapie dyshormonaler Blutungen in der Praxis. Gynaköl Prax 1990; 14: 489–95

46.

Amann W. Besserung der Akne vulgaris nach Agnus castus (Agnolyt®). Ther Ggw 1967; 106: 124–5

47.

Amann W, Kerres H. Erfahrungen aus der Praxis. Besserung der Stilleistung nach Gabe von Agnus castus. Medizin Heute 1966; 15: 90–1

48.

Albus A. Herpes simplex recidivans als fragmentäres Zeichen eines pramenstruellen Syndroms. Zeitschrift für Haut und Geschlechtskrankheiten 1964; 36: 220–3

49.

Hillebrand H. Die Behandlung der prämenstruellen Stomatitis aphthosa ulcerosa mit Agnolyt®. Landarzt 1964; 40: 1577

50.

Ernst E, De Smet PA, Shaw D, et al. Traditional remedies and the "test of time". Eur J Clin Pharmacol 1998; 54: 99–100

51.

Barnes J, Mills SY, Abbot NC, et al. Different standards for reporting ADRs to herbal remedies and conventional OTC medicines: face-to-face interviews with 515 users of herbal remedies. Br J Clin Pharmacol 1998; 45: 496–500

52.

Ernst E, Abbot NC. I shall please: the mysterious power of placebos. In: Sergio Della Sala, editor. Mind myths: exploring popular assumptions about the mind and brain. England: John Wiley & Sons Ltd, 1999: 209–13

53.

Ernst E. Towards a risk-benefit evaluation of placebos. Wien Med Wochenschr 1998; 148: 461–3

54.

Bohnert KJ, The use of Vitex agnus castus for hyperprolactinemia. Q Rev Nat Med 1997 Spring: 19–21

55.

Houghton P. Agnus castus. Pharmaceut J 1994; 253: 720–1

56.

Barnes J, Anderson LA, Plillipson JD. Herbal medicine. 2nd ed. London: The Pharmaceutical Press, 2002
Acknowledgements
The authors wish to thank Barbara Wider and Katja Schmidt, Complementary Medicine, Peninsula Medical School, Universities of Exeter and Plymouth, for the translation of studies from German and Professor Gabriela Mazzanti, Department of Pharmacology of Natural Substances and General Physiology, University of Rome 'La Sapienza', for her support.
No sources of funding were used to assist in the preparation of this review. The authors have no conflicts of interest that are directly relevant to the content of this review.
About this article
Cite this article
Daniele, C., Coon, J.T., Pittler, M.H. et al. Vitex agnus castus. Drug-Safety 28, 319–332 (2005). https://doi.org/10.2165/00002018-200528040-00004
Keywords
Acne

Ambroxol

Menstrual Disorder

Aucubin

Adverse Drug Reaction Advisory Committee