Abstract
The 'atypical' antidepressants comprise a heterogenous class with wide variation in presentation and management during overdose, both when compared with each other and with more traditional agents.
Further toxico-epidemiological data are required to make definitive predictions about the clinical effects of most of these agents in overdose. Here, however, we review the available information in a manner intended to benefit both prescribers and clinical toxicologists.
Our conclusion is that there can be no generic response by medical practitioners as to the 'safety' of these new antidepressants. Though undoubtedly exhibiting fewer problems in specific areas than some of the older classes of agents (e.g. arrhythmias with tricyclic antidepressants) each nonetheless presents unique safety problems.
We experienced great difficulty obtaining accurate information from the manufacturers about the animal toxicity data upon which their recommended human dose limits were set. This highlights the uncertainties involved with too readily making 'safety' claims about these agents.
The decision to prescribe 'atypical'antidepressant medications alleged to be both efficacious and safe in overdose involves a medicolegal tension. This tension is between respecting patient autonomy through frank communication of the material risk of overdose and non-disclosure to avoid such harm.
Access options
Buy single article
Instant access to the full article PDF.
US$ 49.95
Tax calculation will be finalised during checkout.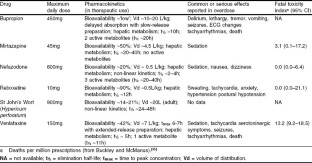 References
1.

Bulik CM, Carpenter LL, Kupfer DJ, et al. Features associated with suicide attempts in recurrent major depression. J Affect Disord 1990; 18(1): 29–37

2.

Boardman AP, Healy D. Modelling suicide risk in affective disorders. Eur Psychiatry 2001; 16(7): 400–5

3.

Farmer R. Epidemiology of suicide. Int Clin Psychopharmacol 1992; 6Suppl. 6: 1–11

4.

Goldney RD, Fisher LJ, Wilson DH, et al. Suicidal ideation and health-related quality of life in the community. Med J Aust 2001; 175(10): 546–9

5.

de Jonghe F, Swinkels JA. The safety of antidepressants. Drugs 1992; 43Suppl. 2: 40–6

6.

Swinkels JA, de Jonghe F. Safety of antidepressants. Int Clin Psychopharmacol 1995; 9Suppl. 4: 19–25

7.

Buckley NA, McManus PR. Can the fatal toxicity of antidepressant drugs be predicted with pharmacological and toxicological data? Drug Saf 1998; 18(5): 369–81

8.

Kapur S, Mieczkowski T, Mann JJ. Antidepressant medications and the relative risk of suicide attempt and suicide. JAMA 1992; 268(24): 3441–5

9.

Henry JA, Alexander CA, Sener EK. Relative mortality from overdose of antidepressants. BMJ 1995; 310(6974): 221–4

10.

Frommer DA, Kulig KW, Marx JA, et al. Tricyclic antidepressant overdose: a review. JAMA 1987; 257(4): 521–6

11.

Power A. Drug treatment of depression: citalopram in overdose may result in serious morbidity and death. BMJ 1998; 316(7127): 307–8

12.

Hale AS. Citalopram is safe. BMJ 1998; 316(7147): 1825

13.

Gerritsen AW. Safety in overdose of mirtazapine: a case report. J Clin Psychiatry 1997; 58(6): 271

14.

Beerworth EE, Tiller JW. Liability in prescribing choice: the example of the antidepressants. Aust NZ J Psychiatry 1998; 32(4): 560–6

15.

Barbey JT, Roose SP. SSRI safety in overdose. J Clin Psychiatry 1998; 59Suppl. 15: 42–8

16.

Baldwin DS. Adverse drug reactions to newer antidepressants. Adverse Drug Reaction Bulletin 2000; 200: 763–6

17.

Gillman PK. Relative toxicity of antidepressants. Aust NZ J Psychiatry 1999; 33(3): 444

18.

Buckley NA. Poisoning and epidemiology: 'Toxicoepidemiology'. Clin Exp Pharmacol Physiol 1998; 25: 198–205

19.

Williams JWJ, Mulrow CD, Chiquette E, et al. A systematic review of newer pharmacotherapies for depression in adults: evidence report summary. Ann Int Med 2000; 132(9): 743–56

20.

Hernandez JL, Ramos FJ, Infante J, et al. Severe serotonin syndrome induced by mirtazapine monotherapy. Ann Pharmacother 2002; 36(4): 641–3

21.

Demers JC, Malone M. Serotonin syndrome induced by fluvoxamine and mirtazapine. Ann Pharmacother 2001; 35(10): 1217–20

22.

Turkel SB, Nadala JG, Wincor MZ. Possible serotonin syndrome in association with 5-HT(3) antagonist agents. Psychosomatics 2001; 42(3): 258–60

23.

Benazzi F. Serotonin syndrome with mirtazapine-fluoxetine combination. Int J Geriatr Psychiatry 1998; 13(7): 495–6

24.

de Boer T. The pharmacologic profile of mirtazapine. J Clin Psychiatry 1996; 57Suppl. 4: 19–25

25.

Fawcett J, Barkin RL. Review of the results from clinical studies on the efficacy, safety and tolerability of mirtazapine for the treatment of patients with major depression. J Affect Disord 1998; 51(3): 267–85

26.

Timmer CJ, Sitsen JM, Delbressine LP. Clinical pharmacokinetics of mirtazapine. Clin Pharmacokinet 2000; 38(6): 461–74

27.

Bremner JD, Wingard P, Walshe TA. Safety of mirtazapine in overdose. J Clin Psychiatry 1998; 59(5): 233–5

28.

Hoes MJ, Zeijpveld JH. First report of mirtazapine overdose. Int Clin Psychopharmacol 1996; 11(2): 147

29.

Holzbach R, Jahn H, Pajonk FG, et al. Suicide attempts with mirtazapine overdose without complications. Biol Psychiatry 1998; 44(9): 925–6

30.

Montgomery SA. Safety of mirtazapine: a review. Int Clin Psychopharmacol 1995; 10Suppl. 4: 37–45

31.

Raja M, Azzoni A. Mirtazapine overdose with benign outcome. Eur Psychiatry 2002; 17(2): 107

32.

Retz W, Maier S, Maris F, et al. Non-fatal mirtazapine overdose. Int Clin Psychopharmacol 1998; 13(6): 277–9

33.

Velazquez C, Carlson A, Stokes KA, et al. Relative safety of mirtazapine overdose. Vet Hum Toxicol 2001; 43(6): 342–4

34.

Schaper A, Farber E, Ebbecke M, et al. Suicide with mirtazapine — hardly possible. J Toxicol Clin Toxicol 2002; 40(3): 343–4

35.

Buckley NA, McManus PR. Fatal toxicity of serotoninergic and other antidepressant drugs: analysis of United Kingdom mortality data. BMJ 2002; 325: 1332–3

36.

Gillman PK. The serotonin syndrome and its treatment. J Psychopharmacol 1999; 13(1): 100–9

37.

Stimmel GL, Dopheide JA, Stahl SM. Mirtazapine: an antidepressant with noradrenergic and specific serotonergic effects. Pharmacotherapy 1997; 17(1): 10–21

38.

Horst WD, Preskorn SH. Mechanisms of action and clinical characteristics of three atypical antidepressants: venlafaxine, nefazodone, bupropion. J Affect Disord 1998; 51(3): 237–54

39.

Khalifa M, Daleau P, Turgeon A. Mechanism of sodium channel block by venlafaxine in guinea pig ventricular myocytes. J Pharmacol Exp Ther 1999; 291(1): 280–4

40.

Patat A, Troy S, Burke J, et al. Absolute bioavailability and electroencephalographic effects of conventional and extendedrelease formulations of venlafaxine in healthy subjects. J Clin Pharmacol 1998; 38(3): 256–67

41.

Troy SM, DiLea C, Martin PT, et al. Pharmacokinetics of oncedaily venlafaxine extended release in healthy volunteers. Curr Ther Res 1997; 58(8): 504–14

42.

Ereshefsky L, Dugan D. Review of the pharmacokinetics, pharmacogenetics, and drug interaction potential of antidepressants: focus on venlafaxine. Depress Anxiety 2000; 12Suppl. 1: 30–44

43.

Kent JM. SNaRIs, NaSSAs, and NaRIs: new agents for the treatment of depression. Lancet 2000; 355(9207): 911–8

44.

Rudolph RL, Derivan AT. The safety and tolerability of venlafaxine hydrochloride: analysis of the clinical trials database. J Clin Psychopharmacol 1996; 16(3 Suppl. 2): 54S–9S

45.

Levine B, Jenkins AJ, Queen M, et al. Distribution of venlafaxine in three postmortem cases. J Anal Toxicol 1996; 20(6): 502–5

46.

Parsons AT, Anthony RM, Meeker JE. Two fatal cases of venlafaxine poisoning. J Anal Toxicol 1996; 20(4): 266–8

47.

Woo OF, Vredenburg M, Freitas P, et al. Seizures after venlafaxine overdose: a case report. J Toxicol Clin Toxicol 1995; 33(5): 549–50

48.

Kokan L, Dart RC. Life threatening hypotension from venlafaxine overdose. Ann Emerg Med 1996; 27(6): 815

49.

Colbridge MG, Volans GN. Venlafaxine in overdose — experience of the National Poisons Information Service (London Centre). J Toxicol Clin Toxicol 1999; 37(3): 383

50.

Whyte IM, Dawson AH, Buckley NA. Relative toxicity of venlafaxine in overdose compared to serotonin specific reuptake inhibitors and tricyclic antidepressants. Q J Med 2003; 96: 369–74

51.

Herrington LF, Gorman SE. Pediatric ingestion of Effexor (venlafaxine). J Toxicol Clin Toxicol 1996; 34(5): 558

52.

Banham ND. Fatal venlafaxine overdose. Med J Aust 1998; 169(8): 445, 448

53.

Thorsson B, Snook C, Thorgeirsson G. Survival after prolonged cardiac arrest from venlafaxine (abstract 125). J Toxicol Clin Toxicol 2000; 38(2): 246–7

54.

Blythe D, Hackett LP. Cardiovascular and neurological toxicity of venlafaxine. Hum Exp Toxicol 1999; 18(5): 309–13

55.

Buckley NA, Dawson AH, Reith DA. Controlled release drugs in overdose: clinical considerations. Drug Saf 1995; 12(1): 73–84

56.

Graudins A, Stearman A, Chan B. Treatment of the serotonin syndrome with cyproheptadine. J Emerg Med 1998; 16(4): 615–9

57.

Frazer A. Pharmacology of antidepressants. J Clin Psychopharmacol. 1997; 17Suppl. 1: 2S–18S

58.

Cyr M, Brown CS. Nefazodone: its place among antidepressants. Ann Pharmacother 1996; 30(9): 1006–12

59.

Davis R, Whittington R, Bryson HM. Nefazodone. A review of its pharmacology and clinical efficacy in the management of major depression. Drugs 1997; 53(4): 608–36

60.

Greene DS, Barbhaiya RH. Clinical pharmacokinetics of nefazodone. Clin Pharmacokinet 1997; 33(4): 260–75

61.

Kaul S, Shukla UA, Barbhaiya RH. Nonlinear pharmacokinetics of nefazodone after escalating single and multiple oral doses. J Clin Pharmacol 1995; 35(8): 830–9

62.

Benson BE, Mathiason M, Dahl B, et al. Toxicities and outcomes associated with nefazodone poisoning: an analysis of 1,338 exposures. Am J Emerg Med 2000; 18(5): 587–92

63.

Robinson DS, Roberts DL, Smith JM, et al. The safety profile of nefazodone. J Clin Psychiatry 1996; 57Suppl. 2: 31–8

64.

Catalano G, Catalano MC, Tumarkin NB. Nefazodone overdose: a case report. Clin Neuropharmacol 1999; 22(1): 63–5

65.

John L, Perreault MM, Tao T, et al. Serotonin syndrome associated with nefazodone and paroxetine. Ann Emerg Med 1997; 29(2): 287–9

66.

McDaniel WW. Serotonin syndrome: early management with cyproheptadine. Ann Pharmacother. 2001; 35(7-8): 870–3

67.

Peak DA. Toxic effects of nefazodone. Ann Emerg Med 1997; 30(4): 551

68.

Smith DL, Wenegrat BG. A case report of serotonin syndrome associated with combined nefazodone and fluoxetine. J Clin Psychiatry 2000; 61(2): 146

69.

Brazelton T, Blanc PD, Olson KR. Toxic effects of nefazodone. Ann Emerg Med 1997; 30(4): 550–1

70.

Schrader GD, Roberts-Thompson IC. Adverse effect of nefazodone: hepatitis. Med J Aust 1999; 170(9): 452

71.

Scates AC, Doraiswamy PM. Reboxetine: a selective norepinephrine reuptake inhibitor for the treatment of depression. Ann Pharmacother 2000; 34(11): 1302–12

72.

Fleishaker JC. Clinical pharmacokinetics of reboxetine, a selective norepinephrine reuptake inhibitor for the treatment of patients with depression. Clin Pharmacokinet 2000; 39(6): 413–27

73.

Fleishaker JC, Francom SF, Herman BD, et al. Lack of effect of reboxetine on cardiac repolarization. Clin Pharmacol Ther 2001; 70(3): 261–9

74.

Reboxetine — another new antidepressant. Drug Ther Bull 1998; 36(11):86–8

75.

Burns MJ. The Pharmacology and toxicology of reboxetine. Internet Journal of Medical Toxicology 2000; 3(4): 26

76.

Griffith JD, Carranza J, Griffith C, et al. Bupropion: clinical assay for amphetamine-like abuse potential. J Clin Psychiatry 1983; 44(5 Pt 2): 206–8

77.

Horne RL, Ferguson JM, Pope HG Jr, et al. Treatment of bulimia with bupropion: a multicenter controlled trial. J Clin Psychiatry 1988; 49(7): 262–6

78.

Findlay JW, Van Wyck FJ, Smith PG, et al. Pharmacokinetics of bupropion, a novel antidepressant agent, following oral administration to healthy subjects. Eur J Clin Pharmacol 1981; 21(2): 127–35

79.

Laizure SC, DeVane CL, Stewart JT, et al. Pharmacokinetics of bupropion and its major basic metabolites in normal subjects after a single dose. Clin Pharmacol Ther 1985; 38(5): 586–9

80.

Hesse LM, Venkatakrishnan K, Court MH, et al. CYP2B6 mediates the in vitro hydroxylation of bupropion: potential drug interactions with other antidepressants. Drug Metab Dispos 2000; 28(10): 1176–83

81.

Tucker Jr WE. Preclinical toxicology of bupropion: an overview. J Clin Psychiatry 1983; 44(5 Pt 2): 60–2

82.

Wang CM, Parker Jr CH, Maxwell RA. Electrophysiological effects of antidepressants on mammalian hearts and crayfish giant axon. J Cardiovasc Pharmacol 1981; 3(1): 101–12

83.

Spiller HA, Ramoska EA, Krenzelok EP, et al. Bupropion overdose: a 3-year multi-center retrospective analysis. Am J Emerg Med 1994; 12(1): 43–5

84.

Rohrig TP, Ray NG. Tissue distribution of bupropion in a fatal overdose. J Anal Toxicol 1992; 16(5): 343–5

85.

Shrier M, Diaz JE, Tsarouhas N. Cardiotoxicity associated with bupropion overdose. Ann Emerg Med 2000; 35(1): 100

86.

Friel PN, Logan BK, Fligner CL. Three fatal drug overdoses involving bupropion. J Anal Toxicol 1993; 17(7): 436–8

87.

Harris CR, Gualtieri J, Stark G. Fatal bupropion overdose. J Toxicol Clin Toxicol 1997; 35(3): 321–4

88.

Tracey JA, Cassidy N, Casey PB, et al. Bupropion (Zyban) toxicity. Ir Med J 2002; 95(1): 23–4

89.

Colbridge MG, Dargan PI, Jones AL. Bupropion — the experience of the National Poisons Information Service (London). J Toxicol Clin Toxicol 2002; 40(3): 398–9

90.

Johnston JA, Lineberry CG, Ascher JA, et al. A 102-center prospective study of seizure in association with bupropion. J Clin Psychiatry 1991; 52(11): 450–6

91.

Paris PA, Saucier JR. ECG conduction delays associated with massive bupropion overdose. J Toxicol Clin Toxicol 1998; 36(6): 595–8

92.

Davidson J. Seizures and bupropion: a review. J Clin Psychiatry 1989; 50(7): 256–61

93.

Velez LI, Delaney KA, Rivera W, et al. Delayed status epilepticus after a sustained release bupropion overdose. J Toxicol Clin Toxicol 2002; 403): 323–4

94.

Falkland M, McMorrow J, McKeown R, et al. Bupropion SR in overdose: subsidized poisoning. J Toxicol Clin Toxicol 2002; 40(3): 275–6

95.

Suzuki O, Katsumata Y, Oya M, et al. Inhibition of monoamine oxidase by hypericin. Planta Med 1984; 50(3): 272–4

96.

Pepping J. St. John's wort: Hypericum perforatum. Am J Health Syst Pharm 1999; 56(4): 329–30

97.

Di Carlo G, Borrelli F, Izzo AA, et al. St John's wort: Prozac from the plant kingdom. Trends Pharmacol Sci 2001; 22(6): 292–7

98.

Perovic S, Muller WE. Pharmacological profile of hypericum extract: effect on serotonin uptake by postsynaptic receptors. Arzneimittelforschung 1995; 45 (11): 1145–8

99.

Southwell IA, Bourke CA. Seasonal variation in hypericin content of Hypericum perforatum L. (St. John's Wort). Phytochemistry 2001; 56(5): 437–41

100.

Kerb R, Brockmoller J, Staffeldt B, et al. Single-dose and steady-state pharmacokinetics of hypericin and pseudohypericin. Antimicrob Agents Chemother 1996; 40(9): 2087–93

101.

Woelk H, Burkard G, Grunwald J. Benefits and risks of the hypericum extract LI 160: drug monitoring study with 3250 patients. J Geriatr Psychiatry Neurol 1994; 7Suppl. 1: S34–8

102.

Woelk H. Comparison of St John's wort and imipramine for treating depression: randomised controlled trial. BMJ 2000; 321(7260): 536–9

103.

Balfour P. Use of hypericum as antidepressant: safety in overdose needs to be established. BMJ 2000; 320(7242): 1142–3

104.

Shannon M. Alternative medicines toxicology: a review of selected agents. J Toxicol Clin Toxicol 1999; 37(6): 709–13

105.

Lantz MS, Buchalter E, Giambanco V. St. John's wort and antidepressant drug interactions in the elderly. J Geriatr Psychiatry Neurol 1999; 12(1): 7–10

106.

Bray BJ, Perry NB, Menkes DB, et al. St. John's wort extract induces CYP3A and CYP2E1 in the Swiss Webster mouse. Toxicol Sci 2002; 66(1): 27–33

107.

Patel S, Robinson R, Burk M. Hypertensive crisis associated with St. John's Wort. Am J Med 2002; 112(6): 507–8

108.

Isacsson G, Redfors I, Wasserman D, et al. Choice of antidepressants: questionnaire survey of psychiatrists and general practitioners in two areas of Sweden. BMJ 1994; 309(6968): 1546–9

109.

Gaffney PN, Schuckman HA, Beeson MS. Nefazodone overdose. Ann Pharmacother 1998; 32(11): 1249–50

110.

Hawton K, Simkin S, Deeks JJ, et al. Effects of a drug overdose in a television drama on presentations to hospital for self poisoning: time series and questionnaire study. BMJ 1999; 318(7189): 972–7
Acknowledgements
No sources of funding were used to assist in the preparation of this manuscript. The authors have no potential conflicts of interest that are directly relevant to the contents of this manuscript.
About this article
Cite this article
Buckley, N.A., Faunce, T.A. 'Atypical' Antidepressants in Overdose. Drug-Safety 26, 539–551 (2003). https://doi.org/10.2165/00002018-200326080-00002
Keywords
Venlafaxine

Bupropion

Mirtazapine

Hypericin

Nefazodone