Abstract
Objective: To analyse and compare with one another and with other antibacterial drugs the adverse drug reactions (ADRs) of the different fluoroquinolones currently used in Italy, spontaneously reported from doctors in three northern Italian regions.
Methods: The data on fluoroquinolones and other antibacterials were obtained from the spontaneous reporting system database of Emilia Romagna, Lombardy and the Veneto, which are the principal contributors to the Italian spontaneous surveillance system. The fluoroquinolone ADRs with a causality assessment of certain, probable or possible (according to WHO criteria), reported between January 1999 and December 2001, were selected and toxicity profiles of individual drugs were described and compared with one another. The reports were also correlated with sex and age of patients and with regional prescription data to estimate individual fluoroquinolone reporting rate of adverse events.
Results: During the study period, 10 011 reports were received by the system (a mean annual reporting rate of approximately 185 per million inhabitants): 1920 referred to systemic antimicrobials, of which 432 (22.5%) involved fluoroquinolones.
Pefloxacin was associated with the highest reporting rate (982 reports/daily defined dose/1000 inhabitants/day), followed by moxifloxacin (356), rufloxacin (221) and lomefloxacin (196). The most frequently reported reactions to fluoroquinolones involved the skin, but their percentage (25%) was significantly lower (p < 0.01) than those of other systemic antimicrobials (58.5%), whereas the percentages of reactions involving the central nervous (12.2 vs 3.6%), musculoskeletal (14.7 vs 0.3%) and psychiatric systems (9.3 vs 1.8%) were significantly higher (p < 0.01). We found some significant differences in the safety profiles of individual fluoroquinolones: ciprofloxacin was more frequently associated with skin reactions (p < 0.01), levofloxacin and pefloxacin with musculoskeletal (p < 0.01), and rufloxacin with psychiatric disorders (p < 0.05). Levofloxacin was the fluoroquinolone associated with the highest rate of serious tendon disorders; phototoxic reactions were more frequent with lomefloxacin, and toxic epidermal necrolysis and Stevens-Johnson syndrome were seen only with ciprofloxacin.
Conclusions: The differences in the safety profiles should be taken into account when prescribing a fluoroquinolone to individual patients.
Access options
Buy single article
Instant access to the full article PDF.
US$ 49.95
Tax calculation will be finalised during checkout.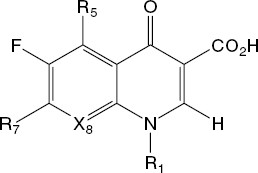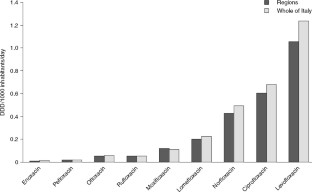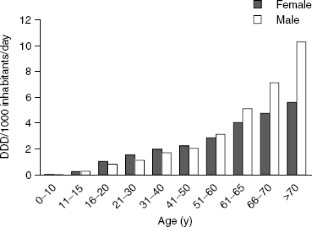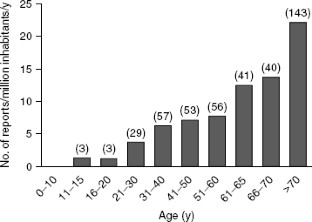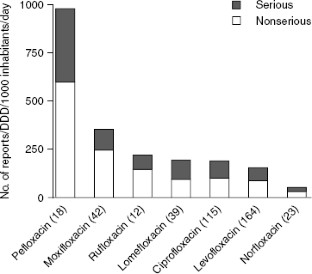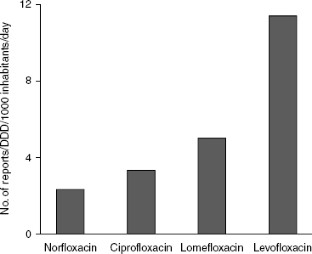 References
1.

Oliphant CM, Green GM. Quinolones: a comprehensive review. Am Fam Physician 2002; 65: 455–64

2.

King DE, Malone R, Lilley SH. New classification and update on the quinolone antibiotics. Am Fam Physician 2000; 61: 2741–7

3.

Ball P. Quinolone generations: natural history or natural selection? J Antimicrob Chemother 2000; 46: 17–24

4.

Lee MK, Katani MS. Quinolones: which generation for which microbe? West J Med 1999; 170: 359–61

5.

Ball P, Mandell L, Niki Y, et al. Comparative tolerability of the newer fluoroquinolone antibacterials. Drug Saf 1999; 21(5): 407–21

6.

Rubinstein E. History of quinolones and their side effects. Chemotherapy 2001; 47Suppl. 3: 3–8

7.

Andriole VT. The future of the quinolones. Drugs 1999; 58Suppl. 2: 1–5

8.

Bowie WR, Willetts V, Jewesson PJ. Adverse reaction in a dose-ranging study with a new long-acting fluoroquinolone, fleroxacin. Antimicrob Agents Chemother 1989; 33: 1778–82

9.

Blum MD, Graham DJ, McCloskey CA. Temafloxacin syndrome: review of 95 cases. Clin Infect Dis 1994; 18: 946–50

10.

Norrby SR, Pernet AG. Assessment of adverse events during drug development: experience with temafloxacin. J Antimicrob Chemother 1991; 28Suppl. C: 111–9

11.

U.S. Food and Drug Administration. Glaxo Wellcome voluntary withdraws Raxar (Grepafloxacin). Press release: 1999 Oct 27 [online]. Available from URL: http://www.fda.gov/medwatch/safety/1999/raxar.html [Accessed 2002 May 15]

12.

The European Agency for the Evaluation of Medicinal Products. Human Medicines Evaluation Unit. Public statement on trovafloxacin/alatrofloxacin. Press release: 1999 Jun 15 [online]. Available from URL: http://www.emea.eu.int/pdfs/human/press/pus/1804699EN.pdf [Accessed 2002 May 21]

13.

Tillotson GS, Rybak MG. New milestones achieved in fluoroquinolone safety. Pharmacotherapy 2001; 21: 358–60

14.

Domagala JM. Structure activity and structure-side-effect relationship for the quinolone antibacterials. J Antimicrob Chemother 1994; 33: 685–706

15.

Mandell LA, Ball P, Tillotson G. Antimicrobial safety and tolerability: differences and dilemmas. Clin Infect Dis 2001; 32Suppl. 1: S72–9

16.

Lipsky BA, Baker CA. Fluoroquinolone toxicity profiles: a review focusing on newer agents. Clin Infect Dis 1999; 28: 352–64

17.

Lode H. Evidence of different profiles of side effects and drug-drug interactions among the quinolones: the pharmacokinetic standpoint. Chemotherapy 2001; 47Suppl. 3: 24–31

18.

Iannini PB, Tillotson GS. Evaluating the risk of cardiac toxicity. Pharmacotherapy 2001; 21: 261–2

19.

Meyboom RHB, Egberts ACG, Gribnau FWJ, et al. Pharmacovigilance in perspective. Drug Saf 1999; 21: 429–47

20.

Pierfitte C, Bégaud B, Lagnaoui R, et al. Is reporting rate a good predictor of risks associated with drugs? Br J Clin Pharmacol 1999; 47: 329–31

21.

Figueras A, Capellà D, Castel JM, et al. Spontaneous reporting of adverse drug reactions to non-steroidal anti-inflammatory drugs. Eur J Clin Pharmacol 1994; 47: 297–303

22.

Carvajal A, Prieto JR, Requejo AA, et al. Aspirin or acetaminophen: a comparison from data collected by the Spanish Drug Monitoring System. J Clin Epidemiol 1996; 49: 255–61

23.

Wiholm BE, Emanuelsson S. Drug-related blood dyscrasias in a Swedish reporting system, 1985-1994. Eur J Haematol Suppl. 1996; 60: 42–6

24.

Spigset O. Adverse reactions of selective serotonin reuptake inhibitors. Reports from a spontaneous reporting system. Drug Saf 1999; 20(3): 277–87

25.

Routledge PA, Lindquist M, Edwards IR. Spontaneous reporting of suspected adverse reactions to antihistamines: a national and international perspective. Clin Exp Allergy 1999; 29: 240–6

26.

Conforti A, Leone R, Moretti U, et al. Adverse drug reactions related the use of NSAIDs with a focus on nimesulide. Drug Saf 2001; 24(14): 1081–90

27.

Carvajal GP, Garcia D, Sanchez SA, et al. Hepatotoxicity associated with the new antidepressants. J Clin Psychiatry 2002; 63: 135–7

28.

Uppsala Monitoring Centre. Safety monitoring of medicinal products: guidelines for setting up and running a pharmacovigilance centre. Uppsala: The Uppsala Monitoring Centre, WHO Collaborating Centre for International Drug Monitoring, 2000

29.

Olsson S. Role of WHO programme on international drug monitoring in co-ordinating world-wide drug safety efforts. Drug Saf 1998; 19(1): 1–10

30.

Strom BL. What is pharmacoepidemiology? In: Strom BL, editor. Pharmacoepidemiology, 3rd ed. Chichester: John Wiley, 2000: 3–15

31.

Edwards IR. Spontaneous reporting of what? Clinical concerns about drugs. Br J Clin Pharmacol 1999; 48: 138–41

32.

Meyboom RHB, Egberts ACG, Edwards IR, et al. Principles of signal detection in pharmacovigilance. Drug Saf 1997; 16(5): 355–65

33.

Vaccheri A, Castelvetri E, Esaka A, et al. Pattern of antibiotic use in primary health care in Italy. Eur J Clin Pharmacol 2000; 56: 417–25

34.

Nicolle LE. Quinolones in the aged. Drugs 1999; 58Suppl. 2: 49–51

35.

Bem JL, Mann RD, Rawlins MD. CSM update: review of yellow cards: 1986 and 1987 [brief update]. BMJ 1988; 296: 1319

36.

Ochsenfahrt H, Meyer zur Heyde M. Spontaneous reports on unwanted drug effects in the years 1978-1979. Fortschr Med 1981; 99: 1753–8

37.

Moore N, Noblet C, Kreft-Jais C, et al. French pharmacovigilance database system: examples and utilisation. Therapie 1995; 50: 557–62

38.

Figueras A, Capella D, Castel JM, et al. Spontaneous reporting of adverse drug reactions to non-steroidal anti-inflammatory drugs: a report from the Spanish System of Pharmacovigilance, including an early analysis of topical and enteric-coated formulations. Eur J Clin Pharmacol 1994; 47: 297–303

39.

Faich GA, Knapp D, Dreis M, et al. National adverse drug reaction surveillance: 1985. JAMA 1987; 257: 2068–70

40.

Naldi L, Conforti A, Venegoni M, et al. Cutaneous reactions to drugs: an analysis of spontaneous reports in four Italian regions. Br J Clin Pharmacol 1999; 48: 839–46

41.

Istituto Nazionale di Statistica. Sistema sanitario e salute della popolazione (second edition) [online]. Available from URL: http://www.istat.it/Banche-dat/Indicatori/01/tavole.zip [Accessed 2002 May 6]

42.

Fish DN. Fluoroquinolone adverse effects and drug interactions. Pharmacotherapy 2001; 21(10 Suppl.): 253S–272S

43.

Moretti MV, Pauluzzi S, Cesana M. Penetration of rufloxacin into the cerebrospinal fluid in patients with inflamed and uninflamed meninges. Antimicrob Agents Chemother 2000; 44: 73–7

44.

De Sarro A, Cecchetti V, Fravolini V, et al. Effects of novel 6-desfluoroquinolones and classic quinolones on pentylenetetrazole-induced seizures in mice. Antimicrob Agents Chemother 1999; 43: 1729–36

45.

Stahlmann R, Lode H. Toxicity of quinolones. Drugs 1999; 58Suppl. 2: 37–42

46.

Ball P, Tillotson G. Tollerability of fluoroquinolone antibiotics. Drug Saf 1995; 13(6): 343–58

47.

Wagai N, Yamaguchi F, Sekiguchi M, et al. Phototoxic potential of quinolone antibacterial agents in Balb/c mice. Toxicol Lett 1990; 54: 299–300

48.

Snyder RD, Cooper CS. Photogenotoxicity of fluoroquinolones in Chinese hamster V79 cells: dependency on active topoisomerase II. Photochem Photobiol 1999; 69: 288–93

49.

Klimberg IWS, Cox CE, Fowler CL, et al. A controlled trial of levofloxacin and lomefloxacin in the treatment of complicated urinary tract infection. Urology 1998; 51: 610–5

50.

Lowe NJ, Fakouhi TD, Stern RS, et al. Photoreactions with a fluoroquinolone antimicrobial: evening versus morning dosing. Clin Pharmacol Ther 1994; 56: 587–91

51.

Iannini PB. Prolongation of QT interval is probably a class effect of fluoroquinolones [letter]. BMJ 2001; 322: 46

52.

Clark DWJ, Layton D, Wilton LV, et al. Profiles of hepatic and dysrhythmic cardiovascular events following use of fluoroquinolone antibacterials. Drug Saf 2001; 24(15): 1143–54

53.

Stahlmann F. Safety profile of the quinolones. J Antimicrob Chemother 1990; 26Suppl. D: 31–44

54.

Lee WT, Collins JF. Ciprofloxacin associated bilateral Achilles tendon rupture. Aust N Z J Med 1992; 22: 500

55.

Ribard P, Audisio F, Kahn MF, et al. Seven Achilles tendinitis including 3 complicated by rupture during fluoroquinolone therapy. J Rheumatol 1992; 19: 1479–81

56.

Huston KA. Achilles tendinitis and tendon rupture due to fluoroquinolone antibiotics [letter]. N Engl J Med 1994; 331: 748

57.

Szarfman A, Chen M, Blum MD. More on fluoroquinolone antibiotics and tendon rupture [letter]. N Engl J Med 1995; 332: 193

58.

Pierfitte C, Royer RJ. Tendon disorders with fluoroquinolones. Therapie 1996; 51: 419–20

59.

Zabraniecki L, Negrier I, Vergne P, et al. Fluoroquinolone induced tendinopathy: report of 6 cases. J Rheumatol 1996; 23: 516–20

60.

McGarvey WC, Singh D, Trevino SG. Partial Achilles tendon ruptures associated with fluoroquinolone antibiotics: a case report and literature review. Foot Ankle Int 1996; 17: 496–8

61.

Carrasco JM, Garcia B, Andujar C, et al. Tendinitis associated with ciprofloxacin [letter]. Ann Pharmacother 1997; 31: 120

62.

Schwald N, Debray Meignan S. Suspected role of ofloxacin in a case of arthralgia myalgia, and multiple tendinopathy. Rev Rhum Engl Ed 1999; 66: 419–21

63.

Lewis JR, Gums JG, Dickensheets DL. Levofloxacin-induced bilateral Achilles tendinitis. Ann Pharmacother 1999; 33: 792–5

64.

Fleisch F, Hartmann K, Kuhn M. Fluoroquinolone-induced tendinopathy: also occurring with levofloxacin. Infection 2000; 28: 256–7

65.

van der Linden PD, van Puijenbroek EP, Feenstra J, et al. Tendon disorders attributed to fluoroquinolones: a study on 42 spontaneous reports in the period 1988 to 1998. Arthritis Care Res 2001; 45: 235–9

66.

van der Linden PD, van de Lei J, Nab HW, et al. Achilles tendinitis associated with fluoroquinolones. Br J Clin Pharmacol 1999; 48: 433–7

67.

van der Linden PD, Nab HW, Simonian S, et al. Fluoroquinolone use and the change in incidence of tendon ruptures in the Netherlands. Pharm World Sci 2001; 23: 89–92

68.

van der Linden PD, Sturkenboom MCJM, Herings RMC, et al. Fluoroquinolones and risk of Achilles tendon disorders: case-control study. BMJ 2002; 324: 1306–7

69.

Lomaestro BM. Fluoroquinolone-induced renal failure. Drug Saf 2000; 22(6): 479–85

70.

Schluter G. Ciprofloxacin: review of potential toxicologic effects. Am J Med 1987; 82Suppl. 4A: 91–3

71.

Mott FE, Murphy S, Hunt V. Ciprofloxacin and warfarin. Ann Intern Med 1989; 3: 542–3

72.

Kamada AK. Possible interaction between ciprofloxacin and warfarin. Ann Pharmacother 1990; 24: 27–8

73.

Johnson KC, Joe RH, Self TH. Drug interaction [letter]. J Fam Pract 1991; 33: 338

74.

Dugoni-Kramer BM. Ciprofloxacin-warfarin interaction [letter]. Ann Pharmacother 1991; 25: 1397

75.

Jolson HM, Tanner LA, Green L, et al. Adverse reaction reporting of interaction between warfarin and fluoroquinolones. Arch Intern Med 1991; 151: 1003–4

76.

Ellis RJ, Mayo MS, Bodensteiner DM. Ciprofloxacin-warfarin coagulopathy: a case series. Am J Hematol 2000; 63: 28–31

77.

Linville T, Matanin D. Norfloxacin and warfarin. Ann Intern Med 1989; 110: 751–2

78.

Baciewicz AM, Ashar BY, Locke TW. Interaction of ofloxacin and warfarin [letter]. Ann Intern Med 1993; 119: 1223

79.

Ravnan SL, Locke C. Levofloxacin and warfarin interaction. Pharmacotherapy 2001; 21: 884–5

80.

Gheno G, Cinetto L. Levofloxacin-warfarin interaction [letter]. Eur J Clin Pharmacol 2001; 57: 427
Acknowledgments
We are very grateful to the Pharmaceutical Departments of Emilia Romagna, Lombardy and the Veneto, and their local Health Districts, for collecting the adverse reaction forms. We also thank the WHO Collaborating Centre for International Drug Monitoring in Uppsala, Sweden, for allowing us to consult the WHO database.
This work was supported by the Health Regional Authorities of Emilia-Romagna, Lombardy and the Veneto. The authors have no conflicts of interest directly relevant to the content of this study.
About this article
Cite this article
Leone, R., Venegoni, M., Motola, D. et al. Adverse Drug Reactions Related to the Use of Fluoroquinolone Antimicrobials. Drug-Safety 26, 109–120 (2003). https://doi.org/10.2165/00002018-200326020-00004
Keywords
Fluoroquinolones

Levofloxacin

Moxifloxacin

Pefloxacin

Tendinitis