Abstract
This paper systematically reviews the clinical evidence relating to the safety of extracts of the herbal anxiolytic kava (Piper methysticum). Literature searches were conducted in four electronic databases and the reference lists of all papers located were checked for further relevant publications. Information was also sought from the spontaneous reporting schemes of the WHO and national drug safety bodies and ten manufacturers of kava preparations were contacted.
Data from short-term post-marketing surveillance studies and clinical trials suggest that adverse events are, in general, rare, mild and reversible. However, published case reports indicate that serious adverse events are possible including dermatological reactions, neurological complications and, of greatest concern, liver damage. Spontaneous reporting schemes also suggest that the most common adverse events are mild, but that serious ones occur. Controlled trials suggest that kava extracts do not impair cognitive performance and vigilance or potentiate the effects of central nervous system depressants. However, a possible interaction with benzodiazepines has been reported.
It is concluded that when taken as a short-term monotherapy at recommended doses, kava extracts appear to be well tolerated by most users. Serious adverse events have been reported and further research is required to determine the nature and frequency of such events.
We're sorry, something doesn't seem to be working properly.
Please try refreshing the page. If that doesn't work, please contact support so we can address the problem.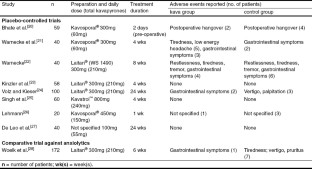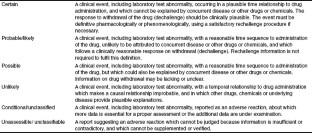 Notes
1.

Use of trade names is for product identification purposes only and does not imply endorsement.
References
1.

Pittler MH, Ernst E. Efficacy of kava extract for treating anxiety: systematic review and meta-analysis. J Clin Psychopharmacol 2000; 20: 84–9

2.

Mathews JD, Riley MD, Fejo L, et al. Effects of the heavy usage of kava on physical health: summary of a pilot survey in an Aboriginal community. Med J Aust 1988; 148: 548–55

3.

Norton SA, Ruze P. Kava dermopathy. J Am Acad Dermatol 1994; 31: 89–97

4.

Spillane PK, Fisher DA, Currie BJ. Neurological manifestations of kava intoxication. Med J Aust 1997; 167: 172–3

5.

Chanwai LG. Kava toxicity. Emerg Med 2000; 12: 142–5

6.

Mathews JD, Riley MD. The effects of heavy usage of kava on physical health [letter]. Med J Aust 1988; 149: 342

7.

Yates KM, Horsley CAE. 'Herbal ecstasy': a case series of adverse reactions. N Z Med J 2000; 113: 315–7

8.

Prescott J, Jamieson D, Emdur N, et al. Acute effects of kava on measures of cognitive performance, physiological function and mood. Drug Alcohol Rev 1993; 12: 49–58

9.

Russell PN, Bakker D, Singh NN. The effects of kava on alerting and speed of access of information from long-term memory. Bull Psychonomic Soc 1987; 25: 236–7

10.

Foo H, Lemon J. Acute effects of kava, alone or in combination with alcohol, on subjective measures of impairment and intoxication and on cognitive performance. Drug Alcohol Rev 1997; 16: 147–55

11.

Unger L. Veränderung psychovegetativer Beschwerden unter Therapie mit Kavain [in German]. Therapiewoche 1988; 38: 3171–4

12.

Volz HP, Hänsel R. Kava-Kava und Kavain in der Psychopharmakotherapie [German]. Psychopharmakotherapie 1994; 1: 33–9

13.

Saletu B, Grünberger J, Linzmayer L, et al. EEG-brain mapping, psychometric and psychophysiological studies on central effects of kavain - a kava plant derivative. Hum Psychopharmacol 1989; 4: 169–90

14.

Kretschmer W. Kavain als Psychopharmakon [in German]. Munch Med Woschenschr 1970; 112: 154–8

15.

Kretschmer W. Psychische Wirkungen von Kavain [in German]. Munch Med Woschenschr 1974; 116: 741–2

16.

Krueger H, Kell G. Die Wirkung von Neuronika® auf die motorische Reaktionszeit und die visuell-mentale Verarbeitungszeit [in German]. Therapiewoche 1977; 27: 9417–20

17.

Ambrozi L, von Dier Einfluss DL. Kavain (Neuronika®) auf Konzentrationsfähigkeit, Kurzzeitgedächtnis, Reaktionssicherheit und Reaktionsgeschwindigkeit [in German]. Therapiewoche 1979 29: 5967–70

18.

Siegers CP, Honold E, Krall B, et al. Ergebnisse einer Anwendungsbeobachtung L1090 mit Laitan® Kapseln [in German]. Arzneimittelforschung 1992; 39: 7–11

19.

Hofmann R, Winter U. Therapeutische Möglichkeitenmit Kava Kava bei Angsterkrankungen [in German]. Psycho Zeitschift Praxis Klin 1996; 22: 51–3

20.

Bhate H, Gerster G, Gracza E. Orale Prämedikation mit Zubereitungen aus Pipermethysticumbei operativen Eingriffen in Epiduralanästhesie [in German]. Erfahrungsheilkunde 1989; 6: 339–45

21.

Warnecke G, Pfaender H, Gerster G, et al. Wirksamkeit von Kawa-kawa-Extrakt beim klimakterischen Syndrom [in German]. Z Phytother 1990; 11: 1–6

22.

Warnecke G. Psychsomatische Dysfunktionen im weiblichen Klimakterium [in German]. Fortschr Med 1991; 109: 118–22

23.

Kinzler E, Krömer J, Lehmann E. Wirksamkeit eines Kava-Spezial-Extraktes bei Patienten mit Angst-, Spannungs- und Erregungszuständen nicht-psychotischer Genese [in German]. Arzneimittelforschung 1991; 41: 584–8

24.

Volz HP, Kieser M. Kava-kava extractWS 1490 versus placebo in anxiety disorders: a randomized placebo-controlled 25-week outpatient trial. Pharmacopsychiatry 1997; 30: 1–5

25.

Singh NN, Ellis CR, Singh YN. A double-blind, placebo-controlled study of the effects of kava (Kavatrol) on daily stress and anxiety in adults. Altern Ther 1998; 4: 97–8

26.

Lehmann E. Wirkung von Kava-Kava bei akuter Angst [in German]. Synopsis Zeitschift Biopsychosoziale Med 1998; 2: 59–64

27.

De Leo V, La Marca A, Lanzetta D, et al. Valutazione dell' associazione di estratto di kava-kava e terapia ormonale sostitutiva nel trattamento d'ansia in postmenopausa [in Italian]. Minerva Ginecol 2000; 52: 263–7

28.

Woelk H, Kapoula O, Lehrl S, et al. Behandlung von Angst-Patienten [in German]. Z Allgemeinmed 1993; 69: 271–7

29.

Jappe U, Franke I, Reinhold D, et al. Sebotropic drug reaction resulting from kava-kava extract therapy: a new entity? J Am Acad Dermatol 1998; 38: 104–6

30.

Guro-Razuman S, Anand P, Hu Q, et al. Dermatomyositis-like illness following kava-kava ingestion. J Clin Rheumatol 1999; 5: 342–5

31.

Schmidt P, Boehncke WH. Delayed-type hypersensitivity reaction to kava-kava extract. Contact Dermatitis 2000; 42: 363–4

32.

Süss R, Lehmann P. Hämatogenes Kontaktekzem durch pflanzliche Medikamente am Beispiel des Kavawurzel-extraktes [in German]. Hautarzt 1996; 47: 459–61

33.

Schelosky L, Raffauf C, Jendroska K, et al. Kava and dopamine antagonism. J Neurol Neurosurg Psychiatry 1995; 58: 639–40

34.

Stoller R. Leberschädigungen unter Kava-Extrakten [in German]. Schweizerische Ärztezeitung 2000; 31: 1335–6

35.

Strahl S. Ehret V, Dahm HH, et al. Nekrotisierende Hepatitis nach Einnahme pflanzlicherHeilmittel [in Dutch]. Dtsch Med Wochenschr 1998; 123: 1410–4

36.

Escher M, Desmeules J. Hepatitis associated with Kava, a herbal remedy for anxiety. BMJ 2001; 322: 139

37.

Russmann S, Lauterburg BH, Helbling A. Kava hepatotoxicity. Ann Intern Med 2001; 135: 68–9

38.

Donadio V, Bonsi P, Zele I, et al. Myoglobinuria after ingestion of extracts of guarana, Ginkgo biloba and kava [letter]. Neurol Sci 2000; 21: 124

39.

Almeida JC, Grimsley EW. Coma from the health food store: interaction between kava and alprazolam. Ann Intern Med 1996; 125: 940–1

40.

Münte TF, Heinze HJ, Matzke M, et al. Effects of oxazepam and an extract of kava roots (Piper methysticum) on event-related potentials in a word recognition task. Neuropsychobiology 1993; 27: 46–53

41.

Heinze HJ, Münte TF, Steitz J, et al. Pharmacopsychological effects of oxazepam and kava-extract in a visual search paradigm assessed with event-related potentials. Pharmacopsychiatry 1994; 27: 224–30

42.

Johnson D, Frauendorf A, Stecker K, et al. Neurophysiologisches Wirkprofil und Verträglichkeit von Kava-Extrakt WS 1490: eine Pilotstudie mit randomisierter Auswertung [in German]. TW Neurol Psychiatr 1991; 5: 349–54

43.

Gessner B, Cnota P. Untersuchung der Vigilanz nach Applikation von Kava-Kava-Extrakt, Diazepam oder Plazebo [in German]. Z Phytother 1994; 15: 30–7

44.

Herberg KW. Fahrtüchtigkeit nach Einnahme von Kava-Spezial-Extrakt WS 1490, Doppelblinde, placebokontrollierte Studie [in German]. Z Allgemeinmed 1991; 13: 842–6

45.

Herberg KW. Influence of kava special extract WS 1490 in combination with ethyl alcohol on safety-related performance parameters. Blutalkohol 1993; 30: 96–105

46.

Herberg KW. Safety-related performance after intake of kava-extract, bromazepam and their combination. Z Allgemeinmed 1996; 72: 973–7

47.

Emser W, Bartylla K. Verbesserung der Schlafqualität. Zur Wirkung von Kava-Extrakt WS 1490 auf das Schlafmuster bei Gesunden [in German]. TW Neurol Psychiatr 1991; 5: 636–42

48.

Barnes J, Mills SY, Abbot NC, et al. Different standards for reporting ADRs to herbal remedies and conventional OTC medicines: face to face interviews with 515 users of herbal remedies. Br J Clin Pharmacol 1998; 45: 496–500

49.

Ernst E, Barnes J. Methodological approaches to investigating the safety of complementary medicine. Complement Ther Med 1998; 6: 115–21

50.

Blumenthal M, Busse WR, Goldberg A, et al. The complete German Commission E monographs. Austin (TX): American Botanical Council, 1998

51.

Baum S, Hill R, Rommelspacher H. Effect of kava extract and individual kavapyrones on neurotransmitter levels in the nucleua accumbens of rats. Prog Neuropsychopharmacol Biol Psychiatry 1998; 22: 1105–20

52.

Russo E. Handbook of psychotropic herbs: a scientific analysis of herbal remedies for psychiatric conditions. New York: Haworth, 2001: 176–7

53.

Barbone F, McMahon AD, Davey PG, et al. Association of road-traffic accidents with benzodiazepine use. Lancet 1998; 352: 1331–6

54.

Webb G. Kava improperly implicated in semi-comatose patient using conventional drugs. American Botanical Council Herb Clip, 1997 Sep 11
Acknowledgements
No funding was obtained for this study. Potential conflicts of interest: Alyson Huntley is funded by Boots UK who formerly sold kava preparations. Clare Stevinson and Edzard Ernst in the past received funding from Lichtwer Pharma who manufactured a kava preparation.
About this article
Cite this article
Stevinson, C., Huntley, A. & Ernst, E. A Systematic Review of the Safety of Kava Extract in the Treatment of Anxiety. Drug-Safety 25, 251–261 (2002). https://doi.org/10.2165/00002018-200225040-00003
Keywords
Ecstasy

Alprazolam

Terazosin

Bromazepam

International Drug Monitoring