Abstract
Self medication is becoming an increasingly important area within healthcare. It moves patients towards greater independence in making decisions about management of minor illnesses, thereby promoting empowerment. Self medication also has advantages for healthcare systems as it facilitates better use of clinical skills, increases access to medication and may contribute to reducing prescribed drug costs associated with publicly funded health programmes. However, self medication is associated with risks such as misdiagnosis, use of excessive drug dosage, prolonged duration of use, drug interactions and polypharmacy. The latter may be particularly problematic in the elderly. Monitoring systems, a partnership between patients, physicians and pharmacists and the provision of education and information to all concerned on safe self medication, are proposed strategies for maximising benefit and minimising risk.
This is a preview of subscription content, log in to check access.
Access options
Buy single article
Instant access to the full article PDF.
US$ 49.95
Price includes VAT for USA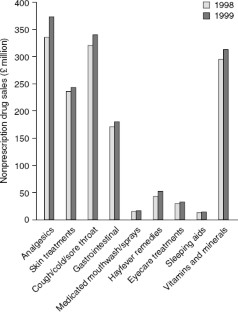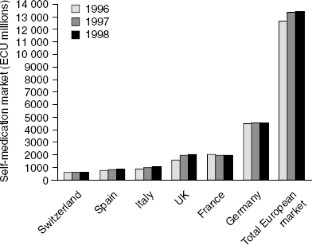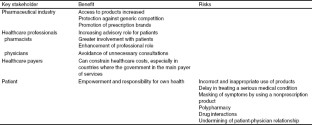 References
1.

Stearns SC, Bernard SL, Fasick SB, et al. The economic implications of self-care: the effect of lifestyle, functional adaptations and medical self-care among a national sample of Medicare beneficiaries. Am J Public Health 2000; 90: 1608–12

2.

Keen PJ. POM to P: useful opportunity or unacceptable risk. J R Soc Med 1994; 87: 422–5

3.

Bradley CP, Bond C. Increasing the number of drugs available over the counter: arguments for and against. Br J Gen Pract 1995; 45: 553–6

4.

Soller RW. OTCS 2000: achievements and challenges. Drug Info J 2000; 34: 693–701

5.

Proprietary Association of Great Britain (PAGB). Annual Review and Report 2000. London: PAGB, 2000

6.

Association of the European Self-Medication Industry (AESGP) website [online]. Available from URL: http://www.aesgp.be [Accessed 2001 Jun 12]

7.

Blenkinsopp A, Bradley C. Patients, society, and the increase in self-medication. BMJ 1996; 312: 629–32

8.

Emergency contraception to go over the counter. BMJ 2000; 321: 1488

9.

Drife JO. Deregulating emergency contraception. BMJ 1993; 307: 695–6

10.

Matheson CI, Smith BH, Flett G, et al. Over-the-counter emergency contraception: a feasible option. Fam Pract 1998; 15: 38–43

11.

O'Brien K, Gray N. Supplying emergency hormonal contraception in Manchester under a group prescribing protocol. Pharm J 2000; 264: 518–9

12.

Harper R, Barrett G. Community pharmacist and general practitioner attitudes to the deregulation of emergency contraception. J Soc Admin Pharm 1998; 15: 83–912

13.

Wearn A, Gill P, Gray M, et al. Pharmacists' views on deregulating emergency hormonal contraception. Pharm J 2001; 266: 89–92

14.

European Community 1992. EUR-LEX: Community legislation in force. Document 392L0026. Council directive 92/26/EEC of 31 March 1992 concerning the classification for the supply of medicinal products for human use [online]. Available from: URL: http://europa.eu.int/eur-lex/en/lif/dat/1992/en_392L0026.html [Accessed 2001 Jun 5]

15.

Herxheimer A. Self-medication industry is determined to expand. Lancet 1999; 353: 2136

16.

Hollenbeak CS. The effect of generic competition on prescription to over-the counter switching. Pharmacoeconomics 1999; 16: 661–8

17.

Powis MG, Rogers PJ, Wood SM. United Kingdom community pharmacists' views on recent 'POM to 'P' switched medicines. J Soc Admin Pharm 1996; 13: 188–97

18.

Kennedy JG. Over the counter drugs. Changing the role of doctors and pharmacists. BMJ 1996; 312: 593–4

19.

Ferner RE. Dispensing with prescriptions [editorial]. BMJ 1994; 308: 1316

20.

Erwin J, Britten N, Jones R. General practitioners' views on over the counter sales by community pharmacists. BMJ 1996; 312: 617–8

21.

Sihvo S, Hemminki E, Ahonen R. Physicians' attitudes towards reclassifiying drugs as over-the-counter. Med Care 1999; 37: 518–25

22.

Minghetti P, Casiraghi A, Cilurzo F, et al. The situation of OTC drugs in Italy compared to other EU states. Pharmacol Res 2000; 42: 25–31

23.

Angus DE, Karpetz HM. Pharmaceutical policies in Canada. Issues and Challenges. Pharmacoeconomics 1998; 14Suppl. 1: 81–96

24.

Tasch RF, Goeree R, Henke CJ, et al. Switching the histamine H2-receptor antagonist famotidine to nonprescription status in Canada. Pharmacoeconomics 1996; 9: 61–75

25.

Coulter A. Paternalism or partnership? BMJ 1999; 319: 719–20

26.

Sculpher MJ, Watt I, Gafni A. Shared decision making in a publicly funded health care system. BMJ 1999; 319: 725–6

27.

Bradley C, Blenkinsopp A. The future for self-medication. BMJ 1996; 312: 835–7

28.

British Market Research Bureau. Everyday healthcare study of self-medication in Great Britain. British market Research Bureau: London, 1997: 5–6

29.

Bell HM, McElnay JC, Hughes CM. Societal perspectives on the role of the community pharmacist and community-based pharmaceutical services. J Soc Admin Pharm 2000; 17: 119–28

30.

Ferris DG, Dekle C, Kitaker MS. Women's use of over-the-counter antifungal medications for gynecological symptoms. J Fam Pract 1996; 42: 595–600

31.

Andersen M, Schou JS. Safety implications of the over-the-counter availability of H2-antagonists. Drug Saf 1993; 8: 179–85

32.

Holt GA, Hall EL. The self-care movement. In: American Pharmaceutical Association/The National Professional Society of Pharmacists. Handbook of nonprescription drugs. 9th ed. Washington, DC: American Pharmaceutical Society 1990: 1–10

33.

Hughes GF, McElnay JC, Hughes CM. Abuse and misuse of non-prescription drugs. Pharm World Sci 1999; 21: 251–5

34.

Russell JM, Barton SE, Lawrence AG. Self-medication by women attending a genitourinary medicine clinic. Int J STD AIDS 1990; 1: 279–81

35.

Taylor CA, Lipsky MS. Physicians' perceptions of the impact of the reclassification of vaginal antifungal agents. J Fam Pract 1994; 38: 157–60

36.

Sihvo S, Ahonen R, Mikander H, et al. Self-medication with vaginal antifungal drugs: physicians' experiences and women's utilization patterns. Fam Pract 2000; 17: 145–9

37.

Honig PK, Cantilena LR. Polypharmacy. Pharmacokinetic perspectives. Clin Pharmacokinet 1994; 26: 85–90

38.

Honig PK, Gillespie BK. Clinical significance of pharmacokinetic drug interactions with over-the-counter (OTC) drugs. Clin Pharmacokinet 1998; 35: 167–71

39.

Sihvo S, Klaukka T, Martikainen J, et al. Frequency of daily over-the-counter drug use and potential clinically significant over-the-counter prescription drug interactions in the Finnish adult population. Eur J Clin Pharmacol 2000; 56: 495–9

40.

British National Formulary No. 40. London: British Medical Association and Royal Pharmaceutical Society of Great Britain, 2000 Sep: 609–48

41.

Chrischilles EA, Lemke JH, Wallace RB. Prevalence and characteristics of multiple analgesic drug use in an elderly patient study group. J Am Geriatr Soc 1990; 38: 979–84

42.

Batty GM, Oborne CA, Swift CG, et al. The use of over-the-counter medication by elderly medical in-patients. Postgrad Med J 1997; 73: 720–2

43.

Kogan MD, Pappas G, Yu SM, et al. Over-the-counter medication use among US preschool-age children. JAMA 1994; 272: 1025–30

44.

Kacew S. Effect of over-the-counter drugs on the unborn child. What is known and how should this influence prescribing? Paediatr Drugs 1999; 1: 75–80

45.

Bradley CP, Riaz A, Tobias RS, et al. Patient attitudes to over-the-counter drug and possible professional responses to self-medication. Fam Pract 1998; 15: 44–50

46.

Committee on the Safety of Medicines. Current problems: ventricular arrhythmias due to terfenadine and astemizole. Cur Problem Pharmacovigilance 1992; 32: 1–2

47.

Rogers PJ, Fletcher G, Rees JE. Patient medication records in community pharmacy. Pharm J 1992; 248: 193–6

48.

Rogers PJ, Rees JE. Comparison of the use of PMRs in community pharmacy in 1991 and 1995: (1) PMR use and recording of product details. Pharm J 1996; 256: 161–6

49.

Sinclair HK, Bond CM, Hannaford PC. Pharmacovigilance of over-the-counter products based on community pharmacy: a feasible option? Pharmacoepidemiol Drug Saf 1999; 8: 479–91

50.

Sanz F, Silveira C, Diaz C et al. Information technology in community pharmacies for supporting responsible self-medication. Am J Health Syst Pharm 2000; 57: 1601–3

51.

Royal Pharmaceutical Society of Great Britain. From compliance to concordance: achieving shared goals in medicine taking. London: Royal Pharmaceutical Society of Great Britain and Merck, Sharp and Dohme, 1997

52.

French JK, Holdaway IM, Williams LC. Milk alkali syndrome following over-the-counter antacid self-medication. N Z Med J 1986: 99: 322–33

53.

Rochon PA, Gurwitz JH. Optimising drug treatment for elderly people: the prescribing cascade. BMJ 1997; 315: 1096–9

54.

Hughes GF. Drug abuse and misuse: a community pharmacy perspective. PhD Thesis. Belfast: The Queen's University of Belfast, 2000 Oct

55.

Americans at risk from self-medication, survey reveals. Am J Health Syst Pharm 1997; 54: 2664–6

56.

Sihvo S, Hemminki E. Self-medication of dyspepsia: how appropriate is it? Scand J Gastroenterol 1997; 32: 855–61

57.

Sihvo S, Hemminki E. Self-medication and general health habits in the management of upper gastrointestinal symptoms. Patient Educ Couns 1999; 37: 55–63

58.

Ranno B, Wardlaw GM, Geiger CJ. What characterizes elderly women who overuse vitamin and mineral supplements? J Am Diet Assoc 1988; 3: 347–8

59.

Daly MP, Sobal J. Vitamin/mineral supplement use by geriatric outpatients in the United Kingdom. J Nutr Elder 1990; 10: 55–64

60.

Shepperd S, Charnock D, Gann B. Helping patients access high quality health information. BMJ 1999; 319: 764–6

61.

Smith MBH, Feldman W. Over-the-counter cold medications. A critical review of clinical trials between 1950 and 1991. JAMA 1993; 269: 2258–63

62.

Bradley B, Hughes C, Sturgess I. The use of non-prescription medicines in elderly patients. In: Adair C. editor. Managing medicines in elderly patients. Belfast: Northern Ireland Centre for Postgraduate Pharmaceutical Education and Training, 2000: 67–87

63.

Segall A. A community survey of self-medication activities. Med Care 1990; 28: 301–10
Ongoing research by the authors into the optimal use of over-the-counter medicines is being sponsored by the Proprietary Association of Great Britain.
About this article
Cite this article
Hughes, C.M., McElnay, J.C. & Fleming, G.F. Benefits and Risks of Self Medication. Drug-Safety 24, 1027–1037 (2001). https://doi.org/10.2165/00002018-200124140-00002
Keywords
European Union

Famotidine

Terfenadine

Community Pharmacist

Astemizole