Abstract
Drug-induced hepatotoxicity is a frequent cause of liver disease. Although often presenting as acute hepatitis and/or cholestasis, virtually any clinicalpathological pattern of acute or chronic liver disease can occur. Most reactions occur in a small proportion of the population using a particular drug. Each drug associated with hepatotoxicity tends to have a characteristic signature regarding latency and pattern of injury. The mechanism can be drug metabolism-dependent or related to the chemical properties of the parent drug. The former are immune mediated or due to metabolic idiosyncrasy. Monitoring serum ALT levels is of unproven effectiveness but should be considered when there is an increased risk of delayed onset serious hepatitis-like reactions. The key for the future is improved identification of toxic potential in preclinical studies, clinical trials and postmarketing experience. The elucidation of the genetic and environmental mechanisms contributing to delayed idiosyncratic reactions is a major barrier to overcome in this field.
Access options
Buy single article
Instant access to the full article PDF.
USD 49.95
Price includes VAT (USA)
Tax calculation will be finalised during checkout.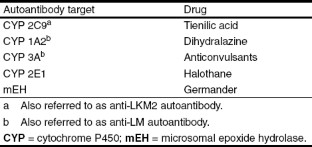 References
1.

Ostapowicz G, Fontana RB, Larson AM, et al. Etiology and outcome of acute liver failure in the USA: preliminary results of a prospective multi-center study [abstract]. Hepatology 1999; 30(4): 221A

2.

Shakil A, Kramer D, Mazariegos G, et al. Acute liver failure: clinical features, outcome analysis, and applicability of prognostic criteria. Liver Transpl 2000; 16: 163–9

3.

Zimmerman H. Drug-induced liver disease, In: Schiff E, Sorrell M and Maddrey W, editors. Schiff's diseases of the liver. 8th ed. Philadelphia (PA): Lippincott-Raven Publishers, 1999: 973–1064

4.

Kaplowitz N. Drug metabolism and hepatotoxicity. In: Kaplowitz N, editor. Liver and biliary diseases. 2nd ed. Baltimore (MD): Williams and Wilkins, 1996: 103–20

5.

Desmet VJ. Vanishing bile duct syndrome in drug-induced liver disease. J Hepatology 1997; 26Suppl. 1: 31–5

6.

Degott C, Feldmann G, Larrey D, et al. Drug-induced prolonged cholestasis in adults: a histological semiquantitative study demonstrating progressive ductopenia. Hepatology 1992; 15: 244–51

7.

Van Steenberen W, Peeters P, DeBondt J, et al. Nimesulideinduced acute hepatitis: evidence from six cases. J Hepatology 1998; 29: 135–41

8.

Pham T-V, Lu S, Kaplowitz N. Acetaminophen hepatotoxicity. In: Taylor, editor. Gastrointestinal emergencies. 2nd ed. Baltimore (MD): Williams & Wilkins, 1997: 371–88

9.

Tarazi E, Harter JG, Zimmerman HJ, et al. Sulindac-associated hepatic injury: analysis of 91 cases reported to the Food and Drug Administration. Gastroenterology 1993; 104: 569–74

10.

Shear N, Spielberg S. Anticonvulsant hypersensitivity syndrome: in vitro assessment of risk. J Clin Invest 1988; 82: 1826–32

11.

Larrey D, Vial T, Micaleff A, et al. Hepatitis associated with amoxycillin-clavulanic acid combination. Report of 15 cases Gut. 1992; 33: 368–71

12.

Thompson N, Caplin M, Hamilton M, et al. Anti-tuberculosis medication and the liver: dangers and recommendations in management. Eur Respir J 1995; 8: 1384–8

13.

Murphy E, Davern T, Shakil O, et al. Troglitazone-induced fulminant hepatic failure. Dig Dis Sci 2000; 45: 549–3

14.

Durand F, Bernuau J, Pessayre D, et al. Deleterious influence of pyrazinamide on the outcome of patients with fulminant or subfulminant liver failure during antituberculosis treatment including isoniazid. Hepatology 1995; 21: 929–32

15.

Rieder M, Uetrecht J, Shear N, et al. Diagnosis of sulfonamide hypersensitivity reactions by in vitro 'rechallenge' with hydroxylamine metabolites. Ann Int Med 1989; 110: 286–9

16.

Rieder M, Shear N, Kanee A, et al. Prominence of slow acetylator phenotype among patients with sulfonamide hypersensitivity reactions. Clin Pharmacol Ther 1991; 49: 13–7

17.

Gennis M, Vemusi R, Burns E, et al. Familial occurrence of hypersensitivity to phenytoin. Am J Med 1991; 91: 631–4

18.

Robin M, LeRoy M, Descatoire V, et al. Plasma membrane cytochromes P450 as neoantigens and autoimmune targets in drug-induced hepatitis. J Hepatol 1997; 26(1): 23–30

19.

Berson A, DeBeco V, Letteron P, et al. Steatohepatitis-inducing drugs cause mitochondrial dysfunction and lipid peroxidation in rat hepatocytes. Gastroenterology 1998; 114: 764–4

20.

Brinkman K, Hofstede H, Burger D, et al. Adverse effects of reverse transcriptase inhibitors: mitochondrial toxicity as common pathway. AIDS 1998; 12: 1735–44

21.

Kowdley K, Keeffe E. Hepatotoxicity of transplant immunosuppressive agents. Gastroenterol Clin North Am 1995; 24: 991–1001

22.

DeLeve L, Kaplowitz N. Prevention and therapy of druginduced hepatic injury. In: Wolfe MM, editor. Therapy of digestive disorders. Philadelphia (PA): W.B. Saunders, Harcourt Brace & Company, 2000: 334–48

23.

Zimmerman H, Maddrey W. Acetaminophen (paracetamol) hepatotoxicity with regular intake of alcohol: analysis of instances of therapeutic misadventure. Hepatology 1995; 22: 767–3

24.

Makin A, Williams R. Paracetamol hepatotoxicity and alcohol consumption in deliberate and accidental overdose. Q J Med 2000; 93: 341–9

25.

Moses P, Schroeder B, Alkhatib O, et al. Severe hepatotoxicity associated with bromfenac sodium. Am J Gastroenterol 1999; 94: 1393–6

26.

Watkins P, Whitcomb R. Hepatic dysfunction associated with troglitazone. N Engl J Med 1998; 338: 916–7

27.

Beaune P, Lecoeur S. Immunotoxicology of the liver: adverse reactions to drugs. J Hepatol 1997; 26Suppl. 2: 37–42

28.

Neuberger J. Immune mechanisms in drug hepatotoxicity. Cli Liver Dis 1998; 2: 471–82

29.

Maria V, Victorino R. Development and validation of a clinical scale for the diagnosis of drug-induced hepatitis. Hepatology 1997; 26: 664–9

30.

Benichou C. Criteria of drug induced liver disorders: Report of an international consensus meeting. J Hepatol 1990; 11: 272–6

31.

Danan G, Benichou C. Causality assessment of adverse reactions to drugs - I: a novel method based on the conclusions of international consensus meetings: application to druginduced liver injuries. J Clin Epidemiol 1993; 46: 1323–30

32.

Benichou C, Danan G, Flahault A. Causality assessment of adverse reactions to drugs - II: an original model or validation of drug causality assessment methods: case reports with positive rechallenge. J Clin Epidemiol 1993; 46: 1331–6

33.

Lucena M, Camargo R, Andrade R, et al. Comparison of two clinical scales for causality assessment in hepatotoxicity. Hepatology 2001; 33: 123–30

34.

Kaplowitz N. Causality assessment versus guilt by association in drug hepatotoxicity. Hepatology 2001; 33: 308–10
About this article
Cite this article
Kaplowitz, N. Drug-Induced Liver Disorders. Drug-Safety 24, 483–490 (2001). https://doi.org/10.2165/00002018-200124070-00001
Keywords
Nimesulide

Troglitazone

Acute Liver Failure

Idiosyncratic Reaction

Overt Disease