Abstract
The purpose of this article is to review the causes, the clinical manifestations and the management of the more frequent drug-induced rheumatic disorders. These include: (i) articular and periarticular manifestations induced by fluoroquinolones, nonsteroidal anti-inflammatory drugs, injections of corticosteroids, and retinoids; (ii) multisystemic manifestations such as drug-induced lupus and arthritis induced by vaccination, Bacillus Calmette-Guérin therapy and cytokines; (iii) drug-induced disorders of bone metabolism (corticosteroid-induced osteoporosis, drug-induced osteomalacia and osteonecrosis); and (iv) iatrogenic complex regional pain syndromes. Disorders caused by nonpharmacological and rarely used treatments have been deliberately excluded.
Knowledge of these drug-induced clinical symptoms or syndromes allows an earlier diagnosis and treatment, and earlier drug withdrawal if necessary. With the introduction of new medications such as the recombinant cytokines and antiretroviral treatments, the number of drug-induced rheumatic disorders is likely to increase.
This is a preview of subscription content, log in to check access.
Access options
Buy single article
Instant access to the full article PDF.
US$ 49.95
Tax calculation will be finalised during checkout.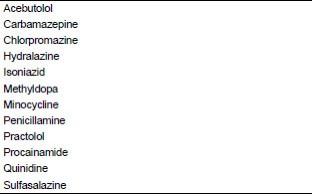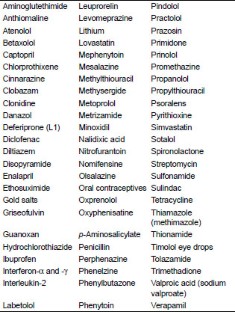 References
1.

Hooper DC, Wolfson JS. Fluoroquinolone antimicrobial agents. N Engl J Med 1991; 324: 384–94

2.

Halkin H. Adverse effects of the fluoroquinolones. Rev Infect Dis 1988; 10Suppl. 1: S258–S261

3.

Arcieri G, Griffith E, Gurenwaldt G, et al. Ciprofloxacine: an update on clinical experience. Am J Med 1987; 82: 381–6

4.

Lafon M. Tendinopathies et fluoroquinolones. Concours Med 1993; 115: 819–25

5.

Lanoux P, Legin C, Reksa A, et al. Effets secondaires des fluoroquinolones. Etude rétrospective sur l'année 1992. Sem Hôp Paris 1993; 69: 1273–6

6.

Gough A, Kasali O, Sigler R, et al. Quinolone arthropathy. Acute toxicity to immature articular cartilage. Toxicol Pathol 1992; 20(3): 436–50

7.

Pertuiset E, Lenoir G, Jehanne M, et al. Tolérance articulaire de la péfloxacine et de l'ofloxacine chez les enfants et adolescents atteints de mucoviscidose. Rev Rheum 1989; 56: 735–40

8.

Stahlmann R, Förster C, Van Sickle D. Quinolones in children. Are concerns over arthropathy justified? Drug Saf 1993; 9(6): 397–403

9.

Chysky V, Kapila K, Hullman R. Safety of ciprofloxacin in children: world wide clinical experience based on compassionate use. Emphasis on joint evaluation. Infection 1991; 19: 329–32

10.

Pradhan K, Arora N, Jena A, et al. Safety of ciprofloxacin therapy in children: magnetic resonance images, body fluid levels of fluoride and linear growth. Acta Paediatr 1995; 84: 555–60

11.

Zabraniecki L, Negrier I, Vergne P, et al. Fluoroquinolone induced tendinopathy: report of 6 cases. J Rheumatol 1996; 23: 516–20

12.

Chaslerie A, Bannwarth B, Landreau JM, et al. Ruptures tendineuses et fluoroquinolones: un effet indésirable de classe. Rev Rheum 1992; 59: 297–8

13.

Koeger AC, Chaibi P, Roger B, et al. Apport de l'IRM dans les complications tendineuses des fluoroquinolones [abstract]. Rev Rheum 1993; 60: 752

14.

Ronningen H, Langeland N. Indomethacin treatment in osteoarthritis of hip joint. Does the treatment interfere with the natural course of the disease. Acta Orthop Scand 1979; 50: 169–74

15.

Rashad S, Revell P, Hemingway A, et al. Effect of non steroidal anti-inflammatory drugs on the course of osteoarthritis. Lancet 1989; II: 519–22

16.

Watson M. Femoral-head height loss: a study of the relative significance of some of its determinants in hip degeneration. Rheumatol Rehabil 1976; 15: 264–9

17.

Loyau G. Anti-inflammatoires non stéroïdiens et cartilage. In: Le cartilage articulaire: dégénérescence et possibilités de réparation. Paris: MSD, Sidem, 1984: 145–60

18.

Lequesne M, Ray G. La coxopathie destructrice rapide idiopathique. Etude étiologique prospective de 27 cas. Rev Rhum 1989; 56: 115–9

19.

Brandt KD, Palmoski MJ. Effects of salicylates and other nonsteroidal anti-inflammatory drugs on articular cartilage. Am J Med 1984; 13: 65–9

20.

Palmoski MJ, Brandt KD. Effects of some nonsteroidal antiinflammatory drugs on proteoglycan metabolism and organization in canine articular cartilage. Arthritis Rheum 1980; 23: 1010–20

21.

Palmoski MJ, Brandt KD. Effects of salicylate and indomethacin on glycosaminoglycan and prostaglandin E2 synthesis in intact canine knee cartilage ex vivo. Arthritis Rheum 1984; 27: 398–403

22.

Del Favero A. Dangers of long-term use of NSAIDs in osteoarthritis. In: Aronson JK, Van Boxtel CJ, editors. Side effects of drugs annual. 18th ed. Amsterdam: Elsevier, 1994: 87–8

23.

Ito A, Nose T, Takahashi S, et al. Cyclooxygenase inhibitors augment the production of pro-matrix metalloproteinase 9 (progelatinase B) in rabbit articular chondrocytes. FEBS Lett 1995; 360: 75–9

24.

Jolly W, Whittem T, Jolly A, et al. The dose-related effects of phenylbutazone and a methylprednisolone acetate formulation (Depo-medrol) on cultured explants of equine carpal articular cartilage. J Vet Pharmacol Ther 1995; 18: 429–37

25.

Erill S. Corticotrophins and corticosteroids. In: Aronson JK, Van Boxtel CJ, editors. Side effects of drugs annual. 18th ed. Amsterdam: Elsevier, 1994: 391

26.

Parikh J, Houpt J, Jacobs S, et al. Charcot's arthropathy of the shoulder following intraarticular corticosteroid injection. J Rheumatol 1993; 20: 885–7

27.

Verschure PJ, Van Der Kraan PM, Vitters EL, et al. Stimulation of proteoglycan synthesis by triamcinolone acetonide and insulin-like growth factor 1 in normal and arthritic murine articular cartilage. J Rheumatol 1994; 21: 920–6

28.

Roberts W, Babcock E, Breitbach S, et al. Corticosteroid injection in rheumatoid arthritis does not increase rate of total joint arthroplasty. J Rheumatol 1996; 23(6): 1001–4

29.

Pelletier JP, DiBattista J, Raynauld J, et al. The in vivo effects of intraarticular corticosteroid injections on cartilage lesions, stromelysin, interleukin-1, and oncogene protein synthesis in experimental osteoarthritis. Lab Invest 1995; 72(5): 578–88

30.

Caldwell JR. Intra-articular corticosteroids. Drugs 1996; 52(4): 507–14

31.

Owen DS. Aspiration and injection of joints and soft tissues. In: Kelley WN, Harris ED, Ruddy S, et al., editors. Textbook of rheumatology, 4th ed. Philadelphia: Saunders Company, 1993: 545–61

32.

Kaplan G, Haettich B. Rheumatological symptoms due to retinoids. Baillière's Clin Rheumatol 1991; 5(1): 77–97

33.

Frame B, Jackson CE, Reynolds WA, et al. Hypercalcemia and skeletal effects in chronic hypervitaminosis A. Ann Intern Med 1974; 80: 44

34.

Freyria A, Ronzière M, Boutillon M, et al. Effects of retinoic acid on protein synthesis by foetal bovine chondrocytes in high-density culture: down-regulation of the glucose-regulated protein, GRP-78, and type II collagen. Biochem J 1995; 305: 391–6

35.

Kelley WN, Schumacher HR. Gout. In: Kelley WN, Harris ED, Ruddy S, et al., editors. Textbook of rheumatology, 4th ed. Philadelphia: Saunders Company, 1993: 1291–336

36.

Bannwarth B. The drug-induced rheumatisms. Rev Rheum 1996; 63(10): 639–47

37.

Scott JT. Drug-induced gout. Baillieres Clin Rheumatol 1991; 5(1): 39–60

38.

Burack DA, Griffith BP, Thompson ME, et al. Hyperuricemia and gout among heart transplant recipients receiving cyclosporine. Am J Med 1992; 92: 141–6

39.

Le Goff P, Saraux A. Induced lupus. Rev Rheum 1999; 66(1): 40–5

40.

Fritzler MJ. Drugs recently associated with lupus syndromes. Lupus 1994; 3: 455–9

41.

Yung RL, Richardson BC. Drug-induced lupus. Rheum Dis Clin North Am 1994; 20: 61–85

42.

Burlingame RW. The clinical utility of antihistone antibodies. Autoantibodies reactive with chromatin in systemic lupus erythematosus and drug-induced lupus. Clin Lab Med 1997; 17: 367–78

43.

Rubin RL, Bell SA, Burlingame RW. Autoantibodies associated with lupus induced by diverse drugs target a similar epitope in the (H2A-H2B)-DNA complexe. J Clin Invest 1992; 90: 165–73

44.

Drouvalakis KA, Buchanan RBC. Phospholipid specificity of autoimmune and drug-induced lupus anticoagulants; association of phosphatidylethanolamine reactivity with thrombosis in autoimmune disease. J Rheumatol 1998; 25: 290–5

45.

Masson C, Chevailler A, Pascaretti C, et al. Minocycline related lupus. J Rheumatol 1996; 23: 2160–1

46.

Yung RL, Johnson KJ, Richardson BC. New concepts in the pathogenesis of drug-induced lupus. Lab Invest 1995; 73(6): 746–59

47.

Tingle AJ, Allen M, Petty RE, et al. Rubella-associated arthritis. 1. Comparative study of joint manifestations associated with natural rubella infection and RA 27/3 rubella immunisation. Ann Rheum Dis 1986; 45: 606–12

48.

Weibel RE, Benor DE. Chronic arthropathy and musculoskeletal symptoms associated with rubella vaccines. Arthritis Rheum 1996; 39(9): 1529–34

49.

Ray P, Black MD, Shinefield H, et al. Risk of chronic arthropathy among women after rubella vaccination. JAMA 1997; 278(7): 551–6

50.

Tingle AJ, Mitchell LA, Grace M, et al. Randomised double-bind placebo-controlled study on adverse effects of rubella immunisation in seronegative women. Lancet 1997; 349(3): 1277–81

51.

Gross K, Combe C, Kruger K, et al. Arthritis after hepatitis B vaccination: report of three cases. Scand J Rheumatol 1995; 24: 50–2

52.

Vautier G, Carty JE. Acute sero-positive rheumatoid arthritis occurring after hepatitis B vaccination. Br J Rheumatol 1994; 33: 991–8

53.

Vinceneux P, Pouchot J, Lemaitre F, et al. Vaccinations et rhumatismes. In: Kahn MF, Kuntz D, Dryll A, et al, editors. Actualités rhumatologiques. Paris: Expansion Scientifique Française, 1996: 28–44

54.

Maillefert JF, Sibilia J, Toussirot E, et al. Arthropathies après vaccin contre l'hépatite B. Rev Rheum 1998; 65Suppl. 5: S246–S247

55.

Pope JE, Stevens A, Howson W, et al. The development of rheumatoid arthritis after recombinant hepatitis B vaccination. J Rheumatol 1998; 25: 1687–93

56.

Buchs N, Chevrel G, Miossec P. Bacillus Calmette-Guérin induced aseptic arthritis: an experimental model of reactive arthritis. J Rheumatol 1998; 25(9): 1662–4

57.

Pancaldi P, Van Linthoudt D, Alborino D, et al. Reiter's syndrome after intravesical bacillus Calmette-Guérin treatment for superficial bladder carcinoma. Br J Rheumatol 1993; 32: 1096–8

58.

Torisu M, Miyahara T, Shinohara N, et al. A new side effect of BCG immunotherapy: BCG-induced arthritis in man. Cancer Immunol Immunother 1978; 5: 77–83

59.

Pichert G, Jost LM, Zobeli L, et al. Thyroiditis after treatment with interleukin-2 and interferon alpha-2a. Br J Cancer 1990; 62: 100–4

60.

Rönnblom LE, Alm GV, Öberg KE. Autoimmunity after alpha-interferon therapy for malignant carcinoid tumors. Ann Intern Med 1991; 115: 178–83

61.

Jumbou O, Berthelot JM, French N, et al. Polyarthritis during interferon alpha therapy: 3 cases and review of the literature. Eur J Dermatol 1995; 5: 581–4

62.

Chazerain P, Meyer O, Ribard P. Trois cas de polyarthrite survenant au cours d'un traitement par interféron-alpha recombinant. Rev Rheum 1992; 59(5): 303–9

63.

O'Connell PG, Gerber LH, DiGiovanna JJ, et al. Arthritis in patients with psoriasis treated with gamma-interferon. J Rheumatol 1992; 19: 80–2

64.

Massarotti EM, Liu NY, Mier J, et al. Chronic inflammatory arthritis after treatment with high-dose interleukin-2 for malignancy. Am J Med 1992; 92: 693–7

65.

Vidarsson B, Geirsson AJ, Onundarson PT. Reactivation of rheumatoid arthritis and development of leukocytoclastic vasculitis in a patient receiving granulocyte colony-stimulating factor for Felty's syndrome. Am J Med 1995; 98: 589–91

66.

De Vries EGE, Willemse PHB, Biesma B, et al. Flare-up of rheumatoid arthritis during GM-CSF treatment after chemotherapy. Lancet 1991; 338: 517–8

67.

Sambrook PN. Corticosteroid induced osteoporosis. J Rheumatol 1996; 23Suppl. 45: S19–S22

68.

Gronowicz G, McCarthy MB. Glucocorticoids inhibit the attachment of osteoblasts to bone extracellular matrix proteins and decrease β-1 integrin levels. Endocrinology 1995; 136: 598–608

69.

American College of Rheumatology task force on osteoporosis guidelines. Recommendations for the prevention and treatment of glucocorticoid-induced osteoporosis. Arthritis Rheum 1996; 39 (11): 1791–801

70.

Jones G, Sambrook PN. Drug-induced disorders of bone metabolism. Drug Saf 1994; 10(6): 480–9

71.

Cosman F, Nieves J, Herbert J, et al. High-dose glucocorticoids in multiple sclerosis patients exert direct effects on the kidney and skeleton. J Bone Miner Res 1994; 9: 1097–105

72.

Zaqqa D, Jackson RD. Diagnosis and treatment of glucocorticoid-induced osteoporosis. Cleve Clin J Med 1999; 66(4): 221–30

73.

Saag KG, Emkey RD, Gruber B, et al. Alendronate for the management of glucocorticoid-induced osteoporosis: results of the multicenter U.S. study [abstract]. Arthritis Rheum 1997; 40: S136

74.

Hall GM, Daniels M, Doyle DV, et al. The effect of hormone replacement therapy on bone mass in rheumatoid arthritis patients treated with or without steroids. Arthritis Rheum 1994; 37: 1499–505

75.

Reid IR, Wattie DJ, Evans MC, et al. Testosterone therapy in glucocorticoid-treated men. Arch Intern Med 1996; 156: 1173–7

76.

Lems WF, Jacobs JW, Bijlsma JW, et al. Is addition of sodium fluoride to cyclical etidronate beneficial in the treatment of corticosteroid-induced osteoporosis? Ann Rheum Dis 1997; 56: 357–63

77.

Rizzoli R, Chevalley T, Slosman DO, et al. Sodium monofluorophosphate increases vertebral bone mineral density in patients with corticosteroid-induced osteoporosis. Osteoporos Int 1995; 5: 39–46

78.

Adachi JD, Bensen WG, Brown J, et al. Intermittent etidronate therapy to prevent corticosteroid-induced osteoporosis. N Engl J Med 1997; 337: 382–7

79.

Cortet B, Hachulla E, Barton I, et al. Evaluation of the efficacy of etidronate therapy in preventing glucocorticoid-induced bone loss in patients with inflammatory rheumatic diseases. Rev Rheum 1999; 66(4): 214–9

80.

Hahn TJ, Hendin BA, Scharp CR, et al. Serum 25-hydroxycalciferol levels and bone mass in children on chronic anticonvulsant therapy. N Engl J Med 1975; 292: 550–4

81.

Weinstein RS, Bryce GF, Sappington LJ, et al. Decreased serum ionized calcium and normal vitamin D metabolite levels with anticonvulsant drug treatment. J Clin Endocrinol Metab 1984; 58: 1003–9

82.

Perry W, Erooga MA, Brown J, et al. Calcium metabolism during rifampicine and isoniazid therapy for tuberculosis. J R Soc Med 1982; 75: 533–6

83.

Woodson GC. An interesting case of osteomalacia due to antacid use associated with stainable bone aluminiumin a patient with normal renal function. Bone 1998; 22: 695–8

84.

Jowsey J, Riggs BL, Kelly PJ, et al. The treatment of osteoporosis with disodium ethane-1-hydroxy-1, 1-diphosphonate. J Lab Clin Med 1971; 78: 574–84

85.

Boyce BF, Smith L, Fogelman I, et al. Focal osteomalacia due to low dose diphosphonate therapy in Paget's disease. Lancet 1984; I: 821–4

86.

Miller P, Watts NB, Licata AA, et al. Cyclic etidronate in the treatment of postmenopausal osteoporosis: efficacy and safety after seven years of treatment. Am J Med 1997; 103: 468–76

87.

Fleisch H. Bisphosphonates: mechanisms of action. Endocrin Rev 1998; 19: 80–100

88.

Schnitzler CM, Solomon L. Histomorphometric analysis of a calcaneal stress fracture: a possible complication of fluoride therapy for osteoporosis. Bone 1986; 7: 193–8

89.

Steinberg ME, Steinberg DR. Osteonecrosis. In: Kelley WN, Harris ED, Ruddy S, et al., editors. Textbook of rheumatology, 4th ed. Philadelphia: Saunders Company, 1993: 1628–50

90.

Ficat RP, Arlet J. In: Hungerford DS, editor. Ischemia and necrosis of the bone. Baltimore: Williams & Wilkins, 1980: 131–71

91.

Kenzora JE, Glimcher MJ. Accumulative cell stress: the multifactorial etiology of idiopathic osteonecrosis. Orthop Clin North Am 1985; 16: 667–70

92.

Cruess RL. Osteonecrosis of bone: current concepts as to etiology and pathogenesis. Clin Orthop 1978; 130: 151–5

93.

Good AE, Green RA, Zarafonetis CJ. Rheumatic symptoms during tuberculosis therapy. Ann Intern Med 1965; 63: 800–7

94.

Lequesne M, Moghtader R. L'algodystrophie de l'isoniazide et de l'éthionamide. Rev Rheum 1966; 33: 727–34

95.

Zabraniecki L, Doub A, Mularczyk M, et al. Frozen shoulder: a new delayed complication of protease inhibitors therapy. Rev Rheum 1998; 65: 72–4

96.

Léone J, Béguinot I, Dehlinger V, et al. Adhesive capsulitis of the shoulder induced by protease inhibitor therapy. Three new cases. Rev Rheum 1998; 65: 800–1
About this article
Cite this article
Vergne, P., Bertin, P., Bonnet, C. et al. Drug-Induced Rheumatic Disorders. Drug-Safety 23, 279–293 (2000). https://doi.org/10.2165/00002018-200023040-00002
Keywords
Bone Mineral Density

Systemic Lupus Erythematosus

Complex Regional Pain Syndrome

Etidronate

Human Leucocyte Antigen