This is a preview of subscription content, log in to check access.
Access options
Buy single article
Instant access to the full article PDF.
US$ 49.95
Price includes VAT for USA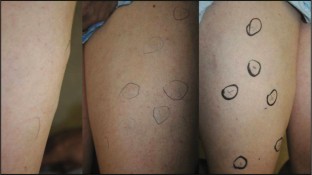 References
1.

Ozer E, Schuller DE. Angiolipoma of the neck. Otolaryngology Head Neck Surg 2006; 135: 643–4

2.

Rocchi G, Caroli E, Frati A, et al. Lumbar spinal angiolipomas: report of two cases and review of the literature. Spinal Cord 2004; 42: 313–6

3.

Gonzzales-Crussi F, Enneking WF, Arean V. Infilitration angiolipoma. J Bone Joint Surg 1966; 48: 1111–4

4.

Kastrup J, Angelo HR, Petersen P, et al. Treatment of chronic painful diabetic neuropathy with intravenous lidocaine infusion. BMJ 1986; 292: 173

5.

Fogh H, Agner T, Agner E. Multiple angiolipomata treated with intravenous infusions of lignocaine. Clin Exp Dermatol 1990; 15 (1): 63–4
Acknowledgments
The authors have received no funding to prepare this article. The authors have no conflicts of interest that are directly relevant to the content of this article.
About this article
Cite this article
Herskowitz, D., Saladi, R.N. & Fox, J.L. Two Cases of Multiple Angiolipoma Treated with Intralesional Triamcinolone. Am J Clin Dermatol 13, 273–274 (2012). https://doi.org/10.2165/11594160-000000000-00000
Keywords
Lipoma

Triamcinolone

Multiple Lesion

Corticosteroid Injection

Triamcinolone Acetonide