Abstract
The most recent Joint United Nations Programme on HIV/AIDS (UNAIDS) data inform us that approximately 2.3 million children were infected with HIV at the end of 2009. The greatest burden of this infection is thrust squarely on the most impoverished healthcare systems in the world. Sub-Saharan Africa is home to at least 68% of the global total of HIV infection of 22.5 million. Although a scale up of antiretrovirals has been one of the UNAIDS priorities, and access to services to prevent mother-to-child transmission has increased, an estimated 370 000 children were newly infected in 2009. Hence, infected mothers continue giving birth to HIV-infected children who require appropriate healthcare to diagnose and treat their underlying immunodeficiency and related disorders. Skin lesions are common in these children as they present with infections common in the general population, albeit more severe. Those lesions that are markers of HIV or AIDS are important signs heralding an improving or declining immune system and the success of antiretrovirals. Cutaneous manifestations of HIV/AIDS can be classified broadly as infections and infestations, inflammatory conditions, tumors, and antiretroviral related. This manuscript discusses the more common skin conditions seen in children infected with HIV so as to improve the diagnosis and therapy administered by healthcare professionals especially in sub-Saharan Africa.
This is a preview of subscription content, log in to check access.
Access options
Buy single article
Instant access to the full article PDF.
US$ 49.95
Price includes VAT for USA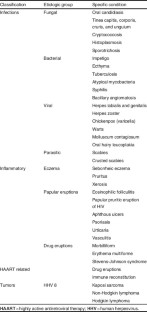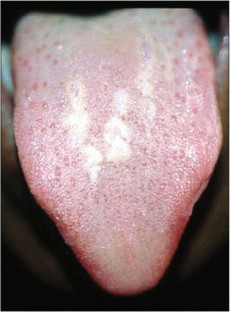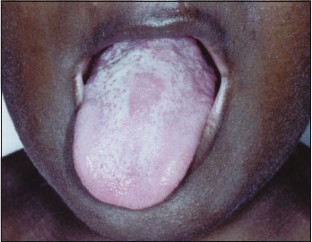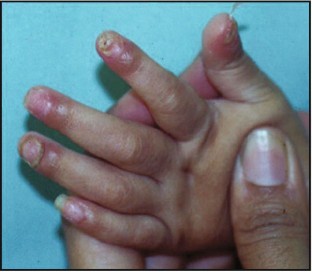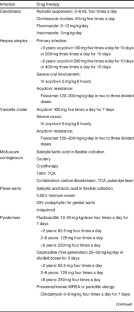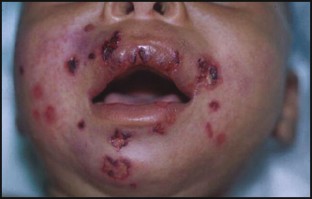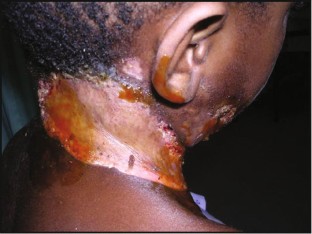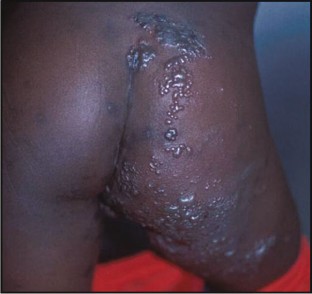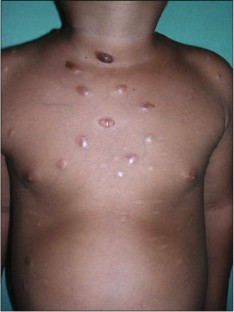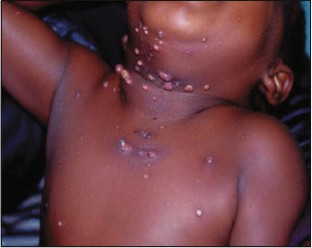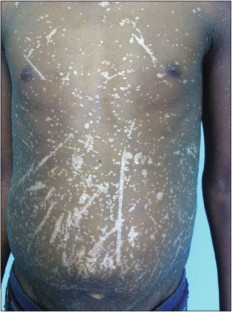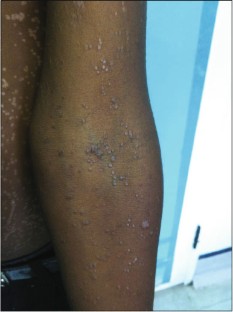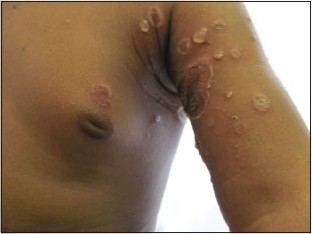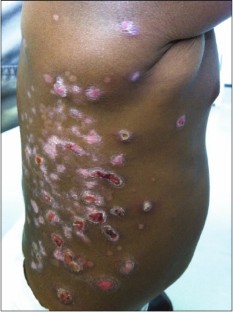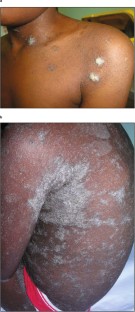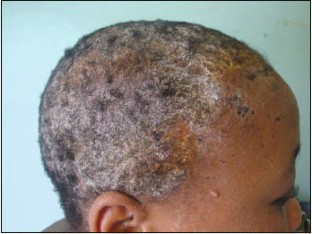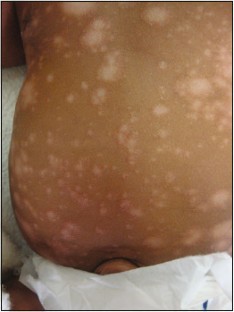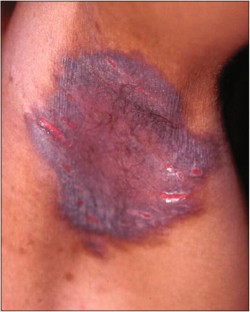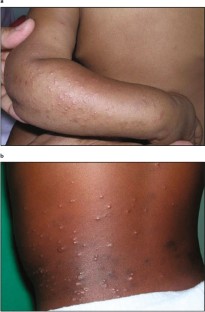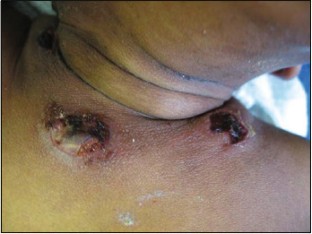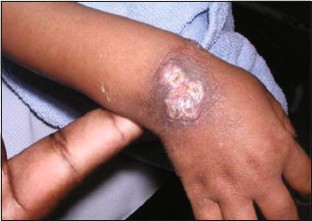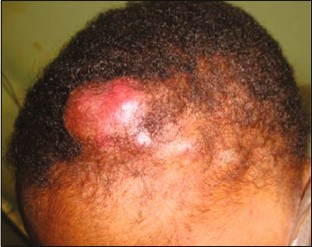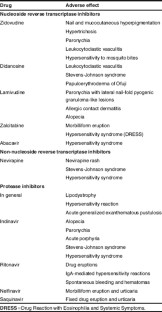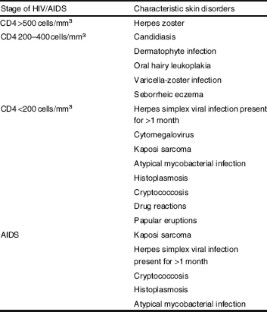 References
1.

Lowe S, Ferrand RA, Morris-Jones R, et al. Skin disease among human immunodeficiency virus-infected adolescents in Zimbabwe: a strong indicator of underlying HIV infection. Pediatr Infect Dis J 2010; 29 (4): 346–51

2.

Panya MF, Mgonda YM, Massawe AW. The pattern of mucocutaneous disorders in HIV-infected children attending care and treatment centres in Dar es Salaam, Tanzania. BMC Public Health 2009; 9: 234

3.

Wanankul S, Deekajorndech T, Panchareon C, et al. Mucocutanoeus findings in pediatric AIDS related to degree of immunosuppression. Pediatr Derm 2003; 20 (4): 289–94

4.

Grayson W. Mini symposium: HIV/AIDS-associated pathology in children. Diag Histopathol 2009; 15: 225–31

5.

Pirofski L. Fungal infections in children with human immunodeficiency virus infection. Semin Pediatr Infect Dis 2001; 12 (4): 288–95

6.

Mofensen LM, Oleske J, Serchuck L, et al. Treating opportunistic infections among HIV-exposed and infected children: recommendations from CDC, the National Institutes of Health, and Infectious Diseases Society of America. Clin Infect Dis 2005; 40 Suppl. 1: S1–84

7.

Stefanki C, Alexander J, Stratigos JD. Skin manifestations of HIV-1 in children. Clin Dermatol 2002; 20: 74–86

8.

Mosam A. Dermatological manifestations of HIV in children. Chapter 2.2. In: Lala MM, Merchant RH, editors. Principles of perinatal and pediatric HIV/AIDS. 1st ed. New Delhi: Jaypee Brothers Medical Publishers, 2012

9.

Prose NS. Skin manifestations of HIV-1 infection in children. Clin Dermatol 1991; 9: 59–64

10.

Chiou CC, Groll AH, Gonzalez CE. Esophageal candidiasis in pediatric acquired immunodeficiency syndrome: clinical manifestations and risk factors. Paediatr Infect Dis J 2000; 19: 729–34

11.

Salvini F, Carminati G, Pinzani R, et al. Chronic ulcerative herpes simplex viral infection in HIV infected children. AIDS Patient Care STDS 1997; 11: 421–8

12.

Bagdades EK, Pillay D, Squire SB, et al. Relationship between herpes simplex virus ulceration and CD4+ counts in patients with HIV infection. AIDS 1992; 6: 1317–20

13.

Weiss H. Epidemiology of herpes simplex virus type 2 infection in the developing world. Herpes 2004; 11 Suppl. 1: 24A–35A

14.

Gilbert J, Drehs MM, Weinberg JM, et al. Topical imiquimod for acyclovirunresponsive herpes simplex virus 2 infection. Arch Dermatol 2001; 137: 1015–7

15.

Lalezari J, Schacker T, Feinberg J, et al. A randomized, double-blind, placebocontrolled trial of cidofovir gel for the treatment of acyclovir-unresponsive mucocutaneous herpes simplex virus infection in patients with AIDS. JID 1997; 176: 1169–70

16.

Galea SA, Sweet A, Beninger P, et al. The safety profile of the varicella vaccine: a 10-year review. JID 2008; 197 Suppl. 2: S165–9

17.

Gershon AA, Mervish N, LaRussa P, et al. Varicella zoster virus infection in children with underlying human immunodeficiency virus infection. J Infect Dis 1997; 176: 1496–500

18.

Wood SM, Shah SS, Steenhoff AP. Primary varicella and herpes zoster among HIV-1 infected children from 1989 to 2006. Pediatrics 2008; 121 (1): e150–6

19.

Hogan MT. Cutaneous infestations associated with HIV/AIDS. Dermatol Clin 2006; 24: 473–95

20.

Gershon AA. Prevention and treatment of VZV infections in patients with HIV. Herpes 2001; 8 (2); 32–6

21.

Van der Wouden JC, Van der Sande R, Van Suijlekom-Smit LWA, et al. Interventions for cutaneous molluscum contagiosum. Cochrane Database Syst Rev 2009; (4): CD004767

22.

Sadick N, Sorhaindo L. A comparative split-face study of cryosurgery and trichloroacetic acid 100% peels in the treatment of HIV-associated disseminated facial molluscum contagiosum. Cutis 2009; 83 (6): 299–302

23.

Kojic EM, Cu-Uvin S. Update: human papillomavirus infection remains highly prevalent and persistent among HIV-infected individuals. Curr Opin Oncol 2007; 19 (5): 464–9

24.

Walzman M. Successful treatment of profuse recalcitrant extra-genital warts in an HIV-positive patient using 5% imiquimod cream. Int J STD AIDS 2009; 20 (9): 657–8

25.

Wertheim HF, Melles DC, Eadie K, et al. The role of nasal carriage in Staphylococcus aureus infections. Lancet Infect Dis 2005; 5: 751–62

26.

Tschachler E, Bergstrasser PR, Stingl G. HIV related skin diseases. Lancet 1996; 348: 659–73

27.

Kendig NE. Management of community acquired methicillin-resistant Staphylococcal aureus infection in the outpatient setting. Hopkins HIV Rep 2004; 16 (5): 1–12

28.

Hurdle JG, O'Neill AJ, Mody L, et al. In vivo transfer of high-level mupirocin resistance from Staphylococcal epidermidis to methicillin resistant Staphylococcal aureus associated with failure of mupirocin prophylaxis. J Antimicro Chemother 2005; 56 (6): 1166-8

29.

Stefanaki C, Stratigos AJ, Stratigos JD. Skin manifestations of HIV-1 in children. Clin Dermatol 2002; 20: 74–86

30.

Rosatelli JB, Roselino AM. Hyper-IgE, eosinophilia, and immediate cutaneous hypersensitivity to insect antigens in the pruritic papular eruption of human immunodeficiency virus. Arch Dermatol 2001 May; 137 (5): 672–3

31.

Castelnuovo B, Byakwaga H, Menten J, et al. Can response of a pruritic popular eruption to antiretroviral therapy be used as a clinical parameter to monitor virologic outcome? AIDS 2008; 22: 269–73

32.

Dong TA. Infection due to penicillium marneffei, an emerging pathogen: review of 155 reported cases. Clin Infect Dis 1996; 23: 125–30

33.

Coopman SA, Johnson RA, Platt R, et al. Cutaneous disease and drug reactions in HIV infection. N Engl J Med 1990; 328: 1670–4

34.

Hira Sk, Wadhawan D, Kamanga J, et al. Cutaneous manifestations of human immunodeficiency virus in Lusaka, Zambia. J Am Acad Dermatol 1988; 19: 451–7

35.

Ward HA, Russo GG, Shrum J. Cutaneous manifestations of antiretroviral therapy. J Am Acad Dermatol 2002; 46: 284–93

36.

Iarikov D, Duke W, Skiest D. Extensive development of flat warts as a cutaneous manifestation of immune reconstitution syndrome. AIDS Read 2008; 18 (10): 526
Acknowledgments
No funding was received to prepare this article. The authors have no conflicts of interest that are directly relevant to the content of this article.
About this article
Cite this article
Mankahla, A., Mosam, A. Common Skin Conditions in Children with HIV/AIDS. Am J Clin Dermatol 13, 153–166 (2012). https://doi.org/10.2165/11593900-000000000-00000
Keywords
Herpes Simplex Virus

Acyclovir

Varicella Zoster Virus

Visceral Leishmaniasis

Imiquimod