Abstract
Background: The objective of the FALCOFORTE programme was to demonstrate the efficacy and safety of 3 months of therapy with the fixed combination perindopril/indapamide in hypertensive patients in everyday medical practice.
Design and methods: Patients with blood pressure >140/90mmHgor with blood pressure >130/85mmHg and three or more risk factors were prescribed perindopril/indapamide 2.5/0.625mg or 5/1.25 mg. Dosage could be increased to 10/2.5mg at any time during the study.
Results: Of the 2327 patients included, 69% of patients had been unsuccessfully treated with other antihypertensives, 4.6% had not tolerated previous antihypertensive treatments, and 26.8% were newly diagnosed hypertensive patients. Roughly half the cohort was at high or very high cardiovascular risk. After 3 months of therapy, systolic blood pressure decreased from 156.9 ± 13.7 to 132.3 ± 10.6mmHg (p < 0.0001) and diastolic blood pressure from 94.9 ± 8.2 to 81.3 ± 6.3 mmHg (p < 0.0001). Target blood pressure was reached by 87.1% of patients. Similar changes from baseline were observed in patients with diabetes mellitus, metabolic syndrome or left ventricular hypertrophy (p < 0.0001). When blood pressure decreases were analysed by dose, changes from baseline increased with increasing doses. Perindopril/indapamide was well tolerated with no significant changes in laboratory parameters being observed. Quality of life improved significantly.
Conclusions: Therapy with fixed combination perindopril/indapamide was effective and well tolerated in a wide range of patients.
This is a preview of subscription content, log in to check access.
Access options
Buy single article
Instant access to the full article PDF.
US$ 39.95
Price includes VAT for USA
Subscribe to journal
Immediate online access to all issues from 2019. Subscription will auto renew annually.
US$ 171
This is the net price. Taxes to be calculated in checkout.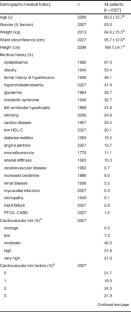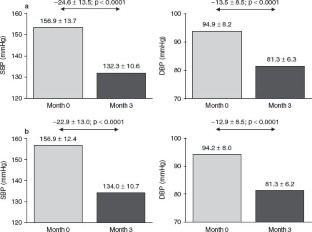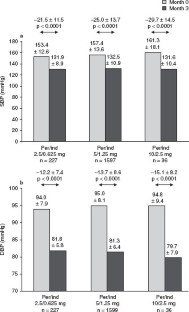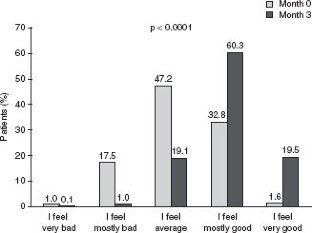 References
1.

Sninčák M, Balažovjech I, Macháčová E, et al. Epidemiológia artériovej hypertenzie na Slovensku. Intern Med 2006; 6: 3–26

2.

Kannel WB. Blood pressure as a cardiovascular risk factor: prevention and treatment. JAMA 1996 May 22-29; 275(20): 1571–6

3.

Assmann G, Schulte H. The Prospective Cardiovascular Munster (PROCAM) study: prevalence of hyperlipidemia in persons with hypertension and/or diabetes mellitus and the relationship to coronary heart disease. Am Heart J 1988 Dec; 116(6 Pt 2): 1713–24

4.

Lloyd-Jones DM, Evans JC, Larson MG, et al. Treatment and control of hypertension in the community: a prospective analysis. Hypertension 2002 Nov; 40(5): 640–6

5.

Chobanian AV, Bakris GL, Black HR, et al. The seventh report of the Joint National Committee on Prevention, Detection, Evaluation, and Treatment of High Blood Pressure: the JNC 7 report. JAMA 2003 May 21; 289(19): 2560–72

6.

Pella D, Fedacko J, Rybar R, et al. The reduction of total cardiovascular risk: results of the STRONG DUET study [abstract]. Eur J Cardiovasc Prev Rehab 2009; 16Suppl. 1: S105

7.

Pella D. Cardiovascular risk stratification and evidence based medicine hypertension treatment: results of the scientific programme FALCO. Intern Med 2009; 9(1): 39–46

8.

Cherry DK, Woodwell DA. National Ambulatory Medical Care Survey: 2000 summary. Adv Data 2002 Jun 5; 328: 1–32

9.

Mancia G, Grassi G. Systolic and diastolic blood pressure control in antihypertensive drug trials. J Hypertens 2002 Aug; 20(8): 1461–4

10.

Basile J. Blood pressure responder rates versus goal rates: which metric matters? Ther Adv Cardiovasc Dis 2009 Apr; 3(2): 157–74

11.

Mancia G, De Backer G, Dominiczak A, et al. 2007 Guidelines for the Management of Arterial Hypertension: the Task Force for the Management of Arterial Hypertension of the European Society of Hypertension (ESH) and of the European Society of Cardiology (ESC). J Hypertens 2007 Jun; 25(6): 1105–87

12.

Moser M, Cushman WC, Kaplan NM. Control of blood pressure: does it matter which agent you use? J Clin Hypertens (Greenwich) 2007 Dec; 9(12): 964–73

13.

Pella D. Effective systolic blood pressure control by fixed low-dose combination of antihypertensive drugs: results of the scientific programme PROGRESSIVE. Intern Med 2007; 7(4): 217–23

14.

Beckett NS, Peters R, Fletcher AE, et al. Treatment of hypertension in patients 80 years of age or older. N Engl J Med 2008 May 1; 358(18): 1887–98

15.

Kostis JB. Treating hypertension in the very old. N Engl J Med 2008 May 1; 358(18): 1958–60

16.

PROGRESS Collaborative Group. Randomised trial of a perindopril-based blood-pressure-lowering regimen among 6,105 individuals with previous stroke or transient ischaemic attack. Lancet 2001 Sep 29; 358 (9287): 1033–41

17.

Furie KL, Kasner SE, Adams RJ, et al. Guidelines for the prevention of stroke in patients with stroke or transient ischemic attack: a guideline for healthcare professionals from the American Heart Association/American Stroke Association. Stroke 2011 Jan; 42(1): 227–76

18.

Nishioku T, Takata F, Yamauchi A, et al. Protective action of indapamide, a thiazide-like diuretic, on ischemia-induced injury and barrier dysfunction in mouse brain microvascular endothelial cells. J Pharmacol Sci 2007 Mar; 103(3): 323–7

19.

Dahlöf B, Gosse P, Gueret P, et al. Perindopril/indapamide combination more effective than enalapril in reducing blood pressure and left ventricular mass: the PICXEL study. J Hypertens 2005 Nov; 23(11): 2063–70

20.

Mogensen CE, Viberti G, Halimi S, et al. Effect of low-dose perindopril/indapamide on albuminuria in diabetes: preterax in albuminuria regression — PREMIER. Hypertension 2003 May; 41(5): 1063–71

21.

Patel A, MacMahon S, Chalmers J, et al. Effects of a fixed combination of perindopril and indapamide on macrovascular and microvascular outcomes in patients with type 2 diabetes mellitus (the ADVANCE trial): a randomised controlled trial. Lancet 2007 Sep 8; 370(9590): 829–40

22.

Mancia G, Grassi G. Protection of patients with diabetes, with or without hypertension: implications of ADVANCE for clinical practice. J Hypertens Suppl 2009 May; 27(1): S19–23
Acknowledgements
This study was supported by a research grant from SERVIER. The author has no conflicts of interest to declare. The author would like to thank to all the physicians who participated in this study and Hélène Dassule, PhD, for her editorial support.
About this article
Cite this article
Pella, D. Efficacy and Safety of Treatment of Hypertensive Patients with Fixed Combination Perindopril/Indapamide Up to 10/2.5mg. High Blood Press Cardiovasc Prev 18, 107–113 (2011). https://doi.org/10.2165/11593520-000000000-00000
Received:

Accepted:

Published:

Issue Date:
Keywords
hypertension

combination

treatment

perindopril

indapamide