Abstract
Plasma cell balanitis (PCB), also knows as Zoon balanitis, is a benign asymptomatic but chronic and erosive inflammatory condition of the glans penis and prepuce that generally affects uncircumcised men in later years. Clinical presentation involves a single, shiny, well defined reddish patch. We describe the first case of PCB ever reported in a patient with a previous history of syphilis, and include a review of the current literature. A 57-year-old Hispanic man with a remote history of syphilis presented with a 6-month nonhealing, granulating ulcer of the foreskin and glans penis that had been repeatedly mistaken for syphilis and treated unsuccessfully with circumcision 3 weeks previously. Biopsy of the glans penis demonstrated sections with denuded chronic granulation tissue showing a fibrotic stroma with numerous blood vessels and a mixed inflammatory infiltrate including scattered plasma cells. It is important to differentiate PCB from a syphilitic chancre in a patient presenting with a nonhealing penile lesion. This case report demonstrates that these entities may be seen in the same patient at different times.
This is a preview of subscription content, log in to check access.
Access options
Buy single article
Instant access to the full article PDF.
US$ 49.95
Price includes VAT for USA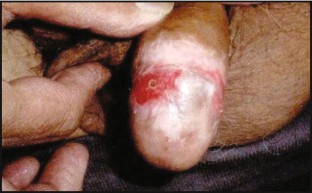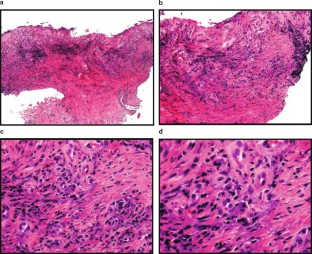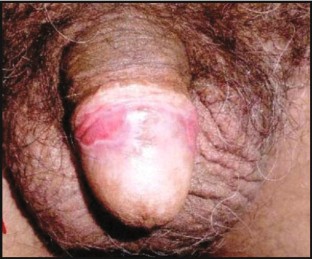 References
1.

Zoon JJ. Chronic circumscribed balanitis with plasma cell infiltration. Ned Tijdschr Geneeskd 1950; 94: 1529–30

2.

Stinco G, Piccirillo F, Patrone P. Discordant results with pimecrolimus 1% cream in the treatment of plasma cell balanitis. Dermatology 2009; 218: 155–8

3.

Braun-Falco O, Plewing G, Wolff HH. Malattie dei genitali maschili. In: Braun-Falco O, Plewing G, Wolff HH. Dermatologia. 2nd ed. Berlin: Springer, 2002: 1204

4.

Retamar RA, Kien MC, Chouela EN. Zoon's balanitis: presentation of 15 patients, five treated with a carbon dioxide laser. Int J Dermatol 2003; 42: 305–7

5.

Garnier G. Vulvite erythemateuse circonscrite benigne a` type erytroplasique. Bull Soc Fr Dermatol Syphiligr 1954; 61: 102–4

6.

Nikolowski W, Wiehl R. Pareitis und balanitis plasmacellularis. Arch Klin Exp Dermatol 1956; 202: 347–57

7.

Baughman RD, Berger P, Pringle WM. Plasma cell cheilitis. Arch Dermatol 1974; 110: 725–6

8.

White Jr JW, Olsen KD, Banks PM. Plasma cell orificial mucositis: report of a case and review of the literature. Arch Dermatol 1986; 122: 1321–4

9.

Bunker CB. Topics in penile dermatology. Clin Exp Dermatol 2001; 26: 469–79

10.

Bardazzi F, Antonucci A, Savoia F, et al. Two cases of Zoon's balanitis treated with pimecrolimus 1% cream. Int J Dermatol 2008; 47: 198–201

11.

Pastar Z, Rados J, Lipozencic J, et al. Zoon plasma cell balanitis: an overview and role of histopathology. Acta Dermatovenerol Croat 2004; 12: 268–73

12.

Lee V, Kinghorn G. Syphilis: an update. Clin Med 2008; 8: 330–3

13.

Lejman K, Starzycki Z. Syphilitic balanitis of Follmann developing after the appearance of the primary chancre: a case report. Br J Vener Dis 1975; 51: 138–40

14.

Headache Classification Subcommittee of the International Headache Society. The international classification of headache disorders: 2nd ed. Cephalalgia 2004; 24 Suppl. 1: 9–160

15.

Romanowski B, Sutherland R, Fick GH, et al. Serologic response to treatment of infectious syphilis. Ann Intern Med 1991; 114: 1005–9

16.

Davis-Daneshfar A, Trueb RM. Bowen's disease of the glans penis (erythroplasia of Queyrat) in plasma cell balanitis. Cutis 2000; 65: 395–8

17.

Starritt E, Lee S. Erythroplasia of Queyrat of the glans penis on a background of Zoon's plasma cell balanitis. Australas J Dermatol 2008; 49: 103–5

18.

Joshi UY. Carcinoma of the penis preceded by Zoon's balanitis. Int J STD AIDS 1999; 10: 823–5

19.

Porter WM, Hawkins DA, Dinneen M, et al. Zoon's balanitis and carcinoma of the penis. Int J STD AIDS 2000; 11: 484–5

20.

Mallon E, Hawkins D, Dinneen M, et al. Circumcision and genital dermatoses. Arch Dermatol 2000; 136: 350–4

21.

Weyers W, Ende Y, Schalla W, et al. Balanitis of Zoon: a clinicopathologic study of 45 cases. Am J Dermatopathol 2002; 24: 459–67

22.

Santos-Juanes J, Sánchez del Río J, Galache C, et al. Topical tacrolimus: an effective therapy for Zoon balanitis. Arch Dermatol 2004; 140: 1538–9

23.

Sutton RL. Diseases of the skin. 11th ed. St. Louis (MO): CV, Mosby Company, 1956

24.

Sonnex TS, Dawber RP, Ryan TJ, et al. Zoon's (plasma-cell) balanitis: treatment by circumcision. Br J Dermatol 1982; 106: 585–8

25.

Murray WJ, Fletcher MS, Yates-Bell AJ, et al. Plasma cell balinitis of Zoon. Br J Urol 1986; 58: 689–91

26.

Kumar B, Sharma R, Rajagopalan M, et al. Plasma cell balanitis: clinical and histopathological features: response to circumcision. Genitourin Med 1995; 71: 32–4

27.

Ee HL, Yosipovitch G, Chan R, et al. Resolution of vulvitis circumscripta plasmacellularis with topical imiquimod: two case reports. Br J Dermatol 2003; 149: 638–41

28.

Moreno-Arias GA, Camps-Fresneda A, Llaberia C, et al. Plasma cell balanitis treated with tacrolimus 0.1%. Br J Dermatol 2005; 153: 1204–6

29.

Hernandez-Machin B, Hernando LB, Marrero OB, et al. Plasma cell balanitis of Zoon treated successfully with topical tacrolimus. Clin Exp Dermatol 2005; 30: 588–9

30.

Petersen CS, Thomsen K. Fusidic acid cream in the treatment of plasma cell balanitis. J Am Acad Dermatol 1992; 27: 633–4

31.

Baldwin HE, Geronemus RG. The treatment of Zoon's balanitis with the carbon dioxide laser. J Dermatol Surg Oncol 1989; 15: 491–4

32.

Aynaud O, Casanova JM, Tranbaloc P. CO2 laser for therapeutic circumcision in adults. Eur Urol 1995; 28: 74–6

33.

Albertini JG, Holck DE, Farley MF. Zoon's balanitis treated with Erbium: YAG laser ablation. Lasers Surg Med 2002; 30: 123–6

34.

Haedersdal M, Wulf HC. Plasma cell balanitis treated with a copper vapour laser. Scand J Plast Reconstr Surg Hand Surg 1995; 29: 357–8

35.

Tang A, David N, Horton LW. Plasma cell balanitis of Zoon: response to Trimovate cream. Int J STD AIDS 2001; 12: 75–8

36.

Goldstein AT, Christopher K, Burrows LJ. Plasma cell vulvitis: a rare cause of intractable vulvar pruritus. Arch Dermatol 2005; 141: 789–90

37.

Simpson D, Noble S. Tacrolimus ointment: a review of its use in atopic dermatitis and its clinical potential in other inflammatory skin conditions. Drugs 2005; 65: 827–58
Acknowledgments
No sources of funding were received to prepare this case report. The authors have no conflicts of interest to declare that are directly relevant to the content of this case report.
About this article
Cite this article
Ezra, N., Binder, S.W. & Behroozan, D. Plasma Cell Balanitis Presenting in a Patient with a History of Syphilis. Am J Clin Dermatol 13, 129–133 (2012). https://doi.org/10.2165/11593260-000000000-00000
Keywords
Tacrolimus

Syphilis

Pimecrolimus

Rapid Plasma Reagin

Venereal Disease Research Laboratory