Abstract
Objective: The aim of the study was to evaluate the quality of pharmacoeconomic studies based in India.
Methods: A literature search was conducted using PubMed, MEDLINE, EconLit, PsycInfo and Google Scholar to identify published work on pharmacoeconomics studies based in India. Articles were included if they were original studies that evaluated pharmaceuticals, were based in India and were conducted between 1990 and 2010. Two reviewers independently reviewed the articles using a subjective 10-point quality scale in addition to the 100-point Quality of Health Economic Studies (QHES) questionnaire.
Results: Twenty-nine articles published between 1998 and May 2010 were included in the review. The included articles were published in 23 different journals. Each article was written by an average of five authors. The mean subjective quality score of the 29 articles was 7.8 (standard deviation [SD]= 1.3) and the mean QHES scores for the complete pharmacoeconomic studies (n = 24) was 86 (SD = 6). The majority of authors resided in India (62%) at the time of publication and had a medical background (90%). The quality score was significantly (p≤0.05) related to the country of residence of the primary author (non-India = higher) and the study design (randomized controlled trials = higher).
Conclusion: Although the overall quality scores were comparable to (e.g. Nigeria) or higher than (e.g. Zimbabwe) similar studies in other developing countries, key features such as an explicit study perspective and the use of sensitivity analyses were missing in about 40% of the articles. The need for economic evaluation of pharmaceuticals is imperative, especially in developing countries such as India as this helps decision makers allocate scarce resources in a justifiable manner.
This is a preview of subscription content, log in to check access.
Access options
Buy single article
Instant access to the full article PDF.
US$ 49.95
Price includes VAT for USA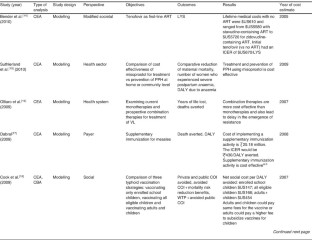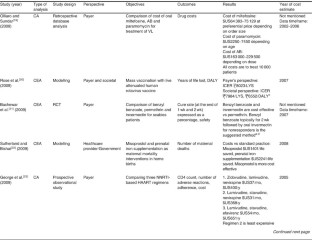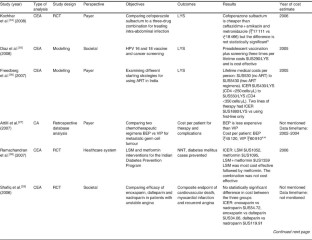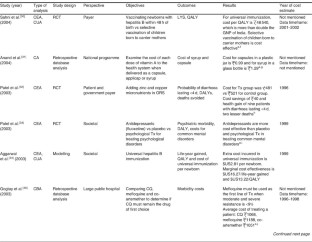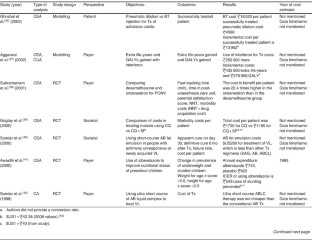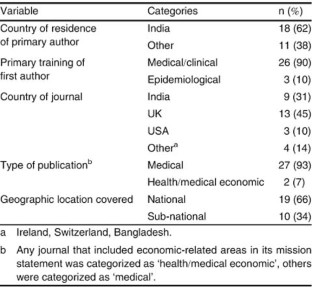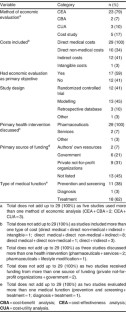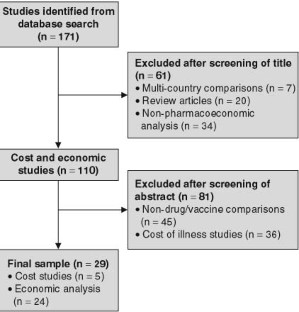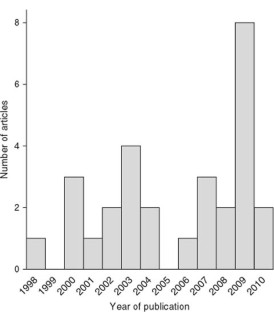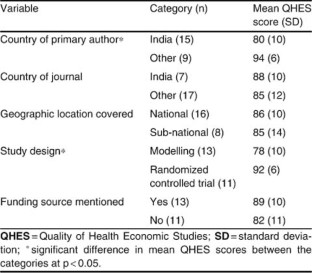 References
1.

Ramani KV, Mavalankar D. Health system in India: opportunities and challenges for improvement. J Health Organ Manag 2006; 20(6): 560–72

2.

Census of India 2001. Brief analysis of the provisional results of the 2001 census [online]. Available from URL: http://www.pon.nic.in/open/depts/ecostat/census/RESULTS.HTM [Accessed 2010 Sep 2]

3.

Patil AV, Somasundaram KV, Goyal RC. Current health scenario in rural India. Aust J Rural Health 2002 Apr; 10: 129–35

4.

Reddy KS, Shah B, Varghese C, et al. Responding to the threat of chronic diseases in India. Lancet 2005 Nov; 366: 1746–51

5.

UNICEF. Progress for children: a world fit for children statistical review, number 6, December 2007. UNICEF, 2007 [online]. Available from URL: http://www.unicef.org/publications/files/Progress_for_Children_No_6_revised.pdf [Accessed 2012 Jun 6]

6.

Patel AR, Nowalk MP. Expanding immunization coverage in rural India: a review of evidence for community health workers. Vaccine 2010 Jan; 28: 604–13

7.

Gavaza P, Rascati KL, Oladapo AO, et al. The state of health economic evaluation research in Nigeria. Pharma-coeconomics 2010 Jul; 28(7): 539–53

8.

Gavaza P, Rascati K, Brown C, et al. The state of health economic and pharmacoeconomic evaluation research in Zimbabwe. Curr Ther Res 2008 Jun; 69(3): 268–85

9.

Teerawattananon Y, Russel S, Mugford M. A systemic review of economic evaluation literature in Thailand: are the data good enough to be used by policy makers? Pharma-coeconomics 2007; 25(6): 467–79

10.

Lee KS, Brouwer WB, Lee SI, et al. Introducing economic evaluation as a policy tool in Korea: will decision makers get quality information? Pharmacoeconomics 2005; 23(7): 709–21

11.

Drummond MF, Sculpher MJ, Torrance GW, et al. Methods for the economic evaluation of health care programmes. 3rd ed. Oxford: Oxford University Press, 2005

12.

Sullivan SD, Lyles A, Luce BR, et al. AMCP guidance for submission of clinical and economic evaluation data to support formulary listing in US health plans and pharmacy benefit management organizations. J Manag Care Pharm 2001 Jul; 7(4): 272–82

13.

Offman JJ, Sullivan SD, Neumann PJ, et al. Examining the value and quality of economic analysis: implications of utilizing the QHES. J Manag Care Pharm 2003 Jan; 9(1): 53–61

14.

Bender MA, Kumarasamy N, Mayer KH, et al. Cost-effectiveness of tenofovir as first-line antiretroviral therapy in India. Clin Infect Dis 2010 Feb; 50(3): 416–25

15.

Sutherland T, Meyer C, Bishai DM, et al. Community-based distribution of misoprostol for treatment or prevention of postpartum hemorrhage: cost-effectiveness, mortality, and morbidity reduction analysis. Int J Gynecol Obstet 2010; 108(3): 289–94

16.

Olliaro P, Darley S, Laxminarayan R, et al. Cost-effectiveness projections of single and combination therapies for visceral leishmaniasis in Bihar, India. Trop Med Int Health 2009 Aug; 14(8): 918–25

17.

Dabral M. Cost-effectiveness of supplementary immunization for measles in India. Indian Pediatr 2009 Nov; 46(11): 957–62

18.

Cook J, Sur D, Clemens J, et al. Evaluating investments in typhoid vaccines in two slums in Kolkata, India. J Health Popul Nutr 2009 Dec; 27(6): 711–24

19.

Olliaro P, Sundar S. Anthropometrically derived dosing and drug costing calculations for treating visceral leishmaniasis in Bihar, India. Trop Med Int Health 2009 Jan; 14(1): 88–92

20.

Rose J, Hawthorn RL, Watts B, et al. Public health impact and cost effectiveness of mass vaccination with live attenuated human rotavirus vaccine (RIX4414) in India: model based analysis. BMJ 2009; 339: b3482

21.

Bachewar NP, Thawani VR, Mali SN, et al. Comparison of safety, efficacy, and cost effectiveness of benzyl benzoate, permethrin, and ivermectin in patients of scabies. Indian J Pharmacol 2009 Feb; 41(1): 9–14

22.

Sutherland T, Bishai DM. Cost-effectiveness of misoprostol and prenatal iron supplementation as maternal mortality interventions in home births in rural India. Int J Gynecol Obstet 2009; 104(3): 189–93

23.

George C, Yesoda A, Jayakumar B, et al. A prospective study evaluating clinical outcomes and costs of three NNRTI-based HAART regimens in Kerala, India. J Clin Pharm Ther 2009; 34(1): 33–40

24.

Kochhar P, Suvarna V, Duttagupta S, et al. Cost-effectiveness study comparing cefoperazone-sulbactam to a three-drug combination for treating intraabdominal infections in an Indian health-care setting. Value Health 2008; 11 Suppl. 1: S33–8

25.

Diaz M, Kim JJ, Albero G, et al. Health and economic impact of HPV 16 and 18 vaccination and cervical cancer screening in India. Br J Cancer 2008; 99(2): 230–8

26.

Freedberg KA, Kumarasamy N, Losina E, et al. Clinical impact and cost-effectiveness of antiretroviral therapy in India: starting criteria and second-line therapy. AIDS 2007 Jul;21 Suppl. 4: S1 17–28

27.

Attili VS, Chandra RC, Anupama G, et al. Treatment outcome and cost-effectiveness analysis of two chemotherapeutic regimens (BEP vs. VIP) for poor-prognosis metastatic germ cell tumors. J Cancer Res Ther 2007 Sep; 3(3): 150–2

28.

Ramachandran A, Snehalatha C, Yamuna A, et al. Cost-effectiveness of the interventions in the primary prevention of diabetes among Asian Indians: within-trial results of the Indian Diabetes Prevention Programme (IDPP). Diabetes Care 2007 Oct; 30(10): 2548–52

29.

Shafiq N, Malhotra S, Pandhi P, et al. A randomized controlled clinical trial to evaluate the efficacy, safety, cost-effectiveness and effect on PAI-1 levels of the three low-molecular-weight heparins: enoxaparin, nadroparin and dalteparin. The ESCAPe-END study. Pharmacology 2006; 78(3): 136–43

30.

Sahni M, Jindal K, Abraham N, et al. Hepatitis B immunization: cost calculation in a community-based study in India. Indian J Gastroenterol 2004 Jan; 23(1): 16–8

31.

Anand K, Sankar R Kapoor SK. Cost of syrup versus capsule form of vitamin A supplementation. Indian Pediatr 2004 Apr; 41(4): 377–84

32.

Patel AB, Dhande LA, Rawat MS. Economic evaluation of zinc and copper use in treating acute diarrhea in children: a randomized controlled trial. Cost Eff Resour Alloc 2003; 1(1): 7

33.

Patel V, Chisholm D, Rabe-Hesketh S, et al. Efficacy and cost-effectiveness of drug and psychological treatments for common mental disorders in general health care in Goa, India: a randomised, controlled trial. Lancet 2003; 361(9351): 33–9

34.

Aggarwal R, Ghoshal UC, Naik SR. Assessment of cost-effectiveness of universal hepatitis B immunization in a low-income country with intermediate endemicity using a Markov model. J Hepatol 2003; 38(2): 215–22

35.

Gogtay NJ, Kadam VS, Desai S, et al. A cost-effectiveness analysis of three antimalarial treatments for acute, uncomplicated Plasmodium falciparum malaria in Mumbai, India. J Assoc Physicians India 2003 Sep; 51: 877–9

36.

Ghoshal UC, Aggarwal R, Kumar S, et al. Pneumatic dilation versus intrasphincteric botulinum toxin injection in the treatment of achalasia cardia in India: an economic analysis. Indian J Gastroenterol 2002 Sep; 21(5): 193–6

37.

Aggarwal R, Ghoshal UC, Naik SR. Treatment of chronic hepatitis B with interferon-alpha: cost-effectiveness in developing countries. Natl Med J India 2002; 15(6): 320–7

38.

Subramaniam B, Madan R, Sadhasivam S, et al. Dexa-methasone is a costeffective alternative to ondansetron in preventing PONV after pediatric strabismus repair. Br J Anesth 2001; 86(1): 84–9

39.

Gogtay NJ, Desai S, Kadam VS, et al. A randomized, parallel-group study in Mumbai (Bombay), comparing chloroquine with chloroquine plus sulfadoxine-pyrimethamine in the treatment of adults with acute, uncomplicated, Plasmodium falciparum malaria. Ann Trop Med Parasitol 2000; 94(4): 309–12

40.

Sundar S, Gupta LB, Rastogi V, et al. Short-course, cost-effective treatment with amphotericin B-fat emulsion cures visceral leishmaniasis. Trans R Soc Trop Med Hyg 2000; 94(2): 200–4

41.

Awasthi S, Pande VK, Fletcher RH. Effectiveness and cost-effectiveness of albendazole in improving nutritional status of pre-school children in urban slums. Indian Pediatr 2000; 37(1): 19–29

42.

Sundar S, Goyal AK, More DK, et al. Treatment of antimony-unresponsive Indian visceral leishmaniasis with ultra-short courses of amphotericin-B-lipid complex. Ann Trop Med Parasitol 1998; 92(7): 755–64

43.

XE. Free currency charts (USA/INR) [online]. Available from URL: http://www.xe.com/currencycharts/?from=USD&to=INR&view=10Y [Accessed 2010 Sep 5]

44.

Powe NR, Griffiths RI. The clinical-economic trial: promise, problems, and challenges. Control Clin Trials 1995 Dec; 16(6): 377–94

45.

World Health Organization. NCD country profiles, 2011 [online]. Available from URL: http://www.who.int/nmh/countries/ind_en.pdf [Accessed 2012 Jun 6]

46.

Rascati KL. Chapter 13: international perspective. Essentials of pharmacoeconomics. Philadelphia (PA): Lippincott Williams and Wilkins, 2009

47.

Freemantle N, Mason J. Publication bias in clinical trials and economic analyses. Pharmacoeconomics 1997 Jul; 12(1): 10–6
Acknowledgements
No sources of funding were used to assist in the preparation of this review. The authors have no conflicts of interest that are directly relevant to the content of this review.
Karen Rascati is the guarantor for the overall content of this article. Pooja Desai contributed to the literature review, review of articles, data collection, study design, statistical methods and writing of the manuscript. Hitesh Chandwani contributed to the review of articles, data collection, study design, statistical methods and editing of the manuscript. Karen Rascati contributed to the design, statistical methods editing and overall content of the manuscript.
About this article
Cite this article
Desai, P.R., Chandwani, H.S. & Rascati, K.L. Assessing the Quality of Pharmacoeconomic Studies in India. PharmacoEconomics 30, 749–762 (2012). https://doi.org/10.2165/11590140-000000000-00000
Keywords
Economic Evaluation

Achalasia

Visceral Leishmaniasis

Continue Medical Education

Scabies