This is a preview of subscription content, log in to check access.
Access options
Buy single article
Instant access to the full article PDF.
US$ 49.95
Price includes VAT for USA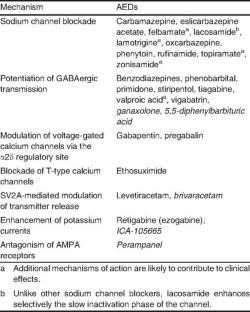 References
1.

Kale R, Perucca E. Revisiting phenobarbital for epilepsy. BMJ 2004 Nov 20; 329(7246): 1199–200

2.

Perucca E, Tomson T. The pharmacological treatment of epilepsy in adults. Lancet Neurol 2011 May; 10(5): 446–56

3.

Perucca E, French J, Bialer M. Development of new antiepileptic drugs: challenges, incentives, and recent advances. Lancet Neurol 2007 Sep; 6(9): 793–804

4.

Fattore C, Perucca E. Novel pharmacotherapies for epilepsy. Drugs. In press

5.

Perucca E. An introduction to antiepileptic drugs. Epilepsia 2005; 46 Suppl. 4: 31–7

6.

Rogawski MA, Löscher W. The neurobiology of antiepileptic drugs. Nat Rev Neurosci 2004 Jul; 5(7): 553–64

7.

Errington AC, Stöhr T, Heers C, et al. The investigational anticonvulsant lacosamide selectively enhances slow inactivation of voltage-gated sodium channels. Mol Pharmacol 2008 Jan; 73(1): 157–69

8.

Rundfeldt C. The new anticonvulsant retigabine (D-23129) acts as an opener of K+ channels in neuronal cells. Eur J Pharmacol 1997 Oct 8; 336(2–3): 243–9

9.

Hanada T, Hashizume Y, Tokuhara N, et al. Perampanel: a novel, orally active, noncompetitive AMPA-receptor antagonist that reduces seizure activity in rodent models of epilepsy. Epilepsia 2011 Jul; 52(7): 1331–40

10.

Goa KL, Ross SR, Chrisp P. Lamotrigine: a review of its pharmacological properties and clinical efficacy in epilepsy. Drugs 1993 Jul; 46(1): 152–76

11.

Cheung H, Kamp D, Harris E. An in vitro investigation of the action of lamotrigine on neuronal voltage-activated sodium channels. Epilepsy Res 1992 Nov; 13(2): 107–12

12.

Bialer M, Johannessen SI, Levy RH, et al. Progress report on new antiepileptic drugs: a summary of the Tenth Eilat Conference (EILAT X). Epilepsy Res 2010 Dec; 92(2–3): 89–124

13.

White HS, Smith MD, Wilcox KS. Mechanisms of action of antiepileptic drugs. Int Rev Neurobiol 2007; 81: 85–110

14.

Rheims S, Perucca E, Cucherat M, et al. Factors determining response to antiepileptic drugs in randomized controlled trials: a systematic review and meta-analysis. Epilepsia 2011 Feb; 52(2): 219–33

15.

Baulac M, Leon T, O'Brien TJ, et al. A comparison of pregabalin, lamotrigine, and placebo as adjunctive therapy in patients with refractory partial-onset seizures. Epilepsy Res 2010 Sep; 91(1): 10–9

16.

Schmidt D. Antiepileptic drug discovery: does mechanism of action matter? Epilepsy Behav 2011 Aug; 21(4): 342–3

17.

Beyenburg S, Stavem K, Schmidt D. Placebo-corrected efficacy of modern antiepileptic drugs for refractory epilepsy: systematic review and meta-analysis. Epilepsia 2010 Jan; 51(1): 7–26

18.

Glauser T, Ben-Menachem E, Bourgeois B, et al. ILAE treatment guidelines: evidence-based analysis of antiepileptic drug efficacy and effectiveness as initial mono-therapy for epileptic seizures and syndromes. Epilepsia 2006 Jul; 47(7): 1094–120

19.

Perucca E, Gram L, Avanzini G, et al. Antiepileptic drugs as a cause of worsening seizures. Epilepsia 1998 Jan; 39(1): 5–17

20.

Crumrine PK. Management of seizures in Lennox-Gastaut syndrome. Pediatr Drugs 2011 Apr 1; 13(2): 107–18

21.

Frank LM, Enlow T, Holmes GL, et al. Lamictal (lamotrigine) monotherapy for typical absence seizures in children. Epilepsia 1999 Jul; 40(7): 973–9

22.

Vohora D, Saraogi P, Yazdani MA, et al. Recent advances in adjunctive therapy for epilepsy: focus on sodium channel blockers as third-generation antiepileptic drugs. Drugs Today (Barc) 2010 Apr; 46(4): 265–77

23.

Özkara Ç, Vigevano F. Immuno- and antiinflammatory therapies in epileptic disorders. Epilepsia 2011 May; 52 Suppl. 3: 45–51

24.

Klepper J. GLUT1 deficiency syndrome in clinical practice. Epilepsy Res. Epub 2011 Mar 5

25.

Mullen SA, Marini C, Suls A, et al. Glucose transporter 1 deficiency as a treatable cause of myoclonic astatic epilepsy. Arch Neurol. Epub 2011 May 9

26.

Guerrini R, Dravet C, Genton P, et al. Lamotrigine and seizure aggravation in severe myoclonic epilepsy. Epilepsia 1998 May; 39(5): 508–12

27.

Yu FH, Mantegazza M, Westenbroek RE, et al. Reduced sodium current in GABAergic interneurons in a mouse model of severe myoclonic epilepsy in infancy. Nat Neurosci 2006 Sep; 9(9): 1142–9

28.

Brodie M, Covanis T, Gil-Nagel A, et al. Antiepileptic drug therapy: does mechanism of action matter? Epilepsy Behav 2011 Aug; 21(4): 331–41

29.

De Groot M, Aronica E, Heimans JJ, et al. Synaptic vesicle protein 2A predicts response to levetiracetam in patients with glioma. Neurology 2011 Aug 9; 77(6): 532–9

30.

Besag FM, Berry DJ, Pool F, et al. Carbamazepine toxicity with lamotrigine: pharmacokinetic or pharmacodynamic interaction? Epilepsia 1998 Feb; 39(2): 183–7

31.

Barcs G, Walker EB, Elger CE, et al. Oxcarbazepine placebo-controlled, dose-ranging trial in refractory partial epilepsy. Epilepsia 2000 Dec; 41(12): 1597–607

32.

Eisai Ltd. Zebinix: summary of product characteristics [online]. Available from URL: http://www.medicines.org.uk/emc/medicine/22376/SPC/ [Accessed 2011 May 8]

33.

Sake JK, Hebert D, Isojärvi J, et al. A pooled analysis of lacosamide clinical trial data grouped by mechanism of action of concomitant antiepileptic drugs. CNS Drugs 2010 Dec 1; 24(12): 1055–68

34.

Novy J, Patsalos PN, Sander JW, et al. Lacosamide neurotoxicity associated with concomitant use of sodium channel-blocking antiepileptic drugs: a pharmacodynamic interaction? Epilepsy Behav 2011 Jan; 20(1): 20–3

35.

Brodie MJ, Rosenfeld WE, Vazquez B, et al. Rufinamide for the adjunctive treatment of partial seizures in adults and adolescents: a randomized placebo-controlled trial. Epilepsia 2009 Aug; 50(8): 1899–909

36.

Deckers CL, Czuczwar SJ, Hekster YA, et al. Selection of antiepileptic drug polytherapy based on mechanisms of action: the evidence reviewed. Epilepsia 2000 Nov; 41(11): 1364–74

37.

Toledano R, Gil-Nagel A. Adverse effects of antiepileptic drugs. Semin Neurol 2008 Jul; 28(3): 317–27

38.

Ben-Menachem E. Weight issues for people with epilepsy: a review. Epilepsia 2007; 48 Suppl. 9: 42–5

39.

Mohammadianinejad SE, Abbasi V, Sajedi SA, et al. Zonisamide versus topiramate in migraine prophylaxis: a double-blind randomized clinical trial. Clin Neuropharmacol 2011 Jul–Aug; 34(4): 174–7

40.

Kossoff EH, Pyzik PL, Furth SL, et al. Kidney stones, carbonic anhydrase inhibitors, and the ketogenic diet. Epilepsia 2002 Oct; 43(10): 1168–71

41.

Mirza NS, Alfirevic A, Jorgensen A, et al. Metabolic acidosis with topiramate and zonisamide: an assessment of its severity and predictors. Pharmacogenet Genomics 2011 May; 21(5): 297–302

42.

Dong X, Leppik IE, White J, et al. Hyponatremia from oxcarbazepine and carbamazepine. Neurology 2005 Dec 27; 65(12): 1976–8

43.

Rode F, Svalø J, Sheykhzade M, et al. Functional effects of the KCNQ modulators retigabine and XE991 in the rat urinary bladder. Eur J Pharmacol 2010 Jul 25; 638(1–3): 121–7

44.

French JA, Abou-Khalil BW, Leroy RF, et al., RESTORE 1/Study 301 Investigators. Randomized, double-blind, placebo-controlled trial of ezogabine (retigabine) in partial epilepsy. Neurology 2011 May 3; 76(18): 1555–63
Acknowledgements
This work was not supported by any funding source. Emilio Perucca received research grants from the European Union, the Italian Medicines Agency, the Italian Ministry of Health, and the Italian Ministry for Education, University and Research. He also received speaker's or consultancy fees and/or research grants from Bial, Eisai, GSK, Johnson & Johnson, Novartis, Pfizer, Sepracor, SK Life Sciences Holdings, Supernus, UCB Pharma, Upsher-Smith, Valeant and Vertex.
About this article
Cite this article
Perucca, E. The Pharmacology of New Antiepileptic Drugs. CNS Drugs 25, 907–912 (2011). https://doi.org/10.2165/11587900-000000000-00000