Abstract
Background: An association between salmeterol, a long-acting β2-agonist (LABA), use and rare serious asthma events or asthma mortality was observed in two large clinical trials. This has resulted in heightened scrutiny of LABAs and comprehensive reviews by regulatory agencies.
Objective: The aim of this retrospective observational cohort study was to better characterize salmeterol medication use patterns in the UK. We describe asthma prescription patterns in a cohort of patients (n = 17 745) in the General Practice Research Database who initiated treatment with salmeterol-containing prescriptions between 2003 and 2006, including salmeterol and salmeterol/fluticasone propionate in a single device.
Methods: Prescriptions patterns by medication class, including concurrent prescription of salmeterol with inhaled corticosteroids (ICS), were described using 6-month intervals in the 1-year period before and after the salmeterol-containing index prescription.
Results: In the 0- to 6-month and 7- to 12-month periods prior to initiation of the salmeterol-containing prescription, the cohort experienced worsening of asthma, measured by an increase in the proportion of patients with prescriptions for short-acting β-agonists [SABA] (73–89%), ICS (70–81%) and systemic corticosteroids (14–28%). Nearly all patients prescribed salmeterol were concurrently prescribed ICS (≥95% within 90 days). In the 12 months following initiation of the salmeterol-containing prescription, a decrease in asthma prescriptions was observed.
Discussion: These results support the appropriate prescribing of salmeterol-containing medications, as per recommendations in asthma treatment guidelines in the UK.
Conclusion: Salmeterol was consistently prescribed as an add-on asthma-controller with an ICS for most patients, and was associated with improvements in asthma control, as indicated by decreases in SABA and systemic corticosteroid prescriptions following salmeterol introduction.
This is a preview of subscription content, log in to check access.
Access options
Buy single article
Instant access to the full article PDF.
US$ 49.95
Price includes VAT for USA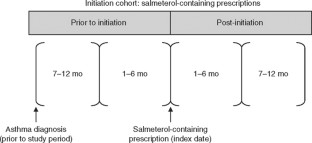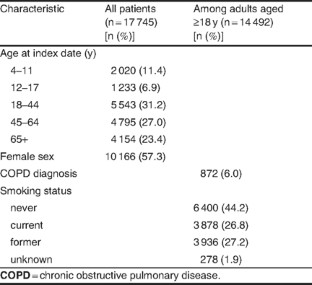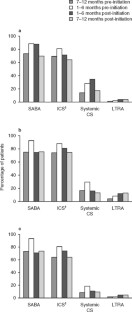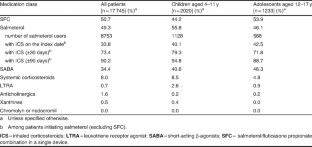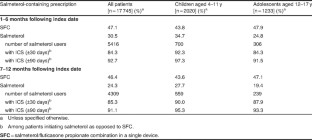 References
1.

IMS Health, Inc. Norwalk (CT): IMS Health, Inc., 2009

2.

Global Initiative for Asthma (GINA). Global strategy for asthma management and prevention [online]. Available from URL: http://www.ginasthma.com/ [Accessed 2011 Mar 17]

3.

Ni Chroinin M, Lasserson TJ, Greenstone I, et al. Addition of long-acting beta-4 agonists to inhaled corticosteroids for chronic asthma in children. Cochrane Database Syst Rev 2009; (3): CD007949

4.

Ducharme FM, Lasserson TJ, Cates CJ. Long-acting beta2-agonists versus anti-leukotrienes as add-on therapy to inhaled corticosteroids for chronic asthma. Cochrane Database Syst Rev 2006 Oct 18; (4): CD003137

5.

Martin RM, Shakir S. Age- and gender-specific asthma death rates in patients taking long-acting beta2-agonists: prescription event monitoring pharmacosurveillance studies. Drug Saf 2001; 24(6): 475–81

6.

Jackson CM, Lipworth B. Benefit-risk assessment of long-acting beta2-agonists in asthma. Drug Saf 2004; 27(4): 243–70

7.

Currie GP, Lee DK, Lipworth BJ. Long-acting beta2-agonists in asthma: not so SMART? Drug Saf 2006; 29(8): 647–56

8.

Perrio MJ, Wilton LV, Shakir SA. A modified prescription-event monitoring study to assess the introduction of SeretideEvohaler in England: an example of studying risk monitoring in pharmacovigilance. Drug Saf 2007; 30(8): 681–95

9.

Lipworth BJ. Risks versus benefits of inhaled beta 2-agonists in the management of asthma. Drug Saf 1992 Jan–Feb; 7(1): 54–70

10.

Lipworth BJ. Airway subsensitivity with long-acting beta 2-agonists: is there cause for concern? Drug Saf 1997 May; 16(5): 295–308

11.

Castle W, Fuller R, Hall J, et al. Serevent nationwide surveillance study: comparison of salmeterol with salbutamol in asthmatic patients who require regular bronchodilator treatment. BMJ 1993 Apr 17; 306(6884): 1034–7

12.

Nelson HS, Weiss ST, Bleecker ER, et al. The Salmeterol Multicenter Asthma Research Trial: a comparison of usual pharmacotherapy for asthma or usual pharmacotherapy plus salmeterol [published erratum appears in Chest 2006 May; 129 (5): 1393]. SMART Study Group. Chest 2006 Jan; 129(1): 15–26

13.

Bateman E, Nelson H, Bousquet J, et al. Meta-analysis: effects of adding salmeterol to inhaled corticosteroids on serious asthma-related events. Ann Intern Med 2008 Jul 1; 149(1): 33–42

14.

Mann RD, Kubota K, Pearce G, et al. Salmeterol: a study by prescription-event monitoring in a UK cohort of 15,407 patients. J Clin Epidemiol 1996; 49: 247–50

15.

Lanes SF, Lanza L, Wentworth CE. Risk of emergency care, hospitalization, and ICU stays for acute asthma among recipients of salmeterol. Am J Respir Crit Care Med 1998; 158: 857–61

16.

Meier CR, Jick H. Drug use and pulmonary death rates in increasing symptomatic asthma patients in the UK. Thorax 1997; 52: 612–7

17.

Williams C, Crossland L, Finnerty J, et al. A case-control study of salmeterol and near-fatal attacks of asthma. Thorax 1998; 53: 7–13

18.

Lanes SF, Garcia Rodriquez LA, Hueta C. Respiratory medications and risk of asthma death. Thorax 2002; 57: 683–6

19.

Martin RM, Dunn NR, Freemantle SN, et al. Risk of nonfatal cardiac failure and ischaemic heart disease with long-acting beta2 agonists. Thorax 1998; 53: 558–62

20.

Wang MT, Skrepnek GH, Armstrong E, et al. Use of salmeterol with and without concurrent use of inhaled corticosteroids and the risk of asthma-related hospitalization among patients with asthma. Curr Med Res Opin 2008 Mar; 24(3): 859–67

21.

Anderson HR, Ayres JG, Sturdy PM, et al. Bronchodilator treatment and deaths from asthma: case-control study. BMJ 2005 Jan 15; 330(7483): 117–24

22.

Garcia Rodriguez LA, Perez-Guttham S, Jick S. The UK General Practice Research database. In: Strom BL, editor. Pharmacoepidemiology. 3rd ed. West Sussex: John Wiley & Sons Ltd, 2000: 375–86

23.

van Staa TP, Cooper C, Leufkens HG, et al. The use of inhaled corticosteroids in the United Kingdom and the Netherlands. Respir Med 2003 May; 97(5): 578–85

24.

Ashworth M, Latinovic R, Charlton J, et al. Why has antibiotic prescribing for respiratory illness declined in primary care? A longitudinal study using the General Practice Research Database. J Public Health (Oxf) 2004 Sep; 26(3): 268–74

25.

Robinson S, Lader D. General household survey 2007: smoking and drinking among adults, 2007. Office for National Statistics 2008 [online]. Available from URL: http://www.statistics.gov.uk/downloads/theme_compendia/GHS07/GHSsmokinganddrinkingamongadults2007.pdf [Accessed 2011 Apr 19]

26.

Majeed A, Ferguson J, Field J. Prescribing of beta-2 agonists and inhaled steroids in England: trends between 1992 and 1998, and association with material deprivation, chronic illness and asthma mortality rates. J Public Health Med 1999 Dec; 21(4): 395–400
Acknowledgements
This research was funded by GlaxoSmithKline, and all authors are employed by GlaxoSmithKline or were employed by GlaxoSmithKline during the writing of this manuscript. The authors declare no other conflicts of interest or financial interest in any product or service mentioned in this article.
About this article
Cite this article
Di Santostefano, R.L., Davis, K.J. Prescription Patterns in Asthma Patients Initiating Salmeterol in UK General Practice. Drug-Safety 34, 511–520 (2011). https://doi.org/10.2165/11587370-000000000-00000
Keywords
Asthma

Chronic Obstructive Pulmonary Disease

Index Date

Salmeterol

Asthma Medication