Abstract
Background
Previous research to develop a new generic paediatric health-related quality of life (HR-QOL) measure generated 11 dimensions of HR-QOL, covering physical, emotional and social functioning. These dimensions and their response scales were developed from interviews with children. Some of these dimensions have alternative wording choices. The measure is intended to be preference based so that it can be used in paediatric economic evaluation.
Objectives
The aims of this research were to assess the performance of this new descriptive system in a general and clinical paediatric population, to determine the most appropriate wording for the dimensions and to refine the descriptive system to be amenable to health state valuation to make it suitable for use in economic evaluation.
Methods
A sample of 247 children was recruited from general and clinical paediatric populations. Each child completed the descriptive system and data were collected to allow assessment of practicality (including response rates, completion rates and time to complete), content, face and construct validity, whether the child could self-complete and preferences for alternative wordings that could be used for dimensions. These data were used to inform the final choice of wording for dimensions, the scales used for each dimension and the reduction of dimensions to meet the constraints of health state valuation.
Results
The descriptive system demonstrated good practicality and validity in both the general and clinical paediatric samples. The completion rates were excellent (>98%), the mean time to complete was low (3.8 minutes for the general and 5.3 minutes for the clinical sample) and there was evidence of face, content and construct validity. The descriptive system was able to demonstrate significant differences between the general and clinical samples and according to the level of health of children. 96% of the school sample and 85% of the clinical sample were able to self-complete. The final choice of wording for the 11 dimensions was determined by the preferences and comments of the children. To make it amenable for health state valuation, the number of dimensions was reduced from 11 to 9 by removing the dimensions 'jealous' and 'embarrassed'.
Conclusions
The descriptive system performed well in both the general and the clinical populations, and the final descriptive system generates health states that are feasible for health state valuation. Further research is needed to value the final descriptive system by obtaining preference weights for each health state, thereby making the measure suitable for use in paediatric economic evaluation.
This is a preview of subscription content, log in to check access.
Access options
Buy single article
Instant access to the full article PDF.
US$ 49.95
Price includes VAT for USA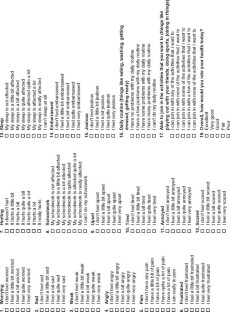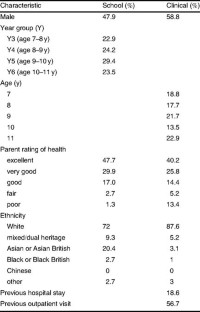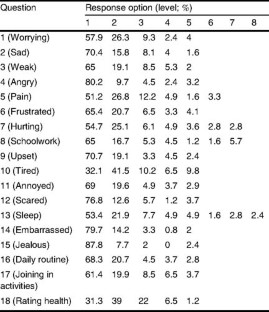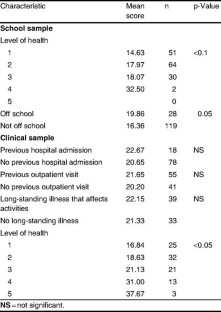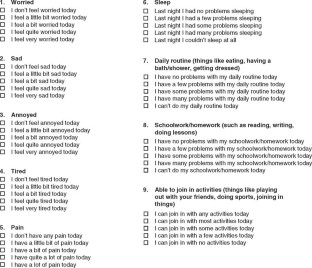 References
1

National Institute for Health and Clinical Excellence. Guide to the methods of technology appraisal. London: NICE, 2008 Apr

2

Australian Government, Department of Health and Ageing. Pharmaceutical Benefits Advisory Committee (PBAC) [online]. Available from URL: http://www.health.gov.au/internet/main/publishing.nsf/content/health-pbs-general-listing-committee3.htm [Accessed 2010 Oct 25]

3

Brazier JE, Ratcliffe J, Salomon J, et al. Measuring and valuing health benefits for economic evaluation. 1st ed. Oxford: Oxford University Press, 2007

4

Wille N, Badia X, Bonsel G, et al. Development of the EQ-5DY: a child friendly version of the EQ-5D. Qual Life Res 2010; 19: 875–86

5

Moodie M, Richardson J, Rankin B, et al. Predicting time trade-off health state valuations of adolescents in four pacific countries using the AQoL-6D instrument [Monash University Research Paper 2009 (43)]. Melbourne (VIC): Monash University, Centre for Health Economics, 2009

6

Torrance G, Feeny D, Furling W, et al. Multiattribute utility function for a comprehensive health status classification system: health utilities index mark 2. Med Care 1996; 34: 702–22

7

Stevens KJ. Working with children to develop dimensions for a preference-based, generic, pediatric health-related quality-of-life measure. Qual Health Res 2010; 20(3): 340–51

8

Stevens KJ. Developing a descriptive system for a new preference-based measure of health-related quality of life for children. Qual Life Res 2009; 18(8): 1105–13

9

Miller GA. The magical number seven plus or minus two: some limits on our capacity to process information. Psych Rev 1956; 63: 81–97

10

Brazier JE, Deverill M, Green C, et al. A review of the use of health status measures in economic evaluation. Health Technol Assess 1999; 3(9): i–iv, 1-164

11

Matza LS, Swensen AR, Flood EM, et al. Assessment of health related quality of life in children: a review of conceptual, methodological, and regulatory issues. Value Health 2004; 7(1): 79–92

12

Morrow AM, Quine S, Heaton MD, et al. Assessing quality of life in paediatric clinical practice. J Paed Child Health 2010; 46: 323–8

13

Landgraf JM. Practical considerations in the measurement of HRQoL in child/adolescent clinical trials. In: Fayers P, Hays R, editors. Assessing quality of life in clinical trials. 2nd ed. Oxford: Oxford University Press, 2005: 339–68

14

Dolan P. Modelling valuations for EuroQol Health States. Med Care 1997; 35: 1095–108
Acknowledgements
This research was funded as part of a UK Medical Research Council Special Training Fellowship in Health Services and Health of the Public Research. The work was independent of the funders. Thanks go to the staff of Firs Hill Community Primary School and Hunter's Bar Junior School, the parents who gave their consent and all the children who took part. The Clinical Research Facility at Sheffield Children's NHS Trust hosted the clinical study and thanks go to the staff on the wards, the parents who gave their consent and the children who took part.
The author has no conflicts of interest that are directly relevant to the content of this study.
About this article
Cite this article
Stevens, K. Assessing the performance of a new generic measure of health-related quality of life for children and refining it for use in health state valuation. Appl Health Econ Health Policy 9, 157–169 (2011). https://doi.org/10.2165/11587350-000000000-00000
Keywords
Descriptive System

Preference Weight

School Sample

Health State Valuation

Psychometric Performance