Abstract
Background
The recently renewed Best Pharmaceuticals for Children and Pediatric Research Equity Acts (BPCA/PREA) have continued industry incentives and opportunities for pediatric drug trials (PDTs). However, there is no current assessment of the capacity to perform PDTs.
Objective
The aim of this study was to deepen understanding of the capacity for US PDTs by assessing PDT infrastructure, present barriers to PDTs, and potential approaches and solutions to identified issues.
Design/Methods
Pediatric clinical research experts participated in semi-structured interviews on current US pediatric research capacity (February–July 2007). An initial informant list was developed using purposive sampling, and supplemented and refined to generate a group of respondents to explore emerging themes. Each phone interview included a physician researcher and two health researchers who took notes and recorded the calls. Health researchers produced detailed summaries, which were verified by the physician researcher and informants. We then undertook qualitative analysis of the summaries, employing multiple coding, with the two health researchers and the physician researcher independently coding each summary for themes and subthemes. Coding variations were resolved by physician researcher/health researcher discussion and consensus achieved on themes and subthemes.
Results
The 33 informants' primary or secondary roles included academia (n = 21), federal official (5), industry medical officer (8), pediatric research network leader (10), pediatric specialist leader (8), pediatric clinical pharmacologist (5), and practitioner/research site director (9). While most experts noted an increase in PDTs since the initial passage of BPCA/PREA, a dominant theme of insufficient US PDT capacity emerged. Subthemes included (i) lack of systems for finding, incentivizing, and/or maintaining trial sites; (ii) complexity/demands of conducting PDTs in clinical settings; (iii) inadequate numbers of qualified pediatric pharmacologists and clinician investigators trained in FDA Good Clinical Practice; and (iv) poor PDT protocol design resulting in operational and enrollment difficulties in the pediatric population. Suggested potential solutions for insufficient PDT capacity included (i) consensus-building among stakeholders to create PDT systems; (ii) initiatives to train more pediatric pharmacologists and educate clinicians in Good Clinical Practice; (iii) advocacy for PDT protocols designed by individuals sensitive to pediatric issues; and (iv) physician and public education on the importance of PDTs.
Conclusions
Insufficient US PDT capacity may hinder the development of new drugs for children and limit studies on the safety and efficacy of drugs presently used to treat pediatric conditions. Further public policy initiatives may be needed to achieve the full promise of BPCA/PREA.
This is a preview of subscription content, log in to check access.
Access options
Buy single article
Instant access to the full article PDF.
US$ 49.95
Price includes VAT for USA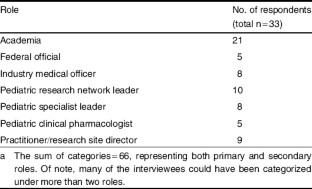 References
1.

Wilson J. Pragmatic assessment of medicines available for young children and pregnant or breast-feeding women. In: Garattini S, Morselli PL, Sereni F, editors. Basic and therapeutic aspects of perinatal pharmacology. New York: Raven Press, 1975: 411–21

2.

US FDA, Center for Drug Evaluation and Research, Office of Drug Evaluation. Statistical report. Rockville (MD): Department of Health and Human Services, 1989. Publication no. 89: 233530

3.

Gilman J. Pharmacokinetic and pharmacodynamic data collection in children and neonates. Clin Pharmacokinet 1992; 23: 1–9

4.

Committee on Drugs. Unapproved uses of approved drugs: the physicians, the package insert, and the Food and Drug Administration: subject review. Pediatrics 1996; 98: 143–5

5.

Blumer JL. Off-label uses of drugs in children. Pediatrics 1999; 104 (3 Pt 2): 598–602

6.

Benjamin Jr DK, Smith PB, Murphy MD, et al. Peer-reviewed publication of clinical trials completed for pediatric exclusivity. JAMA 2006; 296(10): 1266–73

7.

US FDA. Food and Drug Administration Modernization Act of 1997. Public Law 105–115. 105th Congress [online]. Available from URL: http://www.fda.gov/RegulatoryInformation/Legislation/FederalFoodDrugandCosmeticActFDCAct/SignificantAmendmentstotheFDCAct/FDAMA/FullTextofFDAMAlaw/default.htm [Accessed 2009 Sep 30]

8.

US FDA. Best Pharmaceuticals for Children Act, January 4, 2002 (Public Law No. 107–109). 107th Congress [online]. Available from URL: http://www.fda.gov/Drugs/DevelopmentApprovalProcess/DevelopmentResources/ucm049876.htm04/30/2009 [Accessed 2009 Sep 30]

9.

US FDA. Pediatric Research Equity Act of 2003. Public Law 108–155. 108th Congress [online]. Available from URL: http://frwebgate.access.gpo.gov/cgibin/getdoc.cgi?dbname=108_cong_public_laws&docid=f:publ155.108 [Accessed 2009 Sep 30]

10.

Milne CP, Cairns C. US pediatric studies incentive led to new labeling for nearly 100 drugs: impact report. Tufts Center for the Study of Drug Development, 2005; 7(4): 1–4

11.

Li JS, Eisenstein EL, Grabowski HG, et al. Economic return of clinical trials performed under the pediatric exclusivity program. JAMA 2007; 297(5): 480–8

12.

Benjamin Jr DK, Smith PB, Sun MJ, et al. Safety and transparency of pediatric drug trials. Arch Pediatr Adolesc Med 2009; 163(12): 1080–6

13.

Cohen E, Uleryk E, Jasuja M, et al. An absence of pediatric randomized controlled trials in general medical journals, 1985–2004. J Clin Epidemiol 2007; 60(2): 118–23

14.

Cohen E, Goldman RD, Ragone A, et al. Child vs adult randomized controlled trials in specialist journals: a citation analysis of trends, 1985–2005. Arch Pediatr Adolesc Med 2010; 164: 283–8

15.

Kuzel A. Sampling in qualitative inquiry. In: Crabtree B, Miller W, editors. Doing qualitative research. London: Sage, 1992: 34–44

16.

Miller C, Burke LM, Glick WH. Cognitive diversity among upper-echelon executives: implications for strategic decision processes. Strateg Manag J 1998; 19: 39–58

17.

Bryman A, Burgess R, editors. Analyzing qualitative data. London: Routledge, 1994

18.

Whitley R, Crawford M. Qualitative research in psychiatry. Can J Psychiatry 2005; 50: 108–14

19.

International Conference on Harmonisation of Technical Requirements for Registration of Pharmaceuticals for Human Use. ICH harmonised tripartite guideline: guideline for good clinical practice E6(R1) [online]. Available from URL: http://www.ich.org/LOB/media/MEDIA482.pdf [Accessed 2009 Sep 30]

20.

American Academy of Pediatrics. Improvements made in the 2007 Reauthorization of the Best Pharmaceuticals for Children Act (BPCA) and the Pediatric Research Equity Act (PREA) [online]. Available from URL: www.aap.org/advocacy/washing/therapeutics/docs/bpcapreaonepage.pdf2007 [Accessed 2010 Jun 19]

21.

National Heart Lung and Blood Institute. No more hand-me-down research [online]. Available from URL: http://www.nhlbi.nih.gov/childrenandclinicalstudies/index.php [Accessed 2010 Nov 29]
Acknowledgements
Support for this study was provided by the AAP. The authors have no conflicts of interest to disclose. The authors thank the 33 individuals who agreed to be interviewed and share their thoughts for the study. The authors also thank Harry Pellman, MD, for serving as a subject in the pilot phase of interview development, and Richard Gorman, MD, for his thoughtful critique of an early draft of the manuscript.
About this article
Cite this article
Wasserman, R., Bocian, A., Harris, D. et al. Limited Capacity in US Pediatric Drug Trials. Pediatr-Drugs 13, 119–124 (2011). https://doi.org/10.2165/11584240-000000000-00000
Keywords
Health Researcher

Dominant Theme

Pediatric Drug

Contract Research Organization

Pediatric Pharmacologist