Abstract
Case series and case reports are a cornerstone of drug safety research; however, the characteristics of case series published in the literature remain poorly examined. A narrative review of case series addressing drug safety, published in the literature between 1 January 2003 and 15 July 2009, and identified through a PubMed search, was conducted in order to determine their characteristics and quality according to the criteria found in the US FDA Pharmacovigilance Guidance 2005.
Of 130 publications that met the search criteria, 11.5% included an analytical component and 88.5% were descriptive. The median number of cases included in a given case series was 7 (range 2–2195) and the median time period for recruitment of the cases was 23 months (range 0.5–96). Overall, 43.1% of case series consisted of individual case reports, while 24.6% originated from cohorts and 21% from pharmacovigilance databases. Of the case series, 65.1% concerned adults (age ≥18 years), 11.6% elderly (age ≥65 years) and 8.5% youth (<18 years). Adverse effects involved mainly the skin (18.5%) and the circulatory system (13.8%). The main suspected drug classes (Anatomical Therapeutic Chemical classification) were nervous system drugs (23.1%) and antineoplastic and immunomodulating agents (20.0%). On average, six out of the possible nine US FDA Pharmacovigilance Guidance Criteria were fulfilled, with 27% of publications fulfilling at least seven criteria. Only 10% reported data on co-morbidity.
In conclusion, this review highlights the reporting gaps and heterogeneity in published case series with respect to size, recruitment period and quality.
This is a preview of subscription content, log in to check access.
Access options
Buy single article
Instant access to the full article PDF.
US$ 49.95
Price includes VAT for USA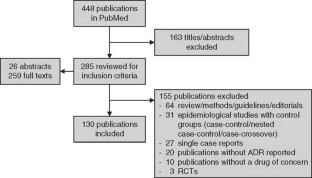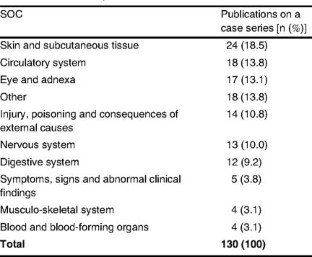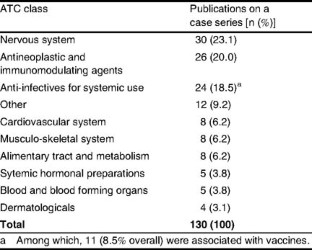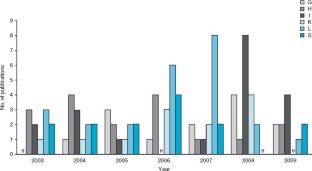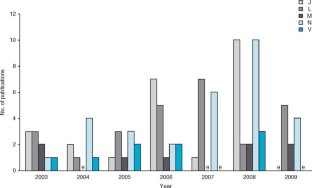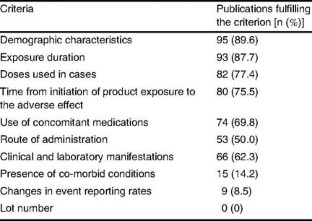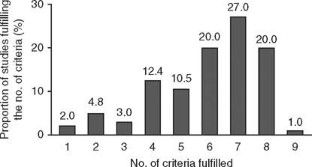 References
1.

McBride W. Thalidomide and congenital abnormalities [letter]. The Lancet 1961; 278(7216): 1358

2.

Arnaiz JA, Carne X, Riba N, et al. The use of evidence in pharmacovigilance: case reports as the reference source for drug withdrawals. Eur J Clin Pharmacol 2001; 57: 89–91

3.

Olivier P, Montastruc JL. The nature of the scientific evidence leading to drug withdrawals for pharmacovigilance reasons in France. Pharmacoepidemiol Drug Saf 2006; 15: 808–12

4.

Lexchin J. Drug withdrawals from the Canadian market for safety reasons, 1963–2004. CMAJ 2005; 172: 765–7

5.

Auriche M, Bertrand P, Blay N, et al. Good practices of publication of clinical cases of pharmacovigilance: comments, Groupe de Travail sur les Bonnes Pratiques de Publication de Cliniques en Pharmacovigilance: commentary. Therapie 1997 Mar–Apr; 52(2): 123–7

6.

FDA. Guidance for industry: good pharmacovigilance practices and pharmacoepidemiologic assessment [online]. Available from URL: http://www.fda.gov/downloads/RegulatoryInformation/Guidances/UCM126834.pdf [Accessed 2010 Jul 30]

7.

Kelly W, Arellano F, Barnes J, et al. Guidelines for submitting adverse event reports for publication. Therapie 2009 Jul–Aug; 64(4): 289–94

8.

Kelly WN, Arellano FM, Barnes J, et al. Guidelines for submitting adverse event reports for publication. Pharmacoepidemiol Drug Saf 2007 May; 16(5): 581–7

9.

Kelly WN, Arellano FM, Barnes J, et al. Guidelines for submitting adverse event reports for publication. Drug Saf 2007; 30(5): 367–73

10.

World Health Organization. International classification of diseases (ICD), 10th ed. [online]. Available from URL: http://www.who.int/classifications/icd/en/ [Accessed 2010 Sep 9]

11.

Kwon HJ, Cote TR, Cuffe MS, et al. Case reports of heart failure after therapy with a tumor necrosis factor antagonist. Ann Intern Med 2003; 138: 807–11

12.

Botsios C, Ostuni P, Todesco S. Frequenza e trattamento delle reazioni all'infusione di infliximab in 186 pazienti con artrite reumatoide: esperienza di Padova. Reumatismo 2005; 57: 44–51

13.

Rajaraman RT, Kimura Y, Li S, et al. Retrospective case review of pediatric patients with uveitis treated with infliximab. Ophthalmology 2006; 113: 308–14

14.

Merino G, Varas G, Diaz G, et al. Eficacia del infliximab en pacientes con sindrome de Behcet portadores de uveoretinitis grave. Rev Med Chil 2006; 134: 875–82

15.

Scollard DM, Joyce MP, Gillis TP. Development of leprosy and type 1 leprosy reactions after treatment with infliximab: a report of 2 cases. Clin Infect Dis 2006; 43: e19–22

16.

Fardet L, Dupuy A, Kerob D, et al. Infliximab for severe hidradenitis suppurativa: transient clinical efficacy in 7 consecutive patients. J Am Acad Dermatol 2007; 56: 624–8

17.

Severs GA, Lawlor TH, Purcell SM, et al. Cutaneous adverse reaction to infliximab: report of psoriasis developing in 3 patients. Cutis 2007; 80: 231–7

18.

Wegscheider BJ, El-Shabrawi L, Weger M, et al. Adverse skin reactions to infliximab in the treatment of intraocular inflammation. Eye 2007; 21: 547–9

19.

Fraunfelder FW. Ocular hemorrhage possibly the result of HMG-CoA reductase inhibitors. J Ocul Pharmacol Ther 2004; 20: 179–82

20.

Carvajal A, Macias D, Sainz M, et al. HMG CoA reductase inhibitors and impotence: two case series from the Spanish and French drug monitoring systems. Drug Saf 2006; 29: 143–9

21.

Fraunfelder FW, Richards AB. Diplopia, blepharoptosis, and ophthalmoplegia and 3-hydroxy-3-methyl-glutaryl-CoA reductase inhibitor use. Ophthalmology 2008; 115: 2282–5

22.

Tuccori M, Lapi F, Testi A, et al. Statin-associated psychiatric adverse events: a case/non-case evaluation of an Italian database of spontaneous adverse drug reaction reporting. Drug Saf 2008; 31: 1115–23

23.

Marques S, Milpied B, Foulc P, et al. Toxidermies graves au celecoxib (Celebrex). Ann Dermatol Venereol 2003; 130: 1051–5

24.

Brinker A, Goldkind L, Bonnel R, et al. Spontaneous reports of hypertension leading to hospitalisation in association with rofecoxib, celecoxib, nabumetone and oxaprozin. Drugs Aging 2004; 21: 479–84

25.

Kidon MI, Kang LW, Chin CW, et al. Early presentation with angioedema and urticaria in cross-reactive hypersensitivity to nonsteroidal antiinflammatory drugs among young, Asian, atopic children. Pediatrics 2005; 116: e675–80

26.

Layton D, Marshall V, Boshier A, et al. Serious skin reactions and selective COX-2 inhibitors: a case series from prescription-event monitoring in England. Drug Saf 2006; 29: 687–96

27.

Savage RL, Highton J, Boyd IW, et al. Pneumonitis associated with leflunomide: a profile of New Zealand and Australian reports. Intern Med J 2006; 36: 162–9

28.

Shastri V, Betkerur J, Kushalappa PA, et al. Severe cutaneous adverse drug reaction to leflunomide: a report of five cases. Indian J Dermatol Venereol Leprol 2006; 72: 286–9

29.

Jian X, Guo G, Ruan Y, et al. Severe cutaneous adverse drug reaction to leflunomide: a report of two cases. Cutan Ocul Toxicol 2008; 27: 5–9

30.

Marunick M, Miller R, Gordon S. Adverse oral sequelae to bisphosphonate administration. J Mich Dent Assoc 2005; 87: 44–9

31.

Gwynne Jones DP, Savage RL, Highton J. Alendronate-induced synovitis. J Rheumatol 2008; 35: 537–8

32.

Grosso A, Douglas I, Hingorani A, et al. Post-marketing assessment of the safety of strontium ranelate; a novel case-only approach to the early detection of adverse drug reactions. Br J Clin Pharmacol 2008; 66: 689–94

33.

Kelly WN, Arellano FM, Barnes J, et al. Guidelines for submitting adverse event reports for publication. Drug Saf 2007; 30: 367–73
Acknowledgements
This review was funded by the Réseau Québécois de Recherches sur l'Usage des Médicaments (RQRUM) du Fonds de la Recherche en Santé du Québec (FRSQ).
There are no conflicts of interest to be declared.
Electronic supplementary material
About this article
Cite this article
Chakra, C.N.A., Pariente, A., Pinet, M. et al. Case Series in Drug Safety. Drug-Safety 33, 1081–1088 (2010). https://doi.org/10.2165/11539300-000000000-00000
Keywords
Thalidomide

Guidance Document

Immunomodulating Agent

Anatomical Therapeutic Chemical Classification

Individual Case Report