Abstract
Background: Suboptimal adherence to long-term therapies is common and may potentially have adverse consequences on patient outcomes and healthcare costs.
Objective: To assess the association between adherence to levodopa/carbidopa/entacapone therapy and healthcare utilization and costs in patients with Parkinson's disease.
Methods: A retrospective historical cohort study, conducted in the US, using a health insurance claims database, with data spanning from 1 January 2000 to 31 December 2005. Subjects included patients with Parkinson's disease who were treated with levodopa (L), carbidopa (C) and entacapone (E) either as separate tablets (LC + E) or as a single-tablet formulation (LCE). The association between satisfactory adherence (defined as 'proportion of days covered' for LCE or LC+E during 1-year follow-up ≥80%) and healthcare utilization and costs was examined using multivariate regression to control for pretreatment adherence to LC and other patient characteristics.
Results: Compared with unsatisfactory adherence (n = 598), satisfactory adherence (n = 617) was associated with 39% fewer Parkinson's disease-related hospitalizations (95% CI 20, 54; p<0.001), 47% lower all-cause inpatient costs (95% CI 18, 65; p = 0.004) and 18% lower all-cause total costs (95% CI 11, 24; p<0.001). On an adjusted basis, all-cause total costs were $US3508 less for those with satisfactory versus unsatisfactory adherence. In both the LC + E and LCE groups, satisfactory adherence was associated with significant reductions in all-cause hospitalizations (39% and 46%, respectively), and all-cause total costs (10% and 31%, respectively). The association between adherence and total healthcare costs was stronger for patients receiving LCE.
Conclusions: Better adherence to levodopa/carbidopa/entacapone therapy is associated with lower healthcare utilization and costs. Non-adherence to LCE is associated with a greater increase in costs than non-adherence to LC + E. Efforts should be made to ensure adherence to both therapies.
This is a preview of subscription content, log in to check access.
Access options
Buy single article
Instant access to the full article PDF.
US$ 49.95
Price includes VAT for USA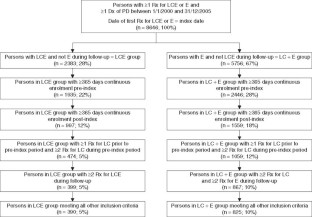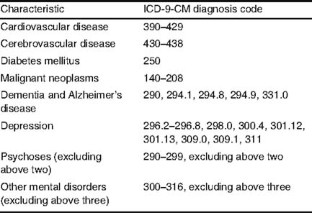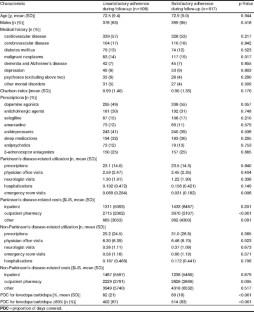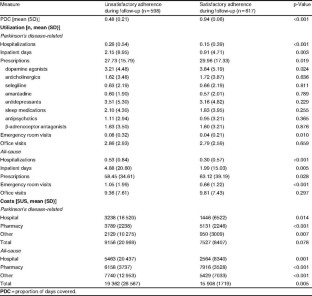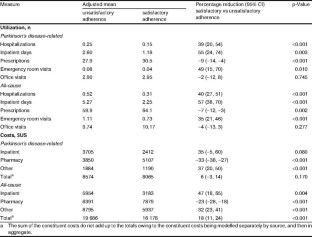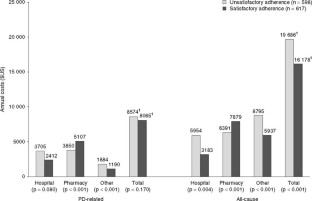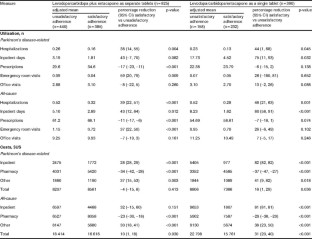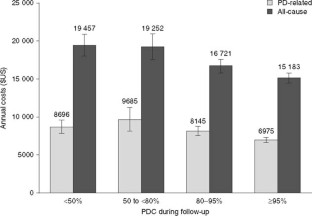 References
1.

Olanow CW, Obeso J, Stocchi F. Continuous dopamine-receptor treatment of Parkinson's disease: scientific rationale and clinical implications. Lancet Neurol 2006; 5(8): 677–87

2.

Larsen JP, Worm-Peterson J, Siden A, et al. The tolerability and efficacy of entacapone over 3 years in patients with Parkinson's disease. Eur J Neurol 2003; 10(2): 137–46

3.

Brooks DJ, Leinonen M, Kuoppamäki M, et al. Five-year efficacy and safety of levodopa/DDCI and entacapone in patients with Parkinson's disease. J Neural Transm 2008; 115(6): 843–9

4.

Fung VS, Herawati L, Wan Y, et al. Quality of life in early Parkinson's disease treated with levodopa/carbidopa/ entacapone. Mov Disord 2009; 24(1): 25–31

5.

Grosset K, Bone I, Grosset D. Suboptimal medication adherence in Parkinson's disease. Mov Disord 2005; 20(110): 1502–7

6.

Kulkarni AS, Balkrishnan R, Anderson RT, et al. Medication adherence and associated outcomes in Medicare health maintenance organization-enrolled older adults with Parkinson's disease. Mov Disord 2008; 23(3): 359–65

7.

Stocchi F. The levodopa wearing-off phenomenon in Parkinson's disease: pharmacokinetic considerations. Expert Opin Pharmacother 2006; 7(10): 1399–407

8.

Dodel RC, Berger K, Oertel WH. Health-related quality of life and healthcare utilisation in patients with Parkinson's disease: impact of motor fluctuations and dyskinesias. Pharmacoeconomics 2001; 19(10): 1013–38

9.

Adamson DM, Chang S, Hansen LG. Health research data for the real world: the MarketScan databases (White Paper). Thomson Medstat Research and Pharmaceutical Division. January 2006. [online]. Available from URL: http://support.thomsonhealthcare.com/uploadedFiles/docs/2008HealthResearchDatafortheRealWorldThe%20MarketScanDatabases(1).pdf [Accessed 2010 May]

10.

Centers for Disease Control and Prevention. US National Center for Health Statistics. International Classification of Diseases, Ninth Revision, Clinical Modification (ICD-9-CM) [online]. Available from URL: http://www.cdc.gov/nchs/icd/icd9cm.htm [Accessed 2010 Aug 16]

11.

Ingenix. CPT expert, 2006, 6th ed. [online]. Available from URL: http://www.shopingenix.com/upload/pdf/4575/CE.pdf [Accessed 2010 Oct 5]

12.

Centers for Medicare and Medicaid Services. Health care common procedural coding system: Ingenix. HCPCS level II professional, 2006 [online]. Available from URL: http://www.paperbackswap.com/HCPCS-Level-II-Ingenix/book/1563376873/ [Accessed 2010 Oct 5]

13.

Deyo RA, Cherkin DC, Ciol MA. Adapting a clinical comorbidity index for use with ICD-9-CM administrative databases. J Clin Epidemiol 1992; 45(6): 613–9

14.

Farley JF, Harley CR, Devine JW. A comparison of comorbidity measurements to predict healthcare expenditures. Am J Manag Care 2006; 12(2): 110–9

15.

Peterson AM, Nau DP, Cramer JA, et al. A checklist for medication compliance and persistence studies using retrospective databases. Value Health 2007; 10(1): 3–12

16.

Steiner JF, Koepsell TD, Fihn SD, et al. A general method of compliance assessment using centralized pharmacy records: description and validation. Med Care 1988; 26(8): 814–23

17.

United States Department of Labor, Bureau of Labor Statistics. Consumer price index for medical care [online]. Available from URL: http://www.bls.gov/cpi/ [Accessed 2010 Aug 16]

18.

McCullagh P, Nelder JA. Generalized linear models. 2nd ed. London: Chapman and Hall, 1989

19.

Pasta DJ, Cisternas MG. Estimating standard errors for CLASS variables in generalized linear models using PROC IML [online]. Proceedings of SAS® Users Group International (SUGI 28); 2003 Mar 30–Apr 2; Seattle (WA). Available from URL: http://www2.sas.com/proceedings/sugi28/Proceed.pdf [Accessed 2009 Sep]

20.

Connor J, Rafter N, Rodgers A. Do fixed-dose combination pills or unit-of-use packaging improve adherence? A systematic review. Bull World Health Org 2004; 82(12): 935–9

21.

Brooks DJ, Agid Y, Eggert K, et al., TC-INIT Study Group. Treatment of end-of-dose wearing-off in Parkinson's disease: Stalevo (levodopa/carbidopa/entacapone) and levodopa/DDCI given in combination with Comtess/Comtan (entacapone) provide equivalent improvements in symptom control superior to that of traditional levodopa/DDCI treatment. Eur Neurol 2005; 53(4): 197–202

22.

Choo PW, Rand CS, Inui TS, et al. Validation of patient reports, automated pharmacy records, and pill counts with electronic monitoring of adherence to antihypertensive therapy. Med Care 1999; 37: 846–57

23.

Osterberg L, Blaschke T. Adherence to medication. N Engl J Med 2005; 353: 487–97
Acknowledgements
Thomas E. Delea and May Hagiwara are employees of PAI (Policy Analysis, Inc.), an independent contract research organization, which has received research support and consulting fees from Novartis and other pharmaceutical companies. Thomas E. Delea has received honoraria from Novartis. Simu K. Thomas is an employee of Novartis, and owns stock/options in Novartis. Mark A. Stacy (Department of Neurology, Duke University School of Medicine, Durham, NC, USA) provided comments on the study design, analyses of data and writing of the manuscript. He has received research support and honoraria from and served as a consultant for Novartis. Meghan E. Gallagher (Novartis Pharmaceuticals) and Medicus International assisted the authors with the drafting, editing and proofing of this article. Funding for this study was provided by Novartis.
About this article
Cite this article
Delea, T.E., Thomas, S.K. & Hagiwara, M. The Association between Adherence to Levodopa/Carbidopa/Entacapone Therapy and Healthcare Utilization and Costs among Patients with Parkinson's Disease. CNS Drugs 25, 53–66 (2011). https://doi.org/10.2165/11538970-000000000-00000
Keywords
Healthcare Utilization

Entacapone

Suboptimal Adherence

Satisfactory Adherence

Outpatient Pharmacy Claim