Abstract
Background: Recently, a 4-fold increase in risk of sudden cardiac death (SCD) was reported for domperidone in a study that focused on corrected QT interval (QTc)-prolonging drugs as a class and their association with SCD.
Objective: To evaluate the association between the use of domperidone and serious non-fatal ventricular arrhythmia (VA) and SCD in the general population.
Methods: We performed a population-based, case-control study during 1996–2007 in the Integrated Primary Care Information (IPCI) database, a longitudinal general practice research database in the Netherlands. We included all patients aged ≥18 years without cancer in the source population. We studied the association between the use of domperidone by recency of use (current, past and none) and daily dose, and the risk of serious non-fatal VA or SCD. Cases were defined as a natural death due to cardiac causes heralded by abrupt loss of consciousness within 1 hour after the onset of acute symptoms or an unwitnessed, unexpected death of someone seen in a stable medical condition <24 hours previously with no evidence of a non-cardiac cause. Controls were randomly drawn from the source population and matched to cases on age, sex, practice and index date. We compared the exposure odds for SCD alone and VA plus SCD by means of conditional logistic regression while adjusting for all available confounders. In addition, we stratified by insurance type.
Results: The study population comprised 1366 cases (62 VA and 1304 SCD) and 14114 matched controls. Of all cases, ten patients were current domperidone users at the index date, all with SCD. The matched unadjusted odds ratio of domperidone and SCD was 3.72 (95% CI 1.72, 8.08). Daily doses >30 mg were associated with a significant increased risk of SCD (adjusted odds ratio [ORadj] 11.4 [95% CI 1.99, 65.2]). Since there was a near interaction with health insurance (p = 0.050), all analyses were stratified by insurance. In publicly insured patients, seven cases were current users at the index date. Current use was associated with a significant increased risk of SCD (ORadj 4.17 [95% CI 1.33, 13.1]). Amongst privately insured patients there was one domperidone-exposed case, and amongst non-insured there were two.
Conclusions: Current use of domperidone, especially high doses, is associated with an increased risk of SCD. We could not demonstrate an effect of domperidone on non-fatal VA due to absence of exposed cases.
This is a preview of subscription content, log in to check access.
Access options
Buy single article
Instant access to the full article PDF.
US$ 49.95
Price includes VAT for USA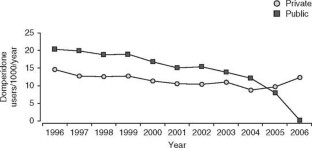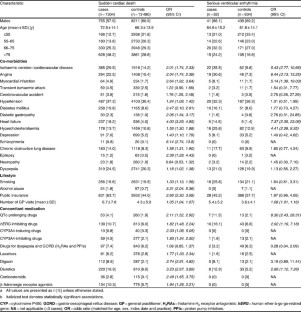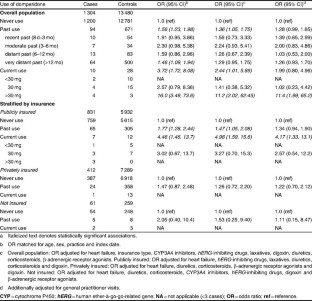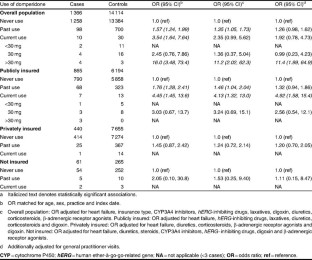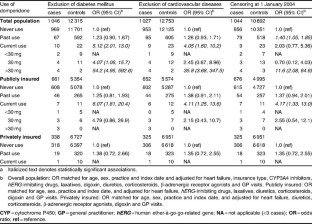 References
1.

Committee for Proprietary Medicinal Products (CPMP). Summary information on referral opinion following arbitration pursuant to article 30 of council directive 2001/83/EC for motilium and associated names. London: The European Agency for the Evaluation of Medicinal Products, 2002 Oct 17 [online]. Available from URL: EMEA/CPMP/4786/02/en/Final [Accessed 2009 Nov 1]

2.

Straus SM, Sturkenboom MC, Bleumink GS, et al. Non-cardiac QTc-prolonging drugs and the risk of sudden cardiac death. Eur Heart J 2005 Oct; 26(19): 2007–12

3.

Drolet B, Rousseau G, Daleau P, et al. Domperidone should not be considered a no-risk alternative to cisapride in the treatment of gastrointestinal motility disorders. Circulation 2000 Oct 17; 102(16): 1883–5

4.

Lasser KE, Allen PD, Woolhandler SJ, et al. Timing of new black box warnings and withdrawals for prescription medications. JAMA 2002 May 1; 287(17): 2215–20

5.

Roden DM. Drug-induced prolongation of the QT interval. N Engl J Med 2004 Mar 4; 350(10): 1013–22

6.

Al-Khatib SM, LaPointe NM, Kramer JM, et al. What clinicians should know about the QT interval. JAMA 2003 Apr 23–30; 289(16): 2120–7

7.

Yap YG, Camm AJ. Drug induced QT prolongation and torsades de pointes. Heart 2003 Nov; 89(11): 1363–72

8.

Straus SM, Kors JA, De Bruin ML, et al. Prolonged QTc interval and risk of sudden cardiac death in a population of older adults. J Am Coll Cardiol 2006 Jan 17; 47(2): 362–7

9.

Redfern WS, Carlsson L, Davis AS, et al. Relationships between preclinical cardiac electrophysiology, clinical QT interval prolongation and torsade de pointes for a broad range of drugs: evidence for a provisional safety margin in drug development. Cardiovasc Res 2003; 58: 32–45

10.

Medicines Control Council. Interaction between ketoconazole and domperidone and the risk of QT prolongation: important safety information. S Afr Med J 2006 Jul; 96(7): 596

11.

van der Lei J, Duisterhout JS, Westerhof HP, et al. The introduction of computer-based patient records in the Netherlands. Ann Intern Med 1993 Nov 15; 119(10): 1036–41

12.

Vlug AE, van der Lei J, Mosseveld BM, et al. Postmarketing surveillance based on electronic patient records: the IPCI project. Methods Inf Med 1999 Dec; 38 (4-5): 339–44

13.

Lamberts H, Wood M, Hofmans-Okkes IM. International primary care classifications: the effect of fifteen years of evolution. Fam Pract 1992 Sep; 9(3): 330–9

14.

Priori SG, Aliot E, Blomstrom-Lundqvist C, et al. Task force on sudden cardiac death of the European Society of Cardiology. Eur Heart J 2001 Aug; 22(16): 1374–450

15.

1999 World Health Organization-International Society of Hypertension guidelines for the management of hypertension. Guidelines subcommittee. J Hypertens 1999 Feb; 17(2): 151–83

16.

Woosley RL. Drugs that prolong the QTc interval and/or induce Torsade de Pointes [online]. Available from URL: http://www.azcert.org/medical-pros/drug-lists/drug-lists.cfm [Accessed 2010 Aug 5]

17.

Chugh SS, Jui J, Gunson K, et al. Current burden of sudden cardiac death: multiple source surveillance versus retrospective death certificate-based review in a large U.S. community. J Am Coll Cardiol 2004 Sep 15; 44(6): 1268–75
Acknowledgements
This study was partially sponsored by an unrestricted grant to the Integrated Primary Care Information (IPCI) database from Johnson & Johnson.
Charlotte van Noord also works as a pharmacovigilance assessor at the Dutch Medicines Evaluation Board. As an employee of Erasmus MC, Miriam Sturkenboom has been involved as a project leader and in analyses contracted by various pharmaceutical companies, and received unconditional research grants from Pfizer, Merck, Johnson & Johnson, Amgen, Roche, GlaxoSmithKline, Boehringer, Yamanouchi and Altana, none of which are related to the subject of this study. Miriam Sturkenboom has been a consultant to Pfizer, Servier, Celgene, Novartis and Lundbeck on issues not related to this study. As an employee of the IPCI, Jeanne P. Dieleman has received grants from pharmaceutical companies, including Johnson & Johnson, for the conduct of epidemiological studies. Katia Verhamme has received grants unrelated to this study from Yamanouchi, Boehringer Ingleheim and Pfizer. Gerard van Herpen has no conflict of interest to declare.
The study is an accurate representation of the study results.
About this article
Cite this article
van Noord, C., Dieleman, J.P., van Herpen, G. et al. Domperidone and Ventricular Arrhythmia or Sudden Cardiac Death. Drug-Safety 33, 1003–1014 (2010). https://doi.org/10.2165/11536840-000000000-00000
Keywords
Ventricular Arrhythmia

Sudden Cardiac Death

Index Date

Domperidone

Healthcare Insurance