This is a preview of subscription content, log in to check access.
Access options
Buy single article
Instant access to the full article PDF.
US$ 49.95
Price includes VAT for USA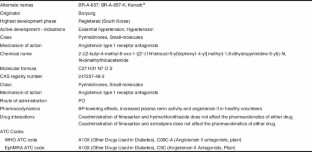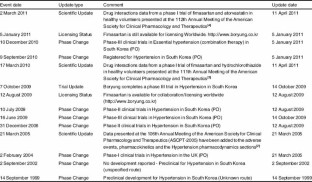 References
1.

A Randomized, Double-blind, Multicenter Clinical Study to Evaluate Efficacy and Safety of Fimasartan/Hydrochlorothiazide Combination-therapy in Comparison With Fimasartan Monotherapy for Essential Hypertension Patients Not Controlled by Fimasartan 60 mg (Phase 3). ClinicalTrials.gov Identifier: NCT01258673.

2.

Chi YH, Lee H, Paik SH, et al. Safety, tolerability, pharmacokinetics and pharmacodynamics of fimasartan, a novel angiotensin II receptor antagonist, following single and repeated oral administration in the fasted and fed states in healthy subjects. Am J Cardiovasc Drugs 2011. In press.

3.

Kim JW, Kim BR, Shim JH, et al. Pharmacokinetic interaction between a novel angiotensin II receptor blocker, fimasartan, and hydrochlorothiazide in healthy volunteers. 111th Annual Meeting of the American Society for Clinical Pharmacology and Therapeutics: abstr. PII-44, 17 Mar 2010. Available from URL: http://www.ascpt.org/annualmeeting2010/index.cfm.

4.

Yi S, Kim TE, Yoon SH, et al. Pharmacokinetic interaction of fimasartan, a new angiotensin II receptor antagonist, with amlodipine in healthy volunteers. J Cardiovasc Pharmacol. Epub 2011 Mar 9.
About this article
Cite this article
Fimasartan. Am J Cardiovasc Drugs 11, 249–252 (2011). https://doi.org/10.2165/11533640-000000000-00000
Keywords
Atorvastatin

Essential Hypertension

Amlodipine

Hydrochlorothiazide

Valsartan