Abstract
Background: Immune thrombocytopenic purpura (ITP) is an immuno-mediated disease characterized by a decrease in platelet count and, in its more severe forms, by bleeding symptoms. Many drugs have been implicated in the pathogenesis of drug-induced thrombocytopenia in adults; only limited data on drug-related ITP in children have been published.
Objective: Our study was set up to evaluate the consistency of the association between drug and vaccine use and ITP in children.
Study Design: This study is part of an Italian multicentre study on adverse drug reactions in children, coordinated by the Italian National Institute of Health, which was started in November 1999 and is ongoing.
Patients or Other Participants: The study was conducted by enrolling all children aged more than 1 month who were hospitalized through the paediatric emergency department for the following conditions: thrombocytopenia (platelet count <100×103/L); acute neurological disorders; non-infectious mucocutaneous diseases and vasculitis; and endoscopically confirmed gastroduodenal lesions and/or clinically defined haematemesis and melaena. Children with chronic pathologies or concomitant diagnoses of cancer or immunodeficiency were not included in our study.
Main Outcome Measure: During hospital admission, a physician interviewed parents using a structured questionnaire. The main aim of the interview was to collect information on drug exposure in a time period of 3 weeks and vaccine exposure in a period of 6 weeks preceding hospitalization. Using a case-control study design, exposure of children with thrombocytopenia (cases) to drugs and vaccines was compared with similar exposure of children with gastroduodenal lesions and neurological disorders (controls); this allowed us to estimate the odds ratios (ORs) of the occurrence of thrombo-cytopenia associated with the use of drugs or vaccines.
Results: Up to December 2007, the study population included 387 cases of thrombocytopenia and 1924 controls. Despite the low platelet count, ITP was generally a mild disease, without serious bleeding in the majority of cases and associated with a short length of hospital stay. After adjusting for concurrent use of other drugs, use of the antibacterials was associated with a more than 2-fold increase in the risk of developing ITP (OR 2.4; 95% CI 1.8, 3.1). Mucolytics and NSAIDs were associated with an OR of 1.9; 95% CI 1.2, 2.9 and 1.5; 95% CI 1.0, 2.1 respectively, while paracetamol (acetaminophen) was associated with an OR of 1.5; 95% CI 1.2, 2.0. MMR vaccination was associated with an increased risk of developing ITP (OR 2.4; 95% CI 1.2, 4.7).
Conclusions: The results of this study provide evidence for an association between ITP and exposure to selected antibacterials, NSAIDs, paracetamol, mucolytics and MMR vaccination.
This is a preview of subscription content, log in to check access.
Access options
Buy single article
Instant access to the full article PDF.
US$ 49.95
Price includes VAT for USA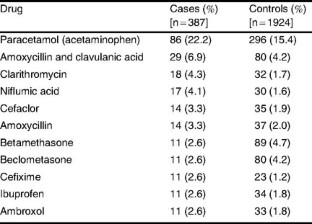 References
1.

Ruggeri M, Fortuna S, Rodeghiero F. Heterogeneity of terminology and clinical definitions in adult idiopathic thrombocytopenic purpura: a critical appraisal from a systematic review of the literature. Haematologica 2008 Jan; 93(1): 98–103

2.

Psaila B, Bussel JB. Immune thrombocytopenic purpura. Hematol Oncol Clin North Am 2007 Aug; 21(4): 743–59

3.

Fogarty PF, Segal JB. The epidemiology of immune thrombocytopenic purpura. Curr Opin Hematol 2007 Sep; 14(15): 515–9

4.

Rosthøj S, Hedlund-Treutiger I, Rajantie J, et al., on behalf of the NOPHO ITP Working Group and five national study groups. Duration and morbidity of newly diagnosed idiopathic thrombocytopenic purpura in children: a prospective Nordic study of an unselected cohort. J Pediatr 2003 Sep; 143(3): 302–7

5.

Chong BH, Ho SJ. Autoimmune thrombocytopenia. J Thromb Haemost 2005 Aug; 3(8): 1763–72

6.

Isoyama K, Yamada K. Previous mycoplasma pneumoniae infection causing severe thrombocytopenic purpura. Am J Hematol 1994 Nov; 47(3): 252–3

7.

Van den Bemt P, Meyboom R, Egberts A. Drug-induced immune thrombocytopenia. Drug Saf 2004; 27(15): 1243–52

8.

Visentin GP, Liu CY. Drug-induced thrombocytopenia. Hematol Oncol Clin 2007 Aug; 21(4): 685–96

9.

Ten Berg MJ, Huisman A, Souverein PC, et al. Drug-induced thrombocytopenia: a population study. Drug Saf 2006; 29(8): 713–21

10.

Aster RH, Bougie DW. Drug-induced immune thrombocytopenia. N Engl J Med 2007 Aug; 357(6): 580–7

11.

Swisher KK, Li X, Vesely SK, et al. Drug-induced thrombocytopenia: an updated systematic review, 2008. Drug Saf 2009; 32(1): 85–6

12.

Huerta C, Garcia Rodriguez LA. Risk of clinical blood dyscrasia in a cohort of antibiotic users. Pharmacotherapy 2002 May; 22(5): 630–6

13.

Risch L, Huber AR, Schmugge M. Diagnosis and treatment of heparin-induced thrombocytopenia in neonates and children. Thromb Res 2006; 118: 123–5 72

14.

France EK, Glanz J, Xu S, et al. Risk of immune thrombo-cytopenic purpura after measles-mumps-rubella immunization in children. Vaccine Safety Datalink Team. Pediatrics 2008 Mar; 121(3): e687–92

15.

Rajantie J, Zeller B, Treutiger I, et al. Vaccination associated thrombocytopenic purpura in children. NOPHO ITP Working Group and five national study groups. Vaccine 2007 Feb 26; 25(10): 1838–40

16.

Black C, Kaye JA, Jick H. MMR vaccine and idiopathic thrombocytopaenic purpura. Br J Clin Pharmacol 2003 Jan; 55(1): 107–11

17.

Miller E, Waight P, Farrington CP, et al. Idiopathic thrombocytopenic purpura and MMR vaccine. Arch Dis Child 2001 Mar; 84(3): 227–9

18.

Jonville-Bera AP, Autert E, Galy-Eyraud C, et al. Thrombocytopenic purpura after measles, mumps and rubella vaccination: a retrospective survey by the French regional pharmacovigilance centres and pasteur-merieux serums et vaccins. Pediatr Infect Dis J 1996 Jan; 15(1): 44–8

19.

Khune T, Imbach P, Bolton-Maggs PH, et al., for the Intercontinental Childhood ITP Study Group. Newly diagnosed idiopathic thrombocytopenic purpura in childhood: an observational study. Lancet 2001 Dec; 358(9299): 2122–5

20.

Watts RG. Idiopathic thrombocytopenic purpura: a 10-year natural history study at the childrens hospital of Alabama. Clin Pediatr 2004 Oct; 43(8): 691–702

21.

Khune T, Buchanan GR, Zimmerman S, et al., for the Intercontinental childhood ITP study group. A prospective comparative study of 2540 infants and children with newly diagnosed idiopathic thrombocytopenic purpura (ITP) from the intercontinental childhood ITP study group. J Pediatr 2003 Nov; 143(5): 605–8

22.

Blanchette V, Bolton-Maggs P. Childhood immune thrombocytopenic purpura: diagnosis and management. Pediatr Clin North Am 2008 Apr; 55(2): 393–420

23.

Bolton-Maggs PHB, Moon I. Assessment of UK practice for management of acute childhood idiopathic thrombocytopenic purpura against published guidelines. Lancet 1997 Aug; 350(30): 620–3

24.

Sutor AH, Harms A, Kaufmehl K. Acute immune thrombo-cytopenia (ITP) in childhood: retrospective and prospective survey in Germany. Semin Thromb Hemost 2001 Jun; 27(3): 253–67

25.

Zeller B, Helgestad J, Hellebostad M, et al. Immune thrombocytopenic purpura (ITP) in childhood in Norway: a prospective, population based registration. Pediatr Hematol Oncol 2000 Oct–Nov; 17(7): 551–8

26.

Stowe J. ITP and the second dose of MMR. Arch Dis Child 2008 Feb; 93(2): 182
Acknowledgements
This study has been supported by a research fund of the Italian Medicines Agency. None of the authors have any conflicts of interest relevant to the content of this study.
The authors would like to thank all the medical specialists of the paediatric hospitals who entered patients into the study and carefully reported the necessary data. Furthermore, we thank the staff members of the National Centre for Epidemiology, Surveillance and Health Promotion, who have undertaken data processing.
We are grateful to the following: Dott.ssa Monica Bolli, National Centre for Epidemiology, Surveillance and Health Promotion, National Institute of Health, Rome; Dott.ssa Francesca Rovere, Burlo-Garofolo Paediatric Hospital, Trieste; Dott.ssa Elena Falcon, Dott.ssa Anna Capretta, Dott.ssa Francesca Intini, Department of Paediatrics, University of Padua, Padua; Dott.ssa Rossella Rossi, Dott.ssa Chiara Francesca Intra, Dott. Salvatore Renna, Giannina Gaslini Paediatric Hospital, Genova; Dott. Nicola Pirozzi, Dott. Umberto Raucci, Dott. Antonino Reale, Bambino Gesu Hospital, Rome; Dott. Vincenzo Tipo, Santobono-Pausilipon Paediatric Hospital, Naples; Dott.ssa Carmela Santuccio, Italian Medicines Agency, Rome.
About this article
Cite this article
Bertuola, F., Morando, C., Menniti-Ippolito, F. et al. Association between Drug and Vaccine Use and Acute Immune Thrombocytopenia in Childhood. Drug-Safety 33, 65–72 (2010). https://doi.org/10.2165/11530350-000000000-00000
Keywords
Immune Thrombocytopenic Purpura

Paediatric Emergency Department

Cinchona Alkaloid

Infectious Illness

Italian Multicentre Study