Abstract
There is a great deal of evidence to support the use of tetracycline and doxycycline in the treatment of papulopustular rosacea. Nevertheless, these agents have shared and unique adverse effects and relative contraindications. Recently, subantimicrobial-dose doxycycline was demonstrated to be an effective treatment for rosacea, due to its inherent anti-inflammatory properties. Furthermore, subantimicrobial-dose doxycycline has a more preferable tolerability profile and a lower occurrence of bacterial resistance than traditional-dose doxycycline. To further elucidate the role of tetracycline agents in rosacea, clinical trials that compare these agents with each other as well as with other effective rosacea treatments are called for. Adherence studies comparing oral tetracycline treatment with topical metronidazole treatment may also enhance clinical decision making.
This is a preview of subscription content, log in to check access.
Access options
Buy single article
Instant access to the full article PDF.
US$ 49.95
Price includes VAT for USA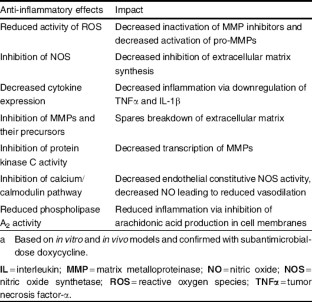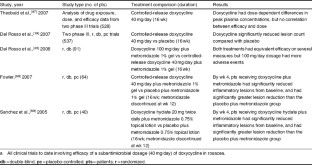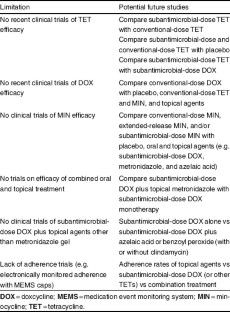 References
1.

Conde JF, Yelverton CB, Balkrishnan R, et al. Managing rosacea: a review of the use of metronidazole alone and in combination with oral antibiotics. J Drugs Dermatol 2007; 6 (5): 495–8

2.

Marks R. The enigma of rosacea. J Dermatolog Treat 2007; 18 (6): 326–8

3.

McDonnell JK, Tomecki KJ. Rosacea: an update. Cleve Clin J Med 2000; 67 (8): 587–90

4.

Wilkin J, Dahl M, Detmar M, et al. Standard classification of rosacea: report of the National Rosacea Society Expert Committee on the classification and staging of rosacea. J Am Acad Dermatol 2002; 46 (4): 584–7

5.

Blount BW, Pelletier AL. Rosacea: a common, yet commonly overlooked, condition. Am Fam Physician 2002; 66 (3): 435–40

6.

Oztas MO, Balk M, Ogüs E, et al. The role of free oxygen radicals in the aetiopathogenesis of rosacea. Clin Exp Dermatol 2003; 28 (2): 188–92

7.

Barco D, Alomar A. Rosacea [in Spanish]. Actas Dermosifiliogr 2008; 99 (4): 244–56

8.

Feldman SR, Hollar CB, Gupta AK, et al. Women commonly seek care for rosacea: dermatologists frequently provide the care. Cutis 2001; 68 (2): 156–60

9.

Pelle MT, Crawford GH, James WD. Rosacea: II. Therapy. J Am Acad Dermatol 2004; 51 (4): 499–512; quiz 513-4

10.

Bikowski JB, Goldman MP. Rosacea: where are we now? J Drugs Dermatol 2004; 3 (3): 251–61

11.

Odom RB. The subtypes of rosacea: implications for treatment. Cutis 2004; 73 (1 Suppl.): 9–14

12.

Dahl MV, Katz HI, Krueger GG, et al. Topical metronidazole maintains remissions of rosacea. Arch Dermatol 1998; 134 (6): 679–83

13.

Frucht-Pery J, Sagi E, Hemo I, et al. Efficacy of doxycycline and tetracycline in ocular rosacea. Am J Ophthalmol 1993; 116 (1): 88–92

14.

Thiboutot D, Thieroff-Ekerdt R, Graupe K. Efficacy and safety of azelaic acid (15%) gel as a new treatment for papulopustular rosacea: results from two vehicle-controlled, randomized phase III studies. J Am Acad Dermatol 2003; 48 (6): 836–45

15.

Elewski BE, Fleischer Jr AB, Pariser DM. A comparison of 15% azelaic acid gel and 0.75% metronidazole gel in the topical treatment of papulopustular rosacea: results of a randomized trial. Arch Dermatol 2003; 139 (11): 1444–50

16.

Breneman D, Savin R, VandePol C, et al. Double-blind, randomized, vehicle controlled clinical trial of once-daily benzoyl peroxide/clindamycin topical gel in the treatment of patients with moderate to severe rosacea. Int J Dermatol 2004; 43 (5): 381–7

17.

Baldwin HE. Tricks for improving compliance with acne therapy. Dermatol Ther 2006; 19 (4): 224–36

18.

Bikowski JB. Rosacea: a tiered approach to therapy. Cutis 2000; 66 (4 Suppl.): 3–6

19.

Del Rosso JQ, Webster GF, Jackson M, et al. Two randomized phase III clinical trials evaluating anti-inflammatory dose doxycycline (40-mg doxy-cycline, USP capsules) administered once daily for treatment of rosacea. J Am Acad Dermatol 2007; 56 (5): 791–802

20.

Wise RD. Submicrobial doxycycline and rosacea. Compr Ther 2007; 33 (2): 78–81

21.

Sapadin AN, Fleischmajer R. Tetracyclines: nonantibiotic properties and their clinical implications. J Am Acad Dermatol 2006; 54 (2): 258–65

22.

Webster G, Del Rosso JQ. Anti-inflammatory activity of tetracyclines. Dermatol Clin 2007; 25 (2): 133–5

23.

Del Rosso JQ, Schlessinger J, Werschler P. Comparison of anti-inflammatory dose doxycycline versus doxycycline 100mg in the treatment of rosacea. J Drugs Dermatol 2008; 7 (6): 573–6

24.

Gupta AK, Chaudhry MM. Rosacea and its management: an overview. J Eur Acad Dermatol Venereol 2005; 19 (3): 273–85

25.

Thomas K, Yelverton CB, Yentzer BA, et al. The cost-effectiveness of rosacea treatments. J Dermatolog Treat 2009; 20 (2): 72–5

26.

Nielsen PG. A double-blind study of 1% metronidazole cream versus systemic oxytetracycline therapy for rosacea. Br J Dermatol 1983; 109 (1): 63–5

27.

Knight AG, Vickers CF. A follow-up of tetracycline-treated rosacea: with special reference to rosacea keratitis. Br J Dermatol 1975; 93 (5): 577–80

28.

Sneddon IB. A clinical trial of tetracycline in rosacea. Br J Dermatol 1966; 78 (12): 649–52

29.

Marks R, Ellis J. Comparative effectiveness of tetracycline and ampicillin in rosacea: a controlled trial. Lancet 1971; 2 (7733): 1049–52

30.

Saihan EM, Burton JL. A double-blind trial of metronidazole versus oxytetracycline therapy for rosacea. Br J Dermatol 1980; 102 (4): 443–5

31.

Sauer GC. Safety of long-term tetracycline therapy for acne. Arch Dermatol 1976; 112 (11): 1603–5

32.

Jackson R. How safe is low-dose long-term systemic tetracycline therapy [letter]. Can Med Assoc J 1976; 115 (9): 838

33.

Witkowski JA, Parish LC. Antimicrobials in the treatment of acne and rosacea [letter]. Skinmed 2003; 2 (4): 202

34.

Tan HH. Antibacterial therapy for acne: a guide to selection and use of systemic agents. Am J Clin Dermatol 2003; 4 (5): 307–14

35.

Ferner RE, Moss C. Minocycline for acne [letter]. BMJ 1996; 312 (7024): 138

36.

Heaton PC, Fenwick SR, Brewer DE. Association between tetracycline or doxycycline and hepatotoxicity: a population based case-control study. J Clin Pharm Ther 2007; 32 (5): 483–7

37.

Maibach H. Second-generation tetracyclines, a dermatologic overview: clinical uses and pharmacology. Cutis 1991; 48 (5): 411–7

38.

Moller JK, Bak AL, Stenderup A, et al. Changing patterns of plasmidmediated drug resistance during tetracycline therapy. Antimicrob Agents Chemother 1977; 11 (3): 388–91

39.

Eady EA, Jones CE, Gardner KJ, et al. Tetracycline-resistant propionibacteria from acne patients are cross-resistant to doxycycline, but sensitive to minocycline. Br J Dermatol 1993; 128 (5): 556–60

40.

Dickinson BD, Altman RD, Nielsen NH, et al. Drug interactions between oral contraceptives and antibiotics. Obstet Gynecol 2001; 98 (5 Pt 1): 853–60

41.

Chopra I, Roberts M. Tetracycline antibiotics: mode of action, applications, molecular biology, and epidemiology of bacterial resistance. Microbiol Mol Biol Rev 2001; 65 (2): 232–60

42.

Claxton AJ, Cramer J, Pierce C. A systematic review of the associations between dose regimens and medication compliance. Clin Ther 2001; 23 (8): 1296–310

43.

Welling PG, Koch PA, Lau CC, et al. Bioavailability of tetracycline and doxycycline in fasted and nonfasted subjects. Antimicrob Agents Chemother 1977; 11 (3): 462–9

44.

Cunha BA, Sibley CM, Ristuccia AM. Doxycycline. Ther Drug Monit 1982; 4 (2): 115–35

45.

Saivin S, Houin G. Clinical pharmacokinetics of doxycycline and minocycline. Clin Pharmacokinet 1988; 15 (6): 355–66

46.

Malmborg AS. Bioavailability of doxycycline monohydrate: a comparison with equivalent doses of doxycycline hydrochloride. Chemotherapy 1984; 30 (2): 76–80

47.

Bikowski JB. Treatment of rosacea with doxycycline monohydrate. Cutis 2000; 66 (2): 149–52

48.

Akhyani M, Ehsani AH, Ghiasi M, et al. Comparison of efficacy of azithromycin versus doxycycline in the treatment of rosacea: a randomized open clinical trial. Int J Dermatol 2008; 47 (3): 284–8

49.

Torresani C, Pavesi A, Manara GC. Clarithromycin versus doxycycline in the treatment of rosacea. Int J Dermatol 1997; 36 (12): 942–6

50.

Quarterman MJ, Johnson DW, Abele DC, et al. Ocular rosacea: signs, symptoms, and tear studies before and after treatment with doxycycline. Arch Dermatol 1997; 133 (1): 49–54

51.

Maatta M, Kari O, Tervahartiala T, et al. Tear fluid levels of MMP-8 are elevated in ocular rosacea: treatment effect of oral doxycycline. Graefes Arch Clin Exp Ophthalmol 2006; 244 (8): 957–62

52.

Webster GF, Toso SM, Hegemann L. Inhibition of a model of in vitro granuloma formation by tetracyclines and ciprofloxacin: involvement of protein kinase C. Arch Dermatol 1994; 130 (6): 748–52

53.

Frost P, Weinstein GD, Gomez EC. Phototoxic potential of minocycline and doxycycline. Arch Dermatol 1972; 105 (5): 681–3

54.

Delpre G, Kadish U, Stahl B. Induction of esophageal injuries by doxycycline and other pills: a frequent but preventable occurrence. Dig Dis Sci 1989; 34 (5): 797–800

55.

Berger RS. A double-blind, multiple-dose, placebo-controlled, cross-over study to compare the incidence of gastrointestinal complaints in healthy subjects given Doryx R and Vibramycin R. J Clin Pharmacol 1988; 28 (4): 367–70

56.

Oracea™ prescribing information. Newton (PA): C.P. Inc., 2006

57.

Tan X, Huang YJ, Jiang YW, et al. Persistence of oxytetracycline residues in milk after the intrauterine treatment of lactating cows for endometritis. Vet Rec 2007; 161 (17): 585–6

58.

Perlmutter A, Abramovits W, Gupta AK. Oracea (doxycycline monohydrate). Skinmed 2006; 5 (5): 238–40

59.

Skidmore R, Kovach R, Walker C, et al. Effects of subantimicrobial-dose doxycycline in the treatment of moderate acne. Arch Dermatol 2003; 139 (4): 459–64

60.

Walker C, Bradshaw M. The effect of oral doxycycline 100 mg once-daily for 14 days on the nasopharyngeal flora of healthy volunteers: a preliminary analysis [poster]. 26th Anniversary Fall Clinical Dermatology Conference; 2007 Oct 18-27: Las Vegas (NV)

61.

Golub LM, Lee HM, Ryan ME, et al. Tetracyclines inhibit connective tissue breakdown by multiple non-antimicrobial mechanisms. Adv Dent Res 1998; 12 (2): 12–26

62.

Kurokawa I, Nishijima S, Kawabata S. Antimicrobial susceptibility of Propionibacterium acnes isolated from acne vulgaris. Eur J Dermatol 1999; 9 (1): 25–8

63.

Crawford GH, Pelle MT, James WD. Rosacea: I. Etiology, pathogenesis, and subtype classification. J Am Acad Dermatol 2004; 51 (3): 327–41; quiz 342-4

64.

Wilkin JK. Effect of subdepressor clonidine on flushing reactions in rosacea: change in malar thermal circulation index during provoked flushing reactions. Arch Dermatol 1983; 119 (3): 211–4

65.

Dahl MV. Pathogenesis of rosacea. Adv Dermatol 2001; 17: 29–45

66.

Berman B, Perez OA, Zell D. Update on rosacea and anti-inflammatory-dose doxycycline. Drugs Today (Barc) 2007; 43 (1): 27–34

67.

Theobald K, Bradshaw M, Leyden J. Anti-inflammatory dose doxycycline (40 mg controlled-release) confers maximum anti-inflammatory efficacy in rosacea. Skinmed 2007; 6 (5): 221–6

68.

Fowler Jr JF. Combined effect of anti-inflammatory dose doxycycline (40-mg doxycycline, usp monohydrate controlled-release capsules) and metronidazole topical gel 1% in the treatment of rosacea. J Drugs Dermatol 2007; 6 (6): 641–5

69.

Sanchez J, Somolinos AL, Almodóvar PI, et al. A randomized, double-blind, placebo-controlled trial of the combined effect of doxycycline hyclate 20-mg tablets and metronidazole 0.75% topical lotion in the treatment of rosacea. J Am Acad Dermatol 2005; 53 (5): 791–7

70.

Thomas J, Walker C, Bradshaw M. Long-term use of subantimicrobial dose doxycycline does not lead to changes in antimicrobial susceptibility. J Periodontol 2000; 71 (9): 1472–83

71.

Walker C, Preshaw PM, Novak J, et al. Long-term treatment with sub-antimicrobial dose doxycycline has no antibacterial effect on intestinal flora. J Clin Periodontol 2005; 32 (11): 1163–9

72.

Low-dose doxycycline (Oracea) for rosacea. Med Lett Drugs Ther 2007; 49 (1252): 5–6

73.

TaC N, Shine WE, McCulley JP, et al. Effects ofminocycline on the ocular flora of patients with acne rosacea or seborrheic blepharitis. Cornea 2003; 22 (6): 545–8

74.

Fleischer Jr AB, Dinehart S, Stough D, et al. Safety and efficacy of a new extended-release formulation of minocycline. Cutis 2006; 78 (4 Suppl.): 21–31

75.

Espagne E, Guillaume JC, Archimbaud A, et al. Double-blind study versus excipient of 0.75% metronidazole gel in the treatment of rosacea. Ann Dermatol Venereol 1993; 120 (2): 129–33

76.

Conde JF, Kaur M, Fleischer Jr AB, et al. Adherence to clocortolone pivalate cream 0.1% in a pediatric population with atopic dermatitis. Cutis 2008; 81 (5): 435–41

77.

Krejci-Manwaring J, Tusa MG, Carroll C, et al. Stealth monitoring of adherence to topical medication: adherence is very poor in children with atopic dermatitis. J Am Acad Dermatol 2007; 56 (2): 211–6

78.

Carroll CL, Feldman SR, Camacho FT, et al. Adherence to topical therapy decreases during the course of an 8-week psoriasis clinical trial: commonly used methods of measuring adherence to topical therapy overestimate actual use. J Am Acad Dermatol 2004; 51 (2): 212–6

79.

Balkrishnan R, Carroll CL, Camacho FT, et al. Electronic monitoring of medication adherence in skin disease: results of a pilot study. J Am Acad Dermatol 2003; 49 (4): 651–4

80.

Tusa MG, Ladd M, Kaur M, et al. Adapting electronic adherence monitors to standard packages of topical medications. J Am Acad Dermatol 2006; 55 (5): 886–7
Acknowledgments
Dr Alikhan and Dr Kurek both contributed equally to this manuscript. No sources of funding were used to assist in the preparation of this review. Dr Feldman has received speaking, consulting and grant support from Galderma Laboratories. Drs Alikhan and Kurek have no conflicts of interest that are directly relevant to the content of this review.
About this article
Cite this article
Alikhan, A., Kurek, L. & Feldman, S.R. The Role of Tetracyclines in Rosacea. Am J Clin Dermatol 11, 79–87 (2010). https://doi.org/10.2165/11530200-000000000-00000
Keywords
Tetracycline

Doxycycline

Rosacea

Azelaic Acid

Oral Tetracycline