Abstract
For a long time, lead has been linked to cardiovascular effects, especially hypertension. Therefore, looking at this problem from another viewpoint would be beneficial. Lead toxicity is a prevalent health hazard in both developed and developing countries and the mechanisms proposed for both lead-induced and essential hypertension looks the same. This has driven some to suggest lead as the principle cause of essential hypertension. Despite these opinions, no policy has been taken to manage essential hypertension from this point of view. However, recent data suggest that the chelating agents that are used already in treating lead toxicity have therapeutic effects regarding hypertensive cases. The effects of chelators appear to be beyond merely decreasing blood lead level. Therefore, it seems an attractive approach to try chelators as the first step in managing hypertensive patients before starting a chronic course of conventional antihypertensives.
This is a preview of subscription content, log in to check access.
Access options
Buy single article
Instant access to the full article PDF.
US$ 39.95
Price includes VAT for USA
Subscribe to journal
Immediate online access to all issues from 2019. Subscription will auto renew annually.
US$ 171
This is the net price. Taxes to be calculated in checkout.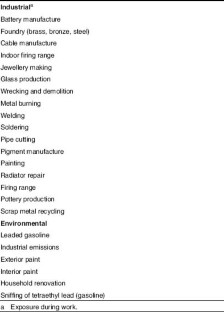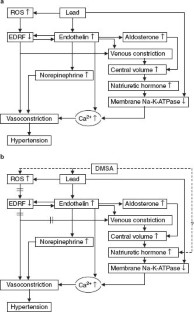 References
1.

Henretig FM. Lead. In: Flomenbaum NE, Goldfrank LR, Hoffman RS, et al., editors. Goldfrank's toxicologic emergencies. 8th ed. New York: McGraw-Hill, 2006: 1309–25

2.

Krantz A, Dorevitch S. Metal exposure and common chronic diseases: a guide for the clinician. Dis Mon 2004; 50: 215–62

3.

Piccinini F, Favalli L, Chiari MC. Experimental investigations on the contraction induced by lead in arterial smooth muscle. Toxicology 1977; 8: 43–51

4.

Weiler E, Gonick H. Effects of lead and low molecular weight endogenous plasma inhibitor on the kinetics of sodium potassium activated ATPase. Clin Sci 1990; 79: 185–92

5.

Gonick HC, Ding Y, Bondy SC, et al. Lead-induced hypertension: interplay of nitric oxide and reactive oxygen species. Hypertension 1997; 30: 1487–92

6.

Vaziri ND, Liang K, Ding Y. Increased nitric oxide inactivation by reactive oxygen species in lead-induced hypertension. Kidney Int 1995; 56: 1492–8

7.

Carmignani M, Boscolo P, Poma A. Kininergic system and arterial hypertension following chronic exposure to inorganic lead. Immunopharmacology 1999; 44: 105–10

8.

Sharifi AM, Darabi R, Akbarloo N, et al. Investigation of circulatory and tissue ACE activity during development of lead-induced hypertension. Toxicol Lett 2004; 153: 233–8

9.

Castro MM, Rizzi E, Rodrigues GJ, et al. Antioxidant treatment reduces matrix metalloproteinase-2-induced vascular changes in renovascular hypertension. Free Rad Biol Med 2009; 46: 1298–307

10.

Cranton EM, Frackelton JP. Free oxygen radical pathology and EDTA chelation therapy: mechanisms of action. J Advance Med 1998; 11(4): 277–310

11.

De Castro FJ, Medley J. Lead in bone and hypertension. Maternal Child Health J 1997; 1(3): 199–200

12.

Ungvary G, Morvai V, Szakmary E. Haemodynamic effects of lead(II) acetate, ethanol, and their combination in rats. Int Arch Occup Environ Health 2002; 75Suppl: S45–53

13.

Magri J, Sammut M, Savona-Ventura C. Lead and other metals in gestational hypertension. Int J Gynecol Obstet 2003; 83: 29–36

14.

Chen X, Yanga Q, Smith G, et al. Environmental lead level and pregnancy-induced hypertension. Environ Res 2006; 100: 424–30

15.

Gonick HC, Behari R. Is lead exposure the principal cause of essential hypertension? Med Hypoth 2002; 59(3): 239–46

16.

Sacks FM, Svetkey LP, Vollmer WM, et al. Effects of blood pressure on reduced dietary sodium and the Dietary Approaches to Stop Hypertension (DASH) diet. N Engl J Med 2001; 344: 3–10

17.

George GN, Pickering IJ, Doonan CJ, et al. Inorganic molecular toxicology and chelation therapy of heavy metals and metalloids. In: Fishbein JC, editor. Advances in molecular toxicology. New York: Elsevier, 2008: 123–48

18.

Rozema TC. The protocol for the safe and effective administration of EDTA and other chelating agents for vascular disease, degenerative disease, and metal toxicity. J Advance Med 1997; 10(1): 5–99

19.

Ding Y, Vaziri ND, Gonick HC. Lead-induced hypertension II: response to sequential infusions of L-arginine, superoxide dismutase, and nitroprusside. Environ Res 1998; 76: 107–13

20.

Flora SJS, Saxena G, Gautam P. Response of lead-induced oxidative stress and alterations in biogenic amines in different rat brain regions to combined administration of DMSA and MiADMSA. Chem Biol Interact 2007; 170: 209–20

21.

Kramer HJ, Mensikovaa V, Backer A, et al. Interaction of dimercaptosuccinic acid (DMSA) with angiotensin II on calcium mobilization in vascular smooth muscle cells. Biochem Pharmacol 2003; 65: 1741–6
Acknowledgements
No sources of funding were used to assist in the preparation of this review. The author has no conflicts of interest that are directly relevant to the content of this review.
About this article
Cite this article
Salama, M. Lead and Hypertension. High Blood Press Cardiovasc Prev 16, 83–85 (2009). https://doi.org/10.2165/11316960-000000000-00000
Received:

Accepted:

Published:

Issue Date:
Keywords
lead

arterial hypertension

chelators

antihypertensive therapy