Abstract
Background
Cystic fibrosis (CF) patients need specialized long-term treatment. In order to support lung function, pharmaceuticals such as broncho-dilators, mucolytic agents or anti-inflammatory drugs have to be used. Oral, inhaled or intravenous antibacterial therapy is of special importance for patients who have problems with chronic bacterial colonization of the lung and airways. In case of pancreatic insufficiency, digestive enzymes have to be substituted with every meal. Furthermore, patients often need additional supplements of vitamins as well as high caloric food. All of these aspects lead to high medication use in CF patients.
Objective
To analyse outpatient medication costs for CF in Germany from a sickness funds perspective (plus some out-of-pocket payments by patients).
Methods
Medication data were evaluated from seven different outpatient CF centres. Data were recorded via medication lists by the physicians, reporting name of medication, dosage and pharmaceutical form. As the medications are mostly used long term, resource use was valued using the largest available package sizes. Prices were taken from the German 'Rote Liste' with year 2006 values. Annual and daily medication costs were analysed for different age groups. In addition, cost-influencing factors were analysed via correlation analyses.
Results
A total of 3150 pharmaceutical records from 301 CF patients were collected. Mean annual costs for medication were €21 603 per patient (range €69–104477). Correlation analyses showed significant correlations between costs of medication and age, co-morbidities (such as pancreatic insufficiency and diabetes mellitus) and clinical parameters such as bacterial colonization of the lung, as well as functional parameters (percent of vital capacity, forced expiratory volume in 1 second, maximal expiratory flow at 25% of forced vital capacity). For example, mean annual costs for medication were €23 815 and h14 884 for patients with and without bacterial colonization of the lung, respectively. Other correlation factors yielded similar cost dispersions between patients with and without the factors.
Conclusions
Costs of outpatient medication for CF patients significantly depend on age, co-morbidities and other clinical parameters. Hence, non-optimal treatment could lead to a significantly higher burden for the healthcare system.
This is a preview of subscription content, log in to check access.
Access options
Buy single article
Instant access to the full article PDF.
US$ 49.95
Price includes VAT for USA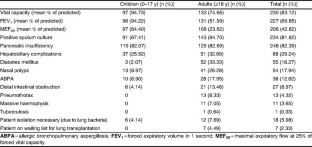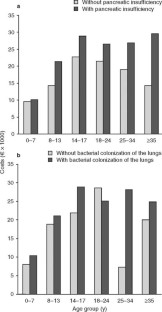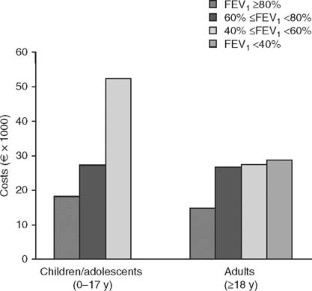 References
1

Griese M, Hüls G, Lindemann H. Atemwege und Lunge. In: Lindemann H, Tümmler B, Dockter G, editors. Muko-viszidose — zystische fibrose. Stuttgart: Thieme, 2004: 59–60

2

Flume PA, O'sullivan BP, Robinson KA, et al. Cystic Fibrosis Foundation, Pulmonary Therapies Committee. Cystic fibrosis pulmonary guidelines: chronic medications for maintenance of lung health. Am J Respir Crit Care Med 2007; 176(10): 957–69

3

Ballmann M, Smaczny C. CF-Manual. Hannover: Solvay Arzneimittel, 1998: chapter 34: 1–4

4

Elliott RA, Thornton J, Webb AK, et al. Comparing costs of home- versus hospital-based treatment of infections in adults in a specialist cystic fibrosis center. Int J Technol Assess Health Care 2005; 21(4): 506–10

5

Thornton J, Elliott RA, Tully MP, et al. Clinical and economic choices in the treatment of respiratory infections in cystic fibrosis: comparing hospital and home care. J Cyst Fibros 2005; 4(4): 239–47

6

Krauth C, Busse R, Smaczny C, et al. Cost comparison of hospital and ambulatory i.v. therapy in adult cystic fibrosis patients: results of a controlled prospective study [in German]. Med Klin (Munich) 1999; 94(10): 541–8

7

Schulenburg JM, Greiner W, Klettke U, et al. Economic aspects in treatment of cystic fibrosis with chronic pulmonary pseudomonas infection: ambulatory intravenous therapy in comparison with inpatient treatment [in German]. Med Klin (Munich) 1997; 92(10): 626–9

8

Wolter JM, Bowler SD, Nolan PJ, et al. Home intravenous therapy in cystic fibrosis: a prospective randomized trial examining clinical, quality of life and cost aspects. Eur Respir J 1997; 10(4): 896–900

9

Kane RE, Jennison K, Wood C, et al. Cost savings and economic considerations using home intravenous antibiotic therapy for cystic fibrosis patients. Pediatr Pulmonol 1988; 4(2): 84–9

10

DIMDI — Deutsches Institut für Medizinische Dokumentation und Information, ed. Anatomisch-therapeutische-chemische Klassifikation nach Tagesdosen — Amtliche Fassung des ATC-Index mit DDD-Angaben für Deutschland im Jahre 2006. Köln, 2006

11

Rote Liste Service GmbH. Rote Liste — Arzneimittelverzeichnis für Deutschland. Frankfurt/Main: Rote Liste Service GmbH, 2006

12

Bundesvereinigung Deutscher Apothekerverbände (Federal Union of German Associations of Pharmacists). Berlin: ABDA-Artikeldatenstamm, 2006

13

Stern M, Sens B, Wiedemann B, et al., editors. Qualitätssicherung Mukoviszidose — Überblick über den Gesundheitszustand der Patienten in Deutschland 2005. Berlin: Medizinisch Wissenschaftliche Verlagsgesellschaft, 2007

14

Krauth C, Jalilvand N, Welte T, et al. Cystic fibrosis: cost of illness and considerations for the economic evaluation of potential therapies. Pharmacoeconomics 2003; 21(14): 1001–24

15

Ireys H, Anderson G, Shaffer T, et al. Expenditures for care of children with chronic illnesses enrolled in Washington State Medicaid Program, fiscal year 1993. Pediatrics 1997; 100: 197–204

16

Johnson JA, Connolly MA, Jacobs P, et al. Cost of care for individuals with cystic fibrosis: a regression approach to determining the impact of recombinant human DNase. Pharmacotherapy 1999; 19: 1159–66

17

Lieu TA, Ray GT, Farmer G, et al. The cost of medical care for patients with cystic fibrosis in a health maintenance organization. Pediatrics 1999; 103: 72–5

18

Pauly MV. The economics of cystic fibrosis. In: Lloyd-Still JD, editor. Textbook of cystic fibrosis. Boston (MA): John Wright PSG Inc., 1983: 465–76

19

Robson M, Abbott J, Webb K, et al. A cost description of an adult cystic fibrosis unit and cost analyses of different categories of patients. Thorax 1992; 47: 684–9

20

Schreyögg J, Hollmeyer H, Bluemel M, et al. Hospitalisation costs of cystic fibrosis. Pharmacoeconomics 2006; 10: 999–1009

21

Wildhagen MF, Verheij JB, Hilderink HBM, et al. Cost of care of patients with cystic fibrosis in the Netherlands in 1990–1. Thorax 1996; 51: 298–301

22

Wildhagen MF, Verheij JB, Verzijl JG, et al. The non-hospital costs of care of patients with CF in the Netherlands: results of a questionnaire. Eur Resp J 1996; 9: 2215–9

23

Baumann U, Stocklossa C, Greiner W. Cost of care and clinical condition in paediatric cystic fibrosis patients. J Cyst Fibros 2003; 2: 84–90
Acknowledgements
We would like to thank the Mukoviszidose e.V., the German Cystic Fibrosis Association, as well as the clinics and patients for their support and the information they provided for this analysis. We especially thank Andreas Reimann (Mukoviszidose e.V.) as well as the CF Study Group members from the following clinics: Manfred Ballmann (CF-Pediatric Centre, Hannover Medical School, Germany), Matthias Griese (CF-Pediatric Centre, Ludwig Maximilian University, Munich, Germany), Frank-Michael Müller (CF-Pediatric Centre, University of Heidelberg, Germany), Hans-Georg Posselt (CF-Pediatric Centre, Johann Wolfgang Goethe-University, Frankfurt, Germany), Tobias Welte (CF-Adult-Centre, Hannover Medical School, Germany), Matthias Wiebel (CF-Adult Centre, University of Heidelberg, Germany).
The study has been approved by the ethics committees of the involved clinics.
The study was funded by the Mukoviszidose e.V, the German Cystic Fibrosis Association. Thomas O.F. Wagner is a board member of, and has received grants from, the Mukoviszidose e.V. However, the research for this study was independent of this relationship and of the funding as the authors at all times had full authority over the outcomes and the preparation of the manuscript.
About this article
Cite this article
Eidt-Koch, D., Wagner, T.O.F., Mittendorf, T. et al. Outpatient medication costs of patients with cystic fibrosis in Germany. Appl Health Econ Health Policy 8, 111–118 (2010). https://doi.org/10.2165/11313980-000000000-00000
Keywords
Cystic Fibrosis

Cystic Fibrosis Patient

Bacterial Colonization

Pancreatic Insufficiency

Sickness Fund