Abstract
Objective: To review and critically evaluate published cost-utility analyses (CUAs) pertaining to pharmaceuticals for the past 3 decades.
Methods: We examined data from the Tufts Medical Center Cost-Effectiveness Analysis Registry (www.cearegistry.org), which contains detailed information on English-language CUAs and their ratios (in $US, year 2008 values) published in peer-reviewed journals. We summarized study features using descriptive statistics for articles published from 1976 to 2006. Changes in study methodology over time were analysed by trend test. Analysis of ratios was restricted to those published from 2000 to 2006 from studies that correctly discounted future costs and benefits. Factors associated with having a favourable value (defined to be more than the median for all included ratios) were identified by logistic regression.
Results: Of 1393 CUAs published through 2006, 640 (45.9%) pertained to pharmaceuticals. The proportion of CUAs that focussed on pharmaceuticals increased from 34% for the period 1990–5 to 47% for the period 2001–5. Investigations with a US perspective accounted for 51% of all CUAs, although this proportion has decreased over time. The UK perspective investigations accounted for nearly 16% of all studies, and this portion has increased over time. About 24% of all CUAs were sponsored by industry, 48% were sponsored by non-industry sources, and 28% did not disclose their funding. Adherence to good methodological practices is roughly similar for studies with industry and non-industry sponsorship. Adherence to these practices has increased over time. Among the 1969 ratios meeting our inclusion criteria, the median value was $US22 000 per QALY.
Logistic regression revealed that, while controlling for the intervention category (e.g. pharmaceutical, medical device, screening), ratios were more likely to be favourable if they were from studies sponsored by a pharmaceutical or device manufacturer (OR 1.53; 95% CI 1.07, 2.19). Ratios for pharmaceutical CUAs were less favourable than other ratios while controlling for sponsorship (OR 0.66; 95% CI 0.44, 0.98).
Conclusion: The number of published pharmaceutical CUAs has grown steadily and accounts for almost half of all published CUAs. Adherence to good methodological practices does not appear to differ by study sponsor. Ratios from industry-sponsored studies are more favourable than other ratios. The results highlight that there are many opportunities for efficient healthcare investment, among pharmaceutical and non-pharmaceutical interventions, just as there are many investments that are inefficient.
This is a preview of subscription content, log in to check access.
Access options
Buy single article
Instant access to the full article PDF.
US$ 49.95
Price includes VAT for USA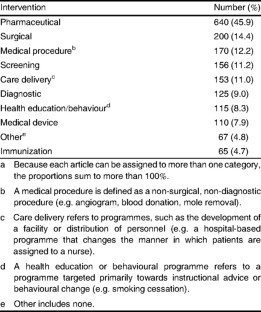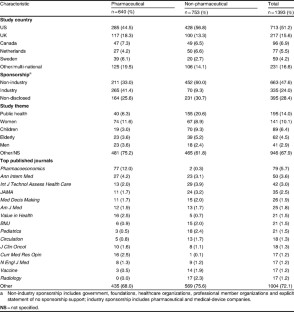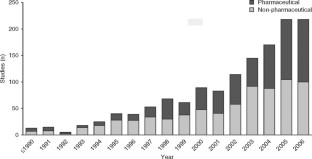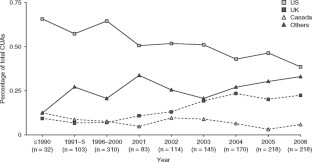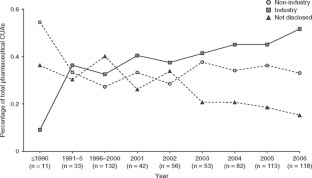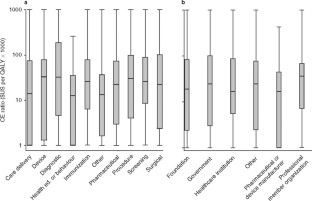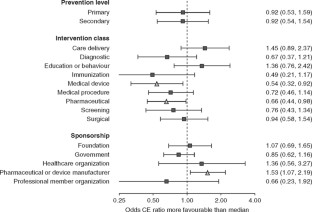 References
1.

Gold MR, Siegel JE, Russell LB, et al. Cost-effectiveness in health and medicine. New York: Oxford University Press, 1996

2.

Neumann PJ, Greenberg D, Olchanski NV, et al. Growth and quality of the cost-utility literature, 1976–2001. Value Health 2005; 8 (1): 3–9

3.

Task Force on Principles for Economic Analysis of Health Care Technology. Economic analysis of health care technology: a report on principles. Intern Med 1995; 123: 61–70

4.

Drummond MF, Jefferson TO, on behalf of the BMJ Economic Evaluation Working Party. Guidelines for authors and peer reviewers of economic submissions to the BMJ. BMJ 1996; 313 (7052): 275–83

5.

Drummond MF, Richardson WS, O'Brien BJ, et al., on behalf of the Evidence-Based Medicine Working Group. Users' guides to the medical literature: XIII. How to use an article on economic analysis of clinical practice: A. Are the results of the study valid? JAMA 1997; 277 (19): 1552–7

6.

Drummond MF, Stoddart GL, Torrance GW. Methods for the economic evaluation of health care programmes. New York: Oxford University Press, 1997

7.

Menon D, Schubert F, Torrance GW. Canada's new guidelines for the economic evaluation of pharmaceuticals. Med Care 1996; 34 (12 Suppl.): DS77–86

8.

O'Brien BJ, Heyland D, Richardson WS, et al., on behalf of the Evidence-Based Medicine Working Group. Users' guides to the medical literature: XIII. How to use an article on economic analysis of clinical practice: B. What are the results and will they help me in caring for my patients? JAMA 1997; 277 (22): 1802–6

9.

Stone PW, Teutsch S, Chapman RH, et al. Cost-utility analyses of clinical preventive services: published ratios, 1976–1997. Am J Prev Med 2000; 19 (1): 15–23

10.

Bell CM, Urbach DR, Ray JG, et al. Bias in published cost effectiveness studies: systematic review. BMJ 2006; 332 (7543): 699–703

11.

Catlin A, Cowan C, Hartman M, et al., on behalf of the National Health Expenditure Accounts Team. National health spending in 2006: a year of change for prescription drugs. Health Aff 2008 Jan-Feb; 27 (1): 14–29

12.

Neumann PJ, Rosen AB, Greenberg D, et al. Can we better prioritize resources for cost-utility research? Med Decis Making 2005 Jul-Aug; 25 (4): 429–36

13.

The AMCP format for formulary submissions, version 2.1. 2005 Apr [online]. Available from URL: http://www.amcp.org/amcp.ark?p=0F6E1295 [Accessed 2009 Aug 4]

14.

Siegel JE, Weinstein MC, Russell LB, et al., on behalf of the Panel on Cost-Effectiveness in Health and Medicine. Recommendations for reporting cost-effectiveness analyses. JAMA 1996; 276 (16): 1339–41

15.

Neumann PJ, Sandberg EA, Bell CM, et al. Are pharmaceuticals cost-effective? A review of the evidence. Health Aff (Millwood) 2000; 19 (2): 92–109

16.

Rosen AB, Greenberg D, Stone PW, et al. Quality of abstracts of papers reporting original cost-effectiveness analyses. Med Decis Making 2005 Jul-Aug; 25 (4): 424–8

17.

Gonzalez-Perez JG, Vale L, Stearns SC, et al. Hemodialysis for end-stage renal disease: a cost-effectiveness analysis of treatment-options. Int J Technol Assess Health Care 2005; 21 (1): 32–9

18.

Patel A, Knapp M, Evans A, et al. Training care givers of stroke patients: economic evaluation. BMJ 2004 May 8; 328 (7448): 1102

19.

Goodacre S, Nicholl J, Dixon S, et al. Randomised controlled trial and economic evaluation of a chest pain observation unit compared with routine care. BMJ 2004; 328 (7434): 254

20.

Cohen JT, Neumann PJ, Weinstein MC. Does preventive care save money? Health economics and the presidential candidates. N Engl J Med 2008 Feb 14; 358 (7): 661–3

21.

Arguedas MR, Heudebert GR, Fallon MB, et al. The cost-effectiveness of hepatitis A vaccination in patients with chronic hepatitis C viral infection in the United States. Am J Gastroenterol 2002; 97 (3): 721–8
Acknowledgements
The CEA Registry upon which this research is based has been funded by a number of sources, including most recently the National Library of Medicine (1G08LM008413). In addition, the CEA Registry receives unrestricted funding from a number of pharmaceutical industry sponsors, which are listed on our website, www.cearegistry.org.
About this article
Cite this article
Neumann, P.J., Fang, C. & Cohen, J.T. 30 Years of Pharmaceutical Cost-Utility Analyses. Pharmacoeconomics 27, 861–872 (2009). https://doi.org/10.2165/11312720-000000000-00000
Keywords
Intervention Category

Health Spending

Prevention Level

Tufts Medical

Health Technology Assessment Process