Abstract
Incontinence-associated dermatitis (IAD), sometimes referred to as perineal dermatitis, is an inflammation of the skin associated with exposure to urine or stool. Elderly adults, and especially those in long-term care facilities, are at risk for urinary or fecal incontinence and IAD. Traditionally, IAD has received little attention as a distinct disorder, and it is sometimes confused with stage I or II pressure ulcers. However, a modest but growing body of research is beginning to provide insights into the epidemiology, etiology, and pathophysiology of IAD. In addition, recent changes in reimbursement policies from the US Center for Medicare and Medicaid Services regarding pressure ulcer prevention has focused attention on the differential diagnosis of IAD versus pressure ulcer, and its influence on pressure ulcer risk. Color, location, depth, and the presence or absence of necrotic tissue are visual indicators used to differentiate IAD from pressure-related skin damage. Prevention is based on avoiding or minimizing exposure to stool or urine combined with a structured skin-care program based on principles of gentle cleansing, moisturization, preferably with an emollient, and application of a skin protectant. Treatment of IAD focuses on three main goals: (i) removal of irritants from the affected skin; (ii) eradication of cutaneous infections such as candidiasis; and (iii) containment or diversion of incontinent urine or stool.
This is a preview of subscription content, log in to check access.
Access options
Buy single article
Instant access to the full article PDF.
US$ 49.95
Price includes VAT for USA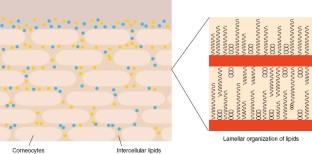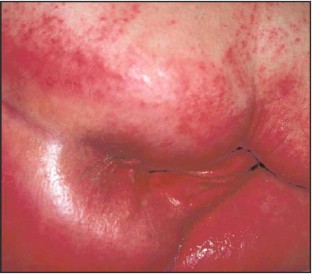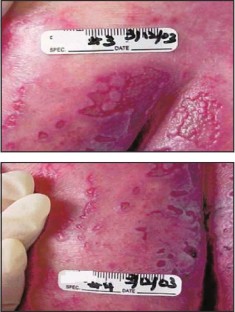 References
1.

Gray M, Bliss DZ, Doughty DB, et al. Incontinence-associated dermatitis: a review. J Wound Ostomy Continence Nurs 2007; 34 (1): 45–54; quiz 55-6

2.

Gray M, Bohacek L, Weir D, et al. Moisture vs pressure: making sense out of perineal wounds. J Wound Ostomy Continence Nurs 2007; 34 (2): 134–42

3.

Hunskaar S, Burgio K, Clark A, et al. Epidemiology of urinary and fecal incontinence and pelvic organ prolapse. In: Abrams P, Cardozo L, Khoury S, et al., editors. Incontinence: basics and evaluation. 3rd ed. Paris: Health Publications Ltd, 2005: 255–312

4.

Verdier-Sévrain A, Bonté F. Skin hydration: a review of its molecular mechanisms. J Cosmet Dermatol 2007; 6: 75–82

5.

Hachem JP, Man MQ, Crumrine D, et al. Sustained serine proteases activity by prolonged increase in pH leads to degradation of lipid processing enzymes and profound alterations of barrier function and stratum corneum integrity. J Invest Dermatol 2005; 125 (3): 510–20

6.

Sougrat R, Morand M, Gondran C, et al. Functional expression of AQP3 in human skin epidermis and reconstructed epidermis. J Invest Dermatol 2002; 118 (4): 678–85

7.

Madara JL. Regulation of the movement of solutes across tight junctions. Annu Rev Physiol 1998; 60: 143–59

8.

Van der Walk PGM, Kucharekova M, Tupker RA. Transepidermal water loss and its relation to barrier function and skin irritation. In: Fluhr J, Elsner P, Berardesca E, et al., editors. Bioengineering of the skin, water and stratum corneum. 2nd ed. Boca Raton (FL): CRC Press, 2005: 97-104

9.

Boyington JE, Howard DL, Carter-Edwards L, et al. Differences in resident characteristics and prevalence of urinary incontinence in nursing homes in the southeastern United States. Nurs Res 2007; 56 (2): 97–107

10.

Borrie MJ, Davidson HA. Incontinence in institutions: costs and contributing factors. CMAJ 1992; 147 (3): 322–8

11.

Lyder CH, Clemes-Lowrance C, Davis A, et al. Structured skin care regimen to prevent perineal dermatitis in the elderly. J ET Nurs 1992; 19 (1): 12–6

12.

Keller PA, Sinkovic SP, Miles SJ. Skin dryness: a major factor in reducing incontinence dermatitis. Ostomy Wound Manage 1990; 30: 60–4

13.

Bliss DZ, Savik K, Harms S, et al. Prevalence and correlates of perineal dermatitis in nursing home residents. Nurs Res 2006; 55 (4): 243–51

14.

Junkin J, Moore-Lisi G, Selekof JL. What we don't know can hurt us: pilot prevalence survey of incontinence and related perineal skin injury in acute care [abstract]. Clinical Symposium on Advances in Wound Care; 2005 Oct 23–26; Las Vegas (NV)

15.

Junkin J, Selekof JL. Prevalence of incontinence and associated skin injury in the acute care patient. J Wound Ostomy Continence Nurs 2007; 34 (3): 260–9

16.

Bliss DZ, Zehrer C, Savik K, et al. An economic evaluation of four skin damage prevention regimens in nursing home residents with incontinence. J Wound Ostomy Continence Nurs 2007; 34 (2): 143–51

17.

Aly R, Shirley C, Cunico B, et al. Effect of prolonged occlusion on the microbial flora, pH, carbon dioxide and transepidermal water loss on human skin. J Invest Dermatol 1978; 71 (6): 378–81

18.

Fader M, Clarke-O'Neill S, Cook D, et al. Management of night-time urinary incontinence in residential settings for older people: an investigation into the effects of different pad changing regimes on skin health. J Clin Nurs 2003; 12 (3): 374–86

19.

Houwing RH, Arends JW, Canninga-van Dijk MR, et al. Is the distinction between superficial pressure ulcers and moisture lesions justifiable? A clinical pathologic study. Skinmed 2007; 6 (3): 113–7

20.

Leyden JJ, Katz S, Stewart R, et al. Urinary ammonia and ammonia producing microorganisms in infants with and without diaper dermatitis. Arch Dermatol 1997; 113: 1678–80

21.

Mayrovitz HN, Sims N. Biophysical effects of water and synthetic urine on skin. Adv Skin Wound Care 2001; 14 (6): 302–8

22.

Foureur N, Vanzo B, Meaume S, et al. Prospective etiological study of diaper dermatitis in the elderly. Br J Dermatol 2006; 155 (5): 941–6

23.

National Pressure Ulcer Advisory Panel. Updated staging system [online]. Available from URL: http://www.npuap.org/pr2.htm [Accessed 2008 Jan 25]

24.

Gray M, Ratliff C, Donovan A. Perineal skin care for the incontinent patient. Adv Skin Wound Care 2002; 15: 170–9

25.

Clever K, Smith G, Bowser C, et al. Evaluating the efficacy of a uniquely delivered skin protectant and its effect on the formation of sacral/buttock pressure ulcers. Ostomy Wound Manage 2002; 48 (12): 60–2, 64-7

26.

Nix D, Ermer-Seltun J. A review of perineal skin care protocols and skin barrier product use. Ostomy Wound Manage 2004; 50 (12): 59–67

27.

Nix DH. Factors to consider when selecting skin cleansing products. J Wound Ostomy Continence Nurs 2000; 27 (5): 260–8

28.

Voegeli D. The effect of washing and drying practices on skin barrier function. J Wound Ostomy Continence Nurs 2007; 35 (1): 84–92

29.

Falanga V, Iwamoto S. Chapter 249: wound repair: mechanisms and practical considerations. In: Wolff K, Goldsmith LA, Katz SI, et al., editors. Fitzpatrick's dermatology in general medicine. 7th ed. [online]. Available from URL: http://www.accessmedicine.com/content.aspx?aID=3006805 [Accessed 2010 Jan 25]

30.

Lynde CW. Moisturizers: what they are and how they work. Skin Therapy Lett 2001; 6 (13): 3–5

31.

Buraczewska I, Berne B, Lindberg M, et al. Changes in skin barrier function following long-term treatment with moisturizers, a randomized controlled trial. Br J Dermatol 2006; 241–6

32.

Faust HR, Casserly AW. Petrolatum and regulatory requirements [online]. Available from URL: http://www.penreco.com/newsevents/tradearticles/NPRA2003_Pet_Regulations.pdf [Accessed 2008 Jan 24]

33.

US Food and Drug Administration. Skin protectants [online]. Available from URL: /http://www.ncbi.nlm.nih.gov/pubmed/12785379 [Accessed 2009 Nov 17]

34.

Hoggarth A, Waring M, Alexander J, et al. A controlled three-part trial to measure the barrier function and skin hydration properties of six skin protectants. Ostomy Wound Manage 2005; 51 (12): 30–42

35.

Lee AR. Phospholipid polymer, 2-methacryloyloxyethyl phosphorylcholine and its skin barrier function. Arch Pharm Res 2004; 27 (11): 1177–82

36.

Al-Samarrai NR, Uman GC, Al-Samarrai T, et al. Introducing a new incontinence management system for nursing home residents. J Am Med Dir Assoc 2007; 8 (4): 253–61

37.

Warshaw E, Nix D, Kula J, et al. Clinical and cost effectiveness of a cleanser protectant lotion for treatment of perineal skin breakdown in low-risk patients with incontinence. Ostomy Wound Manage 2002; 48: 44–51

38.

Scheinfeld N. Diaper dermatitis: a review and brief survey of eruptions of the diaper area. Am J Clin Dermatol 2005; 6 (5): 273–81

39.

Nitzan YB, Cohen AD. Zinc in pathology and care. J Dermatol Treat 2006; 17 (4): 205–10

40.

Baldwin S, Odio MR, Haines SL, et al. Skin benefits from continuous topical administration of a zinc oxide/petrolatum formulation by a novel disposable diaper. J Eur Acad Dermatol Venereol 2001; 15 Suppl. 1: 5–11

41.

Arad A, Mimouni D, Ben-Amitai D, et al. Efficacy of topical application of eosin compared with zinc oxide paste and corticosteroid cream for diaper dermatitis. Dermatology 1999; 199 (4): 319–22

42.

Gray M, Jones DP. The effect of different formulations of equivalent active ingredients on the performance of two topical wound treatment products. Ostomy Wound Management 2004; 50 (3): 34–44

43.

Narayanan S, Van Vleet J, Strunk B, et al. Comparison of pressure ulcer treatments in long-term care facilities: clinical outcomes and impact on cost. J Wound Ostomy Continence Nurs 2005 May-Jun; 32 (3): 163–70

44.

Evans EC, Gray M. What interventions are effective for the prevention and treatment of cutaneous candidiasis? J Wound Ostomy Continence Nurs 2003; 30 (1): 11–6

45.

Fader M, Bain D, Cottenden A. Effect of absorbent incontinence pads on pressure management mattresses. J Adv Nurs 2004; 48 (6): 569–74

46.

Padmanabhan A, Stern M, Wishin J, et al., Flexi-Seal Clinical Trial Investigators Group. Clinical evaluation of a flexible fecal incontinence management system. Am J Crit Care 2007; 16 (4): 384–93

47.

Benoit Jr RA, Watts C. The effect of a pressure ulcer prevention program and the bowel management system in reducing pressure ulcer prevalence in an ICU setting. J Wound Ostomy Continence Nurs 2007; 34 (2): 163–75
Acknowledgments
No sources of funding were used to assist in the preparation of this review. The author has no conflicts of interest that are directly relevant to the content of this review.
About this article
Cite this article
Gray, M. Optimal Management of Incontinence-Associated Dermatitis in the Elderly. Am J Clin Dermatol 11, 201–210 (2010). https://doi.org/10.2165/11311010-000000000-00000
Keywords
Stratum Corneum

Fecal Incontinence

Nursing Home Resident

Pressure Ulcer

Skin Protectant