Abstract
Background and Objectives: Pharmacotherapy is an under-evaluated element of critical care medicine. In order to better understand pharmacotherapy in pediatric critical illness, we evaluated a cohort of emergency admissions to a university-affiliated pediatric intensive care unit (PICU).
Methods: A prospective, observational study was performed. Eligible patients were admitted to this medical-surgical ICU for at least 24 hours. The primary outcomes were the number of drug orders written, the number of different medications ordered, and the number of drug administrations. Multiple regression analyses were used to identify factors independently associated with each primary outcome.
Results: We studied 100 patients with a median age of 40 months (interquartile range [IQR] 9–82), who were admitted for a total of 851 ICU days. These patients received 4419 drug orders and 11 911 intermittent dose-administrations of 241 different medications. Each patient received a median of 29.5 (IQR 16.5–48.5) drug orders, 14 (IQR 9–18.5) different medications, and 58 (IQR 28–129) drug administrations while in the ICU. The most frequent orders were for morphine 457 (10.6%), furosemide (frusemide) 337 (7.8%), potassium 237 (5.5%), lorazepam 226 (5.2%), and albuterol (salbutamol) 158 (3.7%). The duration of PICU stay and severity of illness were independently associated with all primary outcomes.
Conclusions: Pharmacotherapy is an active component in the practice of pediatric critical care medicine. We demonstrated that increasing numbers of ordered medications, drug orders, and drug administrations were associated with increasing duration of ICU therapies and the length of ICU stay. These data underscore the potential importance of improved safety and efficacy of medicines used to treat critically ill children.
This is a preview of subscription content, log in to check access.
Access options
Buy single article
Instant access to the full article PDF.
US$ 49.95
Price includes VAT for USA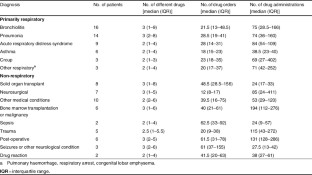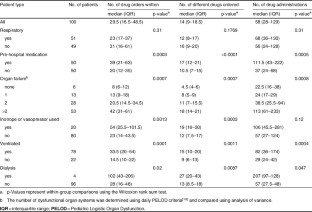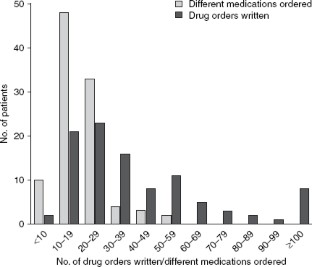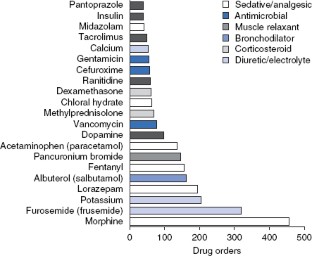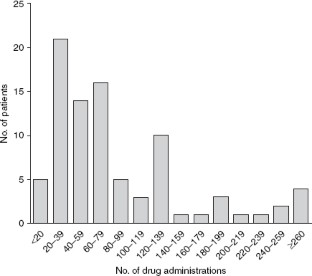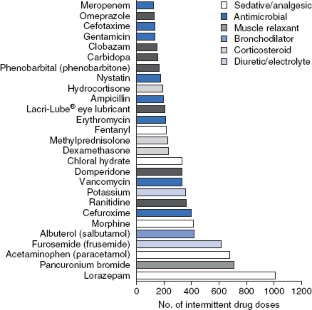 References
1.

Tobias JD. Sedation and analgesia in the pediatric intensive care unit. Pediatr Ann 2005 Aug; 34(8): 636–45

2.

Cuatrecasas P. Drug discovery in jeopardy. J Clin Invest 2006 Nov; 116(11): 2837–42

3.

Giacoia GP, Birenbaum DL, Sachs HC, et al. The newborn drug development initiative. Pediatrics 2006 Mar; 117(3 Pt 2): S1–8

4.

Esteban A, Anzueto A, Frutos F, et al. Characteristics and outcomes in adult patients receiving mechanical ventilation: a 28-day international study. JAMA 2002 Jan 16; 287(3): 345–55

5.

Herridge MS, Cheung AM, Tansey CM, et al. One-year outcomes in survivors of the acute respiratory distress syndrome. N Engl J Med 2003 Feb 20; 348(8): 683–93

6.

Conrad SA, Rycus PT, Dalton H. Extracorporeal life support registry report 2004. ASAIO J 2005 Jan–Feb; 51(1): 4–10

7.

de Mos N, van Litsenburg RR, McCrindle B, et al. Pediatric in-intensive-care-unit cardiac arrest: incidence, survival, and predictive factors. Crit Care Med 2006 Apr; 34(4): 1209–15

8.

Bordun LA, Butt W. Drug errors in intensive care. J Paediatr Child Health 1992 Aug; 28(4): 309–11

9.

Darchy B, Le Miere E, Figueredo B, et al. Iatrogenic diseases as a reason for admission to the intensive care unit: incidence, causes, and consequences. Arch Intern Med 1999 Jan 11; 159(1): 71–8

10.

Boucher BA, Kuhl DA, Coffey BC, et al. Drug use in a trauma intensive-care unit. Am J Hosp Pharm 1990 Apr; 47(4): 805–10

11.

Buchanan N, Cane RD. Drug utilization in a general intensive care unit. Intensive Care Med 1978 Apr; 4(2): 75–7

12.

Farina ML, Levati A, Tognoni G. A multicenter study of ICU drug utilization. Intensive Care Med 1981 Apr; 7(3): 125–31

13.

Kaushal R, Bates DW, Landrigan C, et al. Medication errors and adverse drug events in pediatric inpatients. JAMA 2001; 285(16): 2114–20

14.

Aranda JV, Clarkson S, Collinge JM. Changing pattern of drug utilization in a neonatal intensive care unit. Am J Perinatol 1983 Oct; 1(1): 28–30

15.

Gavrilov V, Lifshitz M, Levy J, et al. Unlicensed and off-label medication use in a general pediatrics ambulatory hospital unit in Israel. Isr Med Assoc J 2000 Aug; 2(8): 595–7

16.

Bajcetic M, Jelisavcic M, Mitrovic J, et al. Off label and unlicensed drugs use in paediatric cardiology. Eur J Clin Pharmacol 2005 Nov; 61(10): 775–9

17.

Manor-Shulman O, Beyene J, Frndova H, et al. Quantifying the volume of documented clinical information in critical illness. J Crit Care 2008 Jun; 23(2): 245–50

18.

Pollack MM, Patel KM, Ruttimann UE. PRISM III: an updated Pediatric Risk of Mortality score. Crit Care Med 1996 May; 24(5): 743–52

19.

Leteurtre S, Martinot A, Duhamel A, et al. Validation of the paediatric logistic organ dysfunction (PELOD) score: prospective, observational, multicentre study. Lancet 2003 Jul 19; 362(9379): 192–7

20.

Farias JA, Frutos F, Esteban A, et al. What is the daily practice of mechanical ventilation in pediatric intensive care units? A multicenter study. Intensive Care Med 2004 May; 30(5): 918–25

21.

Flori HR, Glidden DV, Rutherford GW, et al. Pediatric acute lung injury: prospective evaluation of risk factors associated with mortality. Am J Respir Crit Care Med 2005 May 1; 171(9): 995–1001

22.

Goldstein SL, Somers MJ, Baum MA, et al. Pediatric patients with multi-organ dysfunction syndrome receiving continuous renal replacement therapy. Kidney Int 2005 Feb; 67(2): 653–8

23.

Anand KJ, Aranda JV, Berde CB, et al. Summary proceedings from the neonatal pain-control group. Pediatrics 2006 Mar; 117(3 Pt 2): S9–22

24.

Tobias JD, Rasmussen GE. Pain management and sedation in the pediatric intensive care unit. Pediatr Clin North Am 1994 Dec; 41(6): 1269–92

25.

Deshmukh CT, Rane SA, Gurav MN. Hypomagnesaemia in paediatric population in an intensive care unit. J Postgrad Med 2000 Jul–Sep; 46(3): 179–80

26.

Cook D, Crowther MA, Douketis J. Thromboprophylaxis in medical-surgical intensive care unit patients. J Crit Care 2005 Dec; 20(4): 320–3

27.

Duncan H, Hutchison J, Parshuram CS. The pediatric early warning system score: a severity of illness score to predict urgent medical need in hospitalized children. J Crit Care 2006 Sep; 21(3): 271–8

28.

Leteurtre S, Duhamel A, Grandbastien B, et al. Paediatric logistic organ dysfunction (PELOD) score. Lancet 2006 Mar 18; 367(9514): 897; author reply 900–2

29.

Kearns GL, Abdel-Rahman SM, Alander SW, et al. Developmental pharmacology: drug disposition, action, and therapy in infants and children. N Engl J Med 2003 Sep 18; 349(12): 1157–67

30.

Besunder JB, Reed MD, Blumer JL. Principles of drug biodisposition in the neonate: a critical evaluation of the pharmacokinetic-pharmacodynamic interface (part I). Clin Pharmacokinet 1988 Apr; 14(4): 189–216

31.

Rothschild JM, Landrigan CP, Cronin JW, et al. The Critical Care Safety Study: the incidence and nature of adverse events and serious medical errors in intensive care. Crit Care Med 2005 Aug; 33(8): 1694–700

32.

Sharek PJ, Classen D. The incidence of adverse events and medical error in pediatrics. Pediatr Clin North Am 2006 Dec; 53(6): 1067–77

33.

Leape LL, Cullen DJ, Clapp MD, et al. Pharmacist participation on physician rounds and adverse drug events in the intensive care unit. JAMA 1999 Jul 21; 282(3): 267–70

34.

Wilson GN, Moore KA. Multiple-order intravenous drug management system in a medical/surgical intensive care unit: opportunities and challenges for pharmacy practice. ASHP Midyear Clinical Meeting 1990; 25: 261d

35.

Parshuram CS, Ng GY, Ho TK, et al. Discrepancies between ordered and delivered concentrations of opiate infusions in critical care. Crit Care Med 2003 Oct; 31(10): 2483–7

36.

Rothschild JM, Keohane CA, Cook EF, et al. A controlled trial of smart infusion pumps to improve medication safety in critically ill patients. Crit Care Med 2005 Mar; 33(3): 533–40

37.

Weinger MB. Drug wastage contributes significantly to the cost of routine anesthesia care. J Clin Anesth 2001 Nov; 13(7): 491–7

38.

Parshuram CS. Pharmacotherapeutic friendly fire in the intensive care unit: high stakes seeking high calibre. Crit Care 2008; 12(2): 137–8

39.

Lopez Martinez R, Cabanas Poy MJ, Oliveras Arenas M, et al. Drug use in a neonatal ICU: a prospective study. Farm Hosp 2005 Jan–Feb; 29(1): 26–9

40.

Uppal N, Dupuis L, Parshuram CS. Paediatric labelling in drug monographs contained in the Canadian Compendium of Pharmaceuticals and Specialties. Pediatr Drugs 2008 May; 10(3): 193–7
Acknowledgments
No sources of funding were used to assist in the preparation of this study. The authors have no conflicts of interest that are directly relevant to the content of this study. The authors would like to thank Emma Perreira (data entry) and Rosemarie Farrell (study co-ordination).
Additional information
Dr Parshuram is a Career Scientist of the Ministry of Health and Long-Term Care, Ontario, Canada, and is a recipient of an Early Researcher Award of the Ontario Ministry of Research and Innovation.
About this article
Cite this article
McDonnell, C., Hum, S., Frndova, H. et al. Pharmacotherapy in Pediatric Critical Illness. Pediatr-Drugs 11, 323–331 (2009). https://doi.org/10.2165/11310670-000000000-00000
Keywords
Intensive Care Unit

Intensive Care Unit Admission

Pediatric Intensive Care Unit

Intensive Care Unit Stay

Regular Medication