This is a preview of subscription content, log in to check access.
Access options
Buy single article
Instant access to the full article PDF.
US$ 49.95
Price includes VAT for USA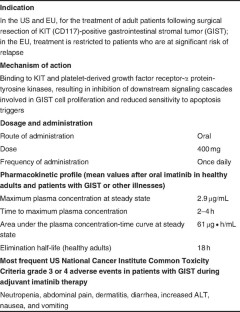 References
1.

DeMatteo RP, Lewis JJ, Leung D, et al. Two hundred gastrointestinal stromal tumors: recurrence patterns and prognostic factors for survival. Ann Surg 2000; 231 (1): 51–8

2.

Blackstein ME, Blay J-Y, Corless C, et al. Gastrointestinal stromal tumours: consensus statement on diagnosis and treatment. Can J Gastroenterol 2006 Mar; 20 (3): 157–63

3.

Siddiqui MA, Scott LJ. Imatinib: a review of its use in the management of gastrointestinal stromal tumours. Drugs 2007; 67 (5): 805–20

4.

Rubin BP, Singer S, Tsao C, et al. KIT activation is a ubiquitous feature of gastrointestinal stromal tumors. Cancer Res 2001 Nov 15; 61 (22): 8118–21

5.

Goettsch WG, Bos SD, Breekveldt-Postma N, et al. Incidence of gastrointestinal stromal tumours is underestimated: results of a nation-wide study. Eur J Cancer 2005 Dec; 41 (18): 2868–72

6.

vanOosterom AT, Judson I, Verweij J, et al. Safety and efficacy of imatinib (STI571) in metastatic gastrointestinal stromal tumours: a phase I study. Lancet 2001 Oct 27; 358 (9291): 1421–3

7.

Demetri GD, vonMehren M, Blanke CD, et al. Efficacy and safety of imatinib mesylate in advanced gastrointestinal stromal tumors. N Engl J Med 2002 Aug 15; 347 (7): 472–80

8.

Verweij J, vanOosterom A, Blay JY, et al. Imatinib mesylate (STI-571 Glivec®, Gleevec™) is an active agent for gastrointestinal stromal tumours, but does not yield responses in other soft-tissue sarcomas that are unselected for a molecular target: results from an EORTC Soft Tissue and Bone Sarcoma Group phase II study. Eur J Cancer 2003 Sep; 39 (14): 2006–11

9.

Novartis. Gleevec® (imatinib mesylate tablets): US prescribing information [online]. Available from URL: http://www.pharma.us.novartis.com/product/pi/pdf/gleevec_tabs.pdf[Accessed 2010 Aug 18]

10.

European Medicines Agency. Glivec®: summary of product characteristics [online]. Available from URL: http://www.ema.europa.eu/humandocs/PDFs/EPAR/glivec/emea-combined-h406en.pdf[Accessed 2010 Aug 18]

11.

Heinrich MC, Griffith DJ, Druker BJ, et al. Inhibition of c-kit receptor tyrosine kinase activity by STI 571, a selective tyrosine kinase inhibitor. Blood 2000; 96 (3): 925–32

12.

Buchdunger E, Cioffi CL, Law N, et al. Abl protein-tyrosine kinase inhibitor ST1571 inhibits in vitro signal transduction mediated by c-kit and platelet-derived growth factor receptors. J Pharmacol Exp Ther 2000; 295 (1): 139–45

13.

Sleijfer S, Wiemer E, Seynaeve C, et al. Improved insight into resistance mechanisms to imatinib in gastrointestinal stromal tumors: a basis for novel approaches and individualization of treatment. Oncologist 2007 Jun; 12 (6): 719–26

14.

Heinrich MC, Corless CL, Demetri GD, et al. Kinase mutations and imatinib response in patients with metastatic gastrointestinal stromal tumor. J Clin Oncol 2003 Dec 1; 21 (23): 4342–9

15.

Sanford M, Scott LJ. Imatinib: as adjunctive therapy for gastrointestinal stromal tumour. Drugs 2010; 70 (15): 1963–72

16.

Debiec-Rychter M, Dumez H, Judson I, et al. Use of c-KIT/PDGFRA mutational analysis to predict the clinical response to imatinib in patients with advanced gastrointestinal stromal tumours entered on phase I and II studies of the EORTC Soft Tissue and Bone Sarcoma Group. Eur J Cancer 2004 Mar; 40 (5): 689–95

17.

Debiec-Rychter M, Sciot R, Le Cesne A, et al. KIT mutations and dose selection for imatinib in patients with advanced gastrointestinal stromal tumours. Eur J Cancer 2006 May; 42 (8): 1093–103

18.

DeMatteo RP, Ballman KV, Antonescu CR, et al. Adjuvant imatinib mesylate after resection of localised, primary gastrointestinal stromal tumour: a randomised, double-blind, placebo-controlled trial. Lancet 2009 Mar 28; 373 (9669): 1097–104
Acknowledgments and Disclosures
The original article[15] was reviewed by: N. Boku, Division of Gastrointestinal Oncology, Shizuoka Cancer Centre, Shizuoka, Japan; S. Kadkol, Department of Pathology, University of Illinois at Chicago, Chicago, Illinois, USA; T. Takahata, Department of Medical Oncology, Graduate School of Medicine, Hirosaki University, Hirosaki, Japan.
The manufacturer of the agent under review was offered an opportunity to comment on the original article[15] during the peer review process; changes based on any comments received were made on the basis of scientific and editorial merit. The preparation of the original article and the profile report was not supported by external funding.
Additional information
Adapted and reproduced from the original article published in Drugs 2010; 70 (15): 1963–72
About this article
Cite this article
Sanford, M., Scott, L.J. Imatinib: As Adjuvant Therapy for Gastrointestinal Stromal Tumor. BioDrugs 25, 191–192 (2011). https://doi.org/10.2165/11207040-000000000-00000
Keywords
Imatinib

Imatinib Treatment

Adjuvant Imatinib

Partial Tumor Response

Toxicity Criterion Grade